Ultra Lujo Perú Viajes - Viajes Auténticos
Un auténtico viaje de descubrimiento al Perú como Machu Picchu y el Cañón del Colca. Todos los traslados y visitas en servicios privados en lujosos vehículos, upgrades gratuitos a suites presidenciales en hoteles de 5 *, acceso a los salones VIP en los aeropuertos, los vuelos internos en clase ejecutiva, y los mejores vinos en todas las ubicaciones. Incluye servicio de mayordomo y conserje. Servicios opcionales incluyen traslados en helicóptero y transporte en jets privados, alquiler de trenes completes, alquiler de hoteles completos a su disposicion, charters.
Lima - Arequipa - Chivay - Cañon del Colca - Puno
14 días / 13 noches.
ITINERARIO
Día 1. LIMA

Llegada a Lima, recepción en el aeropuerto y traslado en vehículo privado de lujo con el hotel de 5 * Miraflores Park Hotel o Marriott Hotel.

Miraflores Park Hotel | Marriott Hotel

Día 2. LIMA (D, A & C)

Después del desayuno, una visita guiada privada de Lima colonial y moderna en un vehículo privado, incluyendo la catedral, que data de 1654, la plaza mayor principal, que conserva la fuente original de bronce construido en 1650, y el convento de San Francisco y sus catacumbas. Conocida como la ciudad de los reyes, Lima fue fundada en 1535 por Pizarro y reconstruida en 1991, el mismo año que la UNESCO la declaró Patrimonio Cultural de la Humanidad. Una de las pocas ciudades de América del Sur que preservan el pasado colonial, Lima fue sede del virreynato español en la época de los colonizadores españoles. Después del almuerzo, una visita al Museo Larco. El museo cuenta con varias exposiciones permanentes, incluyendo la Galería de oro y plata, que muestra la colección de joyas más grande y mejor utilizada por muchos gobernantes notables del Perú precolombino. Regreso a su hotel. Cena en una residencia muy exclusiva.

Meals: D, A & C

Día 3. LIMA - AREQUIPA (D, A & C)

Después del desayuno, traslado al aeropuerto para tomar el vuelo a Arequipa. Llegada a esta hermosa ciudad, con vistas panorámicas de los volcanes circundantes. Traslado a su hotel, Casa Andina Private Collection. Un breve recorrido por Arequipa antes de un delicioso almuerzo. Después del almuerzo, continuar con su viaje antes de regresar a su hotel. Cena en el hotel.

Casa Andina Private Collection | Meals: D, A & C

Día 4. AREQUIPA - CHIVAY - CAÑON DEL COLCA (D, A & C)

Después del desayuno, traslado privado por carretera hacia Chivay, el pueblo más importante del valle del Colca. El viaje dura aproximadamente 6 horas y permitirá algunas vistas increíbles a lo largo del camino, incluyendo algunos fabulosos paisajes de montaña. Llegada al Cañón del Colca y alojamiento en el recién inaugurado Las Casitas Del Colca Lodge, el nuevo hotel de lujo de la cadena Orient Express y el conjunto en el propio Valle del Colca. También puede relajarse en la piscina del hotel o disfrutar de tratamientos de spa en el Spa Samay. Una cena a la carta en el hotel.

Las Casitas Del Colca | Meals: D, A & C

Día 5. CAÑON DEL COLCA (D, A & C)

Después del desayuno, salida anticipada hasta descender hacia el valle para visitar algunos de los pueblos, todas ellas con bellas iglesias de estilo colonial. Regrese a su casa de campo en Las Casitas del Colca en el Cañón del Colca para un delicioso almuerzo a la carta. Tarde libre, con una gama de actividades para elegir. Una cena a la carta por la noche.

Meals: D, A & C

Día 6. CAÑON DEL COLCA - PUNO (D, A & C)

Después del desayuno, traslado privado por carretera en coche a Puno, atravesando el altiplano de Perú. Como la distancia es de 7 horas de viaje, le ofrecemos un almuerzo de picnic. Llegada y bienvenida en Puno, situada a orillas del Lago Titicaca. Su residencia para las próximas dos noches será el remoto Hotel Titilaka Inkaterra. Elección de excursiones para hoy. Preparación para una variedad de excursiones de mañana.

Hotel Titilaka Inkaterra | Meals: D, A & C

Día 7. PUNO (D, A & C)

Visita a las islas de los Uros está hecha de cañas y habitada por el pueblo Aymara Uros, que viven en chozas construidas sobre plataformas de totora, no más de 30-40 cms/1foot espesor. Corta caminata en las islas, el viaje en barco continúa hasta la isla de Taquile. Los miembros de esta autosuficiente comunidad Aymara reciben a los visitantes en su colorido atuendo nacional y mostrar alrededor de la isla. Taquile es famosa también por sus excelentes tejidos decorativos. Retorno a Puno y su hotel.

Meals: D, A & C

Día 8. PUNO - JULIACA - CUSCO (D, A & C)

Temprano en la mañana traslado al aeropuerto para tomar su vuelo a Cusco, la antigua capital del Imperio de los Incas. Traslado a su residencia privada, la exclusive Casona colonial; alojamiento en una habitación Patio. Después de un almuerzo ligero, se embarcan en una visita guiada por el centro de Cuzco, como la catedral y el templo de Coricancha. Cena en una residencia de lujo.

Casona Colonial | Meals: D, A & C

Día 9. Cusco-Poroy - MACHU PICCHU (D, BR & C)

Después del desayuno, traslado privado a la estación de tren en Poroy, para el lujoso tren Hiram Bingham a Aguas Calientes. Este tren Orient Express es la forma más exclusiva de visitar Machu Picchu, e incluye un almuerzo abundante a bordo del tren. Llegada a Aguas Calientes y traslado a su residencia única entre los bosques nublados. Una vez que haya hecho su check-in, se embarcará en el autobús con su guía para el corto viaje hasta Machu Picchu, la antigua ciudadela Inca. Una visita guiada privada de Machu Picchu, el más espectacular de la ciudad antigua en el mundo. Regreso al hotel para el alojamiento y una deliciosa cena.

Meals: D, Br & C

Día 10. MACHU PICCHU - CUSCO (D, A & C)

La oportunidad de volver al hotel y disfrutar de un maravilloso amanecer en Machu Picchu o si lo prefiere, disfrutar de un buen descanso y regresar a media mañana. Un poco de reflexión privada. No proporcionamos guía para este día ya que sentimos que Machu Picchu requiere una cierta cantidad de auto-descubrimiento para ser plenamente comprendido. Sin embargo, su guía exclusive estará siempre disponible si usted desea visitar otros sitios en el santuario, como el templo de la luna o el puente del Inca. Almuerzo en el restaurante Sanctuary Lodge antes de volver a bajar a Aguas Calientes en bus. Algún tiempo libre antes de embarcar en el tren Hiram Bingham en la tarde con su guía. Llegada a Poroy después de 21:00, recepción y traslado al Cusco, la antigua ciudad de los Incas. Traslado a su residencia privada.

Meals: D, A & C

Día 11. CUSCO - URUBAMBA (D, A & C)

Traslado en vehículo privado y se embarcan en una viaje por los andes de aproximadamente una hora y treinta minutos en coche al Valle Sagrado antes de ser transferido a su hotel en el Urubamba. Descansar y disfrutar de la tranquila ubicación del Valle Sagrado de los Incas. Descansar y disfrutar de la tranquila ubicación del Valle Sagrado de los Incas. Disfrute de un buen almuerzo antes de continuar con las ruinas de Ollantaytambo, la única ciudad inca que no fue derrotado por los españoles. Regresamos al hotel para la cena y alojamiento.

Meals: D, A & C

Día 12. URUBAMBA (D, A & C)

Después de un fresco desayuno una excursión privada de día completo a los lugares más importantes del Urubamba. La primera visita será una breve visita a la antigua ciudad de mercado inca de Pisac. Aquí podrás ver todos los productos locales de la zona y comprar algunas artesanías, textiles y adornos. Entonces nos dirigiremos por encima de la zona del mercado para ver el poco frecuentado Pisac ruinas, uno de los mejores y más grandes de todo el valle. Después del almuerzo en una hacienda muy especial, volver a su villa privada en el Urubamba. Cena y alojamiento.

Meals: D, A & C

Día Opcional 13. CUZCO-CHOQUEQUIRAO (D, A & C)

Un día opcional que permite una visita al "otro Machu Picchu, Choquequirao. Por favor, pregunte por los detalles de esta opción muy especial que incluyo tour en helicóptero privado.

Meals: D, A & C

Día 14. CUZCO (D)

Después del desayuno, traslado al aeropuerto y registrarse para su vuelo de regreso a Lima.

Meals: D




Fin de nuestros servicios.



ULTRA LUJO PERU VIAJES - VIAJES AUTENTICOS
PRICES:

Por favor, contáctenos aquí
Credit Cards Welcome:



QUE ESTA INCLUIDO / NO INCLUIDO
NUESTRA SELECCIÓN DE HOTELES DE LUJO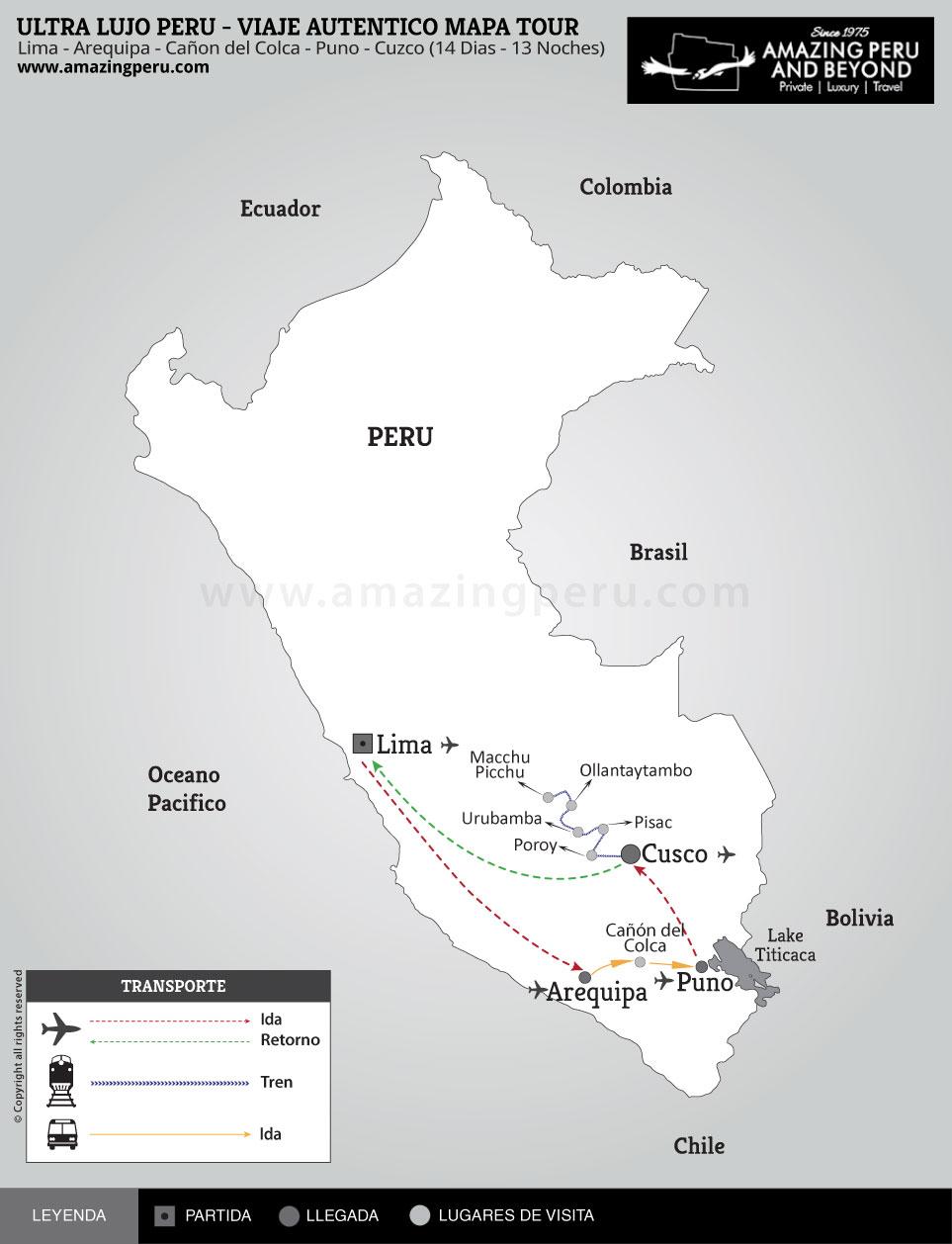 Ultra Lujo Perú Viajes - Viajes Auténticos
Lima - Arequipa - Chivay - Cañon del Colca - Puno
14 días / 13 noches.
Para disponibilidad y contactarse con nosotros enviarnos un email a:
info@amazingperu.com
y nosotros le enviaremos el dossier e información completa del viaje correspondiente junto con una cotización de 90 días de duración, con los términos y condiciones. Por favor, tenga en cuenta que tenemos reducciones significativas de precios disponibles para grupos. Todos nuestros
Tours de Lujo
son totalmente privados y salen todos los días. Póngase en contacto con nosotros para obtener más información sobre el itinerario de viaje anterior, o para comenzar a personalizar su propio itinerario hecho a la medida. Todos nuestros itineraries pueden ser personalizados de acuerdo a sus requerimientos.
ALTAMENTE RECOMENDADO POR:
Amazing Perú es una agencia de viajes múltiples y de gestión, con varias oficinas en Perú y una extensa lista de los viajes, que ofrece de todo, desde viajes familiares y viajes de luna de miel de lujo y aventura y excursiones a la selva, para casi cualquier presupuesto
Guía de Viajes Frommers 2023
Muy recomendable, "viaje perfecto" profesional y bien organizado, guías conocedores
Footprint Guide 2023
Los servicios de transporte y alojamientos son de primera categoría, y los guías son flexibles y extremadamente útil
Guía de Viajes Fodors 2023
Amazing Perú (amazingperu.com) tiene más de 20 años de experiencia en la industria de viajes. Tours a Machu Picchu se puede personalizar para incluir el pasaje aéreo, todas las comidas, alojamiento y seguro de viaje, y duran de seis a 14 días. lugares turísticos incluyen Machu Picchu, Cuzco, Valle Sagrado, Lago Titicaca y el Cañón del Colca. Todas las excursiones se embarcan desde Lima y se pueden personalizar para incluir un crucero Amazon, paseos a caballo, rafting, senderismo y ciclismo.
USA TODAY
Move Over, Machu Picchu ­ ¿Cómo los viajeros con discapacidad pueden visitar Machu Picchu
Los Angeles Times
Buscando una aventura de por vida para poner en marcha la vida matrimonial encuentra estas lunas de miel con una diferencia…?
Revista Perfect Wedding
"Experiencia"
Amazing Perú es la empresa líder en Latinoamérica que combina exclusividad, lujo y autenticidad para vacaciones peruanos. Será adaptar un 15 -. Turísticos días para usted que tiene en el Lago Titicaca, el Valle Sagrado, Machu Picchu, Lima, Cuzco, el Cañón del Colca y la selva amazónica
The Travel and Leisure Magazine UK
Amazing Destinations es una empresa de renombre con una impresionante variedad de excursiones únicas…
At Home and Away con Alan Whicker CBE Revista
Machu picchu Mágico:
Una opción para los solteros es pasar la Navidad en una visita guiada de impresionante Machu Picchu y visitar el famoso Lago Titicaca. Amazing Peru ofrece lujosas vacaciones de Navidad en Machu Picchu por el Camino Inca. Los viajeros vuelan a Lima y pasar un día recorriendo el centro histórico de la ciudad. Al día siguiente, vuela a cuzco y estancia en el Hotel Monasterio de cinco estrellas. Excursiones al Valle Sagrado de los Incas y el pueblo colonial de Pisac son parte de la experiencia.
Senderos Guía de Viajes al Aire Libre
"Amazing Peru lleva a las familias en viajes de lujo y confortables en todo el Perú. Tienes programas para Familias de Aventura en el Perú de 12 días para padres con niños mayores de 12 años. Canotaje, kayak y bicicleta por los parajes para inolvidables del Perú como Machu Picchu. Este tour familiar al Perú esta hecho con componentes educacionales. Relajate en las playas del Norte del Perú, explora el lago navegable mas alto del mundo Titicaca, caminatas en el Amazonas, y visita Machu Picchu en este viaje de 16 días. Hecha un vistazo al programa de Viaje para Familias de 12 días de Amazing Perú."
Global Post USA
"
You can fly over Machu Picchu - or take a helicopter ride
Who needs hiking when you can fly? The company Amazing Peruoffers hour-long flight tours right over the Sacred Valley of the Incas. The plane fits a minimum of eight passengers, and it can also be chartered. Passengers fly over Tipon and Pikillaqta, both archaeological sites, Pisaq and the Urubamba Valley, Sacsayhuaman, and, of course, Machu Picchu itself. Flights can be longer or shorter as requested. "
"
You can Om your way through Machu Picchu
Machu Picchu is known as one of the most spiritual lands in the world, so why not go all out and Om your way through its ruins? Amazing Peru offers a seven-day yoga tour where visitors travel from Lima to Cuzco and finally to Machu Picchu, where they stay in the famed sanctuary Lodge hotel right outside of the ruins. They participate in multiple meditation and yoga sessions throughout the trip, but the highlight is a private session smack-dab in the middle of the ruins. Now that is an Om experience worth waiting for."
Yahoo Lifestyle
"A good bird watching site. Private, customized tour to Venezuela, Guyana, Suriname, French Guiana and Trinidad & Tobago"