Viajes de Ultra Lujo VIP en Jet Privado o Aviones Privados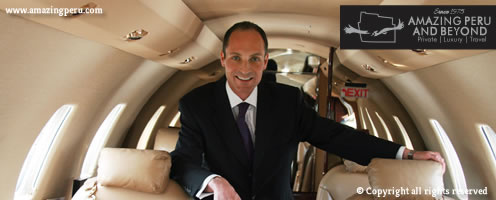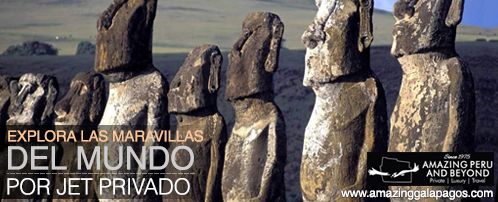 Volar en un jet privado es la opción de viaje VIP definitiva para unos pocos privilegiados. Y en un vasto continente como América del Sur, con tantos destinos remotos, a menudo es la mejor y única manera de viajar, sobre todo si no tienes mucho tiempo. Con muchos destinos pobremente servidos por vuelos regulares, la aviación privada es a veces la única opción.

Explorando Perú y América del Sur en un jet privado es una de las formas más emocionantes y lujosas de viajar. También le permite visitar más destinos, incluidos los lugares más remotos, en un corto periodo de tiempo. Horarios de salida tempranos en vuelos regulares se convertirá en cosa del pasado, y usted nunca tendrá que perder el tiempo en las conexiones largas o preocuparse por retrasos y/o cancelaciones. En un jet privado, usted será llevado de un sitio increíble para otro, el acceso a destinos remotos con facilidad y explorar lugares con un guía privado con una interrupción mínima. También podrá disfrutar de entrada y salida libre de problemas en cada país, así como la intimidad y exclusividad de viajar con amigos y familiares en completa privacidad y comodidad. Este nivel de desplazamiento está disponible sólo para algunos invitados distinguidos y permite el acceso a los sitios únicos en la forma más rápida posible, con todos los privilegios VIP.

Disfrute de un viaje a la remota Amazonia peruana, el acceso a bosques primarios que ningún avión comercial puede alcanzar; volar a Canaima para ver la cascada más alta del mundo, las cataratas Angel Falls, y el acceso a la isla habitada más aislada del mundo, la Isla de Pascua, con sus famosos Moais de piedra, todo es posible en tan sólo unos pocos días. ¿Y por qué no terminar su viaje con una visita a Machu Picchu, una de las 7 maravillas del mundo, para una inmersión cultural completa de América del Sur.

Como cliente de nuestro tour en Avion Privado o Private Jet Usted podrá disfrutar de los más altos niveles de servicio al cliente y la asistencia de su asesor de viajes dedicado, 24/7, los 365 días del añ;o, con servicio de conserjería o Concierge. Otorgaremos los mejores hoteles y propiedades para su alojamiento completo con las mejores habitaciones disponibles, confirmamos guías expertos de reconocido prestigio en sus áreas de especialidad, si se trata de cultura, historia, naturaleza y fotografía, y el acceso a información privilegiada de origen a sitios privilegiados.

Nuestro equipo de expertos hace realidad que su viaje hecho a la medida sea perfecto, si se trata de una breve escapada a un país o un viaje más largo que combina varios países. Nosotros en Amazing Peru Private Jet Tours crearemos el tour VIP más inimaginable y el de mayor distinción para nuestra clientela de élite.

Si llega a su punto de partida en su propio jet, también podemos organizar los tramites en aduanas y despacho de inmigración, tasas de aterrizaje, permisos, planes de vuelo, así como alojamiento para su tripulación, combustible, seguridad y servicio de comidas.
Alquileres de Jet Privado o Avion Privado Si viaja con la familia, familia, grupo de amigos o un grupo más grande de personas, podemos alquilar un jet privado para satisfacer sus necesidades. Ya sea que viaje por vacaciones, negocios o una mezcla de los dos, el acceso sin precedentes a una amplia gama de aviones, las opciones de turbohélice y helicópteros garantizarán todas las demandas y necesidades se ocuparon de. Póngase en contacto con nosotros hoy para sus necesidades en Private Jet por America del Sur.
Perú Lujo en un Jet Privado para un máximo de 6 Personas (7 dias / 6 noches )
Lima - Cuzco - Machu Picchu

Lo ultimo en viajes en jet privado de lujo en Perú ; para los amigos y la familia , hasta un máximo de 6 pasajeros. Visita Lima, la capital gastronómica de América del Sur, recorre la antigua capital
VIP Peru & Brazil en Avion Privado (10 days / 9 nights)
Lima - Cuzco - Machu Picchu - Iguazu - Rio de Janeiro

Viaje de Escape al Brazil en Avion Privado (4 days / 3 nights)
Rio de Janeiro - Iguazu

Nuestros jets privados en América Latina:
For current availability contact us at
info@amazingperu.com
and we will send you the relevant trip dossier along with a 90 day fixed quote, terms and conditions. Please bear in mind that significant price reductions are available for groups. All our Luxury Tours are fully private and depart daily. Contact us for more information regarding the above tour, or to begin customizing your own itinerary.
ALTAMENTE RECOMENDADO POR:
Amazing Perú es una agencia de viajes múltiples y de gestión, con varias oficinas en Perú y una extensa lista de los viajes, que ofrece de todo, desde viajes familiares y viajes de luna de miel de lujo y aventura y excursiones a la selva, para casi cualquier presupuesto
Guía de Viajes Frommers 2023
Muy recomendable, "viaje perfecto" profesional y bien organizado, guías conocedores
Footprint Guide 2023
Los servicios de transporte y alojamientos son de primera categoría, y los guías son flexibles y extremadamente útil
Guía de Viajes Fodors 2023
Amazing Perú (amazingperu.com) tiene más de 20 años de experiencia en la industria de viajes. Tours a Machu Picchu se puede personalizar para incluir el pasaje aéreo, todas las comidas, alojamiento y seguro de viaje, y duran de seis a 14 días. lugares turísticos incluyen Machu Picchu, Cuzco, Valle Sagrado, Lago Titicaca y el Cañón del Colca. Todas las excursiones se embarcan desde Lima y se pueden personalizar para incluir un crucero Amazon, paseos a caballo, rafting, senderismo y ciclismo.
USA TODAY
Move Over, Machu Picchu ­ ¿Cómo los viajeros con discapacidad pueden visitar Machu Picchu
Los Angeles Times
Buscando una aventura de por vida para poner en marcha la vida matrimonial encuentra estas lunas de miel con una diferencia…?
Revista Perfect Wedding
"Experiencia"
Amazing Perú es la empresa líder en Latinoamérica que combina exclusividad, lujo y autenticidad para vacaciones peruanos. Será adaptar un 15 -. Turísticos días para usted que tiene en el Lago Titicaca, el Valle Sagrado, Machu Picchu, Lima, Cuzco, el Cañón del Colca y la selva amazónica
The Travel and Leisure Magazine UK
Amazing Destinations es una empresa de renombre con una impresionante variedad de excursiones únicas…
At Home and Away con Alan Whicker CBE Revista
Machu picchu Mágico:
Una opción para los solteros es pasar la Navidad en una visita guiada de impresionante Machu Picchu y visitar el famoso Lago Titicaca. Amazing Peru ofrece lujosas vacaciones de Navidad en Machu Picchu por el Camino Inca. Los viajeros vuelan a Lima y pasar un día recorriendo el centro histórico de la ciudad. Al día siguiente, vuela a cuzco y estancia en el Hotel Monasterio de cinco estrellas. Excursiones al Valle Sagrado de los Incas y el pueblo colonial de Pisac son parte de la experiencia.
Senderos Guía de Viajes al Aire Libre
"Amazing Peru lleva a las familias en viajes de lujo y confortables en todo el Perú. Tienes programas para Familias de Aventura en el Perú de 12 días para padres con niños mayores de 12 años. Canotaje, kayak y bicicleta por los parajes para inolvidables del Perú como Machu Picchu. Este tour familiar al Perú esta hecho con componentes educacionales. Relajate en las playas del Norte del Perú, explora el lago navegable mas alto del mundo Titicaca, caminatas en el Amazonas, y visita Machu Picchu en este viaje de 16 días. Hecha un vistazo al programa de Viaje para Familias de 12 días de Amazing Perú."
Global Post USA
"
You can fly over Machu Picchu - or take a helicopter ride
Who needs hiking when you can fly? The company Amazing Peruoffers hour-long flight tours right over the Sacred Valley of the Incas. The plane fits a minimum of eight passengers, and it can also be chartered. Passengers fly over Tipon and Pikillaqta, both archaeological sites, Pisaq and the Urubamba Valley, Sacsayhuaman, and, of course, Machu Picchu itself. Flights can be longer or shorter as requested. "
"
You can Om your way through Machu Picchu
Machu Picchu is known as one of the most spiritual lands in the world, so why not go all out and Om your way through its ruins? Amazing Peru offers a seven-day yoga tour where visitors travel from Lima to Cuzco and finally to Machu Picchu, where they stay in the famed sanctuary Lodge hotel right outside of the ruins. They participate in multiple meditation and yoga sessions throughout the trip, but the highlight is a private session smack-dab in the middle of the ruins. Now that is an Om experience worth waiting for."
Yahoo Lifestyle
"A good bird watching site. Private, customized tour to Venezuela, Guyana, Suriname, French Guiana and Trinidad & Tobago"