Peru de Lujo - Tour Espiritual y Místico
Una magnífica experiencia de viaje espiritual con ceremonias chamánicas de plantas curativas y rituales en algunos de los sitios más emblemáticos del Perú, incluyendo templos sagrados.
Su Maestro Chamán se centrará en la espiritualidad del Perú y ofrecerá un significado más profundo de lo que significa vivir en equilibrio y con el conocimiento de que todos somos UNO.
Programas de curación también se incluirán en este recorrido espiritual único.
Lima - Cuzco - Valle Sagrado - Tipón
11 días / 10 noches.
ITINERARIO
Día 1: Lima
Llegada a Lima tarde en la noche y alojamiento en el hotel cerca al aeropuerto.
Día 2 : Lima - Cuzco (Desayuno)
Después del desayuno, vuelo a Cusco. Llegada a Cuzco, recepción y traslado, al hotel de 5 estrellas Hotel Monasterio. Mañana libre. Por la tarde, una visita guiada a las cuatro ruinas cercanas, Sacsayhuaman, Kenko, Puca Pucara y Tambomachay, con nuestro chamán y guía que le explicará el significado espiritual de cada sitio y llevará a cabo un ritual y la limpieza y ofrecer guía espiritual personalizado para cada participante. Regreso a su hotel.
Hotel Monasterio | Comidas: D
Día 3: Valle Sagrado (Desayuno & Almuerzo)
Después del desayuno, un viaje al Valle Sagrado con nuestro chamán y guía. El viaje incluirá una visita a Pisaq. El pueblo de Pisac fue fundado durante el período colonial. Los domingos, martes y jueves a los pobladores hacen trueque de sus productos, y los artesanos de toda la zona venden sus mantas tejidas de lana de alpaca y ponchos, vasos grabados, reproducciones de antigüedades y joyas. Los domingos, también es el lugar de encuentro de los alcaldes locales de la región, que vienen vestidos con sus vestimentas tradicionales, para asistir a la misa de la mañana.

Después de visitar el mercado, visitaremos las ruinas de Pisaq, donde por encima de nuestro chamán llevará a cabo una ceremonia de instalación para todos los participantes. Medicina, se procurará una atención personalizada durante la ceremonia, la limpieza y la explicación del sitio. Regreso a su hotel en Cusco por la tarde.
Comidas: D & A
Día 4: Machu Picchu (Desayuno, Almuerzo & Cena)
Traslado a la estación de tren de Poroy para el lujo Hiram Bingham tren a Machu Picchu. Llegada y traslado a su hotel, el Machu Picchu Sanctuary Lodge.

Después de la llegada, dentro de una visita guiada a la ciudad antigua más espectacular en el mundo. Esta fabulosa ciudad contiene casas, templos, almacenes, una gran plaza central, y todo conectado por carreteras estrechas y pasos que están rodeadas de terrazas cortadas en la ladera de la montaña. Después de la visita, tendrá tiempo libre para disfrutar de esta maravilla espiritual. Oportunidad para una caminata guiada (aprox. 1 hora) hasta el sungate (Puerto del Sol ), que es una parte del Camino Inca, por una visión mágica del santuario o, alternativamente, una escalada sin guía a la cima del Wayna Picchu, con una magnífica vista de todo el Santuario. Almuerzo en el Sanctuary Lodge. Volver al sitio para la exploración libre antes de regresar a su hotel para cena y alojamiento.
Machu Picchu Sanctuary Lodge | Comidas: D, A & C
Día 5 : Machu Picchu - Valle Sagrado (Desayuno, Almuerzo & Cena)
Después del desayuno, usted se reunirá con su chamán que llevará a cabo un recorrido muy diferente del lugar y le explicará los aspectos místicos de Machu Picchu. Regreso al hotel para el almuerzo.

Té de la tarde, antes de regresar con el tren Hiram Bingham hacia Poroy.

Disfrute de una cena y cócteles a bordo del tren. Llegada y traslado a su hotel ubicado en el Valle Sagrado, el Río Sagrado.
Río Sagrado | Comidas: D, A & C
Día 6 : Valle Sagrado - Huchuy qosko Trek (Desayuno & Almuerzo)
Hoy un viaje privado a las ruinas de Huchuy Qosqo. Transferencia a Piuray Lake desde donde comenzará esta caminata 9 horas. Usted será recompensado con el hermoso sol de la mañana en el Monte Verónica y toda la cordillera de Vilcabamba. Después de un breve inicio en montaña usted comenzará a descender sobre el altiplano, a las ruinas de Huchuy Qosqo.

Estas ruinas bien conservadas se caracterizan por las puertas dobles de la jamba, casas de tres pisos y construcciones mixtas de piedra y adobe. Extendiéndose a lo largo de la cima de la montaña y rodeado de espectaculares vistas de la sierra de Valle Sagrado y Urubamba, se trata de una caminata menos popular y requiere una buena resistencia física. Después de disfrutar de un delicioso almuerzo al aire libre bajo la sombra de los queñua (Roble Andino), continuará el sendero a través de campo abierto antes serpenteando por un sendero empinado en el perfil de la montaña. Transporte estará esperando en el pueblo de Lamay para llevarlo de regreso a su hotel en el Valle Sagrado.
Comidas: D & A
Día 7. Valle Sagrado - Cuzco (Desayuno)
Después del desayuno, regreso a Cusco y alojamiento en 5* Hotel Monasterio. Día libre para descansar.
Hotel Monasterio | Comidas: D
Día 8. Cuzco - Tipón (Desayuno)
Después del desayuno, traslado al sitio arqueológico de Tipón, con nuestro Shaman quien explicará el significado espiritual y llevará a cabo un ritual y la purificación del espíritu. Retorno al Cusco y alojamiento en el Hotel Monasterio.
Hotel Monasterio | Comidas: D
Día 9: Cusco (Desayuno)
Una visita a las terrazas de Moray incas ubicadas cerca del valle del Urubamba. Estas cuatro terrazas fabulosas que se asemejan un anfiteatro son increíbles ejemplos de experimentación agrícola temprana. Cada nivel de terraza exhibe una variación de temperatura marcada, varios microclimas diferentes se forman lo que permite el crecimiento de una amplia variedad de cultivos. Se hicieron crecer muchos tipos de cereales y los productos aquí, incluyendo el maíz y la patata. El recorrido continúa hacia el extraño paisaje de Maras, sede de más de 3.000 salinas separadas. De origen pre - incaico, estas salinas forman a partir de una fuente subterránea. Retorno al Cusco y acomodación en el Hotel Monasterio.
Comidas: D
Día 10: Cuzco (Desayuno)
Día libre en Cuzco. Alojamiento en el Hotel Monasterio 5*.
Hotel Monasterio | Comidas: D
Día 11: Lima (Desayuno)
Después del desayuno, traslado al aeropuerto para tomar su vuelo de regreso a casa.
Comidas: D
Fin de nuestros servicios.
Peru de Lujo - Tour Espiritual y Místico - El Resumen del Itinerario:
PRICES:

Por favor, contáctenos aquí
Credit Cards Welcome:



QUE ESTA INCLUIDO / NO INCLUIDO
NUESTRA SELECCIÓN DE HOTELES DE LUJO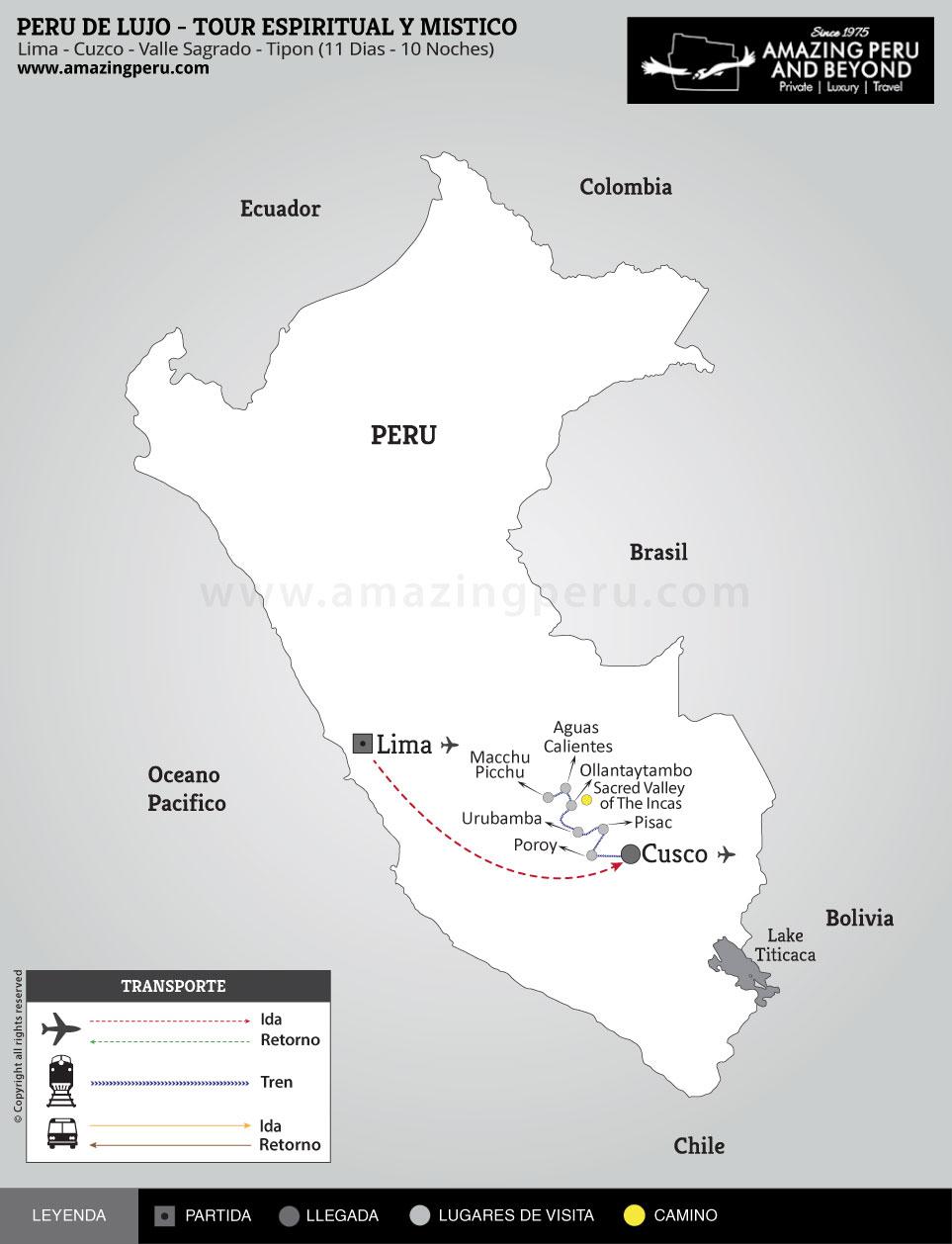 Peru de Lujo - Tour Espiritual y Místico
Lima - Cuzco - Valle Sagrado - Tipón
11 días / 10 noches.
Para disponibilidad y contactarse con nosotros enviarnos un email a:
info@amazingperu.com
y nosotros le enviaremos el dossier e información completa del viaje correspondiente junto con una cotización de 90 días de duración, con los términos y condiciones. Por favor, tenga en cuenta que tenemos reducciones significativas de precios disponibles para grupos. Todos nuestros
Tours de Lujo
son totalmente privados y salen todos los días. Póngase en contacto con nosotros para obtener más información sobre el itinerario de viaje anterior, o para comenzar a personalizar su propio itinerario hecho a la medida. Todos nuestros itineraries pueden ser personalizados de acuerdo a sus requerimientos.
ALTAMENTE RECOMENDADO POR:
Amazing Perú es una agencia de viajes múltiples y de gestión, con varias oficinas en Perú y una extensa lista de los viajes, que ofrece de todo, desde viajes familiares y viajes de luna de miel de lujo y aventura y excursiones a la selva, para casi cualquier presupuesto
Guía de Viajes Frommers 2023
Muy recomendable, "viaje perfecto" profesional y bien organizado, guías conocedores
Footprint Guide 2023
Los servicios de transporte y alojamientos son de primera categoría, y los guías son flexibles y extremadamente útil
Guía de Viajes Fodors 2023
Amazing Perú (amazingperu.com) tiene más de 20 años de experiencia en la industria de viajes. Tours a Machu Picchu se puede personalizar para incluir el pasaje aéreo, todas las comidas, alojamiento y seguro de viaje, y duran de seis a 14 días. lugares turísticos incluyen Machu Picchu, Cuzco, Valle Sagrado, Lago Titicaca y el Cañón del Colca. Todas las excursiones se embarcan desde Lima y se pueden personalizar para incluir un crucero Amazon, paseos a caballo, rafting, senderismo y ciclismo.
USA TODAY
Move Over, Machu Picchu ­ ¿Cómo los viajeros con discapacidad pueden visitar Machu Picchu
Los Angeles Times
Buscando una aventura de por vida para poner en marcha la vida matrimonial encuentra estas lunas de miel con una diferencia…?
Revista Perfect Wedding
"Experiencia"
Amazing Perú es la empresa líder en Latinoamérica que combina exclusividad, lujo y autenticidad para vacaciones peruanos. Será adaptar un 15 -. Turísticos días para usted que tiene en el Lago Titicaca, el Valle Sagrado, Machu Picchu, Lima, Cuzco, el Cañón del Colca y la selva amazónica
The Travel and Leisure Magazine UK
Amazing Destinations es una empresa de renombre con una impresionante variedad de excursiones únicas…
At Home and Away con Alan Whicker CBE Revista
Machu picchu Mágico:
Una opción para los solteros es pasar la Navidad en una visita guiada de impresionante Machu Picchu y visitar el famoso Lago Titicaca. Amazing Peru ofrece lujosas vacaciones de Navidad en Machu Picchu por el Camino Inca. Los viajeros vuelan a Lima y pasar un día recorriendo el centro histórico de la ciudad. Al día siguiente, vuela a cuzco y estancia en el Hotel Monasterio de cinco estrellas. Excursiones al Valle Sagrado de los Incas y el pueblo colonial de Pisac son parte de la experiencia.
Senderos Guía de Viajes al Aire Libre
"Amazing Peru lleva a las familias en viajes de lujo y confortables en todo el Perú. Tienes programas para Familias de Aventura en el Perú de 12 días para padres con niños mayores de 12 años. Canotaje, kayak y bicicleta por los parajes para inolvidables del Perú como Machu Picchu. Este tour familiar al Perú esta hecho con componentes educacionales. Relajate en las playas del Norte del Perú, explora el lago navegable mas alto del mundo Titicaca, caminatas en el Amazonas, y visita Machu Picchu en este viaje de 16 días. Hecha un vistazo al programa de Viaje para Familias de 12 días de Amazing Perú."
Global Post USA
"
You can fly over Machu Picchu - or take a helicopter ride
Who needs hiking when you can fly? The company Amazing Peruoffers hour-long flight tours right over the Sacred Valley of the Incas. The plane fits a minimum of eight passengers, and it can also be chartered. Passengers fly over Tipon and Pikillaqta, both archaeological sites, Pisaq and the Urubamba Valley, Sacsayhuaman, and, of course, Machu Picchu itself. Flights can be longer or shorter as requested. "
"
You can Om your way through Machu Picchu
Machu Picchu is known as one of the most spiritual lands in the world, so why not go all out and Om your way through its ruins? Amazing Peru offers a seven-day yoga tour where visitors travel from Lima to Cuzco and finally to Machu Picchu, where they stay in the famed sanctuary Lodge hotel right outside of the ruins. They participate in multiple meditation and yoga sessions throughout the trip, but the highlight is a private session smack-dab in the middle of the ruins. Now that is an Om experience worth waiting for."
Yahoo Lifestyle
"A good bird watching site. Private, customized tour to Venezuela, Guyana, Suriname, French Guiana and Trinidad & Tobago"