Tour de Lujo: Camino Inca a Machu Picchu
Amazing Perú se enorgullece de ofrecer un viaje único e inolvidable a través de mitos y leyendas en el corazón de la ciudad perdida de los Incas. Nuestro programa es un viaje muy especial, todo incluido la incorporación de una amplia aclimatación en el Cuzco durante su estancia en los mejores hoteles de la antigua capital de los Incas. Todas las comidas, el tren de lujo Hiram Bingham y Primera Clase en los vuelos domésticos son parte del paquete. El tour también incluye el arduo pero extraordinario cuatro días Camino Inca a Machu Picchu, aunque de manera lujosa. Este viaje ofrece una perspectiva única de los individuos sanos con la nostalgia de una experiencia diferente y totalmente espiritual. Nuestros servicios sin precedentes incluyen el alojamiento en hoteles de lujo en todas las ciudades, todas las comidas a la carta en los restaurantes reconocidos a nivel internacional, todos los tours privados con todas las entradas, todas las transferencias privadas, servicio de masaje gratuito en todos sus hoteles, el acceso a la sala VIP en el aeropuerto de Lima antes de su regreso a casa, una sesión de yoga para ayudar a prepararse para el Camino Inca de cuatro días, duchas calientes portátiles, dos baños químicos portátiles, masajes diarios en el viaje con su propio masajista para ayudar a aliviar los dolores musculares de distancia de cada día , buen vino y excelente cocina gourmet todos los días de la caminata, porteadores quechuas y experimentados músicos que tienen un conocimiento especial de la antigua leyenda andina, los mejores guías de habla Inglés/Español y un guía chamán esotérico para la última gira en torno a Machu Picchu. Todo ello con el mejor equipo de trekking importado de Europa y Usa utilizando colchones de calidad, cómodos sacos de dormir y carpas de gran tamaño
Lima - Cuzco - Urubamba - Pisac - Ollantaytambo - Wiñayhuayna
11 días / 10 noches.
ITINERARIO
Día 1: Lima
Llegada a Lima, recepción en el aeropuerto y traslado en vehículo privado hacia el hotel de 5 * Miraflores Park Hotel. Registro de entrada VIP a su suite ejecutiva completa con vistas al océano. Las flores frescas y frutas secas se espera de usted. Si su vuelo llega tarde el masaje será pospuesta para mañana. Si llegas en un vuelo temprano, usted tendrá la opción de una cena a la carta o servicio de habitaciones (si va a llegar después de 23:00).
Miraflores Park Hotel | Comidas: C
Día 2. LIMA
Después del desayuno, una visita guiada privada de Lima colonial y moderna, como la catedral, que data de 1654, la plaza principal, que conserva la fuente original de bronce construido en 1650, y el convento de San Francisco y sus catacumbas. Conocida como la ciudad de los reyes, Lima fue fundada en 1535 por Pizarro y reconstruida en 1991, el mismo año que la UNESCO la declaró Patrimonio de la Humanidad. Una de las pocas ciudades de América del Sur que preservan el pasado colonial, Lima fue sede del virrey español en la época de los colonizadores españoles. El tour incluye una visita a las zonas residenciales de San Isidro y Miraflores, antes de detenerse en Larco Mar para disfrutar de una vista del hermoso Océano Pacífico. Almuerzo en el internacionalmente reconocido Rosa Nautica, el mejor restaurante de mariscos en Lima. Después del almuerzo, una visita a un museo de su elección. Regreso a su hotel en Lima. Regreso al hotel para disfrutar de un masaje relajante 60 minutos (para dos personas) que vigorizar los sentidos y prepararse para una deliciosa cena en el restaurante Huaca Pucllana. Ubicado dentro de un sitio arqueológico pre-inca actual y al lado de una pirámide de adobe años 1500, la comida es exquisita y el sommelier le ayudará a elegir entre sus favoritos personales o algunos clásicos de Chile y Argentina.
Comidas: D, A & C
Día 3. LIMA - CUZCO
Tras una subida inicial, mañana traslado al aeropuerto para tomar el vuelo a Cuzco, en primera clase. Después del vuelo de una hora, llegada a Cusco, recepción y traslado al Hotel Monasterio de lujo Cinco estrellas. Mañana libre para dar un paseo alrededor de la antigua capital de los Incas. Un guía estará disponible o si se prefiere, un paseo privado por la antigua capital.
El recorrido incluye la Catedral, Qoricancha Templo y la Plaza Principal. Historia del Cusco se remonta a antes de 1000 AC cuando el Marcavalle cultura era la potencia dominante, la vida realmente organizado en la Ciudad comenzó prácticamente con ellos. En la segunda fase de su historia, en torno a 800 AC, Cuzco fue el hogar de la cultura Chanapata y más tarde desarrolló varios estados de la región. Lo que se conoce tradicionalmente como la civilización Inca comenzó alrededor de 1200 dC, en su fase inicial, con el primer Inka, Manko Capaq y Mama Ocllo. También se sugiere que Pachakuteq, el noveno rey, elaboró otra fundación en 1438, que también se conoce como la fase expansiva. Constructores Inca adelante presentó a la ciudad en forma de un puma, con la fortaleza de Sacsayhuaman como la cabeza.
Después de la llegada de los españoles a la ciudad el 15 de noviembre 1533, Francisco Pizarro re-fundada por el rey español el 23 de marzo 1534. En 1536 Manko Inka empezó una larga y sangrienta guerra contra los invasores españoles con un asedio que duró más de 8 meses a la ciudad. Finalmente, en 1572, después de una guerra que duró 36 años, Tupaq Amaru I, el último emperador de la dinastía Inka fue derrotado, capturado y ejecutado en la plaza principal de la ciudad. Posteriormente, el español destruyó muchas de las estructuras en la ciudad o los usó como base para muchas de sus propias iglesias y edificios. Cena y alojamiento.
Hotel Monasterio de lujo | Comidas: C
Día 4. CUZCO
Después del desayuno, un recorrido por las ruinas que rodean la capital de los incas como la Fortaleza de Sacsayhuaman con vistas a la ciudad de Cuzco, una obra maestra de arquitectura pre inca, Kenko, un santuario Inca cuya mayor atracción es el altar monolítico que representa un puma, la fortaleza roja de Puca- Pucara y Tambomachay. Después de la visita que dura aproximadamente dos horas y media tendremos el almuerzo en el hotel La Casona del Inca, situado en las colinas de Cuzco, con una hermosa vista de la ciudad.
Hotel La Casona del Inca | Comidas: D
Día 5. VALLE SAGRADO - PISAC - OLLANTAYTAMBO
Excursión de día completo a la hermosa Urubamba, el Valle Sagrado de los Incas, situado entre Pisac y Ollantaytambo. Es un valle excepcionalmente fértil que fue y sigue siendo la despensa de Cuzco. Visita al pueblo de Pisac, fundada durante la época colonial, y ubicado a los pies de una colina coronada por los restos de una antigua ciudad Inca. Los domingos, martes y jueves, los indios trueque de sus productos en la plaza principal y artesanos de todo el área de venta de sus mantas tejidas de lana de alpaca y ponchos, mates grabados, reproducciones de antigüedades, joyas, etc Los domingos, también es el lugar de encuentro para Los alcaldes de todos los pueblos de la región, vestidos con sus trajes típicos para asistir a misa. Después de un almuerzo buffet, visita a Ollantaytambo, la única ciudad inca que no fue derrotado por el español la oportunidad de explorar las ruinas que se elevan por encima. Por la tarde regreso a Cuzco mientras visita en ruta el tradicional mercado de Chinchero. Regreso a su hotel.
Caminata Privata del Camino Inca de Lujo a Machu Picchu
Comidas: A
Día 6. OLLANTAYTAMBO - WAYLLABAMBA
Después de un desayuno temprano en la mañana, será trasladado a Chilca en coche privado en el que se reunirá con sus porteadores quechuas y prepararse para el Camino Inca con una sesión de yoga de su instructor personal. Después de algunas técnicas de relajación, respiración y estiramiento, usted estará listo para emprender la caminata de cuatro días que le espera. Va a cruzar el río Vilcanota turbulenta, con magníficas vistas del nevado Verónica (5.900 m/19, 000 pies) y continuar a lo largo de la caminata admirando el sitio arqueológico de Llactapata, y parando en el río Huayllabamba para el almuerzo. Todas las comidas son en grandes carpas comedor con excelentes comidas de tres platos recién preparados por el cheff. Después del almuerzo, visitaremos los sitios arqueológicos de Patallacta, Qente, y el valle de Cusichaca junto con el bosque mágico Polylepsis antes de continuar la caminata. Para ayudarnos a concentrarnos en la verdadera naturaleza de nuestro viaje, nuestro destino y nuestra ubicación, nuestros porteadores personales jugarán la quena o flauta andina antigua. También animamos a hablar con nuestros porteadores para aprender un poco sobre sus costumbres ancestrales y formas o la vida. Nuestra excursión de hoy tendrá una duración de aproximadamente 7 horas. Al llegar a nuestro campamento, vamos a disfrutar de masajes relajantes y una ducha tibia para ayudar a calmar lejos cualquier dolores y molestias. Cena antes de escuchar las historias intrigantes y leyendas de nuestros porteadores quechua. Acampar durante la noche en el camino.
Comidas: D & A
Día 7. WAYLLABAMBA - PACAYMAY
Un comienzo temprano hoy, ya que es el día más exigente de todo el recorrido y vamos a subir a considerable altitud. Veremos impresionantes vistas hacia el este de los picos de Huayanay y al oeste de la Cordillera de Vilcabamba resistente. Después del desayuno, comenzaremos la subida a través de la primera pasada en 4200 m/13, 750 pies en Warmiwañusqa. Paso 3 zonas ecológicas como la Yunga, Quechua y Puna, vamos a subir a 1.000 metros en 5 horas. Música encantadora de nuestros porteadores nos ayudará a maravillarse con las vistas más que el difícil ascenso. El almuerzo se toma antes de las dos secciones finales del ascenso. Al llegar a la cima del "Paso de la Mujer Muerta", vamos a celebrar nuestros logros, pagando homenaje a los Apus o dioses de la montaña, antes de descender al campamento. Masajes y una ducha caliente antes de una cena de bienvenida cerca de Pacaymayu. Mitos más secretos se revelarán esta noche como los porteros explican el significado de los Apus o dioses de la montaña. Acampar durante la noche en el camino.
Comidas: D & A
Día 8. PACAYMAYU - Wiñayhuayna
Después del desayuno, comenzaremos el ascenso de la segunda pasada, aunque aún más exigente, esto es más fácil que la subida del día anterior. Una visita a la famosa zona arqueológica de Runquraqay. Vamos a continuar con el sitio de la ciudad restaurada de Sayaqmarka ("Pueblo en un precipicio") y explorar las ruinas Sayaqmarka, admirando al mismo tiempo, el bosque nuboso fabuloso que ahora está a nuestro alrededor. El tercer paso del Camino Inca en esta sección es un largo camino de granito blanco, con algunas subidas y bajadas que atraviesan una montaña densamente arbolada. Finalmente descenderemos a la magnífica zona arqueológica de Phuyupatamarka ("Cloud Level Town") cuando un buen almuerzo nos estará esperando. Después de almuerzo, luego comenzar el descenso a Wiñaywayna, un complejo de Inca excepcional construido en la ladera de la montaña. Una visita de las ruinas antes de nuestro último masaje y ducha. Después de relajarse, vamos a disfrutar de la cena cuidadosamente preparada por nuestro cheff. También nos encontraremos con nuestros porteadores para el último tiempo y hablar de los antiguos caminos sobre los que hemos caminado durante los últimos días. Acampar durante la noche en el camino.
Comidas: D, A & C
Día 9. WIÑAYHUAYNA - MACHU PICCHU
Temprano en la mañana se despierta a las 4:30 am para desayunar y comenzar el último viaje a Intipunku, y el primer sitio del complejo arqueológico de Machu Picchu. Vamos a descender rápidamente de bosque nublado en el hábitat de selva alta. Orquídeas y colibríes se observan con frecuencia a lo largo de este espectacular tramo del sendero de alta por encima del río. Llegaremos a Intipunko "Puerta del Sol" para observar el amanecer en Machu Picchu desde un punto de vista elevado. Continuaremos hasta el camino real y al final la "Ciudad Perdida de los Incas". Llegada y traslado de nuestras pertenencias en el hotel Sanctuary Lodge. Entonces comenzamos inmediatamente nuestro tour de Machu Picchu. Fue construido por el Inca Pachacutec, y que comprende bloques de piedra colocados con una precisión magistral, Machu Picchu combina armoniosamente con el paisaje montañoso. Hay muchas teorías acerca de los orígenes detrás de Machu Picchu, pero tres de las ideas más populares incluyen un templo al sol, una fortaleza contra los habitantes de la selva y un santuario de los Incas. Esta maravillosa ciudad tiene casas, templos, almacenes, una gran plaza central y todos conectados por caminos y pasos estrechos, que está rodeada de terrazas excavadas en la ladera de la montaña que se utilizaban para la agricultura. Visitaremos la Plaza Principal, los Cuartos Reales, el Templo de las Tres Ventanas, el torreón circular, el Sagrado Reloj Solar y cementerios. Después de la visita guiada, se puede disfrutar de una tarde de auto-exploración y el descubrimiento. Almuerzo en el Sanctuary Lodge antes de una tarde libre para apreciación más personal. Alojamiento en el hotel Sanctuary Lodge.
Hotel Sanctuary Lodge | Comidas: D & A
Día 10. MACHU PICCHU - CUZCO
Después del desayuno, vamos a volver al complejo para un viaje muy diferente del lugar, esta vez con un guía chamán. También vamos a experimentar la antigua ofrenda a la Pachamama o madre tierra, dentro de los terrenos del Santuario. Abordar el tren de Cuzco. Recepción y traslado al Hotel Monasterio.
Hotel Monasterio | Comidas: D
Día 11. CUZCO - LIMA
Después del desayuno, traslado al aeropuerto para tomar el vuelo de regreso a Lima, llegando a las 9 am y la conexión de vuelo de regreso. (El vuelo de regreso se puede cambiar a un vuelo más tarde, si es necesario, pero no en primera clase)
Comidas: D
Fin de nuestros servicios.
Tour de Lujo: Camino Inca a Machu Picchu - El Resumen del Itinerario:
PRICES:

Por favor, contáctenos aquí
Credit Cards Welcome:



QUE ESTA INCLUIDO / NO INCLUIDO
NUESTRA SELECCIÓN DE HOTELES DE LUJO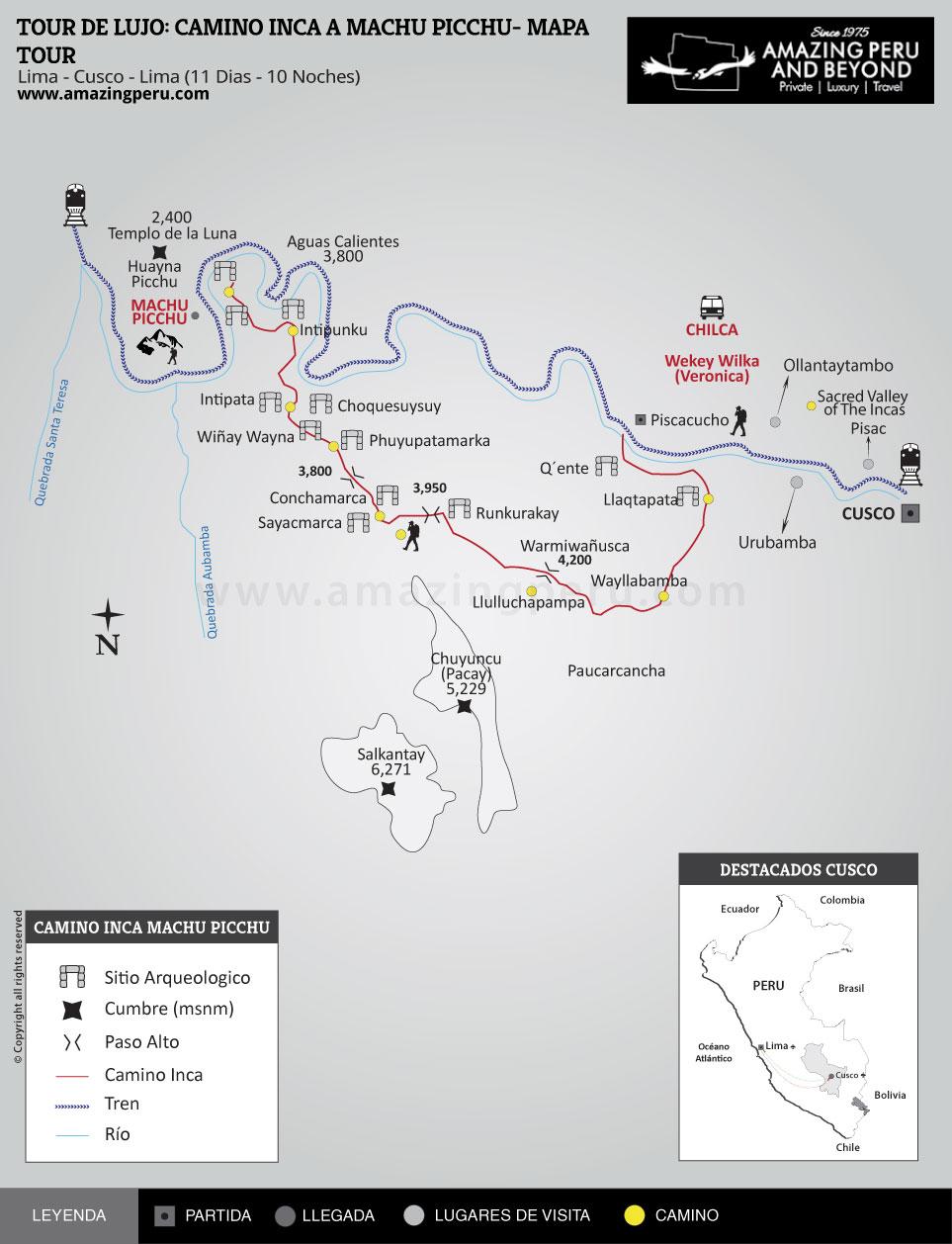 Tour de Lujo: Camino Inca a Machu Picchu
Lima - Cuzco - Urubamba - Pisac - Ollantaytambo - Wiñayhuayna
11 días / 10 noches.
Para disponibilidad y contactarse con nosotros enviarnos un email a:
info@amazingperu.com
y nosotros le enviaremos el dossier e información completa del viaje correspondiente junto con una cotización de 90 días de duración, con los términos y condiciones. Por favor, tenga en cuenta que tenemos reducciones significativas de precios disponibles para grupos. Todos nuestros
Tours de Lujo
son totalmente privados y salen todos los días. Póngase en contacto con nosotros para obtener más información sobre el itinerario de viaje anterior, o para comenzar a personalizar su propio itinerario hecho a la medida. Todos nuestros itineraries pueden ser personalizados de acuerdo a sus requerimientos.
ALTAMENTE RECOMENDADO POR:
Amazing Perú es una agencia de viajes múltiples y de gestión, con varias oficinas en Perú y una extensa lista de los viajes, que ofrece de todo, desde viajes familiares y viajes de luna de miel de lujo y aventura y excursiones a la selva, para casi cualquier presupuesto
Guía de Viajes Frommers 2023
Muy recomendable, "viaje perfecto" profesional y bien organizado, guías conocedores
Footprint Guide 2023
Los servicios de transporte y alojamientos son de primera categoría, y los guías son flexibles y extremadamente útil
Guía de Viajes Fodors 2023
Amazing Perú (amazingperu.com) tiene más de 20 años de experiencia en la industria de viajes. Tours a Machu Picchu se puede personalizar para incluir el pasaje aéreo, todas las comidas, alojamiento y seguro de viaje, y duran de seis a 14 días. lugares turísticos incluyen Machu Picchu, Cuzco, Valle Sagrado, Lago Titicaca y el Cañón del Colca. Todas las excursiones se embarcan desde Lima y se pueden personalizar para incluir un crucero Amazon, paseos a caballo, rafting, senderismo y ciclismo.
USA TODAY
Move Over, Machu Picchu ­ ¿Cómo los viajeros con discapacidad pueden visitar Machu Picchu
Los Angeles Times
Buscando una aventura de por vida para poner en marcha la vida matrimonial encuentra estas lunas de miel con una diferencia…?
Revista Perfect Wedding
"Experiencia"
Amazing Perú es la empresa líder en Latinoamérica que combina exclusividad, lujo y autenticidad para vacaciones peruanos. Será adaptar un 15 -. Turísticos días para usted que tiene en el Lago Titicaca, el Valle Sagrado, Machu Picchu, Lima, Cuzco, el Cañón del Colca y la selva amazónica
The Travel and Leisure Magazine UK
Amazing Destinations es una empresa de renombre con una impresionante variedad de excursiones únicas…
At Home and Away con Alan Whicker CBE Revista
Machu picchu Mágico:
Una opción para los solteros es pasar la Navidad en una visita guiada de impresionante Machu Picchu y visitar el famoso Lago Titicaca. Amazing Peru ofrece lujosas vacaciones de Navidad en Machu Picchu por el Camino Inca. Los viajeros vuelan a Lima y pasar un día recorriendo el centro histórico de la ciudad. Al día siguiente, vuela a cuzco y estancia en el Hotel Monasterio de cinco estrellas. Excursiones al Valle Sagrado de los Incas y el pueblo colonial de Pisac son parte de la experiencia.
Senderos Guía de Viajes al Aire Libre
"Amazing Peru lleva a las familias en viajes de lujo y confortables en todo el Perú. Tienes programas para Familias de Aventura en el Perú de 12 días para padres con niños mayores de 12 años. Canotaje, kayak y bicicleta por los parajes para inolvidables del Perú como Machu Picchu. Este tour familiar al Perú esta hecho con componentes educacionales. Relajate en las playas del Norte del Perú, explora el lago navegable mas alto del mundo Titicaca, caminatas en el Amazonas, y visita Machu Picchu en este viaje de 16 días. Hecha un vistazo al programa de Viaje para Familias de 12 días de Amazing Perú."
Global Post USA
"
You can fly over Machu Picchu - or take a helicopter ride
Who needs hiking when you can fly? The company Amazing Peruoffers hour-long flight tours right over the Sacred Valley of the Incas. The plane fits a minimum of eight passengers, and it can also be chartered. Passengers fly over Tipon and Pikillaqta, both archaeological sites, Pisaq and the Urubamba Valley, Sacsayhuaman, and, of course, Machu Picchu itself. Flights can be longer or shorter as requested. "
"
You can Om your way through Machu Picchu
Machu Picchu is known as one of the most spiritual lands in the world, so why not go all out and Om your way through its ruins? Amazing Peru offers a seven-day yoga tour where visitors travel from Lima to Cuzco and finally to Machu Picchu, where they stay in the famed sanctuary Lodge hotel right outside of the ruins. They participate in multiple meditation and yoga sessions throughout the trip, but the highlight is a private session smack-dab in the middle of the ruins. Now that is an Om experience worth waiting for."
Yahoo Lifestyle
"A good bird watching site. Private, customized tour to Venezuela, Guyana, Suriname, French Guiana and Trinidad & Tobago"