Perú de Lujo Tour de Yoga, Un Escape Espiritual
Un tour personalizado y privado de Perú; visitaremos el Valle Sagrado de los Incas, el ombligo del Imperio Incaico y las experiencia de las ritos chamánicos incaicos, escapar a un retiro privado de yoga durante varios días, viajar a bordo del tren Hiram Bingham a la antigua ciudad perdida de los Incas, Machu Picchu, explorar la antigua capital inca de Cuzco durante su estancia en uno los lujosos hoteles de Orient Express de la ciudad y aprenderá las técnicas tradicionales de tejido Incaico con un perspectiva práctica.
Lima - Cusco - Valle Sagrado - Machu Picchu - Chinchero
11 días / 10 noches.
ITINERARIO
Día 1 LIMA - Sin comidas hoy
Al llegar al aeropuerto de Lima y salir de aduanas con su equipaje, será muy bien recibido, y será ayudado con su equipaje y acompañado a su hotel, en el aeropuerto El Ramada. El hotel será el de la mejor opción en función de sus vuelos.
Día 2 LIMA - CUSCO - VALLE SAGRADO (Desayuno)
Después del desayuno, con las tarjetas de embarque en la mano, será conducido al aeropuerto para su-check-in rápido y breve vuelo de una hora a Cuzco, la antigua capital de los Incas. En Cuzco, que será cálidamente acogido por el personal de la sala VIP del aeropuerto y trasladado a la sala de estar oxigenada donde usted puede probar algunos de los tés de coca local mientras su equipaje es recogido para usted. Usted será recibido por nuestros guías turísticos principales de Cuzco, quien le acompañará para en el traslado privado a su hotel en el Valle Sagrado. Día libre en el Rio Sagrado Hotel.
Rio Sagrado Hotel | Comidas: D
Día 3 VALLE SAGRADO (Desayuno y almuerzo)
Después del desayuno, su guía estará esperando por usted y le transportara en un mini-bus privado hacia el sitio Inca de Moray. Esta es una fascinante, ruina es única, un anfiteatro de fabulosa terrazas que se utilizó como centro experimental agrícola por los incas, aprovechando los microclimas que se producen por la altitud que varían para obtener nuevas variedades de sus cultivos. Desde aquí iniciaremos nuestra caminata cuesta abajo hasta el pueblo de Maras y las salinas de Maras. Las salinas son un sitio inolvidable donde el pueblo de Maras es el resultado de cargas de sal, que salían de la ladera, evaporaban del agua para recoger la sal, ya como sus antepasados habían hecho durante siglos. Vamos a caminar entre las salinas, siendo testigo de una escena en gran parte sin cambios desde la época Inca.

De las salinas continuamos nuestra caminata hacia el fondo del valle, antes de reunirse con nuestro coche para el transporte privado a la espléndida Huayoccari Hacienda, con vistas al Valle Sagrado y que se remonta al siglo XVII. La hacienda es propiedad de uno de los terratenientes más sobresalientes del Valle Sagrado y es el hogar de unos bellos jardines que producen ingredientes autóctonos que son utilizados en la cocina del restaurante. Estos incluyendo el maíz, la quinua, frutas y hierbas aromáticas. Disfrute de un menú de esta maravillosa casa de campo antes de regresar a su hotel.
Comidas: D & A
Día 4 VALLE SAGRADO (Desayuno y almuerzo)
Luego del desayuno, una visita a Pisaq con sus guías y un Maestro Chamán. El pueblo de Pisac fue fundado durante la época colonial. Los domingos, martes y jueves a los indios el trueque de sus productos, y artesanos de toda del área venden sus mantas tejidas de lana de alpaca y ponchos, mates grabados, reproducciones de antigüedades y joyas. Los domingos, también es el lugar de encuentro de los alcaldes locales de la región, que vienen vestidos con sus trajes tradicionales, para asistir a la misa de la mañana. Después del mercado, una visita a las ruinas de Pisaq, donde por encima de nuestro chamán llevará a cabo una ceremonia de plantas para todos los participantes. Medicina, se ofrecerá una atención personalizada durante la ceremonia, la limpieza y la explicación del sitio. Caja de almuerzo siempre. Su vuelta al hotel.
Comidas: D & A
Día 5 VALLE SAGRADO (Desayuno y cena)
Después del desayuno, corto viaje en auto a Willka T'ika, un refugio de jardín de lujo situado en el corazón del Valle Sagrado.

Creado por Carol Cumes en 1994, es absolutamente respetuoso de la Madre Tierra, (Pacha mama), y conscientemente construido en armonía con su entorno natural por el talento nativo propietario y local, que hasta hoy continúan como personal para nutrir y cuidar de su mantenimiento de la prosperidad. Todas las comidas vegetarianas gourmet están incluidos. Casi todo lo que se sirve en la cocina se cultiva orgánicamente en el sitio. Las hierbas frescas se cosechan durante el día y se dejan en el salón de té para que los huéspedes se mezclen sus propias combinaciones de curación a voluntad. Willka T'ika es capaz de adaptarse a todas las especificaciones de la dieta. Magníficos jardines de curación del Willka T'ika proporcionan a los huéspedes la posibilidad de relajarse, restaurar y recibir la energía poderosa de los Andes. Los siete jardines son chacras únicas en su tipo cubren terreno. Cada jardín está diseñado para corresponder a uno de las siete chacras, o centros de energía, del cuerpo humano. Habitaciones de lujo sostenible del Willka T'ika están hechos de materiales naturales de la tierra y adornadas con obras de arte y materiales locales. Los baños son modernos y cuentan con productos orgánicos puros. Willka T'ika cuenta con dos estudios de madera duros hermosos para el yoga y la meditación. Los estudios están llenos de luz natural y tienen capacidad para 55 personas. Las áreas exteriores a través de los jardines ofrecen una variedad de espacios para el grupo y sesiones de yoga y meditación individuales. Hoy, una clase de yoga privada será proporcionado por la tarde.
Comidas: D & C
Día 6 VALLE SAGRADO (Desayuno y cena)
Día libre en el Retiro. Hoy en día, una clase de yoga será proporcionado por la tarde.
Comidas: D & C
Día 7 OLLANTAYTAMBO - MACHU PICCHU (Todas las comidas)
Después del desayuno, nos despedimos del retiro antes del corto viaje hasta la estación de Ollantaytambo a tiempo para el abordaje del tren de lujo Hiram Bingham hacia Aguas Calientes. Su equipaje será llevado al Cuzco para usted debido a la política de un mínimo de equipaje a bordo del tren.

El tren saldrá a las 10.30 horas para el viaje de 1½ horas y podrá disfrutar de la compañía de los compañeros de viaje y guías a bordo de este tren de lujo completas con estilo 1920 vagones Pullman. Cada carro ha sido decorado en madera pulida y latón con grandes sillones confortables.

El bar es el lugar perfecto para disfrutar de un cóctel acompañado de la música peruana en vivo. En el camino a Machu Picchu, el camarero le mostrará cómo hacer un Pisco Sour. El vagón panorámico está amoblado con grandes asientos acolchados, convirtiéndolo en el lugar perfecto para sentarse, relajarse y ver el paisaje peruano se desarrollan a medida que sube suavemente hacia Machu Picchu. Un suculento almuerzo será servido a bordo antes de llegar hasta la estación de tren en Aguas Calientes, puerta de entrada a la ciudad perdida de los Incas.

Al desembarcar, se contará con la asistencia con su equipaje y una calida bienvenida y dará una pequeña caminata al terminal de autobuses, donde un bus privado estará esperando a todos los pasajeros del Hiram Bingham. Un corto viaje hasta Machu Picchu será serpenteando a través de impresionantes paisajes de montaña hasta la antigua ciudadela inca. En la entrada a Machu Picchu, donde se encuentra el Hotel Sanctuary Lodge. Serán bienvenidos y registrados en sus habitaciones.

Poco después, su guía lo llevará de nuevo en una visita guiada privada de Machu Picchu, la ciudad antigua más espectacular en el mundo. Construido por el Inca Pachacutec, y que comprende los bloques de piedra equipados con una precisión magistral, Machu Picchu se mezcla armoniosamente con el paisaje montañoso. Hay muchas teorías sobre los orígenes detrás de Machu Picchu, pero tres de las ideas más populares incluyen un templo al sol, una fortaleza contra los habitantes de la selva o de un santuario de los Incas. Esta magnífica ciudad tiene viviendas, templos, almacenes, una gran plaza central, todos conectados por caminos y peldaños estrechos, y está rodeado de terrazas cortadas en la ladera de la montaña que se usaron para la agricultura. Cena y alojamiento en el Machu Picchu Sanctuary Lodge.
Hotel Sanctuary Lodge | Todas las Comidas
Día 8 MACHU PICCHU - CUZCO (Todas las comidas)
Hoy se reunirá con su Maestro Chamán que llevará a cabo una visita muy distinta del lugar y le explicará los aspectos místicos de Machu Picchu. El Chamán realizará una ofrenda a la Madre Tierra con hojas de coca y otros productos locales.

Después, tendrá un tiempo libre para tomar alguno de los varios caminos con su guía y pasear por diferentes partes del sitio, tal vez caminar hasta el puente del Inca. Deje que Machu Picchu se despliegan todos sus misterios para ti, disfrutar de las impresionantes bosques de niebla y montañas escarpadas, o admirar la extraordinaria precisión masónica de los antiguos Incas. Regreso al hotel para el almuerzo. Té de la tarde será servido antes de llevar el bus privado Hiram Bingham a Aguas Calientes en el tiempo para el retorno de lujo Hiram Bingham tren a Cuzco. Podrá disfrutar de la cena y cócteles a bordo antes de llegar de nuevo a Cuzco. Bienvenidos y privado en coche de vuelta a su hotel, la estrella Palacio Nazarenas 5 en la parte superior del centro de Cuzco o Monasterio.

Las habitaciones que serán oxigenados para ayudarle relajarse y dormir más cómodamente en el ajuste de alta altitud de Cuzco (11.600 pies sobre el nivel del mar).
Todas las Comidas
Día 9 CUSCO (Desayuno)
Después de desayunar, se embarcan en una excursión de yoga guiada privada a través de los yacimientos arqueológicos más importantes en las afueras de la ciudad. Tomaremos el Capac Ñan, Antiguo Camino Inca a la selva, hacia nuestra primera parada el Templo de los Monos. Se trata de una formación rocosa natural modificado por el Inca con grabados de monos y serpientes y una entrada bloqueada por los antiguos túneles subterráneos. A veces uno puede todavía encontrar coca u ofrendas de flores dejaron allí, lo que indica su uso como lugar ceremonial. Aquí vamos a tomar una clase de asanas de yoga al lado de este templo. Después iremos a nuestra siguiente parada, El Templo de la Luna, por el pranayama y la meditación.

El Templo de la Luna es una colina de roca con muchas entradas de cuevas y esculturas. Una de las principales entradas representa un puma, cóndor y una serpiente, símbolo de la trilogía Inca. Dentro de esta cueva hay un altar (que todavía se utiliza hoy en día) y por encima del altar hay una abertura desde la cual determinadas noches la luna brilla a través. A continuación vamos a ir a poco Qenqo. Se trata de una colina esculpido con el apoyo de algunos de los más altos de calidad muros incas de la ciudad. Junto a ella hay una bonita zona de hierba plana rodeada por un bosque de eucaliptos donde tendremos o bien una clase de yoga acro-volar, relajamiento o canto de mantras sesión.

La experiencia dura entre 3 y 4 horas, y le animamos a que traiga su propia estera de yoga. Regreso a su hotel. Por la tarde, un recorrido por la ciudad de Cuzco con su guía, incluyendo el templo Qoricancha o Templo del Sol, la Catedral y la Plaza de Armas. Su chofer privado estará con usted en todo momento mientras visita cada parte de esta fascinante y antigua ciudad. Regreso al hotel.
Comidas: D
Día 10 CUSCO - CHINCHERO (Desayuno)
Después del desayuno, traslado privado a la localidad de Chinchero donde visitaremos el autentico mercado antes de visitar el taller de tejido dirigido por el Centro de Textiles bajo la influencia del líder Nilda Callañaupa, un quechua tejedor y estudioso. Nilda nació en Chinchero y, de tejido estaban en peligro de desaparecer, Nilda aprendieron de sus mayores las antiguas técnicas, Nilda fundó el Centro de Textiles Tradicionales del Cusco (CTTC). El CTTC ha apoyado tejedores de varios pueblos de la sierra, que han revivido estos conocimientos y tradiciones.

La misión de Nilda explorar y preservar las técnicas tradicionales de tejido es una vocación de gran importancia. En Perú, el tejido es mucho más que una forma de arte o una necesidad práctica. Textiles andinos honran a la Pacha Mama, la Madre Tierra.

Usted tendrá la oportunidad de ver a los tejedores y participar usted mismo. Poco después, una visita a una familia ceramista y su taller con la oportunidad de experimentar y aprender sobre las antiguas técnicas de cerámica inca aún prosperan hoy. Regreso a su hotel en Cusco por la tarde.
Comidas: D
Día 11 CUSCO - LIMA (Desayuno)
Después del desayuno, nos despedimos Cuzco y tomar un corto trayecto en un coche privado al aeropuerto para su vuelo de regreso a Lima y traslado a su hotel.
Comidas: D
Fin de nuestros servicios.
Perú de Lujo Tour de Yoga, Un Escape Espiritual - El Resumen del Itinerario:
PRICES:

Por favor, contáctenos aquí
Credit Cards Welcome:



QUE ESTA INCLUIDO / NO INCLUIDO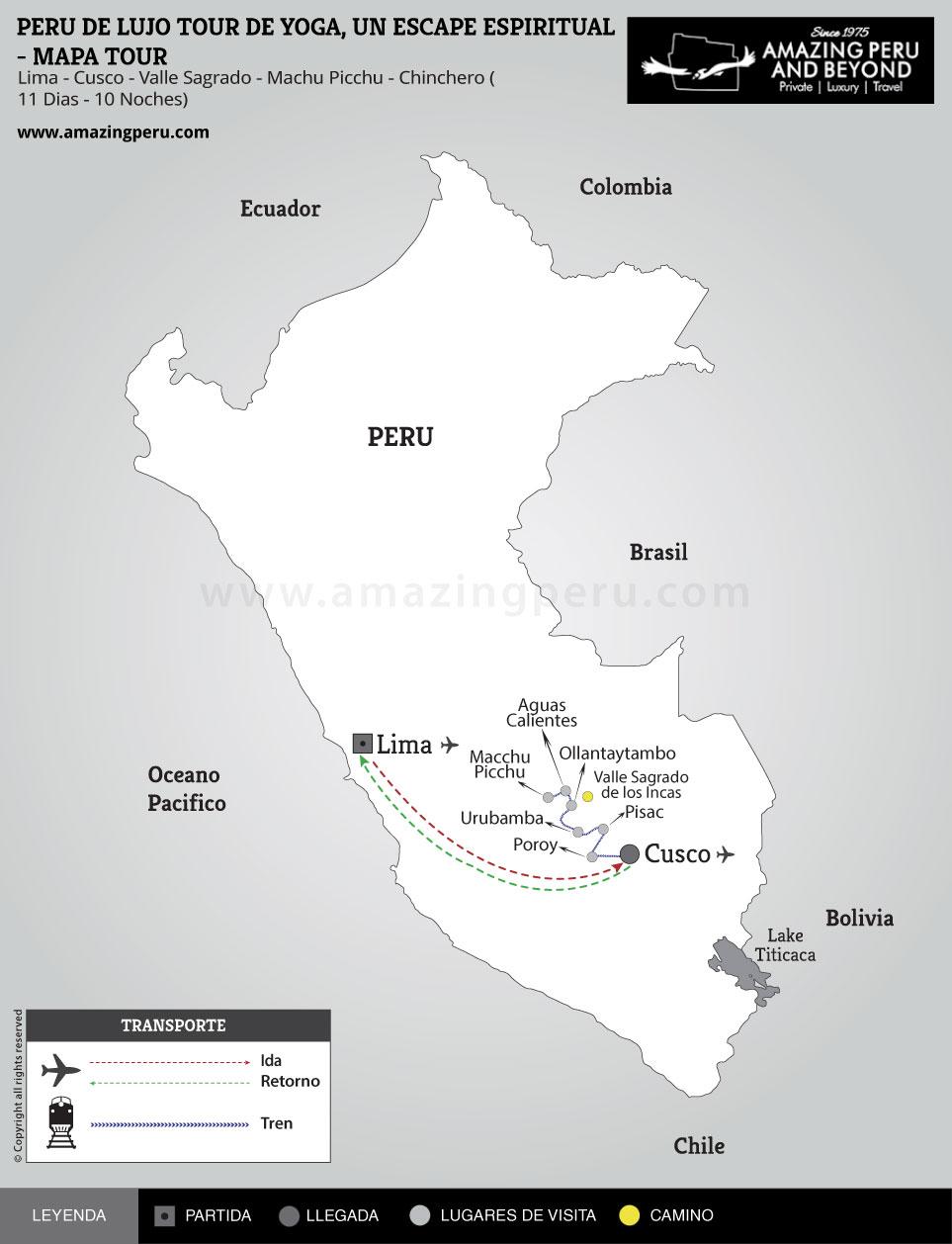 Perú de Lujo Tour de Yoga, Un Escape Espiritual
Lima - Cusco - Valle Sagrado - Machu Picchu - Chinchero
11 días / 10 noches.
Para disponibilidad y contactarse con nosotros enviarnos un email a:
info@amazingperu.com
y nosotros le enviaremos el dossier e información completa del viaje correspondiente junto con una cotización de 90 días de duración, con los términos y condiciones. Por favor, tenga en cuenta que tenemos reducciones significativas de precios disponibles para grupos. Todos nuestros
Tours de Lujo
son totalmente privados y salen todos los días. Póngase en contacto con nosotros para obtener más información sobre el itinerario de viaje anterior, o para comenzar a personalizar su propio itinerario hecho a la medida. Todos nuestros itineraries pueden ser personalizados de acuerdo a sus requerimientos.
ALTAMENTE RECOMENDADO POR:
Amazing Perú es una agencia de viajes múltiples y de gestión, con varias oficinas en Perú y una extensa lista de los viajes, que ofrece de todo, desde viajes familiares y viajes de luna de miel de lujo y aventura y excursiones a la selva, para casi cualquier presupuesto
Guía de Viajes Frommers 2023
Muy recomendable, "viaje perfecto" profesional y bien organizado, guías conocedores
Footprint Guide 2023
Los servicios de transporte y alojamientos son de primera categoría, y los guías son flexibles y extremadamente útil
Guía de Viajes Fodors 2023
Amazing Perú (amazingperu.com) tiene más de 20 años de experiencia en la industria de viajes. Tours a Machu Picchu se puede personalizar para incluir el pasaje aéreo, todas las comidas, alojamiento y seguro de viaje, y duran de seis a 14 días. lugares turísticos incluyen Machu Picchu, Cuzco, Valle Sagrado, Lago Titicaca y el Cañón del Colca. Todas las excursiones se embarcan desde Lima y se pueden personalizar para incluir un crucero Amazon, paseos a caballo, rafting, senderismo y ciclismo.
USA TODAY
Move Over, Machu Picchu ­ ¿Cómo los viajeros con discapacidad pueden visitar Machu Picchu
Los Angeles Times
Buscando una aventura de por vida para poner en marcha la vida matrimonial encuentra estas lunas de miel con una diferencia…?
Revista Perfect Wedding
"Experiencia"
Amazing Perú es la empresa líder en Latinoamérica que combina exclusividad, lujo y autenticidad para vacaciones peruanos. Será adaptar un 15 -. Turísticos días para usted que tiene en el Lago Titicaca, el Valle Sagrado, Machu Picchu, Lima, Cuzco, el Cañón del Colca y la selva amazónica
The Travel and Leisure Magazine UK
Amazing Destinations es una empresa de renombre con una impresionante variedad de excursiones únicas…
At Home and Away con Alan Whicker CBE Revista
Machu picchu Mágico:
Una opción para los solteros es pasar la Navidad en una visita guiada de impresionante Machu Picchu y visitar el famoso Lago Titicaca. Amazing Peru ofrece lujosas vacaciones de Navidad en Machu Picchu por el Camino Inca. Los viajeros vuelan a Lima y pasar un día recorriendo el centro histórico de la ciudad. Al día siguiente, vuela a cuzco y estancia en el Hotel Monasterio de cinco estrellas. Excursiones al Valle Sagrado de los Incas y el pueblo colonial de Pisac son parte de la experiencia.
Senderos Guía de Viajes al Aire Libre
"Amazing Peru lleva a las familias en viajes de lujo y confortables en todo el Perú. Tienes programas para Familias de Aventura en el Perú de 12 días para padres con niños mayores de 12 años. Canotaje, kayak y bicicleta por los parajes para inolvidables del Perú como Machu Picchu. Este tour familiar al Perú esta hecho con componentes educacionales. Relajate en las playas del Norte del Perú, explora el lago navegable mas alto del mundo Titicaca, caminatas en el Amazonas, y visita Machu Picchu en este viaje de 16 días. Hecha un vistazo al programa de Viaje para Familias de 12 días de Amazing Perú."
Global Post USA
"
You can fly over Machu Picchu - or take a helicopter ride
Who needs hiking when you can fly? The company Amazing Peruoffers hour-long flight tours right over the Sacred Valley of the Incas. The plane fits a minimum of eight passengers, and it can also be chartered. Passengers fly over Tipon and Pikillaqta, both archaeological sites, Pisaq and the Urubamba Valley, Sacsayhuaman, and, of course, Machu Picchu itself. Flights can be longer or shorter as requested. "
"
You can Om your way through Machu Picchu
Machu Picchu is known as one of the most spiritual lands in the world, so why not go all out and Om your way through its ruins? Amazing Peru offers a seven-day yoga tour where visitors travel from Lima to Cuzco and finally to Machu Picchu, where they stay in the famed sanctuary Lodge hotel right outside of the ruins. They participate in multiple meditation and yoga sessions throughout the trip, but the highlight is a private session smack-dab in the middle of the ruins. Now that is an Om experience worth waiting for."
Yahoo Lifestyle
"A good bird watching site. Private, customized tour to Venezuela, Guyana, Suriname, French Guiana and Trinidad & Tobago"