Tour de Lujo Golf en Perú y Brasil
Una combinación de viaje de lujo de los mejores lugares de Perú y Brasil con hoteles de clase mundial y canchas de golf de clase mundial. Viaja para conocer, descansar y jugar golf por todo América del Sur con el mejor estilo alojandose en los mejores hoteles y restaurantes.
Lima - Cusco - Machu Pichu - Rio de Janeiro - Iguazú
14 días / 13 noches.
ITINERARIO
Día 1. LIMA
Llegada a Lima, recepción en el aeropuerto y traslado en coche ejecutivo hacia el hotel de 5* Miraflores Park Plaza Hotel. Oportunidad para un masaje, antes de cenar en el exquisito restaurante del hotel.
Día 2. LIMA
Después del desayuno, una visita guiada privada de Lima colonial y moderna, incluyendo la catedral, que data de 1654, la plaza principal, que aún alberga la fuente de bronce original, construido en 1650, y el convento de San Francisco y sus catacumbas. Conocida como la ciudad de los reyes, Lima fue fundada en 1535 por Pizarro y reconstruido en 1991, el mismo año en que la UNESCO la declaró Patrimonio de la Humanidad. Una de las pocas ciudades de América del Sur que preservan su pasado colonial, Lima fue la sede del virrey español en el período de los colonizadores españoles. El tour incluye una visita a las zonas residenciales de San Isidro y Miraflores, antes de detenerse en Larco-Mar para disfrutar de una vista del hermoso Océano Pacífico. Almuerzo en el internacionalmente reconocido Rosa Nautica, el mejor restaurante de pescados y mariscos de Lima. Después del almuerzo, una ronda de golf en los 18 hoyos del Country Club, uno de los más antiguos de América del Sur. El campo fue diseñado por Alister Mackenzie en 1935 y con montículos, bunkers y contorneado, cada agujero es complicado. Cena en el restaurante gourmet Peruano - Francés, Astrid y Gaston miembros de Relais & Chateaux.
Comidas: D & A
Día 3. LIMA - CUSCO - VALLE SAGRADO - PISAC - OLLANTAYTAMBO
Por la mañana traslado al aeropuerto para tomar su vuelo a Cusco. Llegada a Cusco, recepción y traslado al lujoso Hotel Monasterio, antigua residencia del virrey de España. Excursión privada de día completo al hermoso Urubamba, el Valle Sagrado de los Incas, situado entre Pisac y Ollantaytambo. Se trata de un valle fértil excepcional que fue y sigue siendo la despensa de Cuzco. Visita al pueblo de Pisac, fundada durante la época colonial, y ubicado a los pies de una colina coronada por los restos de una antigua ciudad Inca. Los domingos, martes y jueves, los pobladores oriundos hacen trueque de sus productos en la plaza principal y los artesanos de todo el área venden sus mantas tejidas de lana de alpaca y ponchos, vasos grabados, reproducciones de antigüedades, joyas, etc. Los domingos, también es el lugar de encuentro para los alcaldes de todos los pueblos de la región, vestidos con sus vestimentas tradicionales para asistir a la misa de la mañana. Después de un almuerzo buffet, una visita a Ollantaytambo, la única ciudad inca que no fue derrotado por el español; con la oportunidad de explorar las ruinas que la dominan. Por la tarde regreso a Cuzco mientras visita en ruta el tradicional mercado de Chinchero. Regreso a su hotel.
Hotel Monasterio | Comidas: A
Día 4. CUZCO
Mañana libre. Después del almuerzo en el hotel, una visita privada guiada por las cuatro ruinas cercanas: la Fortaleza de Sacsayhuaman con vistas a la ciudad de Cuzco, una obra maestra de la arquitectura Inca; Kenko, Santuario Inca cuya principal atracción es el altar monolítico que representa a un puma, la fortaleza roja de Puca- Pucará y Tambomachay, una hermosa fuente alimentada por un manantial que forma una serie de cuencas continuar a la ciudad de Cuzco, la Plaza de Armas, la Catedral y el Koricancha o Templo del sol. Regreso al hotel para la cena y con un espectáculo folclórico.
Comidas: A & C
Día 5. CUZCO - MACHU PICCHU
Traslado a la estación de tren de Poroy, ubicado a poca distancia del Cuzco para abordar el lujoso tren Hiram Bingham a Aguas Calientes. Visita guiada privada de día completo de Machu Picchu, la ciudad antigua más espectacular en el mundo. Construido por el Inca Pachacutec, y que comprende los bloques de piedra equipados con una precisión magistral, Machu Picchu se mezcla armoniosamente con el paisaje montañoso. Hay muchas teorías sobre los orígenes detrás de Machu Picchu, pero tres de las ideas más populares incluyen un templo al sol, una fortaleza contra los habitantes de la selva o de un santuario de los Incas. Esta fabulosa ciudad tiene casas, templos, almacenes, una gran plaza central, todos conectados por caminos y veredas estrechos, y está rodeado de terrazas cortadas en la ladera de la montaña que se utilizaban para la agricultura. Después de la visita, tiempo libre para disfrutar de esta maravilla mágica y espiritual. Oportunidad para una caminata (aproximadamente 1 hora) hasta el Puerta del sol (Intipunku ), que es una parte del Camino Inca, por una visión mágica del santuario. Almuerzo, cena y alojamiento en el Machu Picchu Sanctuary Lodge, en la entrada a Machu Picchu.
Machu Picchu Sanctuary Lodge | Comidas: A & C
Día 6. MACHU PICCHU - CUZCO
La oportunidad de disfrutar de un maravilloso amanecer en Machu Picchu y un tiempo para la reflexión privada. Almuerzo en el Sanctuary Lodge. Retorno al Cusco por la tarde a bordo del lujoso tren Hiram Bingham. Cócteles seguidos de una cena a bordo del tren. Recepción y traslado al Hotel Monasterio.
Hotel Monasterio | Comidas: A & C
Día 7. CUZCO - LIMA - RIO DE JANEIRO
Después del desayuno, traslado al aeropuerto para tomar el vuelo de regreso a Lima y el vuelo de conexión a Río de Janeiro. Llegada a Rio, recepción y traslado al 5 * Hotel Copacabana Palace, uno de los mejores hoteles del mundo. Inaugurado en 1923, este es el hotel más lujoso de Río de Janeiro y miembro del grupo de Hoteles Orient-Express. La cena en el magnífico restaurante Cipriani, ya clasificado entre los mejores de la ciudad, ofrece una selección de cocina del norte de Italia.
Hotel Copacabana Palace | Comidas: D & C
Día 8. RIO DE JANEIRO
Después del desayuno, una visita de día completo de la "ciudad maravillosa", incluyendo una visita turística a la montaña Pan de Azúcar. Un teleférico de dos etapas que lleva a la cima de la montaña Pan de Azúcar, donde podrá disfrutar de una espléndida vista de Río, la playa de Copacabana, y la Bahía de Guanabara. Después de la comida, un viaje al corazón de Río para una visita a la ciudad histórica incluyendo Santa Teresa, el Teatro Municipal y el Museo de Bellas Artes. El viaje también incluye una visita al Monasterio de São Bento, la Candelaria (los fabricantes de velas), paraca XV (donde la familia real llegó cuando llegaron por primera vez en Río de Janeiro. Paço Imperial fue su primera residencia), el "Travessa do Mercado", el Palacio Imperial, el centro cultural ubicado en el Banco hermoso y restaurado do Brasil y Casa Franca - Brasil (una obra maestra del arquitecto Grandjean de Montigny). Regreso al hotel y cena en el restaurante Pergula.
Comidas: D & A
Día 9. RIO DE JANEIRO
Después del desayuno, traslado privado al Gavea Golf & Country Club para su primera ronda de golf, considerado como uno de los más bellos y desafiantes campos de golf en el mundo. Incluye green fee, caddies, alquiler de palos de golf. Fundada en 1921 y diseñado por los Arthur Morgan Davidson, se ejecuta entre el pico costero llamado Gávea Roca ( Pedra da Gávea ) y el Bosque Nacional de Tijuca. Está a un corto par 68, 6.000 yardas, campo donde los jugadores pueden esperar que usaran sus hierros más que sus conductores. Los primeros nueve hoyos se juegan en los pies de las montañas, los agujeros de 10-14 en la playa, y 15 a 18 de nuevo a horcajadas sobre las colinas. El par tres y cinco fue calificado como uno de los más bellos del mundo por la revista Golf Illustrated. Ganador del Grand Slam, el sudafricano Gary Player tiene el récord de la vuelta más baja en al Gávea y profesionales de la PGA Tom Watson y Billy Casper también han jugado en esa campo. La casa club es una casa de campo colonial. Regreso al hotel para cena y alojamiento.
Gavea Golf & Country Club | Comidas: D & C
Día 10. RIO DE JANEIRO
Después del desayuno, una visita de medio día al Corcovado, el hogar de la montaña a la famosa estatua de Cristo Redentor para una magnífica vista panorámica de 360 ° de Río. Después de un viaje a la selva de Tijuca, un exuberante bosque tropical a pocos minutos de esta gran metrópoli. El Bosque de Tijuca es considerado el mayor bosque urbano del mundo. Tiene 330 kms cuadrados de conservas de Mata Atlântica (Bosque Tropical), las más altas cimas de las montañas de Río, cascadas y cuevas escondidas. Una rica flora, con una gran biodiversidad y una belleza natural incomparable. Las cuevas en el Bosque de Tijuca se forman de la piedra caliza y se formaron originalmente por los movimientos de la corteza terrestre que causaron el derrumbe de piedras desde el Pico de Papagayo y la montaña de Archer. Estas piedras comenzaron a formarse cuevas con formaciones rocosas. Otro punto importante es la gran variedad de bromelias. El Bosque de Tijuca es considerado para mantener la mayor concentración de diferentes especies de bromelias en Brasil. Incluso más de la Selva Amazónica. Regreso para el almuerzo y antes de traslado privado al club de golf Itanhanga situada más al sur, en el barrio de Barra de Tijuca. Itanhanga es un par 72, 6.600 yardas por supuesto que fue sede de una etapa de la gira europea de la PGA hace cuatro años. Fundado en 1933, el curso fue jugado por el presidente Getúlio Vargas. Gene Littler y Gary Player también han jugado aquí. Volver a Río para la cena en un restaurante de renombre internacional.
Comidas: D, A & C
Día 11. RIO DE JANEIRO - IGUAZU
Traslado al aeropuerto para tomar el vuelo a Iguazú. Recepción y traslado al entorno de ensueño de la primera clase Tropical Das Cataratas Hotel, un elegante hotel de estilo colonial situado en el interior del Parque Nacional de Iguazu en sí. Es el único hotel en el lado brasileño de las Cataratas del Iguazú, que está enfrente de las Cataratas del Iguazú. Después del almuerzo, una excursión privada para apreciar las cataratas, con las caídas más voluminosas en el mundo y tiene más de tres veces el ancho de las cataratas del Niágara. Las cataratas se encuentran en las tres fronteras de Brasil, Argentina y Paraguay. El tour incluye un paseo en barco Macuco Safari en el río Paraná, en dirección a las Cataratas del Iguazú a sí mismos Regreso al hotel para la cena.
Das Cataratas Hotel | Comidas: A & C
Día 12. CATARATAS DEL IGUAZÚ
Después del desayuno, su tercera ronda de golf en el Iguazú Golf Course, un campo de 18 hoyos, par 72 y 6982 yardas. Almuerzo en la casa club. Regreso al hotel para la cena. Opción de un paseo en helicóptero sobre las cataratas del Iguazú.
Comidas: D, A & C
Día 13. CATARATAS DEL IGUAZU - LADO ARGENTINO
Una visita de día completo al lado argentino de las Cataratas permite una apreciación más cerca. Situado en una reserva de bosque húmedo subtropical de más de 180.000 hectáreas, Iguazú es el hogar de jaguares, pumas, caimanes y más de 400 especies de aves. Regreso al hotel para el almuerzo. Por la tarde, tiempo libre en el ocio o la oportunidad de jugar otra ronda de golf en el campo de golf de Iguazú.
Comidas: A
Día 14. CATARATAS DEL IGUAZU - RIO DE JANEIRO
Después del desayuno, traslado al aeropuerto para tomar el vuelo de regreso a Río de Janeiro y su conexión en adelante vuelo a casa. Puede reducir o ampliar este tour según su preferencia. Por favor, póngase en contacto con nosotros si necesita cualquier modificación a este programa.
Comidas: D
Fin de nuestros servicios.
Tour de Lujo Golf en Perú y Brasil - El Resumen del Itinerario
PRICES:

Por favor, contáctenos aquí
Credit Cards Welcome:



QUE ESTA INCLUIDO / NO INCLUIDO
NUESTRA SELECCIÓN DE HOTELES DE LUJO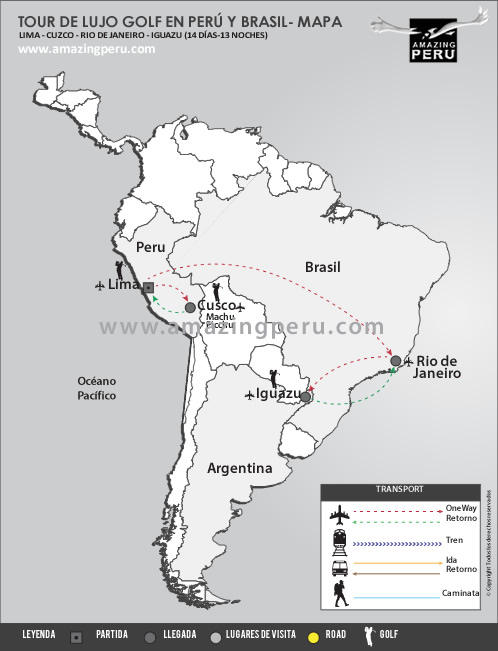 Tour de Lujo Golf en Perú y Brasil
Lima - Cusco - Machu Pichu - Rio de Janeiro - Iguazú
14 días / 13 noches.
Para disponibilidad y contactarse con nosotros enviarnos un email a:
info@amazingperu.com
y nosotros le enviaremos el dossier e información completa del viaje correspondiente junto con una cotización de 90 días de duración, con los términos y condiciones. Por favor, tenga en cuenta que tenemos reducciones significativas de precios disponibles para grupos. Todos nuestros
Tours de Lujo
son totalmente privados y salen todos los días. Póngase en contacto con nosotros para obtener más información sobre el itinerario de viaje anterior, o para comenzar a personalizar su propio itinerario hecho a la medida. Todos nuestros itineraries pueden ser personalizados de acuerdo a sus requerimientos.
ALTAMENTE RECOMENDADO POR:
Amazing Perú es una agencia de viajes múltiples y de gestión, con varias oficinas en Perú y una extensa lista de los viajes, que ofrece de todo, desde viajes familiares y viajes de luna de miel de lujo y aventura y excursiones a la selva, para casi cualquier presupuesto
Guía de Viajes Frommers 2023
Muy recomendable, "viaje perfecto" profesional y bien organizado, guías conocedores
Footprint Guide 2023
Los servicios de transporte y alojamientos son de primera categoría, y los guías son flexibles y extremadamente útil
Guía de Viajes Fodors 2023
Amazing Perú (amazingperu.com) tiene más de 20 años de experiencia en la industria de viajes. Tours a Machu Picchu se puede personalizar para incluir el pasaje aéreo, todas las comidas, alojamiento y seguro de viaje, y duran de seis a 14 días. lugares turísticos incluyen Machu Picchu, Cuzco, Valle Sagrado, Lago Titicaca y el Cañón del Colca. Todas las excursiones se embarcan desde Lima y se pueden personalizar para incluir un crucero Amazon, paseos a caballo, rafting, senderismo y ciclismo.
USA TODAY
Move Over, Machu Picchu ­ ¿Cómo los viajeros con discapacidad pueden visitar Machu Picchu
Los Angeles Times
Buscando una aventura de por vida para poner en marcha la vida matrimonial encuentra estas lunas de miel con una diferencia…?
Revista Perfect Wedding
"Experiencia"
Amazing Perú es la empresa líder en Latinoamérica que combina exclusividad, lujo y autenticidad para vacaciones peruanos. Será adaptar un 15 -. Turísticos días para usted que tiene en el Lago Titicaca, el Valle Sagrado, Machu Picchu, Lima, Cuzco, el Cañón del Colca y la selva amazónica
The Travel and Leisure Magazine UK
Amazing Destinations es una empresa de renombre con una impresionante variedad de excursiones únicas…
At Home and Away con Alan Whicker CBE Revista
Machu picchu Mágico:
Una opción para los solteros es pasar la Navidad en una visita guiada de impresionante Machu Picchu y visitar el famoso Lago Titicaca. Amazing Peru ofrece lujosas vacaciones de Navidad en Machu Picchu por el Camino Inca. Los viajeros vuelan a Lima y pasar un día recorriendo el centro histórico de la ciudad. Al día siguiente, vuela a cuzco y estancia en el Hotel Monasterio de cinco estrellas. Excursiones al Valle Sagrado de los Incas y el pueblo colonial de Pisac son parte de la experiencia.
Senderos Guía de Viajes al Aire Libre
"Amazing Peru lleva a las familias en viajes de lujo y confortables en todo el Perú. Tienes programas para Familias de Aventura en el Perú de 12 días para padres con niños mayores de 12 años. Canotaje, kayak y bicicleta por los parajes para inolvidables del Perú como Machu Picchu. Este tour familiar al Perú esta hecho con componentes educacionales. Relajate en las playas del Norte del Perú, explora el lago navegable mas alto del mundo Titicaca, caminatas en el Amazonas, y visita Machu Picchu en este viaje de 16 días. Hecha un vistazo al programa de Viaje para Familias de 12 días de Amazing Perú."
Global Post USA
"
You can fly over Machu Picchu - or take a helicopter ride
Who needs hiking when you can fly? The company Amazing Peruoffers hour-long flight tours right over the Sacred Valley of the Incas. The plane fits a minimum of eight passengers, and it can also be chartered. Passengers fly over Tipon and Pikillaqta, both archaeological sites, Pisaq and the Urubamba Valley, Sacsayhuaman, and, of course, Machu Picchu itself. Flights can be longer or shorter as requested. "
"
You can Om your way through Machu Picchu
Machu Picchu is known as one of the most spiritual lands in the world, so why not go all out and Om your way through its ruins? Amazing Peru offers a seven-day yoga tour where visitors travel from Lima to Cuzco and finally to Machu Picchu, where they stay in the famed sanctuary Lodge hotel right outside of the ruins. They participate in multiple meditation and yoga sessions throughout the trip, but the highlight is a private session smack-dab in the middle of the ruins. Now that is an Om experience worth waiting for."
Yahoo Lifestyle
"A good bird watching site. Private, customized tour to Venezuela, Guyana, Suriname, French Guiana and Trinidad & Tobago"