Marvels of Latin America - Assisted - Galapagos Islands, Machu Picchu & Easter Islands
Galapagos Islands, Machu Picchu & Easter Islands
19 days / 18 nights.
ITINERARY
Day 1. QUITO
Arrival to Quito, Ecuador. Welcome and transfer to your hotel, the Hilton Colon.
Day 2. QUITO - SAN CHRISTOBAL (All meals)
After breakfast private transfer to the airport for the flight to the Galapagos and the island of San Christobal. Arrival and transfer to the town of Puerto Baquerizo Moreno, the administrative capital of the island. Transfer to your hotel.
Access to a wheelchair for the entire trip.
You will arrive just in time for a late lunch before we venture to the beach in search of wildlife at a place called La Loberia.
The Loberia is a known sea lion hang out and where we will be able to watch sea lions sun bathing, playing and vying for our attention. If you can't wait to get in the water, this is your first opportunity. As the sunsets, we'll make our way back to town and get ready for a welcome dinner of fresh fish and island cuisine at a small local restaurant.
You Hotel will be Blue Marlin. It is a new hotel, with 8 double rooms on the main floor. Access to rooms and bathrooms with wide doors. Air conditioning in all rooms. Bathroom has a bath tub, with grab on bars along the walls. We will use a bath chair to go into the tub, and a telephone shower.
Meals: All meals
Day 3. ISABELA ISLAND (All meals)
After breakfast, trasnfer to the port from where we travel by boat (4 hour boat ride) to Isabela island. Please note this can be a slightly choppy ride so please inform us if you siffer from sea -sickness.
Arrive to Isabela at noon. Check in to your hotel, the Red Mangrove. The hotel has good access to rooms with 70 cm wide doors, grab on bars in showers. We can use bathroom chair to go into the shower.
In the afternoon we will head to the pier for a kayak. We will tour the shallow bay in search of the Galapagos Penguin - the only penguin found north of the equator. We will also keep a sharp eye out for rays and turtles gliding near the surface. Return to the hotel before sunset. Please note that transfer from boat to docks are done manually. There are no electric lifts

We will use our off road wheelchairs and safely transfer you into the boat. Once inside the boat you are transfered into a regular seat. We also have a beach wheelchair to access the beach and the ocean as well.
Meals: All meals
Day 4. GIANT TORTOISE BREEDING CENTRE (All meals)
After brekfast, we shall walk along a mangrove-lined path of a coastal lagoon walkway to learn about the poison apple tree and hopefully have a chance to see pink flamingos before arriving at Isabela's Giant Tortoise Breeding Center. The center has almost a thousand giant tortoises preparing for life on their own. Watch as baby giant tortoises learn how to mingle, eat, and navigate over the rocky terrain without flipping themselves over. In the afternoon visit to the highland part of the island to observe a stunning sunset at Isabela.
Meals: All meals
Day 5 ISABELA - SANTA CRUZ (Breakfast & lunch)
After beeakfast, we will travel by boat to Santa Cruz Island (2 hour boat ride). At Santa Cruz we will have lunch and a visit to the famous Charles Darwin Research Station. We will learn about the efforts done at the Charles Darwin Station and get know a little bit of Santa Cruz. At mid afternoon we will continue our boat ride to San Cristobal (2 hours boat ride). Arrive to San Cristobal in the late afternoon. Check in at your hotel. Free evening. Transfer from boat to docks are done manually.
Meals: B & L
Day 6 ISLA LOBOS - KICKER ROCK (All meals)
Today is all about the water, the shoreline and an amazing array of wildlife above and below the surface. We will cruise along the coast identifying shore birds like the Magnificent Frigate Bird and famous Blue-footed Booby. Our first stop is in a channel beside Isla Lobos or Sea Lion Island. You can stay on board and keep a sharp eye out for marine iguanas venturing into the sea in search of lunch - these are the only sea going iguanas in the world! Or, if you are keen, we wll don our snorkel gear take to the water in search of damselfish, puffer fish, and, hopefully, curious sea lion pups.
From there we continue to Kicker Rock or Leon Dormido as it is known by the locals to explore the final remains of a tuff cone rising over 143 meters out of the ocean. The rock is home to a large population of Blue-footed Boobies and Nazca Boobies that have taken up residence on the ledges and shelves. From on board you can watch crabs scurrying along surface and see a magnificent wall of barnacles and sponges reveal themselves each time the tide recedes.

Below the surface, along the edge and through the channel of this drastic compact ash formation, we will be on the hunt for sea turtles, spotted eagle rays, chocolate chip starfish, and, with any luck, a Galapagos Shark or two. Don't worry; they won't be as interested in you as you are in them.
Puerto Grande, a beautiful beach accessible only by boat, is our final stop for the day. After lunch on board, feel free to spend your time swimming in the turquoise water, snapping photos of Kicker Rock in the distance, or simply relaxing on the boat.
Note: Wetsuits, fins, mask and snorkels are provided for you. If you prefer to bring your own, please do so. If you have a new mask it should be cleaned properly and used beforehand to make sure it isn't going to fog up. If you wear glasses - you cannot wear your glasses with a mask. You can wear contacts or visit a dive shop to get a corrective lens mask if necessary.
Transfer from boat to docks are done manually. No electric lifts.
Return to San Cristobal for dinner and accommodaiton.
Meals: All meals
Day 7 INTERPRETATION CENTRE - QUITO (Breakfast)
This morning starts with an educational visit the San Cristobal's Interpretation Center - one of the best in the world. We will learn about the history and mystery of the archipelago from its discovery and what makes it so special, to Charles Darwin's visit and the present day efforts to protect this amazing World Heritage site. Check out hotel and transfer to the airport to catch your flight back to Quito Arrive to Quito and transfer to your hotel.
Meals: B
Day 8. QUITO - LIMA (Breakfast)
After breakfast, transfer to the airport for your flight to Lima. Arrival in Lima. Reception and transfer to your hotel. Reception and transfer to the 5* Estelar hotel, complete with ramps and specially adapted facilities.
Estelar hotel | Meals: B
Day 9: LIMA (Breakfast)
After breakfast, city tour of Lima including the main square, the cathedral, where the remains of Pizarro are buries followed by a visit to the National Museum before returning to your hotel.
Meals: B
Day 10: LIMA -CUZCO (Breakfast)
After breakfast, transfer to the airport for the flight to Cuzco, the ancient Inca capital. After the one hour flight, reception and transfer to the 5* Marriott hotel, complete with specially adapted facilities. Free day at leisure to relax and acclimate to the altitude.
Meals: B
Day 11: CUZCO (Breakfast & dinner)
Today you will enjoy a guided tour of Cuzco including the cathedral, Qoricancha temple, the Inca fortress of Sacsayhuaman overlooking Cuzco, Qenko and Puka Pukara. Return to the hotel. Dinner in the evening followed by a folkloric show.
Meals: B & D
Day 12: CUZCO - SACRED VALLEY (Breakfast & lunch)
Full-day excursion to Urubamba, the sacred valley of the Incas and to the ancient Inca market town of Pisac. Lunch in Urubamba. A visit will be made to Ollantaytambo, the only Inca town that was not defeated by the Spanish. Return to Cuzco and to your hotel.
Meals: B & L
Day 13: CUZCO - MACHU PICCHU - CUZCO (Breakfast, brunch & dinner)
Transfer to the railway station in Poroy for the train to Aguas Calientes. Here you will be assisted on boarding the Luxury Hiram Bingham train as there are no lifting facilities. Full day's guided tour of Machu Picchu, the most spectacular ancient city in the world. We will provide assistants to help you around the site. Return to Cuzco enjoying dinner and cocktails onboard the train. Arrival and transfer to your hotel.
Meals: B, L & D
Day 14: CUZCO - LIMA - SANTIAGO (Breakfast)
After breakfast, return flight to Lima and your connecting flight to Santiago. Arrival and transfer to your hotel.
Meals: B
Day 15: SANTIAGO - RAPA NUI (EASTER ISLANDS) (Breakfast & inflight-lunch)
After breakfast, transfer to the airport for the flight to Rapa Nui, otherwise known as the Easter Islands. The flight will take approximately 5 hours. Arrival, traditional welcome and transfer to your hotel, the Iorana/Altiplanico. Rapa Nui is the most isolated, inhabited island in the world.
Located 2000 miles (3200 km) west of Chile and over 4000 km from Tahiti, it was discovered by the Dutch in 1772, Admiral Jacob Roggeween landed there on Easter Sunday and gave the island its present name. He was the first European to describe the unusual statues carved from the volcanic rock from Rano Raraku. Standing as tall as 18 ft (5.5 m) and weighing up to 100 tons, the statues are known as moai, and each are supposed representations of clan chieftains. These moais, were placed on top of platforms called ahu, which in turn served as a family burial vault.
Meals: B & I-L
Day 16: RAPA NUI (EASTER ISLANDS) (Breakfast & lunch)
After breakfast, a full day's tour visiting Vaihu, where eight toppled Moai lie, Akahanga, Rano Raraku volcano, where the statues are half buried, Ahu Tongariki, where the largest Ahu (or platform) is located, Te Pito Kura (a large rock believed to have been brought from Tahiti) and Ahu Nau Nau (where the Moai are in particularly good condition).
Meals: B & L
Day 17: RAPA NUI (EASTER ISLANDS) (Breakfast)
Today, a half day's excursion to Rano Kau volcano, site of ancient petroglyphs and the ceremonial temple of Iorongo, Vinapu (site of meticulous stonework found nowhere else on the islands) along with the Anakai Tangata caves. Free afternoon.
Meals: B
Day 18: RAPA NUI (EASTER ISLANDS) - SANTIAGO (Breakfast & inflight lunch)
After breakfast, a half day excursion to Ahu Akivi, the famous seven Moais, believed to be one of the last built around 1460 and measuring 14 feet in height and weighing 12 metric tons. The caves of Ana Tepahu and Puna Pau, a quarry, from where the red hats that are worn by some of the Moai were made is also visited today. Transfer to the airport for the return flight back to Santiago and transfer to your hotel.
Meals: B & I-L
Day 19: SANTIAGO (Breakfast)
After breakfast, transfer to the airport for your connecting flight home.
Meals: B
End of our services.
Marvels of Latin America - Assisted - Galapagos Islands, Machu Picchu & Easter Islands - Itinerary Overview:
PRICES:

Please Contact Us Here
Credit Cards Welcome:



WHAT IS INCLUDED / NOT INCLUDED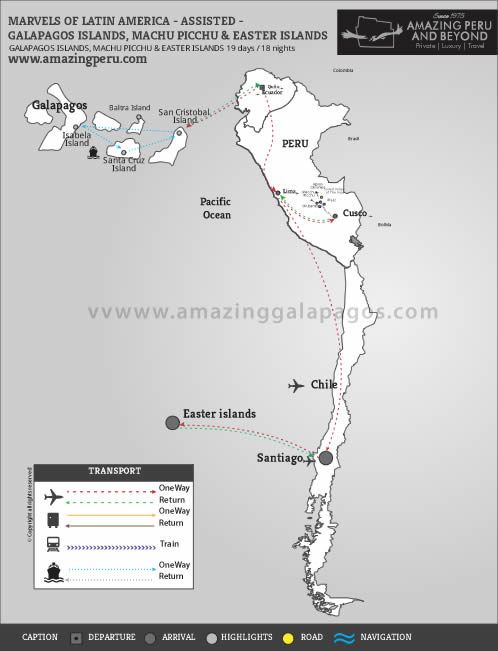 Marvels of Latin America - Assisted - Galapagos Islands, Machu Picchu & Easter Islands
Galapagos Islands, Machu Picchu & Easter Islands
19 days / 18 nights.
For current availability contact us at
info@amazingperu.com
and we will send you the relevant trip dossier along with a 90 day fixed quote, terms and conditions. Please bear in mind that significant price reductions are available for groups. All our Luxury Tours are fully private and depart daily. Contact us for more information regarding the above tour, or to begin customizing your own itinerary.
"Well-run multipurpose agency, with several offices in Peru with an extensive roster of trips, from family and honeymoon to luxury trips..."
Frommers Guides 2023
"Highly recommended, professional and well-organized, 'perfect tour', knowledgeable guides"
Footprint Handbook 2023
"Transportation services and accommodations are top-notch, and the guides are flexible and extremely helpful"
Fodor's Guides 2023
"
Amazing Peru
has more than 20 years of experience in the travel industry. Tours to Machu Picchu can be customized to include airfare, all meals, accommodations and travel insurance, and last from six to 14 days. Amazon cruises, horseback riding, river rafting, hiking and biking throughout Machu Picchu, Cuzco, Sacred Valley, Lake Titicaca..."
USA TODAY
"Move Over, Machu Picchu - How disabled travelers can tour Machu Picchu."
Christoper Reynolds
"Looking for an adventure of lifetime to kick-start married life? Consider these honeymoons with a difference… "
Perfect Wedding Magazine
"Experience"
Amazing Peru is the leading company in Latin America that combines exclusivity, luxury and authenticity for Peruvian holidays. It will tailor a 15- days tour for you that takes in Lake Titicaca, the Sacred Valley, Machu Picchu, Lima, Cuzco, Colca Canyon and the Amazon rainforest."
The Travel and Leisure Magazine UK
"A reputable firm with an impressive variety of unique excursions… "
At Home and Away with Alan Whicker CBE Magazine
Spend Christmas on a guided tour of breathtaking Machu Picchu and visit famous Lake Titicaca. Amazing Peru offers luxury Christmas vacations in Machu Picchu along the Inca Trail...
Trails Outdoor Travel Guide
"Amazing Peru takes families on both luxury and affordable tours throughout Peru. Children 12 and older are welcome to come along on the 12-day Peru Family Adventure Tour. Raft, backpack, kayak and bike through some of Peru's most unforgettable sights including Machu Picchu. The Family Tour to Peru is tailored for children younger than 12 years of age with an educational component. Relax on Peru's northern beaches, explore the high-altitude Lake Titicaca, trek through the Amazon, and visit Machu Picchu on this 16-day journey. Check out Amazing Peru's 12-day Family Tour."
Global Post USA
"
You can fly over Machu Picchu - or take a helicopter ride
Who needs hiking when you can fly? The company Amazing Peruoffers hour-long flight tours right over the Sacred Valley of the Incas. The plane fits a minimum of eight passengers, and it can also be chartered. Passengers fly over Tipon and Pikillaqta, both archaeological sites, Pisaq and the Urubamba Valley, Sacsayhuaman, and, of course, Machu Picchu itself. Flights can be longer or shorter as requested. "
"
You can Om your way through Machu Picchu
Machu Picchu is known as one of the most spiritual lands in the world, so why not go all out and Om your way through its ruins? Amazing Peru offers a seven-day yoga tour where visitors travel from Lima to Cuzco and finally to Machu Picchu, where they stay in the famed sanctuary Lodge hotel right outside of the ruins. They participate in multiple meditation and yoga sessions throughout the trip, but the highlight is a private session smack-dab in the middle of the ruins. Now that is an Om experience worth waiting for."
Yahoo Lifestyle
A Private, customized tour to Venezuela, Guyana, Suriname, French Guiana and Trinidad & Tobago. "Any traveler with a well-developed sense of adventure will be rewarded with an incredible experience on this journey to a birding paradise designed and operated by Amazing Peru."
"Savoring a taste of Uruguay's acclaimed wine region - An outstanding experience"