Luxury Peru Tour 1 - Option 1
An all encompassing Luxury tour throughout the highlights of Peru. Visit the ancient Inca capital city of Cuzco whilst staying at the deluxe Monasterio Hotel; travel aboard the Hiram Bingham train to the ancient lost city of the Incas, Machu Picchu; and take the Orient Express Explorer to Lake Titicaca, the highest navigable lake in the world.
Lima - Cuzco - Urubamba - Machu Picchu - Puno - Lake Titicaca
10 days / 9 nights.
ITINERARY
Day 1:
Arrival in Lima, reception and transfer by executive car to the deluxe five star Miraflores Park Plaza Hotel . Opportunity for a massage before dinner.
Day 2:
After breakfast, a city tour of Lima including a guided visit to the cathedral, the main square and the San Francisco Catacombs. Lunch at the International Rosa Nautica. Visit to a museum of your choice. Return to the hotel. Dinner at Astrid and Gaston. Day 3:
Transfer to the airport for the flight to Cuzco, the ancient Inca capital. After the one hour flight, reception and transfer to the wonderful five star Monasterio hotel; ancient residence of the viceroy of Spain. After lunch, a guided tour of Cuzco including the cathedral, Qoricancha temple, the Inca fortress of Sacsayhuaman overlooking Cuzco, Qenko and Puka Pukara. Return to the hotel. Dinner in the evening followed by a folkloric show.
Day 4:
Full-day excursion to Urubamba, the sacred valley of the Incas and to the ancient Inca market town of Pisac. Lunch in Urubamba. A visit will be made to Ollantaytambo, the only Inca town that was not defeated by the Spanish. A chance to explore the ruins before returning to Cuzco and the traditional market town of Chinchero. Return to your hotel. Dinner.
Day 5:
Transfer to Poroy, a short distance from Cuzco for the luxurious Hiram Bingham train to Aguas Calientes. Full day's guided tour of Machu Picchu, the most spectacular ancient city in the world. Lunch, dinner and accommodation at Machu Picchu Sanctuary Lodge.
Day 6:
Opportunity to enjoy a wonderful sunrise over Machu Picchu and some personal time for private reflection. Lunch at the Sanctuary lodge. Return to Cuzco in the evening aboard the luxury Hiram Bingham train. Cocktails followed by dinner aboard the train. Reception and transfer to Monasterio hotel.
Day 7:
Transfer to the railway station for the wonderful trans-altiplano Inca express. Lunch onboard the "Andean Explorer" of Peru. (Alternatively, you may fly to Juliaca and then transfer to Puno). Reception and transfer to the 5 star Libertadores hotel, situated on the very shore of Lake Titicaca.
Day 8:
After breakfast, a private tour by boat to the island's of Uros and Taquile on Lake Titicaca. A tour of the reed islands of Uros before continuing to Taquile, where members of this self-supporting island will welcome you and offer a glimpse into their ancient traditions and customs. Lunch on the island and an opportunity for some spectacular views over the haunting beauty of Lake Titicaca. Return to Puno and your hotel. Dinner with a beautiful view over the Lake.
Day 9:
Early wake up to enjoy a spectacular sunrise before heading towards Juliaca, and an excursion to the Silluastani towers. These ancient funereal towers dating back to pre-inca times are examples of the most ancient cultures found on the altiplano. After lunch, transfer to Juliaca airport for the return flight back to Lima. After the two and a half hour flight, reception and transfer to the Miraflores Park Plaza Hotel . Time for relaxing in the health spa before a delicious dinner at an internationally renowned restaurant. Day 10:
Leisurely day with plenty of opportunity for shopping before your transfer to the airport and your return flight home.
LUXURY PERU TOUR 1 – Option 1 Itinerary Overview:
WHAT IS INCLUDED / NOT INCLUDED
OUR LUXURY HOTELS SELECTION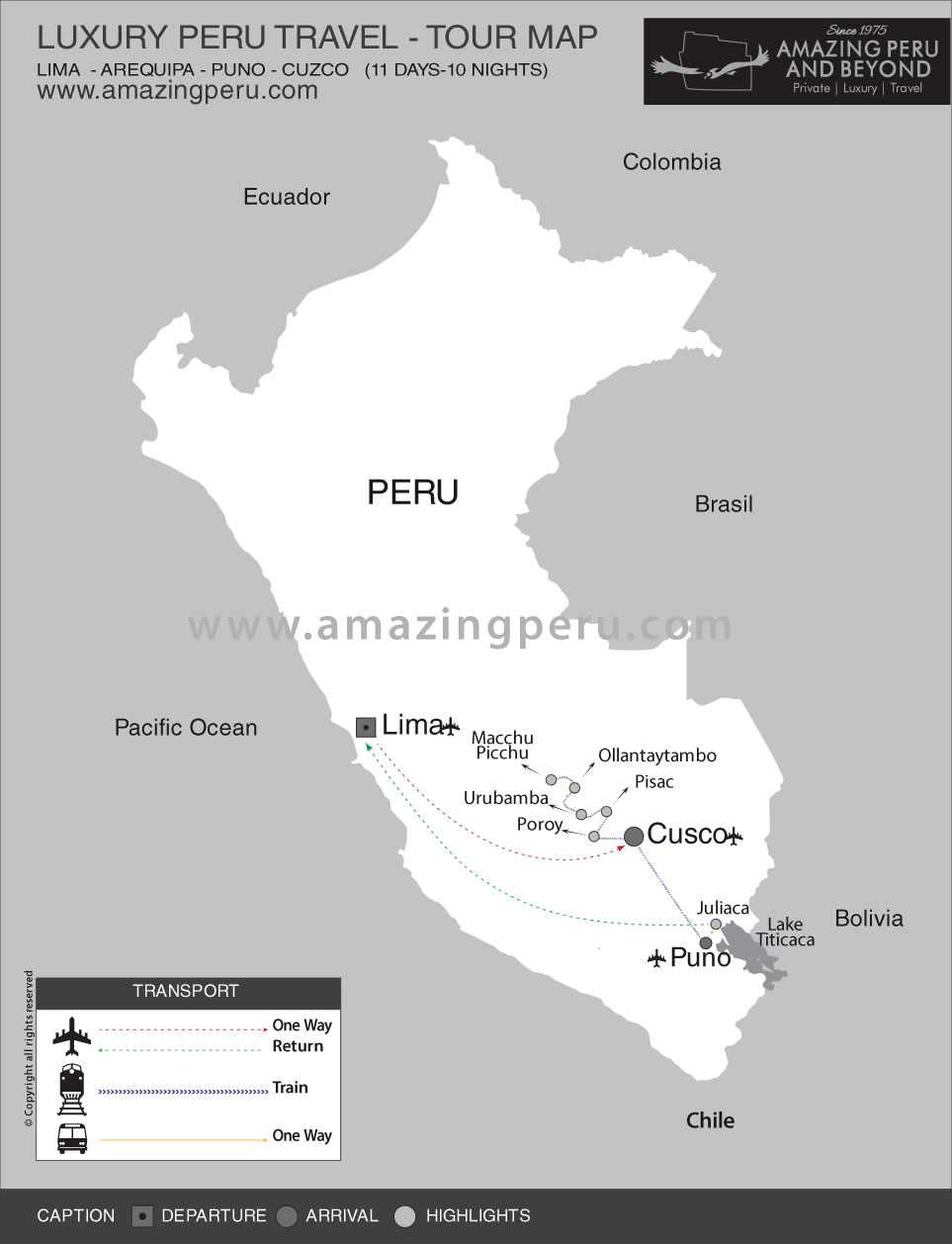 Luxury Peru Tour 1 - Option 1
Lima - Cuzco - Urubamba - Machu Picchu - Puno - Lake Titicaca
10 days / 9 nights.
For current availability contact us at
info@amazingperu.com
and we will send you the relevant trip dossier along with a 90 day fixed quote, terms and conditions. Please bear in mind that significant price reductions are available for groups. All our Luxury Tours are fully private and depart daily. Contact us for more information regarding the above tour, or to begin customizing your own itinerary.
Recommendations:
"Amazing Peru is a well-run multipurpose agency, with several offices in Peru and an extensive roster of trips, offering everything from family and honeymoon tours to luxury trips and adventure and jungle tours, for virtually any budget" Frommers Guides 2013
"Highly recommended, professional and well-organized, 'perfect tour', knowledgeable guides" Footprint Handbook 2013
"Transportation services and accommodations are top-notch, and the guides are flexible and extremely helpful" Fodor's Guides 2013
Amazing Destinations is a reputable firm with an impressive variety of unique excursions…" - At Home and Away with Alan Whicker CBE, Magazine At Home and Away with Alan Whicker CBE
Recommended in Bonnie's South America Travel Blog at About.com .