2013 Affordable Machu Picchu
Tours by Amazing Peru
Our Affordable Tours Package are amongst the most economical tours available in Peru today. At these incredibly low prices, you will receive high quality tours with English speaking guides throughout the entire trip; we include all airport and hotel transfers in our own private vehicles with our own staff; we offer clean, well located, quality hotels with breakfast and return Vistadome train tickets to Machu Picchu with entrance tickets for the first day into Machu Picchu. All of this and with no extra land costs or any hidden charges, our tours are simply the most affordable trips in Peru today.
ITINERARY
Day 1: Lima (Every Thursday)
Arrival in Lima. Reception and transfer to the hotel of your choice.
Day 2: Lima (B)
After breakfast, full city tour of modern and colonial Lima, declared a UNESCO world heritage site in 1991. Tour in an air conditioned bus with a bilingual guide. The tour includes a visit to the Cathedral, Main Square, San Francisco Convent and its Catacombs, and the residential areas of San Isidro and Miraflores. Return to your hotel. Free evening.
Day 3: Lima - Cuzco (B)
After breakfast, flight to Cuzco, reception and transfer to your hotel. Afternoon guided visit of the four ruins nearby; the Sacsayhuaman Fortress overlooking the city of Cuzco, a pre Inca architectural masterpiece; Kenko, a rock sanctuary whose main attraction is the monolithic altar representing a puma, the red Fortress of Puca-Pucara and Tambomachay, a beautiful fountain fed by a spring forming a series of basins continue to the city of Cuzco; the Main Square, the Cathedral and the Koricancha or Temple of the Sun.
Day 4: Sacred Valley (B & L)
Full-day excursion to Urubamba, the Sacred Valley of the Incas. Visit the village of Pisac, founded during Colonial times. On Sundays, Tuesdays and Thursdays the Indians barter their products, and artisans from all over the area sell their woven alpaca wool blankets and ponchos, engraved gourds, antique reproductions and jewellery. On Sundays, it is also the meeting place for the local Mayors of the region, who come dressed in their traditional costumes, to attend morning mass. After buffet lunch at the ALHAMBRA RESTAURANT, a visit to Ollantaytambo, the only Inca town which is still inhabited. Explore the ruins above Ollantaytambo before returning to Cuzco via the traditional market town of Chinchero. Return to your hotel.
Day 5: Machu Picchu (B)
An early start Vistadome train to Aguas Calientes. Guided visit of the most spectacular ancient city in the world. This fabulous city contains houses, temples, warehouses, a large central square; and all connected by narrow roads and steps that are surrounded by terraces cut into the mountain side. After the tour, free time to enjoy this spiritual wonder. Opportunity for a guided trek (approx 1 hour) up to the sungate (Intipunku), which is a part of the Inca Trail, for a magical view of the sanctuary or alternatively an unguided climb to the top of Wayna Picchu, with a magnificent view of the whole Sanctuary (recommended for fit individuals only). Accommodation in Aguas Calientes.
Day 6: Machu Picchu - Cuzco (B)
Opportunity to return to the sanctuary for a more personal appreciation of the Eighth wonder of the world (entrance tickets and bus tickets not included). Return in the afternoon by train to Cuzco and transfer to the hotel of your choice.
Day 7: Cuzco - Lima (B)
After breakfast, transfer to the airport for the return flight to Lima.
End of our services.
* How then can we afford to offer such low priced tours? Because we are based in Peru.
We have our own offices and vehicles throughout the country, hence our operational costs are lower; with over 15 years of experience we have been able to negotiate incredibly low hotel tariffs which we pass directly to you, the customer; and because we operate our tours every Thursday of every week throughout the year. If this was not enough, why else should you choose a tour with Amazing Peru?
Because as members and proud sponsors of STI (Sustainable Travel International, http://www.sustainabletravelinternational.org/) we are committed to providing eco-friendly travel by providing programs that help travelers protect the environmental, socio-cultural and economic needs of the places they visit. Explore with us and discover the Amazing Peru difference.
*Our affordable tours are based on a minimum of two adult persons travelling and sharing a double/twin room. These tours are not available to travel agents or tour operators. Prices for groups (over 8 people) are available upon request and are liable for further discounts
We can of course offer countless other tours with different daily departures but these do not form part of the Affordable Tours range and as such will be planned separately by one of our travel consultants
Call us for a quote today! US/Canada Toll free 1 800 704 2915
2013 Affordable Machu Picchu Itinerary Overview:
WHAT IS INCLUDED / NOT INCLUDED
TOUR REVIEW
We are back from a wonderful trip in Peru. I wanted to thank you for coordinating such a pleasant vacation for me and my family. We really enjoyed ourselves and the hospitality of the Peruvian people. The accomodations were great, the transportation was very reliable and the tours were excellent.
We really had a great time. We hope to make our way back to Peru once again.
Read More...
Aaron and family
California, USA
31st May 2011
Machu Picchu Tour
Affordable Machu Picchu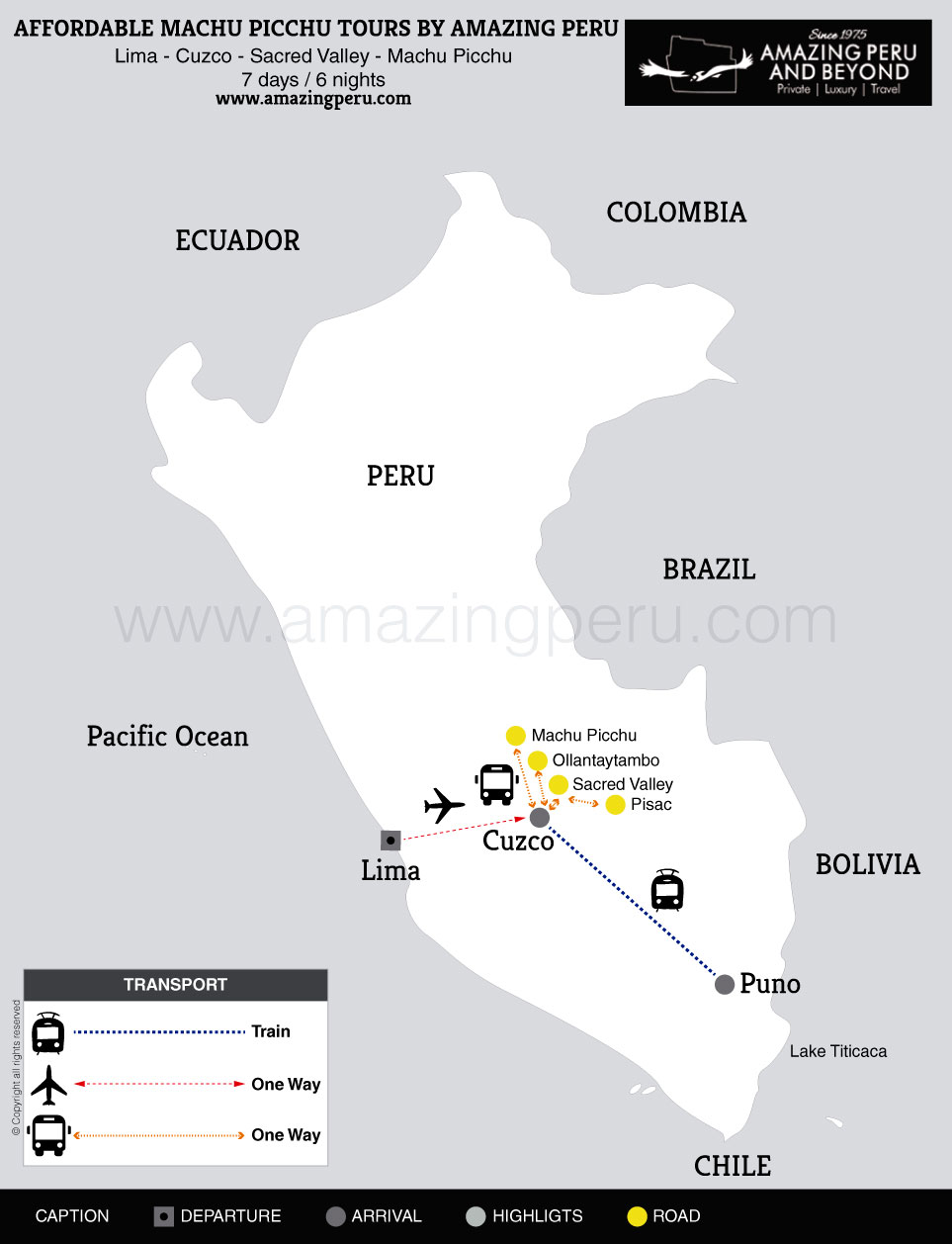 2013 Affordable Machu Picchu
Tours by Amazing Peru
Lima - Cuzco - Sacred Valley - Machu Picchu
7 days / 6 nights.
For current availability contact us at
info@amazingperu.com
and we will send you the relevant trip dossier along with a 90 day fixed quote, terms and conditions. Please bear in mind that significant price reductions are available for groups.
Recommendations:
"Amazing Peru is a well-run multipurpose agency, with several offices in Peru and an extensive roster of trips, offering everything from family and honeymoon tours to luxury trips and adventure and jungle tours, for virtually any budget" Frommers Guides 2013
"Highly recommended, professional and well-organized, 'perfect tour', knowledgeable guides" Footprint Handbook 2013
"Transportation services and accommodations are top-notch, and the guides are flexible and extremely helpful" Fodor's Guides 2013
Amazing Destinations is a reputable firm with an impressive variety of unique excursions…" - At Home and Away with Alan Whicker CBE, Magazine At Home and Away with Alan Whicker CBE
Recommended in Bonnie's South America Travel Blog at About.com .