Perú de Lujo - Tour Gourmet y Cocina Peruana
Un tour gastronómico de descubrimiento fabuloso a través de Perú que combina clases de cocina con tours y viajes a los mejores monumentos del Perú. Todos los alojamientos son de 5 estrellas y están ubicados en las mejores zonas con visitas privadas con clases de cocina creativa que introducen platos tan maravillosos como el ceviche, el rocoto relleno y ají de gallina.
Lima - Arequipa - Cañón del Colca - Cuzco - Machu Picchu - Nazca - Ica
11 días / 10 noches.
ITINERARIO
Día 1: LIMA
Llegada a Lima, recepción en el aeropuerto y traslado a la 5* Country Club Hotel.
Día 2: LIMA (Desayuno, Almuerzo & Cena)
Después del desayuno, visitaremos un mercado para ver la gran variedad de pescados, mariscos y otros productos de la costa que ha prestado Lima el nombre de la capital gastronómica de América del Sur. También tendremos la oportunidad de ver la gran variedad de verduras, frutas, cereales y otros productos alimenticios de todas las regiones del Perú. Luego visitaremos las cocinas de uno de los mejores restaurantes de mariscos locales en Lima para ser testigos de primera mano de la preparación del famoso plato nacional del Perú, Ceviche. Este plato de pescado crudo marinado en limón peruano en todas partes y se sirve con pimientos fresco y en rodajas. Después de esta presentación apetitosa, vamos a disfrutar de un delicioso almuerzo en el restaurante de cocina tradicional peruana, Señorío de Sulco. Después del almuerzo una visita guiada de Lima colonial y moderna, incluyendo la catedral, que data de 1654, la plaza principal, que aún alberga la fuente de bronce original, construido en 1650, y el convento de San Francisco y sus catacumbas. Conocida como la ciudad de los reyes, Lima fue fundada en 1535 por Pizarro y reconstruido en 1991, el mismo año que la UNESCO la declaró Patrimonio de la Humanidad. Una de las pocas ciudades de América del Sur que preservan el pasado colonial, Lima fue la sede del virrey español en el tiempo de los colonizadores españoles.

Retorno a su hotel antes de la cena en el restaurante Huaca Pucllana. Ubicado dentro de un sitio arqueológico pre -inca real y al lado de una pirámide de adobe 1.500 años de edad, la comida aquí es exquisita y el sommelier le ayudará a elegir entre sus favoritos personales o algunos clásicos de Chile y Argentina. Regreso a su hotel.
Comidas: D, A & C
Día 3: LIMA - AREQUIPA (Desayuno, Almuerzo & Cena)
Por la mañana traslado al aeropuerto para tomar el vuelo a Arequipa, la ciudad más bella del Perú. Tras el vuelo de dos horas, recepción y traslado al hotel de 5* Libertador. La cocina Arequipeña es ampliamente considerado como uno de los mejores en el Perú con su "rocoto relleno" (tipo de pimiento picante relleno), el plato emblemático de Arequipa. Además, hay una increíble variedad de "chupes" (un tipo de sopa que varía según el día de la semana) y el famoso "adobo" domingo (carne de cerdo adobada).

Después del almuerzo en uno de los mejores restaurantes de Arequipa, podrá disfrutar de una visita guiada por la ciudad blanca, llamada así porque muchos de los edificios están hechos de sillar volcánico. Visitando el valle de Chilina y el viejo barrio de San Lázaro con una vista general de la ciudad desde el Mirador de Yanahuara. Con vistas extraordinarias, incluyendo el imponente volcán Misti que destaca la ciudad. Una visita a la Plaza de Armas y de la Catedral, los Claustros de La Compañía Iglesia, la Iglesia y la Plaza de San Francisco y el extraordinario Convento de Santa Catalina que se construye a partir de lava volcánica y data del siglo 16. Además, se realizará una visita al museo para ver Juanita, la momia mejor preservada en América del Sur. Regreso a su hotel. La cena en la noche con vista a la magnífica plaza principal.
Libertador Hotel | Comidas: D, A & C
Día 4: AREQUIPA - CAÑON DEL COLCA (Desayuno, Almuerzo & Cena)
Después del desayuno, salida temprano en el transporte privado que pasa los baños termales de Yura, y subiendo hacia la Reserva Nacional de Pampa Cañahuas de a 3800m. Aquí los grupos de alpacas, vicuñas y guanacos a veces incluso se pueden ver. Después de conducir varias horas más, el descenso hacia el Valle del Colca inicia. En el camino, si el tiempo lo permite, deberá visitar algunas cuevas para ver dibujos prehistóricos antes de llegar a Callalli, donde enormes formaciones rocosas que se asemejan castillos medievales se encuentran y de ahí a Sibayo, un pequeño pueblo con una iglesia primitiva, en el río Colca. El viaje continúa por el valle, pasando junto a varios pueblos hasta llegar a Chivay, el pueblo más importante del valle. El alojamiento en el recién inaugurado Las Casitas del Colca Lodge, el nuevo lodge de lujo de la cadena Orient Express y establezca en el propio Valle del Colca. Esta será su alojamiento para las próximas dos noches.

Después de Alojarse en su casita (casa de campo privada), un delicioso almuerzo que utiliza los productos orgánicos frescos de la huerta con algunas delicias locales. Por la tarde, vamos a comenzar nuestras clases de cocina que se centran en la cocina regional local y también probar nuestra mano en algunas lecciones pisco sour (la firma de bebidas de Perú). Cena en el albergue.

Para que su estancia sea de la máxima comodidad, su casita se completa con una terraza privada desde donde se puede apreciar el paisaje maravilloso, una piscina climatizada y una ducha al aire libre. También puede relajarse en la piscina del hotel o disfrutar de tratamientos de spa; en el Spa Samay (costo adicional).
Colca Lodge | Comidas: D, A & C
Día 5 : CAÑON DEL COLCA (Desayuno, Almuerzo & Cena)
Después del desayuno salida anticipada para descender hacia el valle para visitar algunos de los pueblos, todos tienen hermosas iglesias de estilo colonial. Veréis también las terrazas incas, algunas de las cuales todavía están en uso y pueden ser vistos a lo largo del valle. Regreso a su casa de campo en Las Casitas del Colca en el Cañón del Colca para un almuerzo delicioso menú a la carta. Continuaremos nuestras clases de cocina con pescado de la zona, o si lo prefiere, salir de la cocina y embarcarse pescar con mosca, y dejar que el chef preparar su presa. Cena a la carta por la noche.
Comidas: D, A & C
Día 6 : Día 6. CAÑON DEL COLCA (Desayuno)
Después del desayuno, iniciamos el ascenso hasta la Cruz del Cóndor, a pocos kilómetros antes de Cabanaconde. Aquí se puede apreciar una hermosa vista del vuelo de los cóndores y la profundidad del cañón.

Retorno a Arequipa por la tarde.
Comidas: D
Día 7 : AREQUIPA - CUSCO (Desayuno, Almuerzo & Cena)
Después del desayuno, traslado al aeropuerto para tomar su vuelo a Cusco, la antigua capital inca de los Incas. Después de una hora de vuelo, recepción y traslado al Hotel Monasterio. Después de un almuerzo ligero se recomienda en el galardonado restaurante del hotel, una visita guiada en privado de la ciudad Cuzco incluyendo la Catedral, Templo del Qoricancha, la fortaleza inca de Sacsayhuaman con vistas a Cuzco, Qenko y Puka Pukara. Regreso al hotel. Cena en el Restaurante El Tunupa. Los sábados un espectáculo de música folclórica acompañará su cena.
Hotel Monasterio | Comidas: D, A & C
Día 8: CUZCO (Desayuno)
Después del desayuno, mañana libre de ocio para visitar las tiendas y galerías de arte. Por la tarde, se dirigirá hacia el restaurante Yanapay para su clase de cocina. Cada plato del menú es muy auténtico.

Usted aprenderá diversos estilos de cocina y alimentos tradicionales con un profesor de cocina. El profesor también le ayudará a traducir las recetas en casa para rehacer estos artículos siempre que lo desee recordar Perú. El menú que hará será el siguiente:

• 2 aperitivos: Papa a la huancaína (papas peruanas con una salsa de queso) Causa Limeña (Puré de papas amarillas peruanas con rellenos de verduras / pollo)

• 4 Platos Fuertes: Ceviche (Plato famoso peruano de pescado crudo) Ají de Gallina (pollo en salsa de ají amarillo) Lomo Saltado (carne, los tomates y las cebollas en una salsa salteado con pimientos peruanos) Rocoto Relleno (horneado de Pimientos picantes de Arequipa)

• 2 Postres: Arroz con leche (arroz a la crema dulce) picarones (masa de zapallo en forma circular con miel). La cena en la noche por su cuenta (no incluido).
Comidas: D
Día 9: CUZCO - MACHU PICCHU - CUSCO (Desayuno, Almuerzo & Cena)
Disfrute de una buena noche de sueño antes de su traslado privado a las 8 de la mañana hacia la estación de tren de Poroy, a poca distancia de Cuzco. Abordara el lujoso tren Hiram Bingham hacia Aguas Calientes. Este tren Orient Express es la forma más exclusiva de visitar Machu Picchu, e incluye un almuerzo abundante a bordo del tren. Los guías también estarán disponibles para contestar cualquier pregunta. Llegada a Aguas Calientes antes de subir al autobús para el corto viaje hasta Machu Picchu, la antigua ciudadela inca.

Poco después, una visita guiada a Machu Picchu, la ciudad antigua más espectacular en el mundo. Construido por el Inca Pachacutec, y que comprende los bloques de piedra equipados con una precisión magistral, Machu Picchu se mezcla armoniosamente con el paisaje montañoso. Hay muchas teorías sobre los orígenes detrás de Machu Picchu, pero tres de las ideas más populares incluyen un templo al sol, una fortaleza contra los habitantes de la selva o de un santuario de los Incas. Esta fabulosa ciudad tiene Viviendas, santuarios, almacenes, una gran plaza central, todos conectados por caminos y caminos estrechos, y está rodeado de terrazas cortadas en la ladera de la montaña que se utilizaban para la agricultura.

Retorno a Aguas Calientes en bus. Algún tiempo libre para visitar el pueblo colorido y de mercado antes de embarcar en el tren Hiram Bingham en la tarde. Regresamos con estilo, conversando con sus compañeros de viaje y guías y disfrutar de un cóctel seguido de una cena de cuatro platos. Recepción y traslado al Hotel Monasterio para su última noche en Cuzco.
Hotel Monasterio | Comidas: D, A & C
Día 10 : CUSCO - LIMA - NAZCA - ICA - NAZCA (Desayuno, Almuerzo & Cena)
Después del desayuno, traslado al aeropuerto para tomar el vuelo de regreso a Lima y traslado privado al sur de Ica ya la Hacienda Tacama. Ubicado en una hacienda colonial del siglo 16, esta bodega, uno de los productores más grandes de la región, es conocida a nivel internacional y exporta su pisco y vinos de varios países. La familia Olaechea ha sido dueño de la bodega desde 1889. A pesar de la edad de la construcción de la estancia, es uno de los más antiguos en el valle, la bodega usa tecnología moderna. El viñedo todavía está irrigado por el canal de riego Achirana construido por los Incas. Un recorrido por la viña seguido de un almuerzo antes de continuar hacia Nazca y alojamiento en el Cantayo Hotel & Spa. Relájese en el día antes de una cena ligera en el hotel.
Hotel Cantayo Hotel & Spa | Comidas: D, A & C
Día 11: NAZCA - LIMA (Desayuno)
Antes del desayuno, un tour de vuelo sobre las enigmáticas Líneas de Nazca; dibujos gigantescos y figuras geométricas grabadas en el desierto más árido del Perú y que data de 250 AC. Dibujado a lo largo de más de 1.000 km2 de desierto en las Pampas de San José, en Ica, y debido a su enorme tamaño y origen en gran parte es desconocido, deja una impresión imborrable en todos los que visitan este sitio arqueológico más misterioso. Con representaciones de animales, como una araña, un mono y varias aves, que se cree que son un enorme calendario astronómico o, posiblemente, una ofrenda a los dioses. Descubierta por primera vez en 1550, no fue hasta la llegada del vuelo, en la década de 1920, que las líneas fueron realizadas primero por su significado. Los dibujos no están en la arena del desierto real, sino en pequeños fragmentos de roca, que varían en longitud de 150m a 300m y con una profundidad de 20 cm. Regreso al hotel para el desayuno antes de regresar a Lima. En ruta, visitaremos el Oasis de Huaca china, un oasis natural en el desierto peruano y maravillarse con las increíbles dunas de arena. Se proporcionarán Fruta fresca y unos deliciosos canapés para el viaje de regreso. De regreso a Lima, usted tendrá tiempo libre para ir de compras final o una cena temprana (no incluidos) antes de ser transferido al aeropuerto para tomar su vuelo de regreso a casa.
Comidas: D, A & C
Fin de nuestros servicios.
Perú de Lujo - Tour Gourmet y Cocina Peruana - El Resumen del Itinerario:
PRICES:

Por favor, contáctenos aquí
Credit Cards Welcome:



QUE ESTA INCLUIDO / NO INCLUIDO
NUESTRA SELECCIÓN DE HOTELES DE LUJO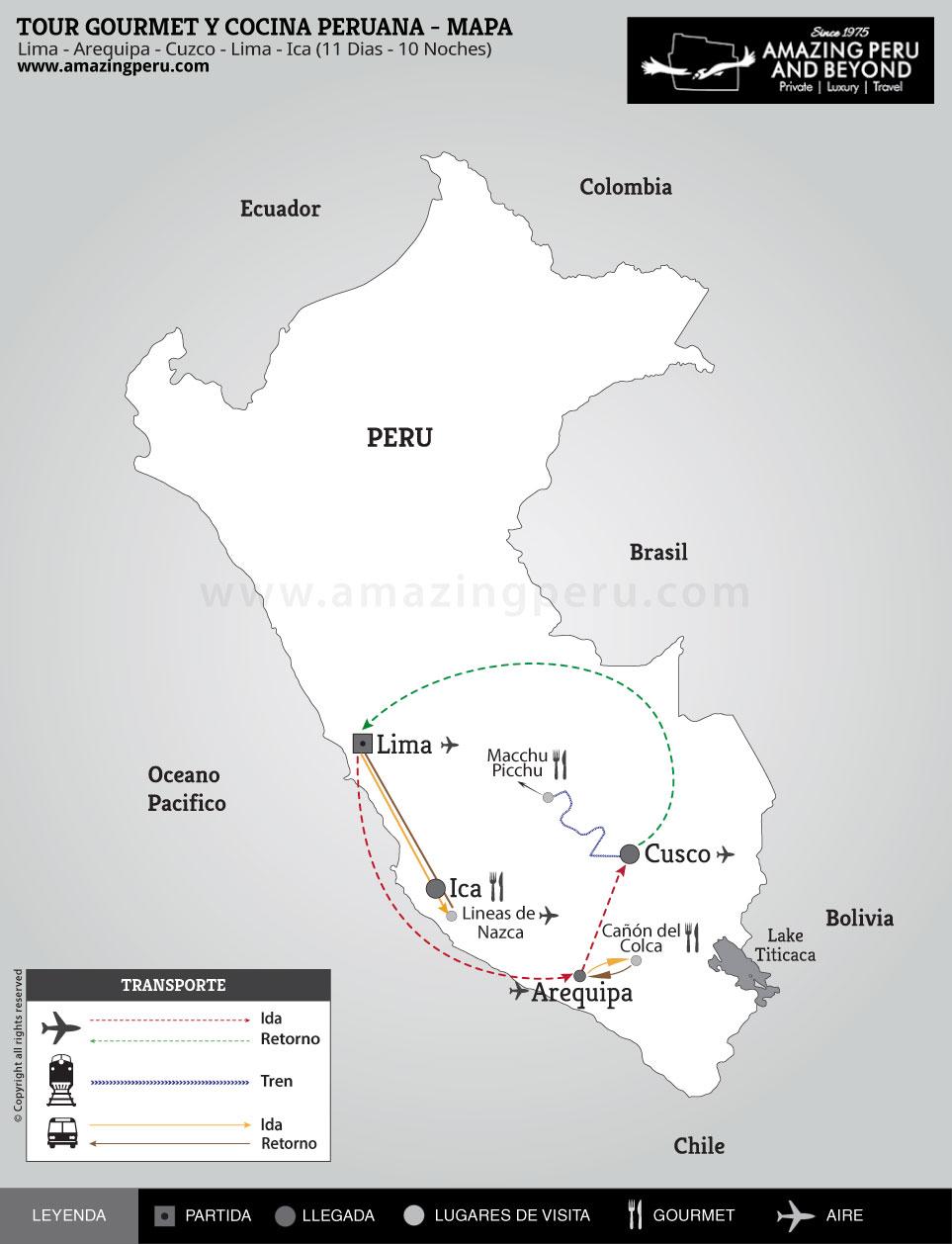 Perú de Lujo - Tour Gourmet y Cocina Peruana
Lima - Arequipa - Cañón del Colca - Cuzco - Machu Picchu - Nazca - Ica
11 días / 10 noches.
Para disponibilidad y contactarse con nosotros enviarnos un email a:
info@amazingperu.com
y nosotros le enviaremos el dossier e información completa del viaje correspondiente junto con una cotización de 90 días de duración, con los términos y condiciones. Por favor, tenga en cuenta que tenemos reducciones significativas de precios disponibles para grupos. Todos nuestros
Tours de Lujo
son totalmente privados y salen todos los días. Póngase en contacto con nosotros para obtener más información sobre el itinerario de viaje anterior, o para comenzar a personalizar su propio itinerario hecho a la medida. Todos nuestros itineraries pueden ser personalizados de acuerdo a sus requerimientos.
ALTAMENTE RECOMENDADO POR:
Amazing Perú es una agencia de viajes múltiples y de gestión, con varias oficinas en Perú y una extensa lista de los viajes, que ofrece de todo, desde viajes familiares y viajes de luna de miel de lujo y aventura y excursiones a la selva, para casi cualquier presupuesto
Guía de Viajes Frommers 2023
Muy recomendable, "viaje perfecto" profesional y bien organizado, guías conocedores
Footprint Guide 2023
Los servicios de transporte y alojamientos son de primera categoría, y los guías son flexibles y extremadamente útil
Guía de Viajes Fodors 2023
Amazing Perú (amazingperu.com) tiene más de 20 años de experiencia en la industria de viajes. Tours a Machu Picchu se puede personalizar para incluir el pasaje aéreo, todas las comidas, alojamiento y seguro de viaje, y duran de seis a 14 días. lugares turísticos incluyen Machu Picchu, Cuzco, Valle Sagrado, Lago Titicaca y el Cañón del Colca. Todas las excursiones se embarcan desde Lima y se pueden personalizar para incluir un crucero Amazon, paseos a caballo, rafting, senderismo y ciclismo.
USA TODAY
Move Over, Machu Picchu ­ ¿Cómo los viajeros con discapacidad pueden visitar Machu Picchu
Los Angeles Times
Buscando una aventura de por vida para poner en marcha la vida matrimonial encuentra estas lunas de miel con una diferencia…?
Revista Perfect Wedding
"Experiencia"
Amazing Perú es la empresa líder en Latinoamérica que combina exclusividad, lujo y autenticidad para vacaciones peruanos. Será adaptar un 15 -. Turísticos días para usted que tiene en el Lago Titicaca, el Valle Sagrado, Machu Picchu, Lima, Cuzco, el Cañón del Colca y la selva amazónica
The Travel and Leisure Magazine UK
Amazing Destinations es una empresa de renombre con una impresionante variedad de excursiones únicas…
At Home and Away con Alan Whicker CBE Revista
Machu picchu Mágico:
Una opción para los solteros es pasar la Navidad en una visita guiada de impresionante Machu Picchu y visitar el famoso Lago Titicaca. Amazing Peru ofrece lujosas vacaciones de Navidad en Machu Picchu por el Camino Inca. Los viajeros vuelan a Lima y pasar un día recorriendo el centro histórico de la ciudad. Al día siguiente, vuela a cuzco y estancia en el Hotel Monasterio de cinco estrellas. Excursiones al Valle Sagrado de los Incas y el pueblo colonial de Pisac son parte de la experiencia.
Senderos Guía de Viajes al Aire Libre
"Amazing Peru lleva a las familias en viajes de lujo y confortables en todo el Perú. Tienes programas para Familias de Aventura en el Perú de 12 días para padres con niños mayores de 12 años. Canotaje, kayak y bicicleta por los parajes para inolvidables del Perú como Machu Picchu. Este tour familiar al Perú esta hecho con componentes educacionales. Relajate en las playas del Norte del Perú, explora el lago navegable mas alto del mundo Titicaca, caminatas en el Amazonas, y visita Machu Picchu en este viaje de 16 días. Hecha un vistazo al programa de Viaje para Familias de 12 días de Amazing Perú."
Global Post USA
"
You can fly over Machu Picchu - or take a helicopter ride
Who needs hiking when you can fly? The company Amazing Peruoffers hour-long flight tours right over the Sacred Valley of the Incas. The plane fits a minimum of eight passengers, and it can also be chartered. Passengers fly over Tipon and Pikillaqta, both archaeological sites, Pisaq and the Urubamba Valley, Sacsayhuaman, and, of course, Machu Picchu itself. Flights can be longer or shorter as requested. "
"
You can Om your way through Machu Picchu
Machu Picchu is known as one of the most spiritual lands in the world, so why not go all out and Om your way through its ruins? Amazing Peru offers a seven-day yoga tour where visitors travel from Lima to Cuzco and finally to Machu Picchu, where they stay in the famed sanctuary Lodge hotel right outside of the ruins. They participate in multiple meditation and yoga sessions throughout the trip, but the highlight is a private session smack-dab in the middle of the ruins. Now that is an Om experience worth waiting for."
Yahoo Lifestyle
"A good bird watching site. Private, customized tour to Venezuela, Guyana, Suriname, French Guiana and Trinidad & Tobago"