Ancient Civilisations Tour
City tour of Lima for an introduction of the countries rich heritage including a guided visit to the National Museum of Archaeology, the Gold Museum and the Larco Herrera Museum. Return to your hotel.
Caral - Chan Chan - Kuelap - Cuzco - Machu Picchu
22 days / 21 nights.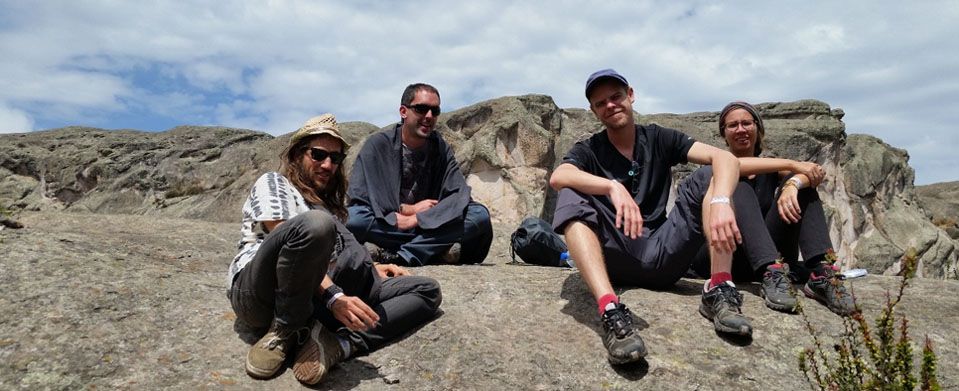 ITINERARY
Day 1:
Arrival in Lima, reception and transfer to your hotel.
Day 2:
City tour of Lima for an introduction of the countries rich heritage including a guided visit to the National Museum of Archaeology, the Gold Museum and the Larco Herrera Museum. Return to your hotel.
Day 3:
Full day's guided visit to Caral, the oldest civilisation in the Americas. Dating back to over 3000BC, this earliest of settlements developed almost simultaneously with the civilisations of Mesopotamia, Egypt, India and China. Full day tour before returning to Lima and your hotel.
Day 4:
After breakfast, transfer to the airport for the morning flight to Trujillo. Reception and transfer to your hotel. Free day to explore Trujillo, the third largest city in Peru, at your own leisure.
Day 5:
After breakfast, a guided visit to the metropolis of Chan-Chan, the ancient capital city of the Chimu Empire. It is the largest pre-Columbian city in South America, built entirely of mud and adobe brick. A stop is made at Huaca Dragon to visit this restored, pyramidal shaped adobe temple consecrated to the rainbow, and with beautiful bas-reliefs. A visit to the small nearby archaeological museum concludes the tour. Return to your hotel.
Meals: B
Day 6:
Short journey by bus to Chiclayo. Reception and transfer to your hotel. Trip to the wonderful Brunning museum, housing artefacts from several cultures. Lunch followed by a visit to both the Sipan and Sican museums. The day concludes with a visit to the Tucume complex, where over 26 pyramids are located. Return to your hotel.
Day 7:
After breakfast, bus journey to Chachapoyas, the capital of the Amazonas department. Arrival and transfer to your hotel.
Meals: B
Day 8:
A full day's tour starting in the valley of Utcubamba heading towards the village of Lamud. From here, at a distance, you can see the standing mud coffins of Lamud decorated with anthropomorphic reliefs and with feline paws and human heads. The Sachapuyans, after placing the coffins in these strategic locations on the cliffs, destroyed the paths which led to them thus avoiding any disturbance of their dead. After lunch, return to Chachapoyas.
Meals: L
Day 9:
Early departure from Chachapoyas to Tingo. Ascent to the ruins of Kuelap, the huge fortress dominating the skyline above the Amazonas landscape and hailed as the Machu Picchu of Northern Peru. To get a good view of the whole complex, a climb to the Kuelap watch-tower, where the gigantic outer walls and the whole extension of this former fortress can be fully appreciated. In the afternoon, return to Tingo and then to Chachapoyas. Accommodation.
Day 10:
After breakfast, return to Chiclayo by bus. Reception and transfer to the hotel.
Meals: B
Day 11:
Trip to Trujillo and onward to Huaraz, the capital of the Peruvian Andes.
Day 12:
Arrival early morning. Free day. Opportunity to visit the nearby pre-inca Wilcahuain complex.
Day 13:
Trip to Chavin de Huantar, site of the oldest pan-andean civilisation dating back to 2000BC. Located on the outskirts of the village of the same name, a tour of the ruins is followed by lunch. The site has many galleries and subterranean tunnels and houses many carved stone figures of anthropomorphic semblances reminiscent of the Maya culture. It is the oldest known pre-Columbian culture discovered and is known as Chavin-Kotosh. The most remarkable piece of carving is "El Lanzon", a granite carving 4.5 metres in height. Its head is built into the roof of the gallery and its base into the floor, making it immovable. An anthropomorphic figure with feline teeth, it is thought to indicate an important ceremonial, religious artefact. Return to Huaraz where the journey takes you over the continental divide at the high Kawish pass. Return to Huaraz and then by luxury night bus return to Lima.
Day 14:
Early arrival in Lima. Transfer to the airport for the flight to Cuzco, the ancient Inca capital. After the one hour flight, reception and transfer to your hotel. In the afternoon, a guided tour of Cuzco including the cathedral, Qoricancha temple, the Inca fortress of Sacsayhuaman overlooking Cuzco, Qenko and Puka Pukara. Return to the hotel. Dinner in the evening followed by a folkloric show.
Day 15:
Full-day excursion to Urubamba, the sacred valley of the Incas and to the ancient Inca market town of Pisac. Lunch in Urubamba. A visit will be made to Ollantaytambo, the only Inca town that was not defeated by the Spanish. A chance to explore the ruins before returning to Cuzco and the traditional market town of Chinchero. Return to your hotel.
Day 16:
Transfer to the railway station for the train to Aguas Calientes. Full day's guided tour of Machu Picchu, the most spectacular ancient city in the world. Accommodation overnight in Aguas Calientes.
Day 17:
Opportunity to enjoy a wonderful sunrise over Machu Picchu and some personal time for private reflection. Return to Cuzco in the evening. Reception and transfer to your hotel.
Day 18:
Trip to Tipon, just south of Cuzco. A walled complex with many stone aqueducts, Tipon is believed to have been a refuge for the Inca hierarchy. Return to your hotel.
Day 19:
Transfer to the railway station for the wonderful trans-altiplano Inca express. Lunch onboard the "Orient Express" of Peru. Reception and transfer to your hotel in Puno.
Meals: L
Day 20:
After breakfast, a tour by boat to the island's of Uros and Taquile on Lake Titicaca. A tour of the reed islands of Uros before continuing to Taquile, where members of this self-supporting island will welcome you and offer a glimpse into their ancient traditions and customs. Lunch on the island and an opportunity for some spectacular views over the haunting beauty of Lake Titicaca. Return to Puno and your hotel.
Meals: B
Day 21:
Journey towards Juliaca, and an excursion to the Silluastani towers. These ancient funereal towers dating back to pre-inca times are examples of the most ancient cultures found on the altiplano. Transfer to Juliaca airport for the flight to Lima. Arrival and transfer to your hotel.
Day 22:
Leisurely day with plenty of opportunity for shopping before your transfer to the airport and your return flight home.
End of our services.
PRICES:

Please Contact Us Here
Credit Cards Welcome:



WHAT IS INCLUDED / NOT INCLUDED
For current availability contact us at
info@amazingperu.com
and we will send you the relevant trip dossier along with a 90 day fixed quote, terms and conditions. Please bear in mind that significant price reductions are available for groups.
"Well-run multipurpose agency, with several offices in Peru with an extensive roster of trips, from family and honeymoon to luxury trips..."
Frommers Guides 2023
"Highly recommended, professional and well-organized, 'perfect tour', knowledgeable guides"
Footprint Handbook 2023
"Transportation services and accommodations are top-notch, and the guides are flexible and extremely helpful"
Fodor's Guides 2023
"
Amazing Peru
has more than 20 years of experience in the travel industry. Tours to Machu Picchu can be customized to include airfare, all meals, accommodations and travel insurance, and last from six to 14 days. Amazon cruises, horseback riding, river rafting, hiking and biking throughout Machu Picchu, Cuzco, Sacred Valley, Lake Titicaca..."
USA TODAY
"Move Over, Machu Picchu - How disabled travelers can tour Machu Picchu."
Christoper Reynolds
"Looking for an adventure of lifetime to kick-start married life? Consider these honeymoons with a difference… "
Perfect Wedding Magazine
"Experience"
Amazing Peru is the leading company in Latin America that combines exclusivity, luxury and authenticity for Peruvian holidays. It will tailor a 15- days tour for you that takes in Lake Titicaca, the Sacred Valley, Machu Picchu, Lima, Cuzco, Colca Canyon and the Amazon rainforest."
The Travel and Leisure Magazine UK
"A reputable firm with an impressive variety of unique excursions… "
At Home and Away with Alan Whicker CBE Magazine
Spend Christmas on a guided tour of breathtaking Machu Picchu and visit famous Lake Titicaca. Amazing Peru offers luxury Christmas vacations in Machu Picchu along the Inca Trail...
Trails Outdoor Travel Guide
"Amazing Peru takes families on both luxury and affordable tours throughout Peru. Children 12 and older are welcome to come along on the 12-day Peru Family Adventure Tour. Raft, backpack, kayak and bike through some of Peru's most unforgettable sights including Machu Picchu. The Family Tour to Peru is tailored for children younger than 12 years of age with an educational component. Relax on Peru's northern beaches, explore the high-altitude Lake Titicaca, trek through the Amazon, and visit Machu Picchu on this 16-day journey. Check out Amazing Peru's 12-day Family Tour."
Global Post USA
"
You can fly over Machu Picchu - or take a helicopter ride
Who needs hiking when you can fly? The company Amazing Peruoffers hour-long flight tours right over the Sacred Valley of the Incas. The plane fits a minimum of eight passengers, and it can also be chartered. Passengers fly over Tipon and Pikillaqta, both archaeological sites, Pisaq and the Urubamba Valley, Sacsayhuaman, and, of course, Machu Picchu itself. Flights can be longer or shorter as requested. "
"
You can Om your way through Machu Picchu
Machu Picchu is known as one of the most spiritual lands in the world, so why not go all out and Om your way through its ruins? Amazing Peru offers a seven-day yoga tour where visitors travel from Lima to Cuzco and finally to Machu Picchu, where they stay in the famed sanctuary Lodge hotel right outside of the ruins. They participate in multiple meditation and yoga sessions throughout the trip, but the highlight is a private session smack-dab in the middle of the ruins. Now that is an Om experience worth waiting for."
Yahoo Lifestyle
A Private, customized tour to Venezuela, Guyana, Suriname, French Guiana and Trinidad & Tobago. "Any traveler with a well-developed sense of adventure will be rewarded with an incredible experience on this journey to a birding paradise designed and operated by Amazing Peru."
"Savoring a taste of Uruguay's acclaimed wine region - An outstanding experience"