Classic Salkantay Trek Tour
This tour includes an alternative route to the classic Inca Trail to Machupicchu, which will take you through amazing landscape and natural beauty with exotic flora and fauna endemic of the region. The trek will involve crossing valleys and mountains before arriving to the "Lost City of the Incas", Machupicchu.
ITINERARY
Day 1: Lima
Arrival in Lima, Reception at the airport and transfer to your hotel.
Day 2: Lima
After breakfast, a private guided visit of colonial and modern Lima, including the cathedral, dating from 1654, the main square, which still houses the original bronze fountain built in 1650, and the San Francisco Convent and its catacombs. Known as the city of the kings, Lima was founded in 1535 by Pizarro and rebuilt in 1991, the same year that UNESCO declared it a world heritage site. One of the very few South American cities that preserve the colonial past, Lima was home to the Spanish viceroy during the time of the Spanish colonialists. After lunch, a visit to a museum of your choice. Choose from amongst the Gold Museum, the National Museum of Anthropology, Archaeology and History or the Rafael Larco Herrera Archaeological Museum. Return to your hotel.
Meals: B & L
Day 3: Lima - Cuzco
After an early rise, morning transfer to the airport for the 6AM flight to Cuzco. After the hour long flight, arrival to Cuzco, reception and transfer to your hotel. Free morning to take a leisurely walk around the ancient capital of the Incas. A guide will be available or if preferred, a private walk around the ancient capital. Return to the hotel for lunch. After lunch, guided walking tour of the city of Cuzco; including the Main Square, the Cathedral and the Koricancha or Temple of the Sun. A visit to the Inca Museum before returning to your hotel for dinner.
Meals: L & D
Day 4: Cuzco
After breakfast, a tour of the ruins surrounding the Inca capital including the Sacsayhuaman Fortress overlooking the city of Cuzco, a pre Inca architectural masterpiece; Kenko, a rock sanctuary whose main attraction is the monolithic altar representing a puma, the red fortress of Puca-Pucara, and Tambomachay.
After lunch free day to relax and enjoy the city.
Meals: B & L
Day 5. Urubamba - Pisac - Ollantaytambo
After breakfast, full day excursion to the beautiful Urubamba, the Sacred Valley of the Inca situated between Pisac and Ollantaytambo. The Sacred Valley is an exceptionally fertile valley that was and still remains the larder of Cuzco. Visit the village of Pisac, founded during colonial times, and set at the foot of a hill crowned by the remains of an ancient Inca city.
On Sundays, Tuesdays and Thursdays, Indians barter their products in the main square and artisans from around the area sell their woven alpaca wool blankets and ponchos, engraved gourds, antique reproductions, jewellery, etc. On Sundays it is also the meeting place for Mayors from all the villages in the region, dressed in their traditional costumes to attend morning mass. A visit to the rarely visited Inca ruins above Pisac. After lunch, a visit to Ollantaytambo, the only Inca town that was not defeated by the Spanish. Explore the ruins above Ollantaytambo before returning to Cuzco in the late afternoon. Accommodation at your hotel and briefing on your upcoming trek.
Meals: B
Day 6. Cusco - Mollepata - Silcaykancha - Soraypampa
Early wake up for the 4 1/2 hour, beautiful scenic bus drive to Mollepata after passing through several Andean villages such as Izcuchaca and Limatambo. Mollepata is an attractive village built on a hillside and overlooks the deep citrus producing valley of the Apurimac. On the way to Mollepata we will briefly stop off at the ruins of Tarawasi an Inca temple with one of the finest examples of Inca polygonal masonry in a long retaining wall. On the upper level are 28 tall niches possibly used for displaying the mummies of the Inca nobility. This area was the site of a battle between the Spanish and the Incas. Hernando de Soto and his soldiers were resting here on their way to Cusco when they were attacked by nearly 4,000 Inca warriors; 4 Spaniards were killed and many injured. Arriving at Mollepata, we will walk up hill out of town ascending through valleys filled with flowering shrubs buzzing with hummingbirds and across streams and isolated houses. After a brief stop for lunch at Silcaykancha, where Nevado Humantay (5917m) dominates the view; we will continue towards Soraypampa, for approximately 5 hours. The valley broadens and flattens and the beautiful conical snow-capped peak of Salkantay comes into view. We will camp at the head of the trail at 4000m. With possible cold night time temperatures; this is a unique camp located between two high peaks the Salkantay and the Humantay.
Meals: L
Day 7. Soraypampa - Colcapampa
Today we trek over a high pass at 4700m with the Salkantay Glacier on our right side and the glaciered peak of Humantay on the other. Once here, we will observe the glaciers of Salkantay and the magnificent Vista of the Caida, one of the many snow avalanches. Then down to camp in the valley below. We trek into a hidden part of the high Andes, where our path is the only access into this remote area. During 4 days, we will be passing through some of the most spectacular sceneries in Peru, trekking over icy passes, across high planes and down into the jungle. We will eventually descend into the cloud forest where the vegetation and wildlife will become abundant. We will camp at Colcapampa at 3300m.
Day 8. Arranyanniyoc Lluscamayu
After an early breakfast, we will continue towards Lluscamayu; where we will have lunch. Today will be unforgettable, because we are going to see how nature changes totally. We will traverse over snow-caped mountains to Andean landscapes with a great variety of flora and fauna endemic of the region. Passing very close to the Andean Community of Arranyanniyoc where we will begin to descend towards the forest, here we will appreciate the thermal water formation in a small valley, soon to follow the course of the Santa Teresa River. This particular area is a good habitat for Orchids, which take the maximum advantage of the warm and humid weather of the region, and because of their colours and variety, they have been catalogued by experts as amongst the most beautiful in the world. We will also find along the way hummingbirds and flocks of parrots, in addition to many waterfalls before arriving at our camp at Lluscamayu. The contrast between this lush area and the peaks we have trekked amongst is very impressive. This afternoon we can swim in pools along the river in 'La Playa' where it is also possible to fish. Overnight on the trail.
Meals: B & L
Day 9 . Lluscamayu - Aguas Calientes
After breakfast, we board a rural transport (truck) towards Santa Teresa, where we will start our walk along the forest edge and appreciate a great variety of coffee cultures, fruit trees, and some cultures of coca leaf. During the period of the Incas, coca was grown only in tropical zones such as this. Soon we arrive to La Oroya, and cross the Urubamba River, after which we will board another truck, this time towards the hydroelectric dam where we will have lunch while we wait the train for a short ride to Aguas Calientes. Overnight in Aguas Calientes.
Meals: B & L
Day 10. Machupicchu - Cusco
Early transfer to the bus station for the bus ride up to the spectacular Machupicchu ruins (25 min.). We will have a full day's guided tour of Machupicchu, the most spectacular ancient city in the world, built by the Inca Pachacutec and comprising stone blocks fitted with masterful precision that harmoniously blends into the mountain landscape. There are many theories as to the origins behind Machupicchu but three of the most popular ideas include a Temple to the Sun, a Fortress against the jungle inhabitants or a Sanctuary for the Incas. This fabulous city has houses, temples, warehouses, a large central square, all connected by narrow roads and steps, and is surrounded by terraces cut into the mountain side which were used for agriculture. After the tour, free time to enjoy this magical and spiritual wonder. Opportunity for a trek (approx. 1 hour) up to the Sungate (Intipunku), which is a part of the Inca Trail, for a magical view of the Sanctuary. Return to Cusco by train. Arrival in the evening and transfer to your hotel.
Day 11. Cuzco- Lima
After breakfast, transfer to the airport for your flight back to Lima and your connecting return flight home.
Meals: B
End of our services.
Classic Salkantay Trek Tour Itinerary Overview:
PRICES:

Please Contact Us Here
Credit Cards Welcome:



WHAT IS INCLUDED / NOT INCLUDED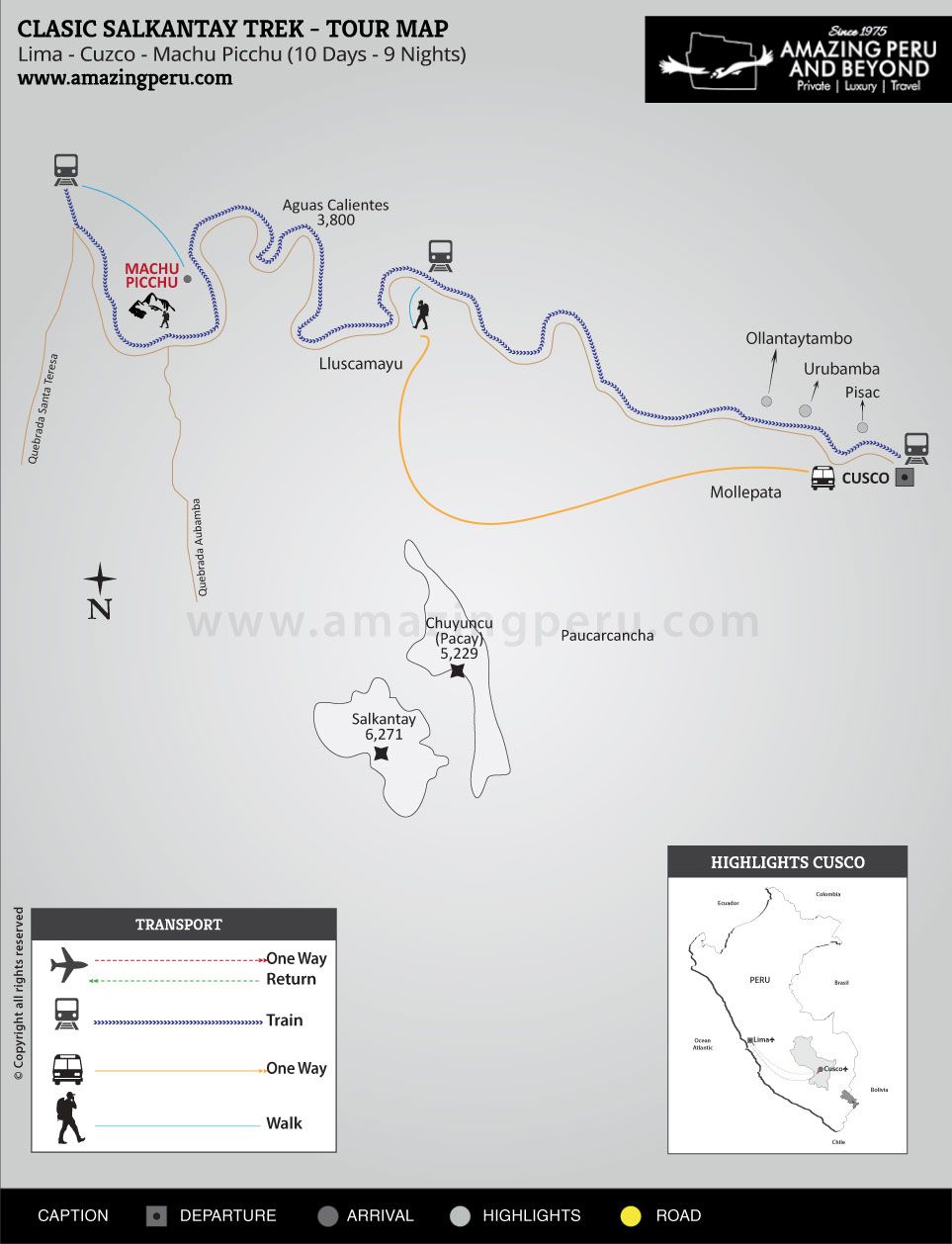 Classic Salkantay Trek Tour

11 days / 10 nights.
For current availability contact us at
info@amazingperu.com
and we will send you the relevant trip dossier along with a 90 day fixed quote, terms and conditions. Please bear in mind that significant price reductions are available for groups.
"Well-run multipurpose agency, with several offices in Peru with an extensive roster of trips, from family and honeymoon to luxury trips..."
Frommers Guides 2023
"Highly recommended, professional and well-organized, 'perfect tour', knowledgeable guides"
Footprint Handbook 2023
"Transportation services and accommodations are top-notch, and the guides are flexible and extremely helpful"
Fodor's Guides 2023
"
Amazing Peru
has more than 20 years of experience in the travel industry. Tours to Machu Picchu can be customized to include airfare, all meals, accommodations and travel insurance, and last from six to 14 days. Amazon cruises, horseback riding, river rafting, hiking and biking throughout Machu Picchu, Cuzco, Sacred Valley, Lake Titicaca..."
USA TODAY
"Move Over, Machu Picchu - How disabled travelers can tour Machu Picchu."
Christoper Reynolds
"Looking for an adventure of lifetime to kick-start married life? Consider these honeymoons with a difference… "
Perfect Wedding Magazine
"Experience"
Amazing Peru is the leading company in Latin America that combines exclusivity, luxury and authenticity for Peruvian holidays. It will tailor a 15- days tour for you that takes in Lake Titicaca, the Sacred Valley, Machu Picchu, Lima, Cuzco, Colca Canyon and the Amazon rainforest."
The Travel and Leisure Magazine UK
"A reputable firm with an impressive variety of unique excursions… "
At Home and Away with Alan Whicker CBE Magazine
Spend Christmas on a guided tour of breathtaking Machu Picchu and visit famous Lake Titicaca. Amazing Peru offers luxury Christmas vacations in Machu Picchu along the Inca Trail...
Trails Outdoor Travel Guide
"Amazing Peru takes families on both luxury and affordable tours throughout Peru. Children 12 and older are welcome to come along on the 12-day Peru Family Adventure Tour. Raft, backpack, kayak and bike through some of Peru's most unforgettable sights including Machu Picchu. The Family Tour to Peru is tailored for children younger than 12 years of age with an educational component. Relax on Peru's northern beaches, explore the high-altitude Lake Titicaca, trek through the Amazon, and visit Machu Picchu on this 16-day journey. Check out Amazing Peru's 12-day Family Tour."
Global Post USA
"
You can fly over Machu Picchu - or take a helicopter ride
Who needs hiking when you can fly? The company Amazing Peruoffers hour-long flight tours right over the Sacred Valley of the Incas. The plane fits a minimum of eight passengers, and it can also be chartered. Passengers fly over Tipon and Pikillaqta, both archaeological sites, Pisaq and the Urubamba Valley, Sacsayhuaman, and, of course, Machu Picchu itself. Flights can be longer or shorter as requested. "
"
You can Om your way through Machu Picchu
Machu Picchu is known as one of the most spiritual lands in the world, so why not go all out and Om your way through its ruins? Amazing Peru offers a seven-day yoga tour where visitors travel from Lima to Cuzco and finally to Machu Picchu, where they stay in the famed sanctuary Lodge hotel right outside of the ruins. They participate in multiple meditation and yoga sessions throughout the trip, but the highlight is a private session smack-dab in the middle of the ruins. Now that is an Om experience worth waiting for."
Yahoo Lifestyle
A Private, customized tour to Venezuela, Guyana, Suriname, French Guiana and Trinidad & Tobago. "Any traveler with a well-developed sense of adventure will be rewarded with an incredible experience on this journey to a birding paradise designed and operated by Amazing Peru."
"Savoring a taste of Uruguay's acclaimed wine region - An outstanding experience"