Complete Peru & Galapagos tour
Lima - Nazca - Cuzco - Machu Picchu - Amazon Reserve - Lake Titicaca - Quito - Galapagos Islands
19 days / 18 nights.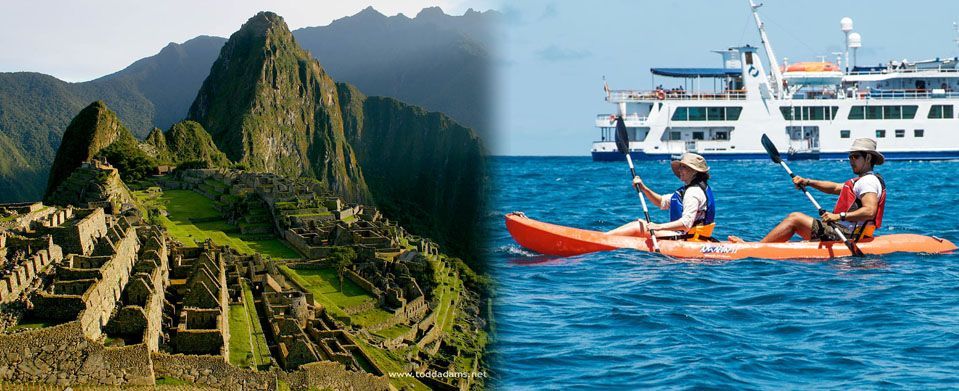 ITINERARY
Day 1. LIMA
Arrival to Lima, reception at the airport and transfer by private vehicle to your hotel.
Day 2. LIMA (Breakfast)
After breakfast, a guided visit of colonial and modern Lima, including the cathedral, dating from 1654, the main square, which still houses the original bronze fountain built in 1650, and the San Francisco Convent and its catacombs. Known as the city of the kings, Lima was founded in 1535 by Pizarro and rebuilt in 1991, the same year that UNESCO declared it a world heritage site. One of the very few South American cities that preserve the colonial past, Lima was home to the Spanish viceroy during the time of the Spanish colonialists. The tour will include a visit to the residential areas of San Isidro and Miraflores, before stopping at Larco Mar to enjoy a view of the beautiful Pacific Ocean. Return to your hotel in Lima.
Meals: B
Day 3. LIMA - NAZCA - LIMA (Breakfast)
After breakfast, transfer to the airport for the 08:30 flight to the private aerodrome in Ica. Change of the aircraft to a Cessna for the flight tour lasting 1 hour and 10 minutes over the Nazca Lines. These gigantic drawings and geometrical figures, representing animals, such as a spider, a monkey and several birds were once believed to be an enormous astronomical calendar. Return to Ica and transfer to the aerodrome for the return flight to Lima arriving between 17:00 and 18:00. Arrival and transfer to your hotel.
Meals: B
Day 4. LIMA - CUZCO (Breakfast)
After breakfast, transfer to the airport for your flight to Cuzco, the ancient Inca capital of the Incas. After the one hour flight, reception and transfer to your hotel. In the afternoon, a guided tour of Cuzco including the Cathedral, Qoricancha temple, the Inca fortress of Sacsayhuaman overlooking Cuzco, Qenko and Puka Pukara. Return to the hotel.
Meals: B
Day 5. SACRED VALLEY - PISAC - OLLANTAYTAMBO (Breakfast & lunch)
Full-day excursion to the beautiful Urubamba, the Sacred Valley of the Incas, situated between Pisac and Ollantaytambo. It is an exceptionally fertile valley that was and remains the larder of Cuzco. Visit the village of Pisac, founded during colonial times, and set at the foot of a hill crowned by the remains of an ancient Inca city. On Sundays, Tuesdays and Thursdays, Indians barter their products in the main square and artisans from around the area sell their woven alpaca wool blankets and ponchos, engraved gourds, antique reproductions, jewellery, etc. On Sundays, it is also the meeting place for Mayors from all the villages in the region, dressed in their traditional costumes to attend morning mass. After a buffet lunch, a visit to Ollantaytambo, the only Inca town that was not defeated by the Spanish with an opportunity to explore the ruins which tower above. Late afternoon return to Cuzco whilst visiting en-route the traditional market of Chinchero.
Meals: B & L
Day 6. CUZCO - MACHU PICCHU (Breakfast & dinner)
Enjoy a good night's sleep before boarding the train to Aguas Calientes. Arrival to Aguas Calientes, assistance with your luggage and check in to your room.

Shortly after, a guided tour of Machu Picchu, the most spectacular ancient city in the world. Built by the Inca Pachacutec, and comprising stone blocks fitted with masterful precision, Machu Picchu harmoniously blends into the mountain landscape. There are many theories as to the origins behind Machu Picchu but three of the most popular ideas include a temple to the sun, a fortress against the jungle inhabitants or a sanctuary for the Incas. This fabulous city has houses, temples, warehouses, a large central square, all connected by narrow roads and steps, and is surrounded by terraces cut into the mountain side which were used for agriculture. Dinner and accommodation.
Meals: B & D
Day 7. MACHU PICCHU - CUZCO (Breakfast & lunch)
Free day in Machu Picchu. Time for some private reflection before returning for breakfast. Today no guide is provided as we feel that Machu Picchu requires a certain amount of self discovery to be fully understood. Take any of the several paths around various parts of the site (we will provide a map to help you), trek up to Wayna Picchu or walk down to the Inca's bridge. Let Machu Picchu unfold all its mysteries for you, take in the breathtaking cloud forests and jagged mountains, or marvel at the extraordinary Masonic precision of the ancient Incas. Either way, your day of self discovery will be a day never to be forgotten. Return to your hotel for lunch before returning to Cuzco and to your hotel.
Meals: B & L
Day 8. CUZCO - PUERTO MALDONADO - INKATERRA AMAZONICA (All meals)
After early breakfast, we bid farewell to Cuzco and take a short drive in a private car to the airport for the flight to Puerto Maldonado. Arrival to Puerto Maldonado. Reception at the airport and transfer to the river port, whilst hearing an introductory talk about the city and surrounding areas, in addition to the characteristics of the Amazon region. You will embark on a 45-minute boat ride on the Madre de Dios River until your arrival at the Reserva Amazonica Rainforest lodge. Here you will be assigned to your cabin.

After lunch, an afternoon excursion begins including a guided walk along one of the trails close to the lodge. The trails wind past important giant trees of the forest such as the kapok and the strangler fig, and you may see superb examples of bird and insect life.

You will also take a boat ride along the Madre de Dios River to see the change in the environment as twilight gives way to darkness. Animals and birds are replaced by special species adapted to the darkness, such as nightjars, owls, capybara, and caiman. You may choose to take the Twilight Rainforest excursion as an alternative. Cocktails and buffet dinner in the dining room of the lodge's main pavilion.
Meals: All meals
Day 9. INKATERRA AMAZONICA (All meals)
Wake up early to observe the sun rise over the Madre de Dios River before a buffet breakfast with eggs, cereals, local fruits, and fresh bread.

You will then gather in the Eco-Centre for your morning excursions.

A five-minute boat ride takes you to the Canopy Inkaterra Interpretation Centre where you can ascend the first tower, 45 metres (150 feet) above the forest floor. Spend an hour and a half walking on the bridges that stretch between seven platforms, as you see giant strangler fig trees, orchids, toucans, woodpeckers, trogons, and with luck, monkeys or a three-toed sloth. You will then embark on a 40-minute boat ride that takes you to the Tambopata National Reserve. Spend an hour-and-a-half walking the 3 km (1.8 mile) trail through the wildlife-rich reserve, and you will arrive at the breath-taking oxbow lake, Lake Sandoval. Here you will have an excellent opportunity to see the endangered giant river otter.
Meals: All meals
Day 10. INKATERRA AMAZONICA (All meals)
Enjoy a buffet breakfast before your morning's excursion to Concepción. A 10-minute boat ride upriver to Concepción, home to a botanical garden with more than 200 different species of plants. Walk for an hour to reach the natural collpas (clay licks), and learn about the many rainforest mammals and birds that consume this clay. After lunch, enjoy your excursion to Rolin Island where you will stroll for an hour, whilst learning about island ecosystems and seeing the presentation at the Primate Rescue Centre, home to three species of primate–the brown capuchin, white capuchin, and squirrel monkeys. Return to the lodge for cocktails and a buffet dinner.
Meals: All meals
Day 11. INKATERRA AMAZONICA - CUZCO (Breakfast)
After breakfast, check out of the lodge and return by boat to Puerto Maldonado, an hour and a half upriver. Visit the city's Butterfly Farm, unique in Peru where you can experience several dozen of the more than 3,800 varieties of butterflies and moths found in Peru. Assistance with your luggage, prior to boarding your flight to Cuzco.

After the flight, arrival back into Cuzco and transfer to your hotel.
Meals: B
Day 12. CUZCO - PUNO (Breakfast & lunch)
After breakfast, transfer to the railway station for the first class Andean Explorer train to Puno (Mondays, Wednesdays and Saturdays only). Alternatively you can take the tourist bus. Enjoying marvellous view en route, you shall also enjoy lunch onboard before arriving to Puno. Arrival, reception and transfer to your hotel.
Meals: B & L
Day 13: ISLANDS OF LAKE TITICACA (Breakfast & lunch)
After breakfast, a full day excursion to the islands of Uros and Taquile with your guide. Uros, a group of islands made entirely of tortora reeds is home to a small community dating back to a pre-Inca culture. The inhabitants of Taquile are more closely related to the Aymara people of Bolivia than the Quechua Incas of Peru. Lunch box provided. Return to Puno and your hotel.
Meals: B & L
Day 14. PUNO - JULIACA - LIMA - QUITO (Breakfast)
After breakfast, transfer to Juliaca airport for the return flight back to Lima and connecting international flight to Quito. In-flight lunch. Arrival to Quito and transfer to your hotel.
Meals: B
Day 15. QUITO (Breakfast)
After a delicious breakfast, you will be met by your guide as you start your full day's private tour of colonial Quito, declared by UNESCO as a world heritage site in 1978. A visit to the Old Town, including the Plaza de la Independencia. The President still conducts business here, so access to the inside may be limited. It is the home of the tomb of Sucre and also houses interesting 17th and 18th century paintings. A visit to the Middle of the World Monument. Return to your hotel.
Meals: B
4 DAY/ 3 NIGHT GALAPAGOS CRUISE (All meals included) Itinerary subject to change
Day 16. QUITO - SAN CRISTOBAL (Breakfast, lunch & dinner)
After breakfast, transfer to the airport for the flight to the Galapagos Islands. Transfer to the port and boarding of your yacht for an unforgettable wildlife adventure. After an introductory talk and lunch, your Galapagos expedition begins with a visit to La Galapaguera to observe giant turtles. The day is concluded with a visit to the Loberia highlands.
Meals: B, L & D
Day 17. SANTA FE - SOUTH PLAZAS ISLAND (Breakfast, lunch & dinner)
A visit today to Santa Fe, home to a beautiful turquoise lagoon with two small beaches and where you can view numerous sea lions. Taking a trail along the coast and through an Opuntia Forest where these prickly pear cacti are the largest on the Galapagos. We will also see Santa Fe land iguanas. After the hike, a swim or snorkel in the bay in the company of sea lions. Continue onto South Plaza, one of the smallest islands and only 130 metres wide and just 800 metres long. Here there is a large colony of sea lions, with over 1,000 occupying the smooth rocks. The small cactus forest is populated by land iguanas, where they can be seen sunning themselves or feeding on Opuntia pads and fruits. Along the cliff edge nesting swallow-tailed gulls are the predominant seabirds, along with tropic birds.
Meals: B, L & D
Day 18. ESPAÑOLA - GARDNER BAY - PUNTA SUAREZ (Breakfast, lunch & dinner)
A visit to the isolated Española where there is a high percentage of endemic fauna. Gardner Bay, on the eastern shore has a magnificent beach. The beach is frequented by sea lions, and is a major nesting site for marine turtles. Around the small islets nearby, snorkelers will come across many species of fish, turtles and perhaps even sharks. On a trail leading to the western part of the island, several nesting sites of the waved albatros will be encountered. These huge birds nest here from April to December. Finally at Punta Suarez, along with many nesting seabirds there are mockingbirds, Galapagos doves and Galapagos hawks. Several types of reptile, including the marine iguana and the lava lizard, are also inhabitants of the island. Here you may also see a spectacular blowhole, which shoots spray 30 metres into the air.
Meals: B, L & D
Day 19. SANTA CRUZ - CHARLES DARWIN - HIGHLANDS - QUITO (Breakfast)
A visit to the second largest island in the Galapagos, Santa Cruz. With six different zones of vegetation: Coastal, Arid, Transition, Scalesia, Miconia, and Pampa Zones. The Charles Darwin Research Station and the Galapagos National Park offices are also based here. The station is also a tortoise breeding centre, where tortoises of different species are prepared for reintroduction to their natural habitats. The most famous inhabitant is probably Lonesome George, the only survivor of this specific turtle species. The lush green scenery of the Santa Cruz highlands is a welcome contrast to the aridity of the lower islands. Transfer to the airport and return to the mainland.
Meals: B, L & D
End of our services.
Complete Peru & Galapagos tour - Itinerary Overview:
PRICES:

Please Contact Us Here
Credit Cards Welcome:



WHAT IS INCLUDED / NOT INCLUDED
For current availability contact us at
info@amazingperu.com
and we will send you the relevant trip dossier along with a 90 day fixed quote, terms and conditions. Please bear in mind that significant price reductions are available for groups. All our Luxury Tours are fully private and depart daily. Contact us for more information regarding the above tour, or to begin customizing your own itinerary.
"Well-run multipurpose agency, with several offices in Peru with an extensive roster of trips, from family and honeymoon to luxury trips..."
Frommers Guides 2023
"Highly recommended, professional and well-organized, 'perfect tour', knowledgeable guides"
Footprint Handbook 2023
"Transportation services and accommodations are top-notch, and the guides are flexible and extremely helpful"
Fodor's Guides 2023
"
Amazing Peru
has more than 20 years of experience in the travel industry. Tours to Machu Picchu can be customized to include airfare, all meals, accommodations and travel insurance, and last from six to 14 days. Amazon cruises, horseback riding, river rafting, hiking and biking throughout Machu Picchu, Cuzco, Sacred Valley, Lake Titicaca..."
USA TODAY
"Move Over, Machu Picchu - How disabled travelers can tour Machu Picchu."
Christoper Reynolds
"Looking for an adventure of lifetime to kick-start married life? Consider these honeymoons with a difference… "
Perfect Wedding Magazine
"Experience"
Amazing Peru is the leading company in Latin America that combines exclusivity, luxury and authenticity for Peruvian holidays. It will tailor a 15- days tour for you that takes in Lake Titicaca, the Sacred Valley, Machu Picchu, Lima, Cuzco, Colca Canyon and the Amazon rainforest."
The Travel and Leisure Magazine UK
"A reputable firm with an impressive variety of unique excursions… "
At Home and Away with Alan Whicker CBE Magazine
Spend Christmas on a guided tour of breathtaking Machu Picchu and visit famous Lake Titicaca. Amazing Peru offers luxury Christmas vacations in Machu Picchu along the Inca Trail...
Trails Outdoor Travel Guide
"Amazing Peru takes families on both luxury and affordable tours throughout Peru. Children 12 and older are welcome to come along on the 12-day Peru Family Adventure Tour. Raft, backpack, kayak and bike through some of Peru's most unforgettable sights including Machu Picchu. The Family Tour to Peru is tailored for children younger than 12 years of age with an educational component. Relax on Peru's northern beaches, explore the high-altitude Lake Titicaca, trek through the Amazon, and visit Machu Picchu on this 16-day journey. Check out Amazing Peru's 12-day Family Tour."
Global Post USA
"
You can fly over Machu Picchu - or take a helicopter ride
Who needs hiking when you can fly? The company Amazing Peruoffers hour-long flight tours right over the Sacred Valley of the Incas. The plane fits a minimum of eight passengers, and it can also be chartered. Passengers fly over Tipon and Pikillaqta, both archaeological sites, Pisaq and the Urubamba Valley, Sacsayhuaman, and, of course, Machu Picchu itself. Flights can be longer or shorter as requested. "
"
You can Om your way through Machu Picchu
Machu Picchu is known as one of the most spiritual lands in the world, so why not go all out and Om your way through its ruins? Amazing Peru offers a seven-day yoga tour where visitors travel from Lima to Cuzco and finally to Machu Picchu, where they stay in the famed sanctuary Lodge hotel right outside of the ruins. They participate in multiple meditation and yoga sessions throughout the trip, but the highlight is a private session smack-dab in the middle of the ruins. Now that is an Om experience worth waiting for."
Yahoo Lifestyle
A Private, customized tour to Venezuela, Guyana, Suriname, French Guiana and Trinidad & Tobago. "Any traveler with a well-developed sense of adventure will be rewarded with an incredible experience on this journey to a birding paradise designed and operated by Amazing Peru."
"Savoring a taste of Uruguay's acclaimed wine region - An outstanding experience"