Viaje de Lujo a Machu Picchu y Aventuras en el Amazonas
Una combinación única y maravillosa del Perú en estilo. Esta oportunidad única permite un reconocimiento muy combinando tanto la ciudad perdida de los incas de Machu Picchu con un abordo de un increíble crucero de lujo por el río Amazonas en Perú . Con hoteles de lujo, comidas a la carta y guías privados, permiten que Amazing Perú les ofrezca una unica emocionante e increíble experiencia de vida.
Lima - Cuzco - Machu Picchu - Urubamba - Iquitos
10 días / 9 noches.
ITINERARIO
Día 1. (Domingo): LIMA
Llegada a Lima, recepción en el aeropuerto y traslado en vehículo privado hacia el hotel de 5 * Miraflores Park Hotel. Registro de entrada VIP a su suite ejecutiva completa con vistas al océano. Donde las flores frescas y frutas secas te esperan. Si su vuelo de llegada se retrasa su masaje se posterga para el día 6. Si llegas en un vuelo temprano, usted tendrá la opción de una cena a la carta o servicio de habitaciones (si va a llegar después de 23:00).
Miraflores Park Hotel | Comidas: C
Día 2. (Lunes): LIMA - CUZCO
Después del desayuno, traslado al aeropuerto para tomar el vuelo a Cusco, la antigua capital Inca de los Incas. Después de una hora de vuelo, recepción y traslado al exclusivo hotel de 5 * Hotel Monasterio. VIP check-in por la capilla de su habitación de lujo. Una cesta de fruta, flores frescas y chocolates finos estarán esperando por usted. La sala se oxigena (el único hotel en el mundo con este servicio) para ayudarle a relajarse y dormir con mayor comodidad mientras se adapta a la altitud de Cuzco (11,600 pies sobre el nivel del mar). Después de un almuerzo ligero se recomienda en el maravilloso restaurante del hotel, una visita guiada privada de Cuzco como la Catedral, Qoricancha templo, la fortaleza inca de Sacsayhuaman con vistas a Cusco, Qenko y Puka Pukara. Regreso al hotel. Cena en el Restaurante El Tupay. El sábado un espectáculo de música folclórica acompañará la cena.
Monasterio Hotel | Comidas: D, A & C
Día 3. (Martes): CUZCO - MACHU PICCHU
Disfrute de una buena noche de descanso antes de su traslado privado a las 9 a Poroy, a poca distancia del Cuzco. Embarque del lujoso tren Hiram Bingham a Aguas Calientes. Este tren Orient Express es la forma más exclusiva de visitar Machu Picchu, e incluye un almuerzo abundante a bordo del tren. Guías también estarán disponibles para contestar cualquier pregunta. Llegada a Aguas Calientes, la ayuda con el equipaje y el embarque de los autobuses para el corto viaje hasta Machu Picchu, la antigua ciudadela Inca. En la entrada a Machu Picchu, el hotel está situado, el hotel Sanctuary Lodge. Check-in VIP en su habitación, con cama king size y una vista de las montañas increíbles. Una copa de bienvenida y cesta de frutas lo espera.
Poco después, una visita guiada a Machu Picchu, el más espectacular de la ciudad antigua en el mundo.
Fue construido por el Inca Pachacutec, y que comprende bloques de piedra equipados con una precisión magistral, Machu Picchu combina armoniosamente con el paisaje montañoso. Hay muchas teorías acerca de los orígenes detrás de Machu Picchu, pero tres de las ideas más populares incluyen un templo al sol, una fortaleza contra los habitantes de la selva o un santuario para los incas. Esta maravillosa ciudad tiene casas, templos, almacenes, una gran plaza central, todos conectados por caminos y pasillos estrechos, y está rodeada de terrazas excavadas en la ladera de la montaña que se utilizaban para la agricultura. Almuerzo (si es necesario), cena y alojamiento en el Machu Picchu Sanctuary Lodge. La oportunidad de volver al sitio una vez que todos los demás visitantes se han ido y la oportunidad de apreciar de verdad el marco grandioso de esta obra maestra Inca, sin multitudes, pero sólo un extraño silencio que pocas personas experimentan.
Machu Picchu Sanctuary Lodge | Comidas: A & C
Día 4 (miércoles): MACHU PICCHU - CUZCO
Oportunidad temprana para regresar al hotel y disfrutar de un maravilloso amanecer en Machu Picchu. Un poco de reflexión privada antes de regresar para el desayuno. Hoy día no se proporciona al guía porque creemos que Machu Picchu requiere una cierta cantidad de auto-descubrimiento para ser plenamente comprendido. Tome cualquiera de los varios caminos alrededor de diferentes partes del sitio (proporcionaremos un mapa de ubicaciones a usted), caminata hasta el Wayna Picchu o caminar hasta el puente del Inca. Deje que Machu Picchu despliegue todos sus misterios para ti, toma en los bosques nublados impresionantes y montañas escarpadas, o admirar la extraordinaria precisión masónica de los antiguos Incas. De cualquier manera, el día de auto-descubrimiento será un día que nunca se olvidará. Regreso al hotel para el almuerzo antes de regresar a Aguas Calientes en bus. Algún tiempo libre para visitar el pintoresco pueblo antes de embarcar en el tren Hiram Bingham en la tarde. Volver en estilo, conversar con sus compañeros de viaje y guías y disfrutar de cócteles seguido de una cena de cuatro platos. Recepción y traslado al Hotel Monasterio.
Monasterio Hotel | Comidas: A & C
Día 5 (Jueves): URUBAMBA
Después del desayuno, una excursión privada de día completo a Urubamba, el Valle Sagrado de los Incas y el antiguo mercado de la ciudad inca de Pisac. Se proporcionará almuerzo en Urubamba o un picnic. La visita se realizará a Ollantaytambo, la única ciudad inca que no fue derrotado por el español y la oportunidad de explorar las ruinas antes de regresar a Cusco. Regreso al hotel para relajarse y descansar. Antes de la cena, disfrutar de 30 minutos "masaje de Inca 'acompañado de música tradicional. Este masaje relajante con aromaterapia incorpora Kantu, la flor sagrada de los Incas. Cena en el Cuzco en un restaurante recomendado.
Comidas D, A & C
Día 6 (Viernes): CUZCO - LIMA
Después del desayuno, traslado al aeropuerto para tomar el vuelo de regreso a Lima. Traslado a su hotel, el Miraflores Park Hotel. Antes del almuerzo, una visita guiada privada de Lima colonial y moderna, como la catedral, que data de 1654, la plaza principal, que conserva la fuente original de bronce construido en 1650, y el convento de San Francisco y sus catacumbas. Conocida como la ciudad de los reyes, Lima fue fundada en 1535 por Pizarro y reconstruida en 1991, el mismo año que la UNESCO la declaró Patrimonio de la Humanidad. Una de las pocas ciudades de América del Sur que preservan el pasado colonial, Lima fue sede del virreynato español en la época de los colonizadores españoles. El tour incluye una visita a las zonas residenciales de San Isidro y Miraflores, antes de detenerse en Larco Mar para disfrutar de una vista del hermoso Océano Pacífico. Almuerzo en el internacionalmente reconocido Rosa Nautica, el mejor restaurante de pescados y mariscos en Lima. Después del almuerzo, una visita a un museo de su elección. Recomendamos el Museo del Oro, originalmente de una colección privada. El museo cuenta con piezas valiosas, en particular el oro, plata y cobre de varias culturas prehispánicas. La pieza más valiosa de la colección es el sólido Tumi de oro (cuchillo ceremonial), perteneciente a la cultura Lambayeque. Regreso al hotel para disfrutar de un masaje relajante 60 minutos (para dos personas) que vigorizar los sentidos y prepararse para una deliciosa cena en la Huaca Pucllana Restaruant. Ubicado dentro de un sitio arqueológico pre-inca actual y al lado de una pirámide de adobe de los años 1500, la comida es exquisita y el sommelier le ayudará a elegir entre sus favoritos vinos personales o algunos clásicos de Chile y Argentina. Regreso a su hotel.
Miraflores Park Hotel | Comidas: D & A
Día 7 (sábado): LIMA - IQUITOS
Mañana libre para hacer algunas compras antes de la segunda fase de su aventura comienza, el de la travesía de la selva amazónica. Transferencia del mediodía al aeropuerto para tomar el vuelo a Iquitos.

Llegada aproximadamente a las 17:00, recoger su equipaje y abordar el autobús con aire acondicionado para un paisaje y una media hora en coche de la pequeña localidad de Nauta, donde su embarcación de lujo, el M / V Aqua se encuentra anclado. Va a instalarse en su suite principal de gran tamaño, que mide unos generosos 240 metros cuadrados que incluya una privacidad íntima óptima. Esta suite dispone de aire acondicionado; orientado hacia el exterior en la parte delantera de la embarcación, y viene completo con ventanas panorámicas de vidrio. Abra la cortina a los pies de su extra grande (o solteros por separado) Cama California en la noche y contar las constelaciones en un cielo lleno de estrellas brillantes. La suite principal también se completa con un baño privado, ducha, agua caliente 24 horas, secador de pelo, y una cesta de artículos de tocador de lujo. Las finas sábanas de algodones peruanos, con una alta densidad de hilos le ayudará a dormir muy profundamente después de la excursión de cada día.
Todas las comidas son preparadas por el Chef Ejecutivo Pedro Miguel Schiaffino, una de las estrellas culinarias de Lima, que ha creado un menú que se basa en la influencia tanto del Perú como lo europeo. Vino se incluye con las comidas, que le da la oportunidad de experimentar una serie de los mejores vinos de América del Sur. Durante los siguientes cuatro días, navegará a lo largo de un confort total durante varios afluentes del río Amazonas, así como en el poderoso Amazonas mismo. Un simulacro de seguridad y de información en la cubierta superior, antes de que el viaje se inicie y en seguida nos preparamos para la cena de gala en el restaurant del río Amazonas.
Día 8 (domingo): RIO UCAYALI - YANALLPA
Después de un delicioso desayuno, en la selva a pie hasta el lago Yanallpa en busca de los "hoatzins," pájaros prehistóricos que viven en grandes colonias. Al iniciar la caminata suave, los guías le enseñarán técnicas de orientación utilizadas en la selva profunda. Volver al crucero para disfrutar de un almuerzo ligero. Por la tarde, navegaremos por el majestuoso río Ucayali, que ofrece la oportunidad de conocer a los balseros pescadores nativos, quienes demostrarán sus habilidades y le permiten ver lo que capturan, incluyendo un tipo de bagre "blindado" con una piel de concha que se están tomando en el mercado en el pequeño pueblo de Requena. También encontraremos una balsa "balsero bananero", cargado con cientos de racimos de bananas, dirigiéndose río abajo en el mercado. La cena es seguido por un viaje a Río Zapote, donde los guías le enseñarán varias clases de caimanes, miembros de la familia de los lagartos, a lo largo del río rico en peces zapote. Es muy probable que vamos a sorprender a los demás con criaturas nocturnas también. Retirarse de la noche, las velas de crucero aguas arriba en el río Puinahua.
Día 9 (lunes): PUINAHUA RIVER / HATUM POSA LAGO Y RIO PACAYA
Después del desayuno, una selva a pie cerca de la Hatum Posa Village. En esta caminata, los guías lo introducirán a los indígenas que participan en la agricultura de subsistencia, y le dirán cómo ellos aprendieron a cultivar plantas salvajes y árboles para generar sus ingresos. En lo profundo de la selva primaria, los guías también les enseñarán el valioso aporte de los árboles frutales y plantas medicinales escondidos en la maleza. Regreso para el almuerzo antes de la expedición continúa en el río Pacaya y Yanayacu Lake.

Por la tarde, haremos un viaje a lo largo del río Pacaya desde la Estación del Guardabosques N º 1 hacia el Lago Yanayacu, donde se puede apreciar la abundante vida que se esconde en la selva profunda. Usted puede ver monos saki, monos capuchinos y los fáciles de observar monos aulladores pesados. Como se pone el sol, se le escuche los agudos y feroces sonidos de alerta emitidos por los monos aulladores, marcando su territorio. Cuando cae la noche, se oye más de la selva suena como animales nocturnos emitan sus estridentes llamados a través de las copas de los árboles. Usaremos nuestras antorchas especiales proyector para localizar criaturas de la noche, entre ellos, tal vez, gran caimán. Regreso, cena a bordo del crucero. Esta noche vamos a atracar en la estación del guardabosques en el Parque Nacional Pacaya Samiria.
Comidas: D, A & C
Día 10 (Martes): Lago Yanayacu - IQUITOS
Desayuno temprano, sus guías le mostrará los loros, guacamayos, tucanes, y muchos tipos diferentes de monos en la zona. También vamos a ir a un lugar de alimentación de delfines a lo largo de Lago Yanayacu, donde usted será testigo de estos mamíferos de agua dulce encantador pero poco frecuente.
Luego iniciaremos nuestro viaje de regreso hacia Iquitos navegando mientras disfruta de un almuerzo ligero. Su equipaje será recogido de sus cabañas para transferencia al autobús, antes de desembarcar a las 12:40 y regresando al aeropuerto. En el camino, vamos a visitar esta fascinante ciudad, accesible sólo por aire y río que viene completo con su famosa casa construida por Gustave Eiffel, como Iquitos fue una vez un rico centro de la industria del caucho. Después de la visita de la ciudad, vamos a hacer una parada en el Mercado de San Juan Indio Amazónico para hacer algunas compras de última hora.
Llegada al aeropuerto de Iquitos, donde le ayudaremos con su check-in hasta la salida del vuelo a las 5:30 pm (Nota: Todos los itinerarios están sujetos a cambios, debido al clima y otras condiciones Todos los tiempos indicados son aproximados y están sujetos. cambiar. 8 cruceros de un día que salen los sábados también están disponibles, pregunte para más detalles).
Comidas: D & A
Fin de nuestros servicios.
Viaje de Lujo a Machu Picchu y Aventuras en el Amazonas - El Resumen del Itinerario:
PRICES:

Por favor, contáctenos aquí
Credit Cards Welcome:



QUE ESTA INCLUIDO / NO INCLUIDO
NUESTRA SELECCIÓN DE HOTELES DE LUJO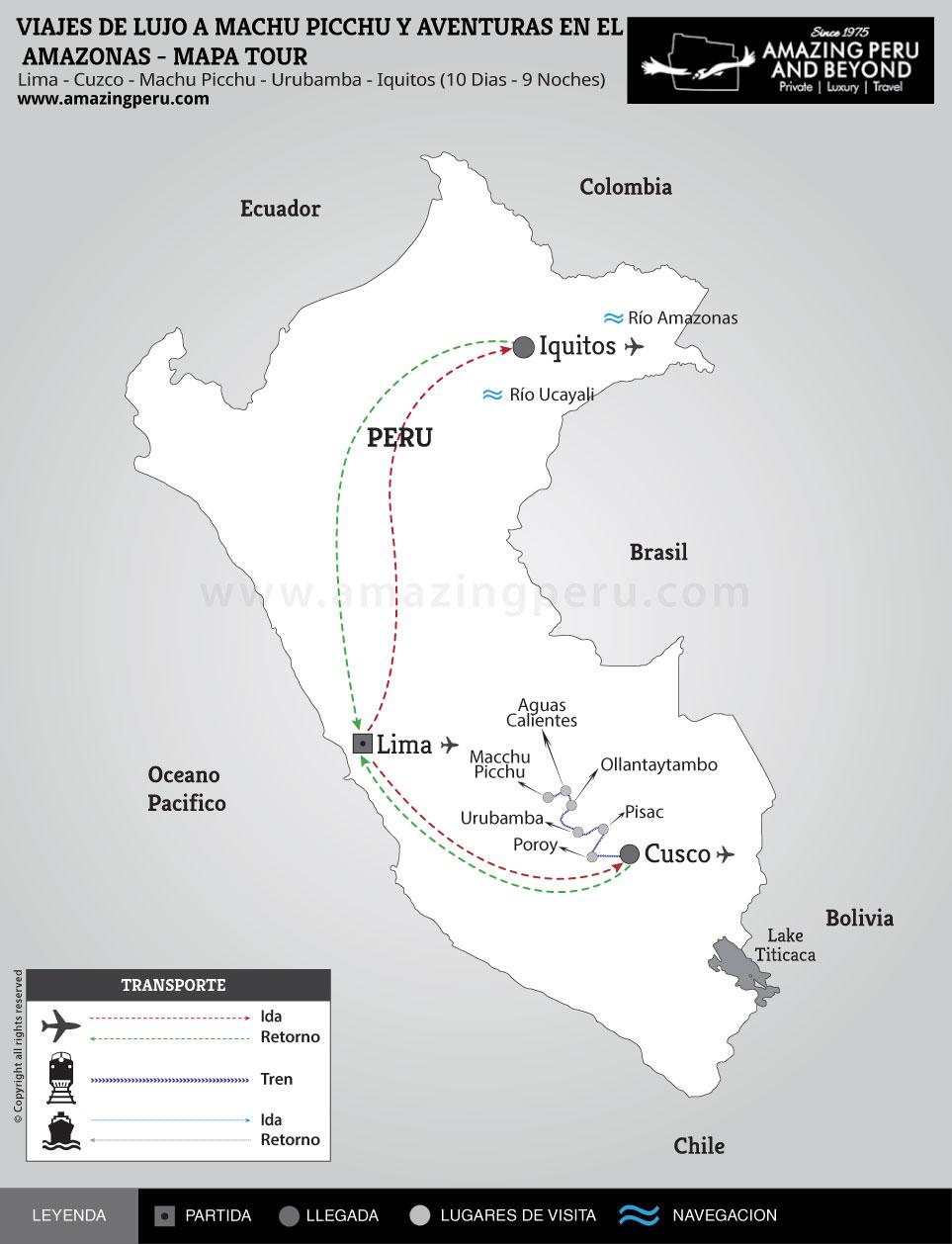 Viaje de Lujo a Machu Picchu y Aventuras en el Amazonas
Lima - Cuzco - Machu Picchu - Urubamba - Iquitos
10 días / 9 noches.
Para disponibilidad y contactarse con nosotros enviarnos un email a:
info@amazingperu.com
y nosotros le enviaremos el dossier e información completa del viaje correspondiente junto con una cotización de 90 días de duración, con los términos y condiciones. Por favor, tenga en cuenta que tenemos reducciones significativas de precios disponibles para grupos. Todos nuestros
Tours de Lujo
son totalmente privados y salen todos los días. Póngase en contacto con nosotros para obtener más información sobre el itinerario de viaje anterior, o para comenzar a personalizar su propio itinerario hecho a la medida. Todos nuestros itineraries pueden ser personalizados de acuerdo a sus requerimientos.
ALTAMENTE RECOMENDADO POR:
Amazing Perú es una agencia de viajes múltiples y de gestión, con varias oficinas en Perú y una extensa lista de los viajes, que ofrece de todo, desde viajes familiares y viajes de luna de miel de lujo y aventura y excursiones a la selva, para casi cualquier presupuesto
Guía de Viajes Frommers 2023
Muy recomendable, "viaje perfecto" profesional y bien organizado, guías conocedores
Footprint Guide 2023
Los servicios de transporte y alojamientos son de primera categoría, y los guías son flexibles y extremadamente útil
Guía de Viajes Fodors 2023
Amazing Perú (amazingperu.com) tiene más de 20 años de experiencia en la industria de viajes. Tours a Machu Picchu se puede personalizar para incluir el pasaje aéreo, todas las comidas, alojamiento y seguro de viaje, y duran de seis a 14 días. lugares turísticos incluyen Machu Picchu, Cuzco, Valle Sagrado, Lago Titicaca y el Cañón del Colca. Todas las excursiones se embarcan desde Lima y se pueden personalizar para incluir un crucero Amazon, paseos a caballo, rafting, senderismo y ciclismo.
USA TODAY
Move Over, Machu Picchu ­ ¿Cómo los viajeros con discapacidad pueden visitar Machu Picchu
Los Angeles Times
Buscando una aventura de por vida para poner en marcha la vida matrimonial encuentra estas lunas de miel con una diferencia…?
Revista Perfect Wedding
"Experiencia"
Amazing Perú es la empresa líder en Latinoamérica que combina exclusividad, lujo y autenticidad para vacaciones peruanos. Será adaptar un 15 -. Turísticos días para usted que tiene en el Lago Titicaca, el Valle Sagrado, Machu Picchu, Lima, Cuzco, el Cañón del Colca y la selva amazónica
The Travel and Leisure Magazine UK
Amazing Destinations es una empresa de renombre con una impresionante variedad de excursiones únicas…
At Home and Away con Alan Whicker CBE Revista
Machu picchu Mágico:
Una opción para los solteros es pasar la Navidad en una visita guiada de impresionante Machu Picchu y visitar el famoso Lago Titicaca. Amazing Peru ofrece lujosas vacaciones de Navidad en Machu Picchu por el Camino Inca. Los viajeros vuelan a Lima y pasar un día recorriendo el centro histórico de la ciudad. Al día siguiente, vuela a cuzco y estancia en el Hotel Monasterio de cinco estrellas. Excursiones al Valle Sagrado de los Incas y el pueblo colonial de Pisac son parte de la experiencia.
Senderos Guía de Viajes al Aire Libre
"Amazing Peru lleva a las familias en viajes de lujo y confortables en todo el Perú. Tienes programas para Familias de Aventura en el Perú de 12 días para padres con niños mayores de 12 años. Canotaje, kayak y bicicleta por los parajes para inolvidables del Perú como Machu Picchu. Este tour familiar al Perú esta hecho con componentes educacionales. Relajate en las playas del Norte del Perú, explora el lago navegable mas alto del mundo Titicaca, caminatas en el Amazonas, y visita Machu Picchu en este viaje de 16 días. Hecha un vistazo al programa de Viaje para Familias de 12 días de Amazing Perú."
Global Post USA
"
You can fly over Machu Picchu - or take a helicopter ride
Who needs hiking when you can fly? The company Amazing Peruoffers hour-long flight tours right over the Sacred Valley of the Incas. The plane fits a minimum of eight passengers, and it can also be chartered. Passengers fly over Tipon and Pikillaqta, both archaeological sites, Pisaq and the Urubamba Valley, Sacsayhuaman, and, of course, Machu Picchu itself. Flights can be longer or shorter as requested. "
"
You can Om your way through Machu Picchu
Machu Picchu is known as one of the most spiritual lands in the world, so why not go all out and Om your way through its ruins? Amazing Peru offers a seven-day yoga tour where visitors travel from Lima to Cuzco and finally to Machu Picchu, where they stay in the famed sanctuary Lodge hotel right outside of the ruins. They participate in multiple meditation and yoga sessions throughout the trip, but the highlight is a private session smack-dab in the middle of the ruins. Now that is an Om experience worth waiting for."
Yahoo Lifestyle
"A good bird watching site. Private, customized tour to Venezuela, Guyana, Suriname, French Guiana and Trinidad & Tobago"