Escorted Peru Tour 4
An all encompassing 14 day Escorted tour of Peru including the Nazca Lines, Cuzco, Machu Picchu and the Amazon Jungle. Available in Bronze, Silver, Gold and Platinum Level Accommodations. Weekly Departures with English speaking tour leaders.
Nazca Lines - Ballestas Islands - Sacred Valley - Machu Picchu - Tambopata Jungle
14 days / 13 nights.
ITINERARY
Day 1: Lima
Arrival in Lima, reception and transfer to your hotel.
Day 2: Lima - Paracas (Breakfast & lunch)
After breakfast, a tour briefing before your city tour of Lima; including a guided visit to the Cathedral, the Main Square and the San Francisco Catacombs. After lunch at Rosa Nautica, the foremost seafood restaurant in Lima, transfer to Paracas by private vehicle, some three south of Lima. Arrive to Paracas and transfer to your hotel.
Meals: B & L
Day 3: Paracas - Ica - Nazca (Breakfast & lunch)
After breakfast, transfer to the port for a guided boat tour of the Ballestas Islands. Commonly referred to as the "little Galapagos", here you will see an amazing concentration of sea birds, penguins and sea lions in their natural habitat. Return to the mainland. Transfer to Ica to visit the excellent museum which showcases the cultures of Paracas, Nazca, Chincha and Wari. A stop for lunch at the Las Dunas restaurant before visiting the vineyards of Vista Alegre to sample some wines and perhaps some Pisco. Continue the trip onto Nazca and transfer to your hotel.
Meals: B & L
Day 4: Nazca - Ica - Lima (Breakfast)
Before breakfast, a tour flight over the enigmatic Nazca Lines; gigantic drawings and geometrical figures engraved in the driest desert of Peru and dating back to 250 AD. Drawn throughout over 1000 Km2 of desert on the Pampas of San Jose in Ica, and due to their enormous size and largely unknown origin, leaves an indelible impression on all who visit this most mysterious archaeological site. With representations of animals, such as a spider, a monkey and several birds, they are believed to be an enormous astronomical calendar or possibly an offering to the gods. First discovered in 1550 it was not until the advent of flight, in the 1920's that the lines were first realised for their significance. The drawings are not in actual desert sand but on small rock debris, varying in length from 150m to 300m and with a depth of 20cm. Return to your hotel for breakfast before visiting the Ocongalla aqueducts and the archaeological sites of Cahuachi and Estaqueria. Cahuachi, one of the largest ceremonial centres of the Nazca civilization is located on the rim of the Nazca River. The Cahuachi ceremonial centre was a sacred destination of Nazca pilgrims between 100 and 500 AD. The site includes the main cultural-urban centre, pyramidal temples, terracing of fossil sand dunes, streets and squares. Italian archaeologist Giuseppe Orefici has been excavating the site for the past few decades. The Estaqueria archaeological site with its wooden pillars carved of huarango wood and placed on mud-brick platforms were once thought to have been an astronomical observatory. More recent theories, however, lean toward their use in mummification rituals, perhaps to dry bodies of deceased tribal members. Return to Ica for a late lunch (not included) at Mossone Hotel which is located at the Huacachina lagoon, which is located just 5 miles west of the city of Ica. A natural oasis in the middle of the white sand of the desert, the abundant vegetation consisting of palms, eucalyptus and typical guarangos serve as a rest area for migratory birds passing through the region. After visiting the lagoon, return journey to Lima and transfer to your hotel.
Meals: B
Day 5: Cuzco
Flight to Cuzco, the ancient capital of the Incas. A guided tour of Cuzco will include visits to the Inca fortress of Sacsayhuaman, Tambomachay and the Qoricancha temple. Dinner and folkloric show in the evening. Overnight accommodation.
Day 6: Sacred Valley -Ollantaytambo
Excursion to Urubamba, the sacred valley of the Incas with a visit to the ancient Inca market of Pisac followed by a trip to the Pisac ruins above the town. Lunch before continuing the tour to Ollantaytambo, site of the last undefeated bastion of the Inca Empire. Overnight accommodation in Ollantaytambo.
Day 7: Machu Picchu
Early train journey to Aguas Calientes for a full day's guided tour of Machu Picchu, the most spectacular ancient city in the world. Free time before overnight accommodation in Aguas Calientes.
Day 8: Machu Picchu
Opportunity to revisit Machu Picchu at sunrise. Free time to enjoy this unforgettable site before returning to Cuzco aboard the afternoon train. Last night's accommodation in the Inca capital.
Day 9: Tambopata Jungle
Transfer to the airport for the flight to Puerto Maldonado. Reception and transfer to the Tambopata River port in Puerto Maldonado for the canoe trip to your jungle lodge. After arrival a short orientation and a complete briefing on the lodge before visiting a 35 metre scaffolding tower for a spectacular view of the river, the surrounding forest and an opportunity to observe birds from the canopy including parrots, toucans and macaws. Return to the lodge.
Day 10: Tambopata Jungle
Early wake at dawn for a visit to the Tres Chimbadas oxbow lake. Here we will take a long, easy canoe ride around the lake looking for giant river otters, turtles, hoatzin, and wading birds. The giant river otters that are seen in Tres Chimbadas belong to a resident family of nine. Return to the lodge before we continue travel up the Tambopata River for a further 5 hours into the pristine heart of the reserve. Arrival at the Tambopata Research Center. After lunch, we will walk the 1.5 mile Bamboo Trail, a trail that is famous for the abundance of rare birds that live exclusively in this habitat and are endemic to southern Peru. It is also the home of the frequently found Howler and Dusky titi monkeys.
Day 11: Tambopata Research Centre
At dawn we will cross the river and enjoy the world's largest macaw clay lick where hundreds of parrots and macaws of up to 15 species congregate daily.
You can expect to see ten to twelve members of the parrot family. After breakfast we will walk the 1.5 mile Ocelot Trail, a trail which exemplifies the quintessential rainforest. This trail is the one which most often spots ocelot, puma and jaguar tracks, although any one of these three large cats is extremely difficult to spot. We will return to the TRC for lunch and then embark on a 2 mile walk to the palm swamp, a nesting colony and preferred roost for Blue and Gold and Red-bellied Macaws.
Day 12: Tambopata Research Centre
We will wake up at dawn once again to visit the macaw clay lick and then return for breakfast. After breakfast we will take a short five minute boat ride to a small, drying oxbow lake where we will spend the morning on a platform in the middle of the pond observing some of its birdlife, which may include hoatzin, duck, ibis, woodpeckers, chachalaca, parakeets, oropendolas and numerous flycatcher species. We will return to our lodge further down river.
Meals: B
Day 13: Lima
After an early breakfast we will return to Puerto Maldonado for our flight back to Lima and transfer to your hotel. Last night's accommodation in Peru.
Meals: B
Day 14: Lima
Free day in Lima before your transfer to the airport for your return flight home.
End of our services.
Escorted Peru Tour 4 Itinerary Overview:
PRICES:

Please Contact Us Here
Credit Cards Welcome:



WHAT IS INCLUDED / NOT INCLUDED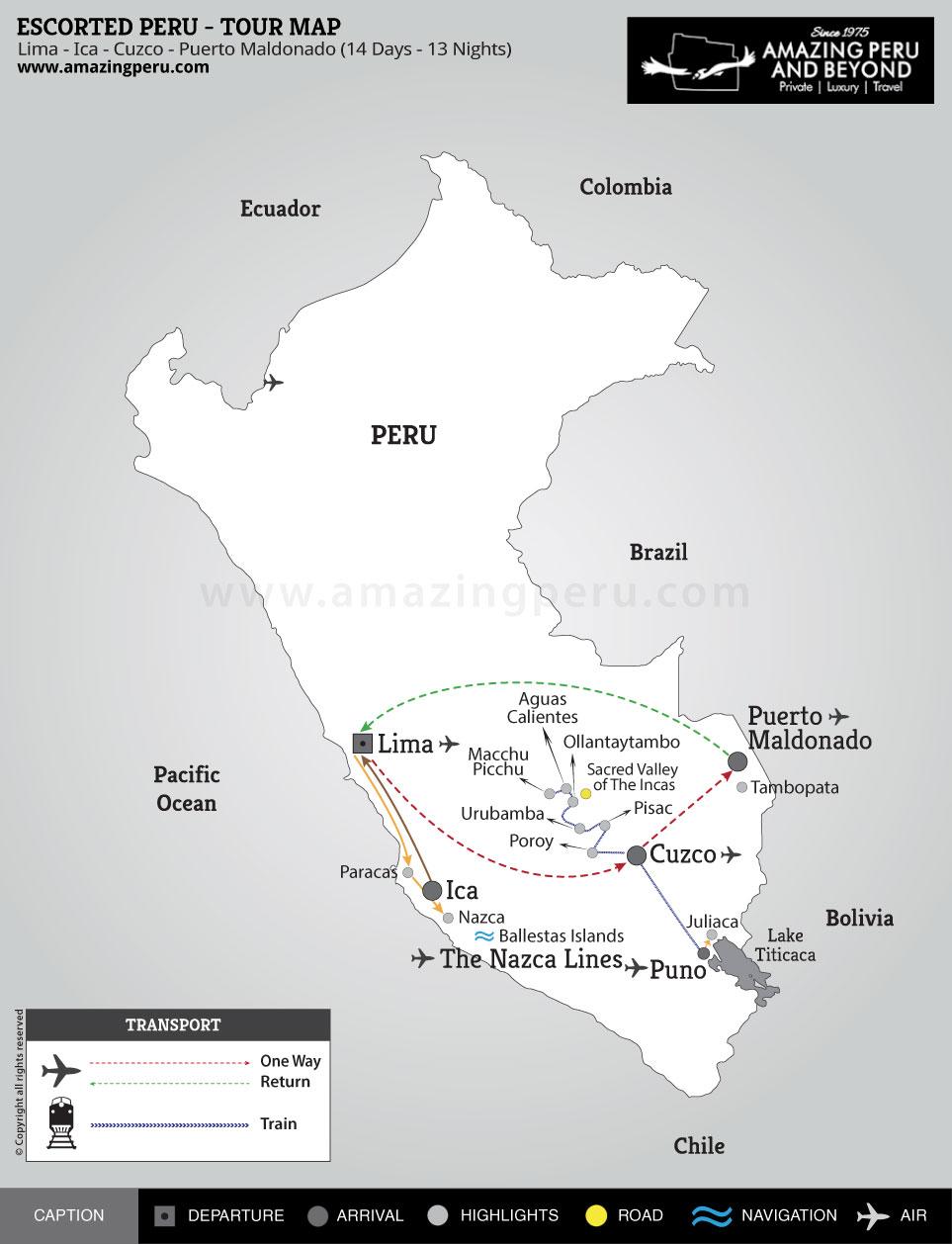 Escorted Peru Tour 4
Nazca Lines - Ballestas Islands - Sacred Valley - Machu Picchu - Tambopata Jungle
14 days / 13 nights.
For current availability contact us at
info@amazingperu.com
and we will send you the relevant trip dossier along with a 90 day fixed quote, terms and conditions. Please bear in mind that significant price reductions are available for groups.
"Well-run multipurpose agency, with several offices in Peru with an extensive roster of trips, from family and honeymoon to luxury trips..."
Frommers Guides 2023
"Highly recommended, professional and well-organized, 'perfect tour', knowledgeable guides"
Footprint Handbook 2023
"Transportation services and accommodations are top-notch, and the guides are flexible and extremely helpful"
Fodor's Guides 2023
"
Amazing Peru
has more than 20 years of experience in the travel industry. Tours to Machu Picchu can be customized to include airfare, all meals, accommodations and travel insurance, and last from six to 14 days. Amazon cruises, horseback riding, river rafting, hiking and biking throughout Machu Picchu, Cuzco, Sacred Valley, Lake Titicaca..."
USA TODAY
"Move Over, Machu Picchu - How disabled travelers can tour Machu Picchu."
Christoper Reynolds
"Looking for an adventure of lifetime to kick-start married life? Consider these honeymoons with a difference… "
Perfect Wedding Magazine
"Experience"
Amazing Peru is the leading company in Latin America that combines exclusivity, luxury and authenticity for Peruvian holidays. It will tailor a 15- days tour for you that takes in Lake Titicaca, the Sacred Valley, Machu Picchu, Lima, Cuzco, Colca Canyon and the Amazon rainforest."
The Travel and Leisure Magazine UK
"A reputable firm with an impressive variety of unique excursions… "
At Home and Away with Alan Whicker CBE Magazine
Spend Christmas on a guided tour of breathtaking Machu Picchu and visit famous Lake Titicaca. Amazing Peru offers luxury Christmas vacations in Machu Picchu along the Inca Trail...
Trails Outdoor Travel Guide
"Amazing Peru takes families on both luxury and affordable tours throughout Peru. Children 12 and older are welcome to come along on the 12-day Peru Family Adventure Tour. Raft, backpack, kayak and bike through some of Peru's most unforgettable sights including Machu Picchu. The Family Tour to Peru is tailored for children younger than 12 years of age with an educational component. Relax on Peru's northern beaches, explore the high-altitude Lake Titicaca, trek through the Amazon, and visit Machu Picchu on this 16-day journey. Check out Amazing Peru's 12-day Family Tour."
Global Post USA
"
You can fly over Machu Picchu - or take a helicopter ride
Who needs hiking when you can fly? The company Amazing Peruoffers hour-long flight tours right over the Sacred Valley of the Incas. The plane fits a minimum of eight passengers, and it can also be chartered. Passengers fly over Tipon and Pikillaqta, both archaeological sites, Pisaq and the Urubamba Valley, Sacsayhuaman, and, of course, Machu Picchu itself. Flights can be longer or shorter as requested. "
"
You can Om your way through Machu Picchu
Machu Picchu is known as one of the most spiritual lands in the world, so why not go all out and Om your way through its ruins? Amazing Peru offers a seven-day yoga tour where visitors travel from Lima to Cuzco and finally to Machu Picchu, where they stay in the famed sanctuary Lodge hotel right outside of the ruins. They participate in multiple meditation and yoga sessions throughout the trip, but the highlight is a private session smack-dab in the middle of the ruins. Now that is an Om experience worth waiting for."
Yahoo Lifestyle
A Private, customized tour to Venezuela, Guyana, Suriname, French Guiana and Trinidad & Tobago. "Any traveler with a well-developed sense of adventure will be rewarded with an incredible experience on this journey to a birding paradise designed and operated by Amazing Peru."
"Savoring a taste of Uruguay's acclaimed wine region - An outstanding experience"