Ultimate Andean Cycle tour
After breakfast, we will ride the best downhill route of Cusco city, away from the typical touristic paths allowing us to get to know the true Cusco. We will ride from Pucapucara down to Kenko, Sacsayhuaman, Lanlacuyoc, and Kusilluchayoc Inka
Cuzco - Huaypo - Moray - Maras- Lares -Santa Maria Aguas- Calientes - Machupicchu - Paucartambo - Tres Cruces - Pilcopata - Huacaria
11 days / 10 nights.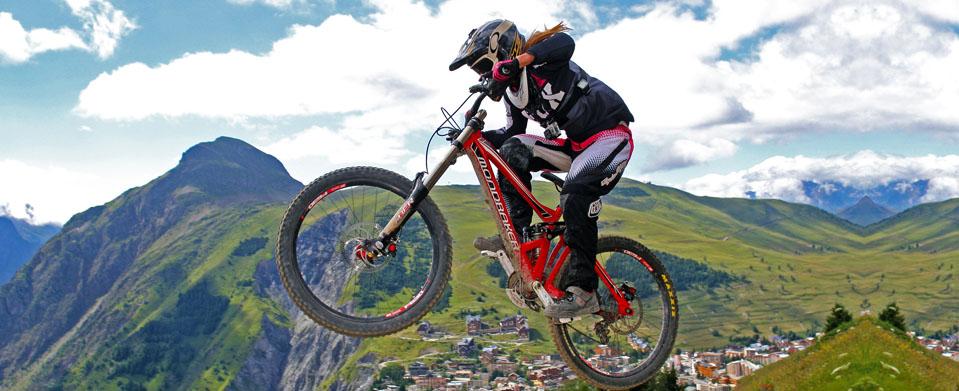 ITINERARY
Day 1: Cusco Biking Tour
After breakfast, we will ride the best downhill route of Cusco city, away from the typical touristic paths allowing us to get to know the true Cusco. We will ride from Pucapucara down to Kenko, Sacsayhuaman, Lanlacuyoc, and Kusilluchayoc Inka temples. Then we follow an old Inka trail that will take us through the narrow cobble stone streets of the San Blas neighbourhood, the Teteqaqa sanctuary, the twelve angled stone, the seven snakes street and finally to Cusco's Main Square. Return to your hotel.
Meals: B
Day 2: Huaypo / Moray / Maras
Today the adventure begins with a private transfer to our starting point at Chinchero plateau (high plains) from where we start riding towards Huaypo Lagoon. Then we follow an undulating road to the amazing and interesting agro-experimental Inka center of Moray where will have lunch and have time to enjoy the breathtaking landscape. After a short relaxing time we will start an exciting descent by mule track to Las Salineras (pre- Inka Salt Mines) which will include a guided tour of the site. The route ends in the Sacred Valley of the Inkas where we shall transfer to our hotel.
Meals: L
Day 3: Calca / Lares
From the Sacred Valley we will drive for two hours to the Huayracpunku pass (4000m), where we shall start our adventure, riding from the Andean highlands down to the Lares valley. Along the route we will see remote andean communities with people dressed in their traditional clothing and allowing for us to appreciate their thatched stone houses surrounded by herds of peaceful llamas and alpacas. As soon as we descend, the landscape changes into a colourful valley with spectacular views of the mountains. In the afternoon we will enjoy a relaxing bath at the best open-air Hot Springs. Set up camp.
Day 4: Lares / Calca
Today we will return by private bus to the Huayracpunku pass for perhaps the best downhill route in South America. We will ride through an old Inka trail section and dirt road surrounded by scenic views of the Vilcanota mountain range. After 4 hours of riding, we will arrive to the village of Calca in the Sacred Valley of the Inkas. Transfer to your hotel.
Day 5: Calca / Abra Malaga / Santa Maria
Today we change the direction of our tour by heading to the west part of Cusco, towards Machupicchu "The Lost city of the Inkas" We start by driving two hours to the Abra Malaga pass (4315m). Once on the top, there are breathtaking views of Mt Veronica (5682m) and the deep tropical forest at the bottom will invite us to take our bikes for an amazing downhill adventure. We will ride by dirt road for around five hours to the village of Santa Maria with a spectacular 2500m vertical drop. During the ride we will cross several different microclimates descending from snow capped mountains to the warm high tropical forest. We will spend the night at the small village of Santa Maria in a hostel.
Day 6: Santa Maria / Aguas Calientes
After breakfast, we will take a short road trip to the Cochaqasa pass, from where we continue with our mountain bike adventure riding through banana and coffee plantations to Santa Teresa Village. After crossing the Urubamba River, we ride towards the Hydro electric power plant, from where a 45 minute train trip take us to the village of Aguas Calientes which is located just bellow Machupicchu. Hotel accommodation for the night. Note: From the Hydro electric power plant to Aguas Calientes there is a difficult technical section over the railway line which is only available for those who wants to achieve the challenge of arriving to Aguas Calientes by bike. (Upon Request).
Meals: B
Day 7: Machupicchu
To crown your biking tour, we will enjoy the entire day visiting Machupicchu "The lost city of the Incas" A guided tour of this marvelous citadel, visiting the Main Plaza, the Royal Quarters, the Temple of Three Windows, the Circular Tower and the Sacred Sun Dial and Burial Grounds. After the tour you will have plenty of time at the ruins for self exploration. In the Afternoon we will take the train back to Cusco. Accommodation at a hotel.
Day 8: Cusco / Paucartambo / Tres Cruces De Oro
Today we change the direction again but this time to the east part of Cusco towards the Amazon jungle, driving our support vehicle to cross the high Andean mountains. We will first arrive to Wachoqkunka pass (4010m), from where we take our bikes for a short downhill ride towards Paucartambo, a Spanish colonial village which is an access point to the Amazon jungle dating from pre-Hispanic times. In the afternoon we drive towards the Tres Cruces point, a natural balcony located at 3700m, just at the boundary of the Andes and the Amazon Jungle. Spectacular views will delight all. Camp for the night.
Day 9: Tres Cruces De Oro / San Pedro
Today is one of the most beautiful and amazing days of the tour, as we have to wake-up at 04:00 am to see the fabulous sunrise over the Amazon jungle. (If weather permits we will see a mult-icolour phenomenon which occurs only in two places in the world during the June Solstice, Peru and Japan).
After breakfast, we will take the deepest downhill ride to the Amazon Jungle with a 3100m vertical drop in two days. We will ride from the in-hospitable Andean highlands down to the cloud forest and then on to the mega-diverse Amazon jungle. At midday we will be riding through the perpetual humidity of the cloud forest which is an ideal habitat for epiphytic plants such as bromeliads. This varied and fascinating world is also home to the Cock-of-the-Rock, Spectacled Bear, hundreds of species of orchids, Tree Ferns (one of the oldest living plants), mosses and lichens. At least 50% of the plant species found here are endemic to this region. Accommodation in a lodge.
Meals: B
Day 10: Santa Pedro / Pilcopata
Early in the morning we will visit a lek to witness the Cock of the Rocks, (Rupicola Peruviana) in a ritual mating dance. After breakfast we will continue riding downhill towards the Amazon lowlands until arriving to Pilcopata village where we can enjoy a refreshing bath at the Pilcopata River. Accommodation at a hostel.
Meals: B
Day 11: Pilcopata - Huacaria - Cuzco
Today our biking trip will take us to the remote community of Huacaria, where we will learn about the daily life and customs of the Huachipaire natives. In the afternoon our support vehicle will take us back to Cusco and the end of your incredible Andean adventure.
End of our services.
Ultimate Andean Cycle tour Itinerary Overview:
PRICES:

Please Contact Us Here
Credit Cards Welcome:



WHAT IS INCLUDED / NOT INCLUDED
For current availability contact us at
info@amazingperu.com
and we will send you the relevant trip dossier along with a 90 day fixed quote, terms and conditions. Please bear in mind that significant price reductions are available for groups. All our Luxury Tours are fully private and depart daily. Contact us for more information regarding the above tour, or to begin customizing your own itinerary.
"Well-run multipurpose agency, with several offices in Peru with an extensive roster of trips, from family and honeymoon to luxury trips..."
Frommers Guides 2023
"Highly recommended, professional and well-organized, 'perfect tour', knowledgeable guides"
Footprint Handbook 2023
"Transportation services and accommodations are top-notch, and the guides are flexible and extremely helpful"
Fodor's Guides 2023
"
Amazing Peru
has more than 20 years of experience in the travel industry. Tours to Machu Picchu can be customized to include airfare, all meals, accommodations and travel insurance, and last from six to 14 days. Amazon cruises, horseback riding, river rafting, hiking and biking throughout Machu Picchu, Cuzco, Sacred Valley, Lake Titicaca..."
USA TODAY
"Move Over, Machu Picchu - How disabled travelers can tour Machu Picchu."
Christoper Reynolds
"Looking for an adventure of lifetime to kick-start married life? Consider these honeymoons with a difference… "
Perfect Wedding Magazine
"Experience"
Amazing Peru is the leading company in Latin America that combines exclusivity, luxury and authenticity for Peruvian holidays. It will tailor a 15- days tour for you that takes in Lake Titicaca, the Sacred Valley, Machu Picchu, Lima, Cuzco, Colca Canyon and the Amazon rainforest."
The Travel and Leisure Magazine UK
"A reputable firm with an impressive variety of unique excursions… "
At Home and Away with Alan Whicker CBE Magazine
Spend Christmas on a guided tour of breathtaking Machu Picchu and visit famous Lake Titicaca. Amazing Peru offers luxury Christmas vacations in Machu Picchu along the Inca Trail...
Trails Outdoor Travel Guide
"Amazing Peru takes families on both luxury and affordable tours throughout Peru. Children 12 and older are welcome to come along on the 12-day Peru Family Adventure Tour. Raft, backpack, kayak and bike through some of Peru's most unforgettable sights including Machu Picchu. The Family Tour to Peru is tailored for children younger than 12 years of age with an educational component. Relax on Peru's northern beaches, explore the high-altitude Lake Titicaca, trek through the Amazon, and visit Machu Picchu on this 16-day journey. Check out Amazing Peru's 12-day Family Tour."
Global Post USA
"
You can fly over Machu Picchu - or take a helicopter ride
Who needs hiking when you can fly? The company Amazing Peruoffers hour-long flight tours right over the Sacred Valley of the Incas. The plane fits a minimum of eight passengers, and it can also be chartered. Passengers fly over Tipon and Pikillaqta, both archaeological sites, Pisaq and the Urubamba Valley, Sacsayhuaman, and, of course, Machu Picchu itself. Flights can be longer or shorter as requested. "
"
You can Om your way through Machu Picchu
Machu Picchu is known as one of the most spiritual lands in the world, so why not go all out and Om your way through its ruins? Amazing Peru offers a seven-day yoga tour where visitors travel from Lima to Cuzco and finally to Machu Picchu, where they stay in the famed sanctuary Lodge hotel right outside of the ruins. They participate in multiple meditation and yoga sessions throughout the trip, but the highlight is a private session smack-dab in the middle of the ruins. Now that is an Om experience worth waiting for."
Yahoo Lifestyle
A Private, customized tour to Venezuela, Guyana, Suriname, French Guiana and Trinidad & Tobago. "Any traveler with a well-developed sense of adventure will be rewarded with an incredible experience on this journey to a birding paradise designed and operated by Amazing Peru."
"Savoring a taste of Uruguay's acclaimed wine region - An outstanding experience"