Perú y Galápagos Tour 5 - Luna de Miel de Aventura
Un increíble viaje de luna de miel a Perú y las Islas Galápagos en 3 diferentes estilos de viaje. Con alojamiento económico, Premium y de lujo y yates para elegir, visitar los puntos destacados de Perú con un crucero por las Islas Galápagos. Estas vacaciones de luna de miel fabulosa es una combinación perfecta de cultura, aventura, descubrimiento y romance para el viajero exigente.
Lima - Cuzco - Machu Picchu - Urubamba - Ollantaytambo - Quito - Islas Galapagos
13 días / 12 noches.
ITINERARIO
Día 1. LIMA
Llegada a Lima, recepción en el aeropuerto y traslado en vehículo privado al hotel. Flores y frutas frescas los espera a su llegada.
Día 2. LIMA (D, A & C)
Después del desayuno, una visita guiada de Lima colonial y moderna empezando por el famoso Parque del Amor, con vistas al majestuoso Océano Pacífico, donde las parejas de Lima se congregan junto a los recién casados quienes obtienen sus fotografías de boda. El recorrido continúa a la Catedra, que data de 1654, la Plaza de Armas, que todavía alberga la fuente original de bronce construido en 1650, y el convento de San Francisco y sus catacumbas. Conocida como la ciudad de los reyes, Lima fue fundada en 1535 por Pizarro y reconstruida en 1991, el mismo año que la UNESCO la declaró Patrimonio de la Humanidad.

A continuación, se visitará la capital bohemia de Lima, Barranco, donde podremos disfrutar de un almuerzo en el restaurante Al Grano antes de visitar el museo privado contiguo, el Palacio de Osma. El museo se centra en el arte colonial peruano de áreas que se encontraban entre los centros culturales más destacados de la época, como Cusco, Arequipa y Ayacucho. Regreso a su hotel, para disfrutar de un masaje relajante para dos. Esto será seguido por una cena romántica para dos en el restaurante Hacienda Moreyra, en Lima, ubicado en una hermosa casa colonial. Regreso a su hotel.
Comidas: D, A & C
Día 3. LIMA - CUZCO (D, C)
Después del desayuno, traslado al aeropuerto para tomar el vuelo a Cusco, la antigua capital Inca. Después de una hora de vuelo, recepción y traslado a su hotel. Después de un almuerzo ligero recomendado ( no incluido), un paseo guiado de Cusco como la Catedral, Qoricancha templo, la casa de Garcilaso de Vega, el cronista Inca y finalmente el Museo Inca. Regreso a su hotel. Cena en un restaurante local.
Comidas: D & C
Día 4. CUZCO - MACHU PICCHU (D & C)
Disfrute de una buena noche de sueño antes de abordar el tren Vistadome hacia Aguas Calientes. Llegada a Aguas Calientes, la asistencia con su equipaje y registro en su hotel. Usted deberá luego abordar el bus para el corto viaje hasta Machu Picchu, la antigua ciudadela Inca. Una visita guiada de Machu Picchu, la ciudad antigua más espectacular del mundo.

Fue construido por el Inca Pachacutec, y que comprende bloques de piedra colocados con una precisión magistral, Machu Picchu combina armoniosamente con el paisaje montañoso. Hay muchas teorías acerca de los orígenes detrás de Machu Picchu, pero tres de las ideas más populares incluyen un templo al sol, una fortaleza contra los habitantes de la selva o un santuario para los incas. Esta maravillosa ciudad tiene casas, templos, almacenes, una gran plaza central, todos conectados por caminos y pasos estrechos, y está rodeada de terrazas excavadas en la ladera de la montaña que se utilizaban para la agricultura. Tiempo libre en el ocio antes de volver al hotel para cena y alojamiento.
Comidas: D & C
Día 5. MACHU PICCHU - CUZCO (D & A)
Oportunidad para disfrutar de un maravilloso amanecer en Machu Picchu y el tiempo para una reflexión privada. Dia libre, hoy día no se proporciona guía como creemos que Machu Picchu requiere de una cierta cantidad de auto-descubrimiento a ser plenamente comprendido. Tome cualquiera de los varios caminos alrededor de diferentes partes del sitio (proporcionaremos un mapa para ayudar a usted), caminata hasta el Wayna Picchu o caminar hasta el puente del Inca. Deje que Machu Picchu se despliegan todos sus misterios para ti, toma en los bosques nublados impresionantes y montañas escarpadas, o admirar la extraordinaria precisión masónica de los antiguos Incas. De cualquier manera, el día de auto-descubrimiento será un día que nunca se olvidará. Almuerzo en el Sanctuary Lodge antes de volver a bajar a Aguas Calientes en bus. Algún tiempo libre para visitar el pintoresco pueblo antes de abordar el tren de regreso a Cuzco. Traslado a su hotel.
Comidas: D & A
Día 6. CUSCO - URUBAMBA - OLLANTAYTAMBO (D & A)
Después del desayuno, una excursión privada de día completo a Urubamba, el Valle Sagrado de los Incas y el antiguo mercado de la ciudad inca de Pisac. Una visita al mercado antes de explorar las ruinas por encima de Pisaq. Disfrute de un delicioso almuerzo estilo picnic en el Valle de Urubamba. Después del almuerzo, se hará una visita a Ollantaytambo, la única ciudad inca que no fue derrotado por el español y la oportunidad de explorar las ruinas antes de regresar a su hotel en Cusco.
Comidas: D & A
Día 7. CUZCO - LIMA - QUITO (D)
Después del desayuno, traslado al aeropuerto para tomar el vuelo a Lima y hacia adelante para el vuelo de conexión a Quito Ecuador. Llegada a Quito, recepción y traslado a su hotel.
Comidas: D
Día 8. QUITO (D & C)
Después del desayuno, visita de Quito colonial, declarada por la UNESCO como Patrimonio de la Humanidad en 1978. Una visita al casco antiguo, incluyendo la Plaza de la Independencia, como el Presidente todavía lleva a cabo negocios aquí, el acceso al interior pueden ser limitadas. Es también el hogar de la tumba de Sucre y casas interesantes pinturas siglo 17 y 18. Una visita al Parque Alameda que alberga el observatorio astronómico más antiguo de América del Sur, así como un impresionante monumento de Simón Bolívar.

La Plaza de San Francisco que fue construido por los españoles en 1553, tiene un altar mayor de oro y techos bellamente tallado. También visitarás La Compañía, la mejor de todas las iglesias jesuitas, que aunque dañadas a través de los años por los incendios y terremotos, ya que ha sido restaurado y cuenta con una fachada y un interior ricamente esculpida.

Si el tiempo lo permite, vamos a visitar algunos de los mercados como el mercado de la India en la Avenida de 24 de Mayo en la base de El Panecillo y el mercado de Ipiales. Éstos son los más visitados, los miércoles y sábados, los principales días de mercado. Cena en Teatrum, tal vez el mejor restaurante de Quito.
Comidas: D & C
Día 9. QUITO - ISLAS GALAPAGOS (D, A & C) ( Itinerario Galápagos sujeto a cambios)
Después del desayuno, traslado al aeropuerto para tomar el vuelo con destino a Baltra en las Islas Galápagos. Usted será recibido en el aeropuerto por el inicio de su gira de Galápagos a bordo de su yate. Una visita a la segunda isla más grande de Galápagos, Santa Cruz. Con seis diferentes zonas de vegetación: costa, árida, Transición, Zonas Scalesia, Miconia, y Pampa. La Estación Científica Charles Darwin y las oficinas del Parque Nacional Galápagos se basan también aquí. La estación funciona también como centro de crianza de tortugas, donde se preparan las tortugas de diferentes especies para su reintroducción a su hábitat natural. El habitante más famoso es el Solitario George, la única sobreviviente de la especie específica de tortuga. El paisaje verde y exuberante de la Santa Cruz es un contraste agradable a la aridez de las islas menores.
Comidas: D, A & C
Día 10. ISLA SANTIAGO - PUERTO EGAS - RABIDA (D, A & C)
Hoy en día, una visita a Puerto Egas en Santiago comienza con un desembarco mojado en las playas de arena oscura de James Bay. La visita comienza con un paseo a lo largo de la costa rocosa que da a los visitantes la oportunidad de ver algunas de las mejores piscinas naturales de la Isla Galápagos. Esponjas, caracoles, cangrejos ermitaños, percebes y peces como el endémico trambollo cuatro ojos pueden ver. El paseo también se presenta a los visitantes una gran variedad de aves costeras, iguanas marinas, cangrejos pies ligeros Sally y leones marinos. Por la tarde, un viaje a la playa de la pequeña isla volcánica de Rábida. Un pequeño sendero que conducirá a una pequeña laguna poblada de flamencos.
Comidas: D, A & C
Día 11. TAJO - VINCENTE ROCA (D, A & C)
Una visita a Caleta Tagus situado frente a la costa oeste de la isla Isabela. Después de un desembarque seco podemos subir por el sendero para supervisar Lago Darwin ' s. Esto está por debajo de las faldas del Volcán Darwin y es, sorprendentemente, un lago de agua salada sobre el nivel del mar. Se dice que el agua salada se elabora de abajo por absorción a través de la roca volcánica porosa de la que se forma esta parte de la isla. La pista también tiene un monumento a un marinero que se había perdido en el mar y hay una gran cantidad de grafitis tallados en las paredes rocosas de la Ensenada. Los acantilados de Caleta Tagus al descubierto los nombres de muchos de los barcos balleneros, que cazan en estas aguas. Al punto al oeste de la punta norte de Isabela, se encuentra Punta Vicente Roca, los restos de un antiguo volcán que ha formado dos calas turquesas, con una bahía protegida del oleaje.

El lugar es un punto popular de partida para dar un paseo por los acantilados que se encuentran los restos del volcán o explorar una cueva parcialmente hundida en el borde del agua.
Piqueros enmascarados y de patas azules se encaraman a lo largo de la punta y los acantilados, mientras cormoranes no voladores habitan en la costa. Las corrientes ascendentes de agua fría en esta parte de las Islas Galápagos, dan lugar a una gran cantidad de vida marina que, en combinación con la protección de las calas, hacen Punta Vicente Roca uno de susurro del archipiélago después de los puntos de buceo. Una caleta sólo es accesible desde el mar a través de un conducto submarino. El pasaje se abre para calmar las aguas de la cala escondida donde los leones marinos les gusta relajarse en la playa después de haber viajado a lo largo de la ruta bajo el agua. Toda la zona de Punta Vicente Roca se encuentra en el flanco del volcán de 2.600 metros Ecuador. Este es el sexto mayor volcán de la Isla Galápagos. La mitad de Volcán Ecuador cayó en el océano dejando una espectacular vista en corte de la caldera volcánica.
Comidas: D, A & C
Día 12. BARTOLOME ISLAND - SEYMOUR NORTE (D, A & C)
Antes del desayuno, desembarcaremos en la Isla Bartolomé para una caminata a la cumbre y una espectacular vista panorámica. Más tarde habrá una oportunidad de hacer snorkel con pingüinos de Galápagos. Continuación a Sullivan Bay, una playa de arena blanca de coral y comenzar su caminata sobre lava que fluyó hace menos de 100 años. Este es el lugar perfecto para ver y sentir el origen volcánico de las Islas Galápagos. Regreso al barco y se dirigen hacia Seymour Norte, una isla levantada, que solía ser en el fondo del océano. Por la tarde viaje a North Seymour observando colonias de piqueros de patas azules, fragatas, y también lobos marinos e iguanas marinas.
Comidas: D, A & C
Día 13. LEON DORMIDO - QUITO (D)
Una visita a León Dormido, los restos irregulares de un viejo cono de toba cuyos flancos están cubiertos de aves marinas antes de la transferencia al aeropuerto para tomar el vuelo a la península Ecuador y su vuelo de continuación.
Comidas: D
Fin de nuestros servicios.
Perú y Galápagos Tour 5 - Luna de Miel de Aventura - El Resumen del Itinerario:
PRICES:

Por favor, contáctenos aquí
Credit Cards Welcome:



QUE ESTA INCLUIDO / NO INCLUIDO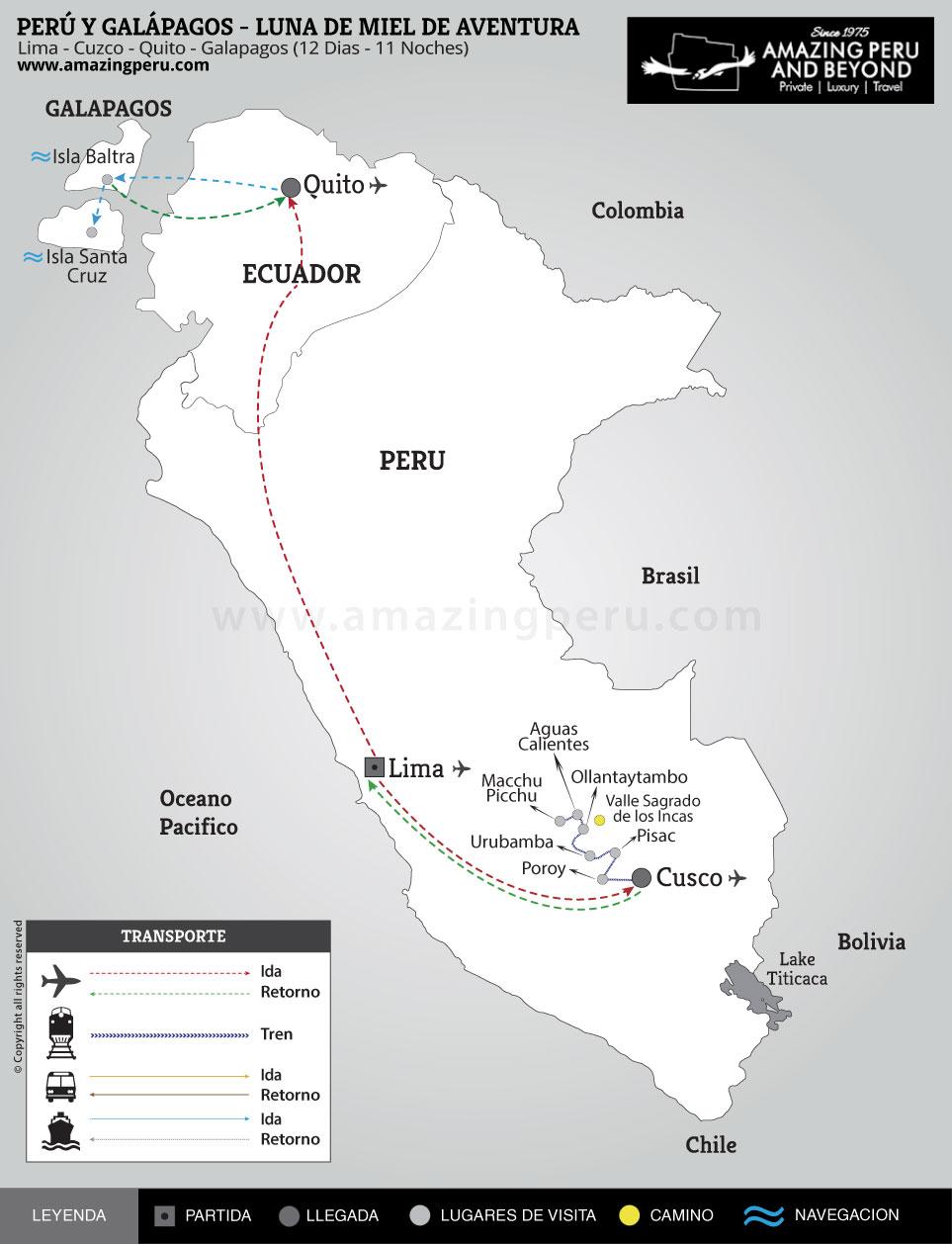 Perú y Galápagos Tour 5 - Luna de Miel de Aventura
Lima - Cuzco - Machu Picchu - Urubamba - Ollantaytambo - Quito - Islas Galapagos
13 días / 12 noches.
Para disponibilidad y contactarse con nosotros enviarnos un email a:
info@amazingperu.com
y nosotros le enviaremos el dossier e información completa del viaje correspondiente junto con una cotización de 90 días de duración, con los términos y condiciones. Por favor, tenga en cuenta que tenemos reducciones significativas de precios disponibles para grupos. Todos nuestros
Tours de Lujo
son totalmente privados y salen todos los días. Póngase en contacto con nosotros para obtener más información sobre el itinerario de viaje anterior, o para comenzar a personalizar su propio itinerario hecho a la medida. Todos nuestros itineraries pueden ser personalizados de acuerdo a sus requerimientos.
ALTAMENTE RECOMENDADO POR:
Amazing Perú es una agencia de viajes múltiples y de gestión, con varias oficinas en Perú y una extensa lista de los viajes, que ofrece de todo, desde viajes familiares y viajes de luna de miel de lujo y aventura y excursiones a la selva, para casi cualquier presupuesto
Guía de Viajes Frommers 2023
Muy recomendable, "viaje perfecto" profesional y bien organizado, guías conocedores
Footprint Guide 2023
Los servicios de transporte y alojamientos son de primera categoría, y los guías son flexibles y extremadamente útil
Guía de Viajes Fodors 2023
Amazing Perú (amazingperu.com) tiene más de 20 años de experiencia en la industria de viajes. Tours a Machu Picchu se puede personalizar para incluir el pasaje aéreo, todas las comidas, alojamiento y seguro de viaje, y duran de seis a 14 días. lugares turísticos incluyen Machu Picchu, Cuzco, Valle Sagrado, Lago Titicaca y el Cañón del Colca. Todas las excursiones se embarcan desde Lima y se pueden personalizar para incluir un crucero Amazon, paseos a caballo, rafting, senderismo y ciclismo.
USA TODAY
Move Over, Machu Picchu ­ ¿Cómo los viajeros con discapacidad pueden visitar Machu Picchu
Los Angeles Times
Buscando una aventura de por vida para poner en marcha la vida matrimonial encuentra estas lunas de miel con una diferencia…?
Revista Perfect Wedding
"Experiencia"
Amazing Perú es la empresa líder en Latinoamérica que combina exclusividad, lujo y autenticidad para vacaciones peruanos. Será adaptar un 15 -. Turísticos días para usted que tiene en el Lago Titicaca, el Valle Sagrado, Machu Picchu, Lima, Cuzco, el Cañón del Colca y la selva amazónica
The Travel and Leisure Magazine UK
Amazing Destinations es una empresa de renombre con una impresionante variedad de excursiones únicas…
At Home and Away con Alan Whicker CBE Revista
Machu picchu Mágico:
Una opción para los solteros es pasar la Navidad en una visita guiada de impresionante Machu Picchu y visitar el famoso Lago Titicaca. Amazing Peru ofrece lujosas vacaciones de Navidad en Machu Picchu por el Camino Inca. Los viajeros vuelan a Lima y pasar un día recorriendo el centro histórico de la ciudad. Al día siguiente, vuela a cuzco y estancia en el Hotel Monasterio de cinco estrellas. Excursiones al Valle Sagrado de los Incas y el pueblo colonial de Pisac son parte de la experiencia.
Senderos Guía de Viajes al Aire Libre
"Amazing Peru lleva a las familias en viajes de lujo y confortables en todo el Perú. Tienes programas para Familias de Aventura en el Perú de 12 días para padres con niños mayores de 12 años. Canotaje, kayak y bicicleta por los parajes para inolvidables del Perú como Machu Picchu. Este tour familiar al Perú esta hecho con componentes educacionales. Relajate en las playas del Norte del Perú, explora el lago navegable mas alto del mundo Titicaca, caminatas en el Amazonas, y visita Machu Picchu en este viaje de 16 días. Hecha un vistazo al programa de Viaje para Familias de 12 días de Amazing Perú."
Global Post USA
"
You can fly over Machu Picchu - or take a helicopter ride
Who needs hiking when you can fly? The company Amazing Peruoffers hour-long flight tours right over the Sacred Valley of the Incas. The plane fits a minimum of eight passengers, and it can also be chartered. Passengers fly over Tipon and Pikillaqta, both archaeological sites, Pisaq and the Urubamba Valley, Sacsayhuaman, and, of course, Machu Picchu itself. Flights can be longer or shorter as requested. "
"
You can Om your way through Machu Picchu
Machu Picchu is known as one of the most spiritual lands in the world, so why not go all out and Om your way through its ruins? Amazing Peru offers a seven-day yoga tour where visitors travel from Lima to Cuzco and finally to Machu Picchu, where they stay in the famed sanctuary Lodge hotel right outside of the ruins. They participate in multiple meditation and yoga sessions throughout the trip, but the highlight is a private session smack-dab in the middle of the ruins. Now that is an Om experience worth waiting for."
Yahoo Lifestyle
"A good bird watching site. Private, customized tour to Venezuela, Guyana, Suriname, French Guiana and Trinidad & Tobago"