Ultra Luxury Peru Travel - A living experience
A fine tour to the coast, the highlands and the jungle of Peru. Discover this wonderful country in style with all private luxury vehicle transfers and tours, free upgrades to presidential suites in 5* hotels, VIP lounge access at the airports, all internal flights in business class, and the finest wines at all locations. Including butler and concierge service. Optional services include helicopter transfers and private jet charters.
Lima - Cuzco - Urubamba - Poroy - Machu Picchu - Pisaq - Huilloc - Choquequirao - Iquitos - Ucayali River - Chiclayo - Sican - Sipan
16 days / 15 nights.
ITINERARY
Day 1. LIMA
Arrival to Lima, reception at the airport and transfer by private luxury vehicle to the deluxe 5* Miraflores Park Hotel or Marriott Hotel.
Miraflores Park Plaza Hotel or Marriott Hotel
Day 2. LIMA - CUZCO (B, L & D)
After breakfast, transfer to the airport for your flight to Cuzco, the ancient Inca capital of the. Transfer to your private residence, the unique colonial Casona, and accommodation in a Patio room. After a light lunch, embark on a very relaxing private guided tour of the centre of Cuzco including the Cathedral and the Qoricancha temple. Dinner at your residence.
Colonial Casona | Meals: B, L & D
Day 3. CUZCO (B, L & D)
After breakfast and a goodnight's sleep, you will be ready to embark on a private tour of the ruins outside of Cuzco including the Inca fortress of Sacsayhuaman overlooking Cuzco, Qenko, Tambomachay and Puka Pukara. Return to Cuzco for lunch. Visit to the Museum before returning to your hotel. Dinner.
Meals: B, L & D
Day 4. URUBAMBA - POROY - MACHU PICCHU (B, BR & D)
After breakfast a private transfer to the rail station at Poroy, for the luxurious Hiram Bingham train to Aguas Calientes. This Orient Express train is the most exclusive way to visit Machu Picchu and includes a hearty brunch aboard the train. Arrival to Aguas Calientes and transfer to your unique residence in the cloud forests. Once you have checked-in, you will board the bus with your guide for the short ride up to Machu Picchu, the ancient Inca citadel. A private guided tour of Machu Picchu, the most spectacular ancient city in the world. Return to your hotel for accommodation and a delicious dinner.
Meals: B, BR & D
Day 5. MACHU PICCHU - CUZCO (B, L & D)
Opportunity to return to the site and enjoy a wonderful sunrise over Machu Picchu or if you prefer, enjoy a good rest and return mid morning. Time for some private reflection. A guide is not normally provided as we feel that Machu Picchu requires a certain amount of self discovery to be fully understood. However, your guide will always be available if you would like to visit various other sites in the sanctuary such as the temple of the moon or the Inca's bridge. Lunch at the Sanctuary Lodge restaurant before returning back down to Aguas Calientes by bus. Some free time before boarding the Hiram Bingham train in the early evening with your guide. Arrival to Poroy after 9PM, reception and transfer to Cusco, the ancient city of the Incas. Transfer to your private residence.
Meals: B, L & D
Day 6. CUZCO - URUBAMBA - PISAQ (B, L & D)
After breakfast, embark on a one hour thirty minute drive to the Sacred Valley stopping at the local town of Chinchero. Transfer to your hotel in the Urubamba. After lunch continue down to the market place of Pisaq. If time allows, you will also visit the ruins above Pisaq. Return to your villa for dinner and accommodation.
Rio Sagrado Hotel | Meals: B, L & D
Day 7. URUBAMBA - HUILLOC (B, L & D)
After a good breakfast, a private excursion to the village of Huilloc. Here you will visit family homes and see the Quechua way of life. After lunch, visit the ruins of Ollantaytambo, one of the few places where the Spanish were defeated in battle during their conquest. Here you can see Inca canchas, enclosures of multi-family living quarters that share just one exit to the street, stonework, cobbled streets, and an extensive communal water system that survives to this day. Return to your villa in the Urubamba. Accommodation and dinner.
Meals: B, L & D
Optional Day 8. CUZCO - CHOQUEQUIRAO (B, L & D)
An optional day allowing for a visit to the 'other Machu Picchu', Choquequirao. Please ask for details of this ultra special option.
Meals: B, L & D
Day 9. CUZCO - LIMA (B, L & D)
After breakfast, transfer to the airport for the flight to Lima. Arrival, reception and transfer to the Miraflores Park Hotel or Marriott Hotel. After lunch, a visit to the Larco Museum. The museum includes several permanent exhibitions including the gold and silver gallery, showcasing the largest and finest collection of jewelry used by many notable rulers of pre-Columbian Peru. It comprises an impressive collection of crowns, earrings, nose ornaments, garments, masks and vases, finely wrought in gold and decorated with semi-precious stones. Dinner at a very exclusive residence.
Miraflores Park Plaza Hotel or Marriott Hotel | Meals: B, L & D
Day 10. LIMA - IQUITOS (B, L & D) (Tuesday)
After a leisurely breakfast, transfer to the airport for your early afternoon flight to Iquitos. Arrival at approximately 5PM, for the boarding of the M/V Aqua. Over the next four days, you will sail along in total comfort over several tributaries of the Amazon River, as well as on the mighty river itself. A safety drill and briefing on the top deck, before the journey begins and you settle down to some fine dining on the Amazon River.
Meals: B, L & D
Day 11. UCAYALI RIVER - YANALLPA (B, L & D)
After a delicious breakfast, a jungle walk to the Yanallpa Lake in search of the 'hoatzins,' prehistoric birds which live in huge colonies. In the afternoon we will cruise the majestic Ucayali River, offering a chance to see and meet native balseros, or fishermen, who will demonstrate their skill and let you see their catch-including a type of 'armored' catfish with a shell-like skin which they are taking to the market in the small village of Requena. We will also find a 'banana balsero' raft, loaded with hundreds of clusters of bananas, drifting down the river to the market.
Meals: B, L & D
Day 12. PUINAHUA RIVER/HATUM POSA LAKE AND PACAYA RIVER (B, L & D)
After breakfast, a jungle walk near to the Hatum Posa Village. On this walk, your guides will introduce you to the native people involved in subsistence farming, and will tell you how they learned to cultivate wild plants and trees to earn farm income. In the late afternoon, we will take a journey along the Pacaya River, journeying from Ranger Station No. 1 towards Yanayacu Lake, where you can view the abundant life that is hidden in the deep rainforest. Return for dinner aboard the cruiser. Tonight we will dock at the Ranger Station in the Pacaya Samiria National Park.
Meals: B, L & D
Day 13. YANAYACU LAKE (B, L & D)
Early breakfast before your guides will show you parrots, macaws, toucans, and many different types of monkeys in the area. We will also go to the dolphin feeding spots along Yanayacu Lake, where you will witness these delightful but rare freshwater mammals. Return to the cruiser for lunch before embarking on the Sapote River Fishing Trip.
Meals: B, L & D
Day 14. YANAYACU LAKE - IQUITOS - LIMA (B, L & D)
We will start our journey homeward sailing towards Iquitos whilst enjoying a light lunch. Arrival at Iquitos airport where we will assist with your check-in until your flight departure at 17:30 Arrival to Lima and transfer to your hotel the deluxe 5* Miraflores Park Hotel or Marriott Hotel.
Miraflores Park Plaza Hotel or Marriott Hotel | Meals: B, L & D
Day 15. LIMA - CHICLAYO -SICAN - ROYAL TOMBS OF SIPAN MUSEUM (B, L & D)
After breakfast, transfer to the airport for the flight to Chiclayo. Arrival and transfer to the Gran Chiclayo Hotel. We leave shortly after to visit the newly-opened Sican Museum. The Museum holds the artefacts found in two burials within the adobe pyramid of Huaca Loro, in an area better known as Batan Grande, close to the Museum.
You shall also visit the Royal Tombs of Sipan Museum, which houses the magnificent collection of artefacts found in the tomb of The Lord of Sipan, considered as the most important archaeological find of the twentieth century. Return to Chiclayo and your hotel.
Gran Chiclayo Hotel | Meals: B, L & D
Day 16. CHICLAYO - SIPAN - LIMA
After breakfast, we visit the Mochica archaeological complex of Sipan, located in the site called Huaca Rajada. After visiting the archaeological site, we shall also visit Chiclayo's witch doctors' market. Lunch before your transfer to the airport and 17.00 return flight to Lima and onward connecting flight home.
Meals: B & L
End of our services.
ULTRA LUXURY PERU TRAVEL
A Living Experience Itinerary Overview:
PRICES:

Please Contact Us Here
Credit Cards Welcome:



WHAT IS INCLUDED / NOT INCLUDED
OUR LUXURY HOTELS SELECTION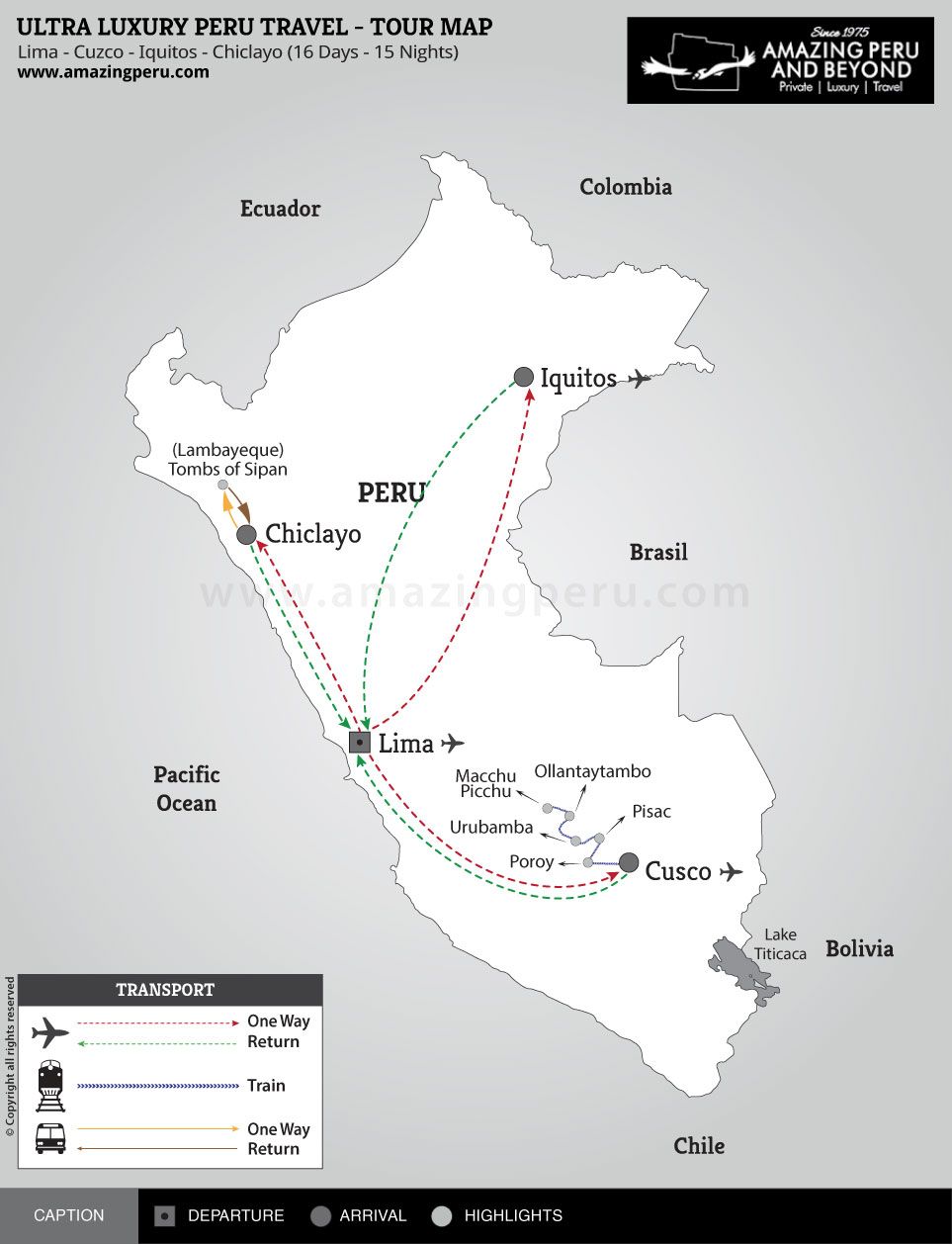 Ultra Luxury Peru Travel - A living experience
Lima - Cuzco - Urubamba - Poroy - Machu Picchu - Pisaq - Huilloc - Choquequirao - Iquitos - Ucayali River - Chiclayo - Sican - Sipan
16 days / 15 nights.
For current availability contact us at
info@amazingperu.com
and we will send you the relevant trip dossier along with a 90 day fixed quote, terms and conditions. Please bear in mind that significant price reductions are available for groups. All our Luxury Tours are fully private and depart daily. Contact us for more information regarding the above tour, or to begin customizing your own itinerary.
"Well-run multipurpose agency, with several offices in Peru with an extensive roster of trips, from family and honeymoon to luxury trips..."
Frommers Guides 2023
"Highly recommended, professional and well-organized, 'perfect tour', knowledgeable guides"
Footprint Handbook 2023
"Transportation services and accommodations are top-notch, and the guides are flexible and extremely helpful"
Fodor's Guides 2023
"
Amazing Peru
has more than 20 years of experience in the travel industry. Tours to Machu Picchu can be customized to include airfare, all meals, accommodations and travel insurance, and last from six to 14 days. Amazon cruises, horseback riding, river rafting, hiking and biking throughout Machu Picchu, Cuzco, Sacred Valley, Lake Titicaca..."
USA TODAY
"Move Over, Machu Picchu - How disabled travelers can tour Machu Picchu."
Christoper Reynolds
"Looking for an adventure of lifetime to kick-start married life? Consider these honeymoons with a difference… "
Perfect Wedding Magazine
"Experience"
Amazing Peru is the leading company in Latin America that combines exclusivity, luxury and authenticity for Peruvian holidays. It will tailor a 15- days tour for you that takes in Lake Titicaca, the Sacred Valley, Machu Picchu, Lima, Cuzco, Colca Canyon and the Amazon rainforest."
The Travel and Leisure Magazine UK
"A reputable firm with an impressive variety of unique excursions… "
At Home and Away with Alan Whicker CBE Magazine
Spend Christmas on a guided tour of breathtaking Machu Picchu and visit famous Lake Titicaca. Amazing Peru offers luxury Christmas vacations in Machu Picchu along the Inca Trail...
Trails Outdoor Travel Guide
"Amazing Peru takes families on both luxury and affordable tours throughout Peru. Children 12 and older are welcome to come along on the 12-day Peru Family Adventure Tour. Raft, backpack, kayak and bike through some of Peru's most unforgettable sights including Machu Picchu. The Family Tour to Peru is tailored for children younger than 12 years of age with an educational component. Relax on Peru's northern beaches, explore the high-altitude Lake Titicaca, trek through the Amazon, and visit Machu Picchu on this 16-day journey. Check out Amazing Peru's 12-day Family Tour."
Global Post USA
"
You can fly over Machu Picchu - or take a helicopter ride
Who needs hiking when you can fly? The company Amazing Peruoffers hour-long flight tours right over the Sacred Valley of the Incas. The plane fits a minimum of eight passengers, and it can also be chartered. Passengers fly over Tipon and Pikillaqta, both archaeological sites, Pisaq and the Urubamba Valley, Sacsayhuaman, and, of course, Machu Picchu itself. Flights can be longer or shorter as requested. "
"
You can Om your way through Machu Picchu
Machu Picchu is known as one of the most spiritual lands in the world, so why not go all out and Om your way through its ruins? Amazing Peru offers a seven-day yoga tour where visitors travel from Lima to Cuzco and finally to Machu Picchu, where they stay in the famed sanctuary Lodge hotel right outside of the ruins. They participate in multiple meditation and yoga sessions throughout the trip, but the highlight is a private session smack-dab in the middle of the ruins. Now that is an Om experience worth waiting for."
Yahoo Lifestyle
A Private, customized tour to Venezuela, Guyana, Suriname, French Guiana and Trinidad & Tobago. "Any traveler with a well-developed sense of adventure will be rewarded with an incredible experience on this journey to a birding paradise designed and operated by Amazing Peru."
"Savoring a taste of Uruguay's acclaimed wine region - An outstanding experience"