2023 Navidad en Machu Picchu - Opción 1
Despierta en la mañana siguiente de Navidad en una maravillosa vista de Machu Picchu. Totalmente guiada. El tour incluye una visita al Lago Titicaca. Disponibilidad limitada.
ITINERARIO
Diciembre 21: Lima
Llegada a Lima. Recepción y traslado al hotel de su elección.
22 de diciembre: Lima (D & A)
Después del desayuno, excursión de la ciudad de Lima moderna y colonial, declarada Patrimonio de la Humanidad por la UNESCO en 1991. Gira en un autobús con aire acondicionado, guía bilingüe. El tour incluye una visita a la Catedral , Plaza de Armas , el Convento de San Francisco y sus catacumbas, y las reas residenciales de San Isidro y Miraflores . Almuerzo en el internacionalmente aclamado restaurante de comida marina de pescados y mariscos Rosa Nautica , ubicado estratégicamente en un muelle y extendido en el Océano Pacífico. Después del almuerzo , una visita al Museo de Oro. Con una colección privada, el museo alberga numerosos objetos de oro , plata y cobre de varias culturas prehispánicas. La pieza más valiosa de la colección es el sólido Tumi de oro (cuchillo ceremonial ), perteneciente a la cultura Lambayeque ( 350AC ) . Regreso a su hotel . Tarde libre .
Comidas: D & A
23 de diciembre: Lima - Cuzco (D)
Después del desayuno , vuelo a Cuzco , recepción y traslado al hotel de su elección. Día libre para aclimatarse a la altitud.
Comidas: D
24 de diciembre: Machu Picchu (D)
Un comienzo temprano en tren Vistadome hacia Aguas Calientes. Visita guiada de los más espectaculares de la ciudad antigua en el mundo. Esta maravillosa ciudad tiene casas , templos , almacenes, una gran plaza central , y todas conectadas por caminos y pasos que están rodeados de terrazas cortadas en la ladera de la estrecha montaña . Después de la visita , tiempo libre para disfrutar de esta maravilla espiritual. Oportunidad para una caminata guiada ( aprox. 1 hora ) hasta la puerta del sol ( Intipunku ) , que es una parte del Camino Inca , una visión mágica del santuario o, alternativamente, una escalada sin guía a la cima del Wayna Picchu , con una magnífica vista de todo el Santuario (recomendado solo para personas en buena forma fisica ) . Alojamiento en el hotel de su elección .
Comidas: D
25 de diciembre : Machu Picchu - Cuzco (D & A)
La oportunidad de volver al santuario para una apreciación más personal de la octava maravilla del mundo . Almuerzo de Navidad en el hotel Sanctuary Lodge ubicado frente a Machu Picchu. Regreso por la tarde en tren a Cusco y traslado al hotel de su elección.
Comidas: D & A
26 de diciembre: Cuzco (D & C)
Hoy en día, una visita guiada a las cuatro ruinas cercanas : la Fortaleza de Sacsayhuaman con vistas a la ciudad de Cuzco , una obra maestra de arquitectura pre inca , Kenko , un santuario Inca cuya mayor atracción es el altar monolítico que representa un puma, la fortaleza roja de Puca - Pucará y Tambomachay, una hermosa fuente alimentada por un manantial que forma una serie de cuencas continuar a la ciudad de Cuzco , la Plaza de Armas , la Catedral y el Koricancha o Templo del sol. Cena y show folklórico en la noche.
Comidas: D & C
27 de diciembre : Cusco - Valle Sagrado (D & A)
Excursión de día completo a Urubamba, el Valle Sagrado de los Incas. Visita al pueblo de Pisac , fundada durante la época colonial. Los domingos, martes y jueves los indios realizan el trueque de sus productos y artesanos de toda la zona venden sus mantas tejidas de lana de alpaca y ponchos , mates grabados, reproducciones de antigüedades y joyas. Los domingos, también es el lugar de encuentro de los alcaldes de la región, que vienen vestidos con sus trajes tradicionales, para asistir a misa . Después del almuerzo buffet en el restaurante Tunupa , una visita a Ollantaytambo, la única ciudad inca que todavía está habitada . Explora las ruinas de Ollantaytambo arriba antes de regresar a Cusco a través del tradicional pueblo de Chinchero . volver
Comidas: D & A
28 de diciembre: Cusco - Puno (D & A)
Después del desayuno , un viaje en tren a través del fabuloso e impresionante altiplano con el tren Orient Express Explorer hacia Puno . Una parada en La Raya , el punto más alto del recorrido antes de llegar a Puno, situado a las orillas del lago Titicaca , el lago navegable más alto del mundo. Puno es la capital folclórica de Perú . El desayuno y el almuerzo se sirve a bordo. Traslado a su hotel. Alojamiento en el hotel de su elección .
Comidas: D & A
29 de Diciembre. Islas del Lago Titicaca (D, A & C)
Excursión de día completo a las islas de los Uros y Taquile . Uros , un conjunto de islas hechas enteramente de cañas de totora es el hogar de una pequeña comunidad que se remonta a una cultura pre -inca . Los habitantes de Taquile están más estrechamente relacionados con el pueblo aymara de Bolivia que los Incas quechua de Perú . Almuerzo básico en la isla elaborado por los habitantes locales. Retorno a Puno y la cena .
Comidas: D, A & C
30 de diciembre : Puno - Lima (D)
Recojo en su hotel y traslado al aeropuerto de Juliaca para tomar el vuelo de regreso a Lima y su conexión de regreso .
Comidas: D
Fin de nuestros servicios.
2023 Navidad en Machu Picchu - Opción 1 - El Resumen del Itinerario:
PRICES:

Por favor, contáctenos aquí
Credit Cards Welcome:



QUE ESTA INCLUIDO / NO INCLUIDO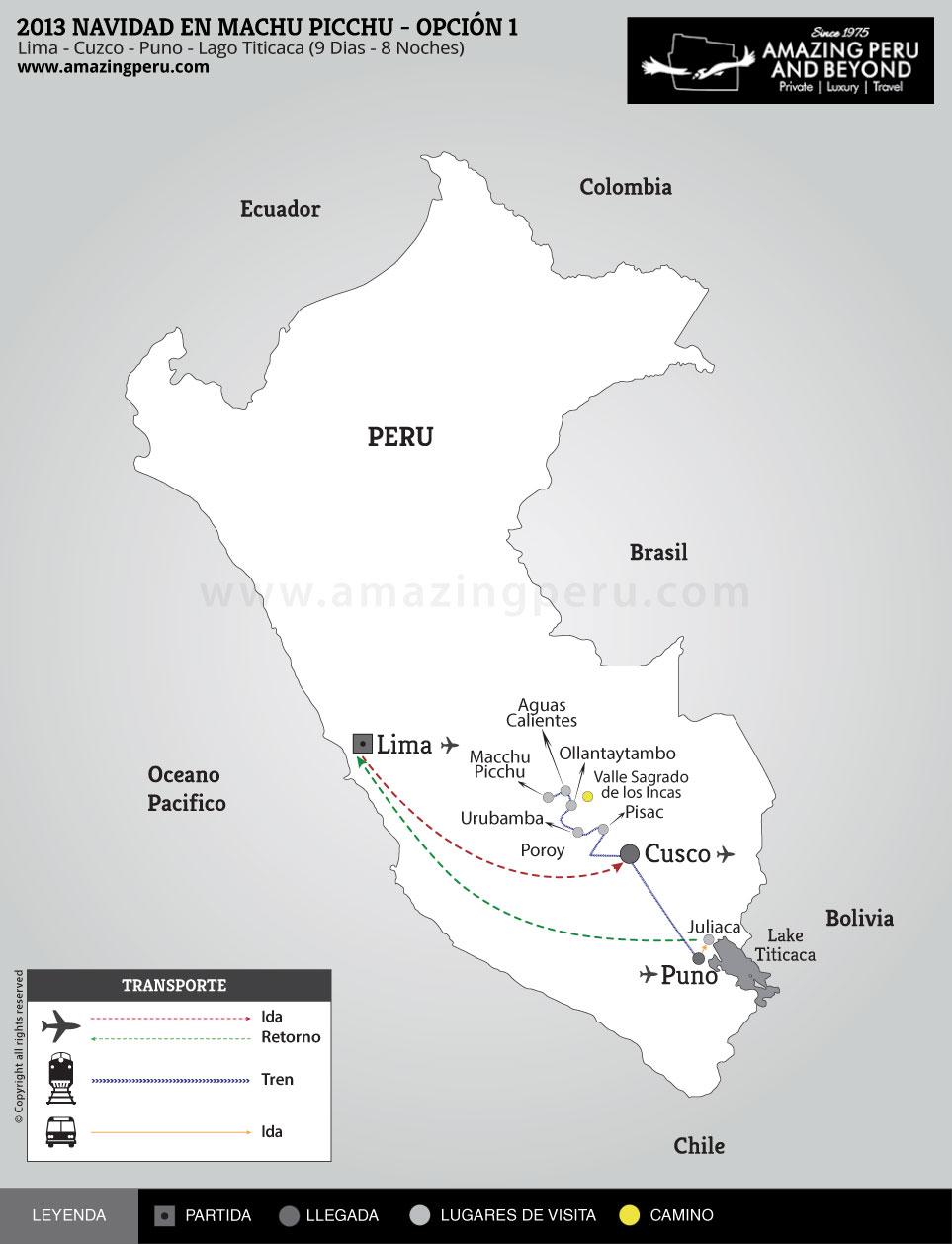 2023 Navidad en Machu Picchu - Opción 1
Cusco - Valle Sagrado - Machu Picchu - Puno - Lago Titicaca
9 días / 8 noches.
Para disponibilidad y contactarse con nosotros enviarnos un email a:
info@amazingperu.com
y nosotros le enviaremos el dossier e información completa del viaje correspondiente junto con una cotización de 90 días de duración, con los términos y condiciones. Por favor, tenga en cuenta que tenemos reducciones significativas de precios disponibles para grupos. Todos nuestros
Tours de Lujo
son totalmente privados y salen todos los días. Póngase en contacto con nosotros para obtener más información sobre el itinerario de viaje anterior, o para comenzar a personalizar su propio itinerario hecho a la medida. Todos nuestros itineraries pueden ser personalizados de acuerdo a sus requerimientos.
ALTAMENTE RECOMENDADO POR:
Amazing Perú es una agencia de viajes múltiples y de gestión, con varias oficinas en Perú y una extensa lista de los viajes, que ofrece de todo, desde viajes familiares y viajes de luna de miel de lujo y aventura y excursiones a la selva, para casi cualquier presupuesto
Guía de Viajes Frommers 2023
Muy recomendable, "viaje perfecto" profesional y bien organizado, guías conocedores
Footprint Guide 2023
Los servicios de transporte y alojamientos son de primera categoría, y los guías son flexibles y extremadamente útil
Guía de Viajes Fodors 2023
Amazing Perú (amazingperu.com) tiene más de 20 años de experiencia en la industria de viajes. Tours a Machu Picchu se puede personalizar para incluir el pasaje aéreo, todas las comidas, alojamiento y seguro de viaje, y duran de seis a 14 días. lugares turísticos incluyen Machu Picchu, Cuzco, Valle Sagrado, Lago Titicaca y el Cañón del Colca. Todas las excursiones se embarcan desde Lima y se pueden personalizar para incluir un crucero Amazon, paseos a caballo, rafting, senderismo y ciclismo.
USA TODAY
Move Over, Machu Picchu ­ ¿Cómo los viajeros con discapacidad pueden visitar Machu Picchu
Los Angeles Times
Buscando una aventura de por vida para poner en marcha la vida matrimonial encuentra estas lunas de miel con una diferencia…?
Revista Perfect Wedding
"Experiencia"
Amazing Perú es la empresa líder en Latinoamérica que combina exclusividad, lujo y autenticidad para vacaciones peruanos. Será adaptar un 15 -. Turísticos días para usted que tiene en el Lago Titicaca, el Valle Sagrado, Machu Picchu, Lima, Cuzco, el Cañón del Colca y la selva amazónica
The Travel and Leisure Magazine UK
Amazing Destinations es una empresa de renombre con una impresionante variedad de excursiones únicas…
At Home and Away con Alan Whicker CBE Revista
Machu picchu Mágico:
Una opción para los solteros es pasar la Navidad en una visita guiada de impresionante Machu Picchu y visitar el famoso Lago Titicaca. Amazing Peru ofrece lujosas vacaciones de Navidad en Machu Picchu por el Camino Inca. Los viajeros vuelan a Lima y pasar un día recorriendo el centro histórico de la ciudad. Al día siguiente, vuela a cuzco y estancia en el Hotel Monasterio de cinco estrellas. Excursiones al Valle Sagrado de los Incas y el pueblo colonial de Pisac son parte de la experiencia.
Senderos Guía de Viajes al Aire Libre
"Amazing Peru lleva a las familias en viajes de lujo y confortables en todo el Perú. Tienes programas para Familias de Aventura en el Perú de 12 días para padres con niños mayores de 12 años. Canotaje, kayak y bicicleta por los parajes para inolvidables del Perú como Machu Picchu. Este tour familiar al Perú esta hecho con componentes educacionales. Relajate en las playas del Norte del Perú, explora el lago navegable mas alto del mundo Titicaca, caminatas en el Amazonas, y visita Machu Picchu en este viaje de 16 días. Hecha un vistazo al programa de Viaje para Familias de 12 días de Amazing Perú."
Global Post USA
"
You can fly over Machu Picchu - or take a helicopter ride
Who needs hiking when you can fly? The company Amazing Peruoffers hour-long flight tours right over the Sacred Valley of the Incas. The plane fits a minimum of eight passengers, and it can also be chartered. Passengers fly over Tipon and Pikillaqta, both archaeological sites, Pisaq and the Urubamba Valley, Sacsayhuaman, and, of course, Machu Picchu itself. Flights can be longer or shorter as requested. "
"
You can Om your way through Machu Picchu
Machu Picchu is known as one of the most spiritual lands in the world, so why not go all out and Om your way through its ruins? Amazing Peru offers a seven-day yoga tour where visitors travel from Lima to Cuzco and finally to Machu Picchu, where they stay in the famed sanctuary Lodge hotel right outside of the ruins. They participate in multiple meditation and yoga sessions throughout the trip, but the highlight is a private session smack-dab in the middle of the ruins. Now that is an Om experience worth waiting for."
Yahoo Lifestyle
"A good bird watching site. Private, customized tour to Venezuela, Guyana, Suriname, French Guiana and Trinidad & Tobago"