Testimonials
If you would like to hear first-hand experience about our services from past customers, please let us know and we shall provide contact details for you to contact them directly.
Dear Claire,

Wow! We would like to say THANK YOU for arranging a wonderful trip. We were impressed by your tour company and, even more so, by your country. We had such an amazing time and were so sad to leave.

Everything from your end went perfectly. You arranged a seamless tour with amazing guides and pinpoint accuracy. We would like to specifically thank Hamilton, whom we spent four days with in Cusco and Machu Picchu. He is a true star.

In terms of feedback, we have very few suggestions for improvement. All of the hotels were great, except for the one in Aguas Calientes, which you warned us about.

Reserva Amazonica is an amazing resort.

Thanks again for everything and hopefully we'll interact again in the future. I will definately be referring friends or family to your company in the future.

Take care,

Daniel Fazio


We are home from our wonderful trip thanks to Amazing Peru. I will send two messages, one about the trip itself and another on the hotels. the trip started off fantastic, TACA is a great airline. They upgraded us leaving LAX because we joked with the man who checked us in and when we boarded there was only us and cabin crew in first class!!! A day flight is easy and arriving in Lima at about 5pm is great. We were always greated by your staff and brought to our hotel by friendly, informative staff. I am so glad we added an extra day in each city. Lima, although cool and grey is a fun city. Hotel choice excellent, more later. Tour of Pachacamac was all Robert could wish for, guide, Miguel, excellent. We had great time walking Mirflores area and felt prefectly safe. Next day city tour was prerfect-Victor, our guide, great. Robert is very informed about Inka civilization and history, and he and guides always had an ongoing conversation full of info.I was alittle lost!!! Thank you for the x-tra, lunch at the Rose Nautica. We were going to go on own but weather told us not to go, but we were wrong , it was superb.... Thank you. Next we went ot Arequipa. Hotel review later. Loved the city. Walked, ate, toured, good guides, not quite up to those in Lima, but satisfactory.LOVED Sta Catalina Convent. Then we went to Colca Canyon. The Condor look-out was brilllant. We saw 11 birds, in all their glory.... Then onto the the ultimate treat....Cusco and MP. LOVED Cusco, we are so glad we had xtra days there.. Had perfect weather for entire trip, which of course helped. Trip to Sacred valley with Edith was superb, she is just wonderful. We are now traveling with two others from Amazing Peru, Ron and Marisse Ovira, Lovely couple that we clicked with in spite of age difference. Onto MP via train which we loved. Thank you for insisting we stay in sacred vallley instead of Cusco, much better times for train etc. etc...... There is nothing more you could do for our trip to MP, it exceeded our fantasy, and Robert has beeen dreaming of this trip since he was 10 yrs old!!!! The train ride back, we had seats 1 and 2 in front car, was a real treat. A LOT OF PEOPLE GOT OFF AT FIRST cUSCO STOP DUE TO TIME, but please advise people to stay on train, the ride into Cusco with the switchbacks and wonderful view is outstanding, a wonderful memory. Had a lovely last day to just putz in Cusco and then home to LAX on another great TACA flight. We willl definately recommend your group to others. We did come to your offices in Lima to meet you but you were on atrip with your parents. I will send you an additonal message with hotel info and reviews so future clients will have a perfect trip rather than just a good one. Regards,

Pat & Robert Maxim


Dear Claire,

Of course, I received the customer survey sheets to fill out during our Peru adventure. Maybe we filled out one near the end of the trip. I'm not sure.

For business and/or pleasure I've traveled outside the U.S. borders rather consistently for over 40 years. With family or friends I've visited-as a tourist-from Petra to Patagonia and most everything in between including Saudi Arabia and a few other 'you can't go there' destinations.

I have never traveled with any group as good as Amazing Peru. Accommodations, transportation, information and Amazing Peru supervision was perfect. During the trip I scribbled down names of travel personnel that I felt were many notches above the norm, but upon reviewing the list I find it includes everyone you and your company assigned to our journey.

And all of this leads up to what are we going to do next? I visited the Galapagos about 15 years ago, but other members of my adventurous family have not. ( I don't think they would enjoy the cramped cabin in the small wobbly boat I was in.) We are thinking about a trip to the Galapagos sometime around the second week of January 2008. Our group may be larger, possibly 6 to 8 adults. Ideas?

Regards,

George F. USA


Hello Shaun,

Just wanted to send a quick e-mail to thank all at Amazing Peru for an amazing time in South America. The trip was a dream of a lifetime to see machu picchu and the sacred valley to diving in the galapagos and seeing hammerheads by the dozen. In particular I would like to thank the team in ecuador who helped me extend my stay.

The trip has given me a real kick for South America and next time I will want to do the Inca Trail, the Colca canyon, Lake Titicaca and onto Bolivia for Potosi and Atacama and the salt flats. It goes without saying that I will contact you when I do this and obviously I will recommend Amazing Peru to anyone who asks.

Best wishes and Kim Humphreys


Hello Shaun,

Our family just returned last night from our trip to Quito and the Galapagos Islands. We all enjoyed this fantastic, once-in-a-lifetime experience. Everything went very well. The only difficulty we had was with the rough seas during the cruise, but of course, nothing could be done about that, since this is normal for this time of year there. The seasick medicine helped.

Thank you for your great help and advice in arranging this wonderful tour for us. Next time we consider a trip to South America, we will call on you again. I will also recommend you and your company to others who may be interested in this destination.

Best regards,

Tony Tran and family.


Dear Robert,

I recently returned to the United States after a vacation in Peru with your company, and I would like to commend to you several of your staff members who made my family's trip to Peru very special.

Claire Kos arranged our trip with finesse and flexibility, allowing us to spend our twelve days in a very personalized manner. We were fortunate to be able to meet her, along with Sean, our final night in Lima, and her energy and passion about Peru make it obvious why she is such an accomplished travel consultant.

Jose Medina was our guide in Cuzco and while on our Salkantay trek, and he was a highlight of our trip. His knowledge of the history of Peru was fascinating, and he was the consummate guide in every way. We feel very fortunate to have been assigned such an experienced guide, one that knew the trail inside and out, and his integrity, personality and team attitude were outstanding.

Our cook, Ascensio, was amazing! To think we were served such delicious, beautifully presented meals while working out of a movable tent and horseback-provided supplies was mind boggling. His gracious personality along with his obvious culinary talent made us all look forward to our daily meals. He was assisted ably by Angel, the cook's assistant, who also was such a humble and friendly staff person.

Daniel, the person in charge of the wranglers and provider of the horses, was a delight. He was so kind and considerate of us, and seemed to be a true leader of his staff, providing a role model of hard work and attention to detail. The wranglers, too, were very hard-working, friendly, and they all worked as a cohesive team.

Our trip to Peru was one we will always remember with fondness and vivid memories. Whether it was climbing Huayna Pichu or seeing the glacial ice caps by moonlight, our time in Peru was una viaje llena de experiencias fantasticas.

Sincerely,

Mary Ann Buchan


Dear Shaun,

I just thought I'd let you know what a fantastic time I had on my Peru trip. I hope that you will be able to pass on my thanks to your team over there for making my holiday so special. I would especially like to mention Marco, who was not only an excellent driver for the journey to & from Nazca/Paracas but also made a great stand-in guide in spite of the language barrier and the Hotel San Blas in Cusco, which is not only one of the nicest hotels I have stayed in but also has the most helpful & friendly staff.

The entire trip was incredible: the scenery was breath-taking; the weather and the hotels were wonderful and I was made to feel extremely welcome. I not only have some amazing photo's of my trip to Peru, but some wonderful memories that I'm sure will stay with me for a very long time.

Many Thanks,

Ms. D Conway.


Hi Shaun

I would like to thank you for organising a great itinerary. I really enjoyed South America and my favourite was Cusco esp the hotel Casa San Blas. Thank you for recommending the latter hotel. The Amazing Peru staff were friendly and well organised and in particular please thank David and Barbara as they were great. I would definitely come back to South America and also recommend Amazing Peru to anyone wanting to travel in South America.

Once again thank you for a great holiday

Yasmeen UK


Claire

I would be remiss if I did not let you know how much fun we had on the trip that you arranged for us. The Mary Anne was first rate and we enjoyed the company of her captain and crew, our naturalist guide, Carlos, and most of the other guests.

Everything went off without a hitch or glitch.

Thanks for all.

Doug Side - USA.


Dear Robert,

I have wanted to write to you to tell you how great our trip was to South America.We felt very special since the trip was done first class.
Patagonia is absolutely spectacular. The combination of cities like Santiago, Chile and Buenas Aires balanced out with the natural beauty of the Mountains and glaciers from Ushuaia to Torres del Paine. I am glad we added the day in Valparaiso with that great lunch at the beginning and going to Foz Iguacu at the end of the trip. ( Only wish we had another day in Foz Iguacu and another day in Baraloche. The guide for the trip around The lake was great, but would have rather had the day for the tram ride and some time at the hotel.) The food in Argentina and Chile was great. Whether you are a meat eater or lover of fish you will not be disappointed and the prices for our dinners were fantastic. ( always with great local wines) The guides were pleasant, informative, and courteous and on time.
Having our own private cars and guides gave us a chance to have more in depth understanding of each country.
Robert, when you took over it was a breath of fresh air to to feel confident that the trip would run smoothly and to get my questions answered in a timely way over the internet. Then when on the trip everything went like clock work. There was always someone there to meet us and help us I know for sure there is one couple, The Eatons, that want to do our same trip with you next year, in February like we did. I would be more than happy to speak to anyone to highly recommend your tour and represent you in California.
Thank you again. We will surely be in touch the next time we plan a trip to South America.

Sincerely.

Phyllis Bleecker
USA


1
2
3
4
5
6
7
8
9
10
11
12
13
14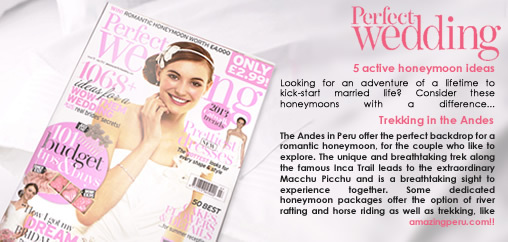 For current availability contact us at
info@amazingperu.com
and we will send you the relevant trip dossier along with a 90 day fixed quote, terms and conditions. Please bear in mind that significant price reductions are available for groups.
"Well-run multipurpose agency, with several offices in Peru with an extensive roster of trips, from family and honeymoon to luxury trips..."
Frommers Guides 2023
"Highly recommended, professional and well-organized, 'perfect tour', knowledgeable guides"
Footprint Handbook 2023
"Transportation services and accommodations are top-notch, and the guides are flexible and extremely helpful"
Fodor's Guides 2023
"
Amazing Peru
has more than 20 years of experience in the travel industry. Tours to Machu Picchu can be customized to include airfare, all meals, accommodations and travel insurance, and last from six to 14 days. Amazon cruises, horseback riding, river rafting, hiking and biking throughout Machu Picchu, Cuzco, Sacred Valley, Lake Titicaca..."
USA TODAY
"Move Over, Machu Picchu - How disabled travelers can tour Machu Picchu."
Christoper Reynolds
"Looking for an adventure of lifetime to kick-start married life? Consider these honeymoons with a difference… "
Perfect Wedding Magazine
"Experience"
Amazing Peru is the leading company in Latin America that combines exclusivity, luxury and authenticity for Peruvian holidays. It will tailor a 15- days tour for you that takes in Lake Titicaca, the Sacred Valley, Machu Picchu, Lima, Cuzco, Colca Canyon and the Amazon rainforest."
The Travel and Leisure Magazine UK
"A reputable firm with an impressive variety of unique excursions… "
At Home and Away with Alan Whicker CBE Magazine
Spend Christmas on a guided tour of breathtaking Machu Picchu and visit famous Lake Titicaca. Amazing Peru offers luxury Christmas vacations in Machu Picchu along the Inca Trail...
Trails Outdoor Travel Guide
"Amazing Peru takes families on both luxury and affordable tours throughout Peru. Children 12 and older are welcome to come along on the 12-day Peru Family Adventure Tour. Raft, backpack, kayak and bike through some of Peru's most unforgettable sights including Machu Picchu. The Family Tour to Peru is tailored for children younger than 12 years of age with an educational component. Relax on Peru's northern beaches, explore the high-altitude Lake Titicaca, trek through the Amazon, and visit Machu Picchu on this 16-day journey. Check out Amazing Peru's 12-day Family Tour."
Global Post USA
"
You can fly over Machu Picchu - or take a helicopter ride
Who needs hiking when you can fly? The company Amazing Peruoffers hour-long flight tours right over the Sacred Valley of the Incas. The plane fits a minimum of eight passengers, and it can also be chartered. Passengers fly over Tipon and Pikillaqta, both archaeological sites, Pisaq and the Urubamba Valley, Sacsayhuaman, and, of course, Machu Picchu itself. Flights can be longer or shorter as requested. "
"
You can Om your way through Machu Picchu
Machu Picchu is known as one of the most spiritual lands in the world, so why not go all out and Om your way through its ruins? Amazing Peru offers a seven-day yoga tour where visitors travel from Lima to Cuzco and finally to Machu Picchu, where they stay in the famed sanctuary Lodge hotel right outside of the ruins. They participate in multiple meditation and yoga sessions throughout the trip, but the highlight is a private session smack-dab in the middle of the ruins. Now that is an Om experience worth waiting for."
Yahoo Lifestyle
A Private, customized tour to Venezuela, Guyana, Suriname, French Guiana and Trinidad & Tobago. "Any traveler with a well-developed sense of adventure will be rewarded with an incredible experience on this journey to a birding paradise designed and operated by Amazing Peru."
"Savoring a taste of Uruguay's acclaimed wine region - An outstanding experience"