Testimonials
If you would like to hear first-hand experience about our services from past customers, please let us know and we shall provide contact details for you to contact them directly.
Dear Claire,
Thank you for organising a wonderful holiday for us. After the disaster of missing our flight, the way you organized our schedule and managed to get us onto the Galapagos cruise in a way that caused us to miss very little was outstanding. At every step of the way your operations staff were there to meet us and take us through our transfers. Daisy was really efficient and Carlos an excellent and knowledegable guide. The accommodation was every bit as luxurious as promised. Perhaps a little too much mileage between Mindo and Ibarra but overall a wonderfull and informative holiday. We would wholheartedly recommend Amazing Peru to anyone. Kind regards and many thanks.

Kevin gand Elaine Johnson - UK.
Claire,

I never had a chance to thank you for the wonderful trip. It ended up turning into a crusade as we were up and on the go early in the morning almost every day. My only regret is not having an extra overnight in the Pueblo Hotel at the base of the sanctuary. It was really an oasis.
The guides were outstanding. David and our transportation along with the advance ticket purchases were also outstanding. Sorry we didn't have a chance to meet but we will definitely consider using your services again for our next trip to South America.

Best of luck in the future.
Glenn Reid -USA


Claire,
We have just arrived home and, although we are delighted to be, once again, in the land of "king sized beds," we are equally delighted with our trip, and just about everything about it! Everything was wonderful and we are looking forward to running out to drop off film for developing prior to showering the dust from the past 24 hours away! Glenn returns to work tomorrow, Wednesday, so I am surmising we'll run a few errands and take it easy the remainder of today. Much easier to acclimate to the altitude of Columbus, Ohio!
Many thanks for a truly memorable trip and our experience in Peru! Hoping your day is going well and that your weekend in Chile was a good one!
Take care!
Stacie and Glenn - USA


Just a quick e.mail Robert to say thank-you to you and your team for making my parents-in-laws trip so superb. They came back with some marvellous stories and were full of praise for the service and the kindness shown on every step of their journey. It was a brave decision on their part to travel so far at their age and I had to put a lot of faith in your company to take care of John and Sylvia but you exceeded my expectations and I cannot thank you enough for helping to make my mother-in-law's dream come true of seeing Peru.

Very best regards.................

Judith Dodd - UK


Dear Robert

I thought I must write to thank you and to tell you what a really wonderful time we all had in Peru.
Each aspect of the holiday has given us many lasting memories.
The hotel accommodation was more than we could have hoped for. The service in all cases was faultless. We particularly found the Monasterio Hotel in Cusco relaxing and luxurious.
Our guides on the Tambopata River, Ivan and David and Marlene in Cusco were friendly, informative and attentive.
There were two aspects of the holiday which we would like to comment on as information you might like to convey to future travellers with your company.

Ann Warren - USA


We are at home, hope you got your mountain dew?
Thanks so much for the wonderful trip. All four of us had a wonderful time. A couple of comments:
1) The hotel in Iquito was very good. We really enjoyed that. Rooms and service were very good.
2) Boat trip was excellent, exactly what we had imagined. Great guide, good meals and good mix of side trips.
3) The Novetel in Cuzco was excellent. Everyone thought it was great, great service and very nice surroundings. The girl from your office was very helpful. Great recommendation on your part. Sorry we did not get to meet you.
4) We really liked the guide in Macchu Picchu, he was outstanding. And the Peublo Hotel was outstanding. We thoroughly enjoyed that. Our free day we hiked up the Wannapicchu Mountain, a lot of fun, hard work, very steep. Bought many souvenirs in Aqua Caliente.
5) Finch Bay hotel was very nice. When we arrived it would have helped if we knew that we would be touring before going to the hotel, we would have dressed differently and had different shoes for the girls. But the hotel and side trips were good.
6) Overall logistics went very smooth, your people were always there when we arrived. So, all in all an excellent trip, thanks so much.

Michael Whitten - USA


Dear AMAZING People, I am writing this to thank you for a truly AMAZING adventure you provided for us on our trip to Peru. Everything was fantastic, all of the guides were well informed and knowledgeable. All of our activites were well coordinated and planned and the connections were always on time very punctual and couterious. I will recommend your services as excellent and we look forward to using you again when we travel to any area that you serve.

Once again thank you for a great expierence
Jerry and Jennie Wisniewski


Hi Robert,

Please forgive me, but a week as passed since we got back to Portugal and only now I've managed to write this email.
We'd like to thank you and Amazing's staff for once more providing us with such a wonderful vacations. We left Argentina with the delightful sensation that we could go on travelling indefinitely ! The trip itself was free from any problems, and everything went as planned.
This was our third year with Amazing, and our opinion regarding your service is still unchanged. We definitely highly recommend travelling with the help of Amazing Peru services. We do not regret, even slightly, having choosen Amazing as our tour operator. Choosing you was the right step in the direction of enjoying 3 years of wonderful and unforgettable holidays.
I've put together a small collection of photos. Please, feel free to see them if you wish so.

Best of luck to you and Mariela.
Kind Regards,
Jorge Godinho & Sandra - Portugal


Robert....
the tour exceeded my expectations! It was enjoyed by all in our group. I must say that you have a great team working for you and they think the world of you. It has a lot to say about your managerial ability and communication to your staff. I did fill out the survey that Carla gave us but I wanted to site out a few of your special employees. We were met by a tour escort Victor..He was friendly, smiling and on our drive from the airport to the hotel he explained the currency system(which was such a big help) , where the bank was located near our hotel, a great restaurant to eat a few safe walking blocks from the hotel, how to dress (not flashy) and so many helpful hints that we were thinking of on our flight over. Victor the guide was very knowledgeable and spoke English slowly and so well. We appreciated that. Havier in Puno was so helpful and we loved the tour to the Islands. He made it so interesting. Of course, Carla made the trip great for everyone! There was no problem she could not solve. I could not find my visa card....no problem...she has a friend who works in the restaurant and they would check...she made me sit down and empty my purse, back-pack and search...there it was! On New Year's Eve, we dressed up for dinner at the Liberator Hotel and at first was shown to a very nice dinner area. Then the Maitre' D said no, we were to be in another area that was their coffee shop. Carla was called and she resolved it with the manager. We all felt so important and the hotel staff couldn't have been nicer to us. She got us all together for dinner and took us to restaurants and shops. She helped us with our purchases, even went to get me a coke when I was feeling ill. I'm sure the success of your company is that you pick the people and provide the necessary training to give quality service. They all love Peru and want to pass on this enthusiasm to your clients. I don't want to forget your drivers as they were helpful with our luggage, remembered what we and our luggage looked liked and drove safely. I was a Senior Management Consultant for Ernst & Young and could not find any fault with the service.
Happy New Year!

Diane Faulconer and Dan Schultz


I want to say Thank you very much for coordinating my trip.
I had amazing and wonderful time in Cusco and especially Macchu Picchu! I will definitely visit there again!
Thank you very much again!
Take care!
Sincerely,
Miyoko - USA


1
2
3
4
5
6
7
8
9
10
11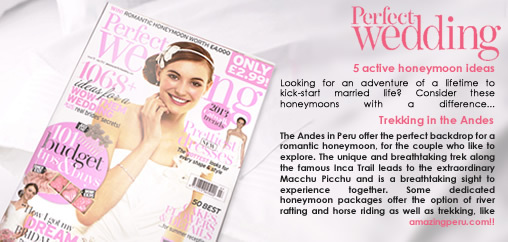 For current availability contact us at
info@amazingperu.com
and we will send you the relevant trip dossier along with a 90 day fixed quote, terms and conditions. Please bear in mind that significant price reductions are available for groups.
HIGHLY RECOMMENDED BY:
"Well-run multipurpose agency, with several offices in Peru with an extensive roster of trips, from family and honeymoon to luxury trips..."
Frommers Guides 2019
"Highly recommended, professional and well-organized, 'perfect tour', knowledgeable guides"
Footprint Handbook 2019
"Transportation services and accommodations are top-notch, and the guides are flexible and extremely helpful"
Fodor's Guides 2019
"
Amazing Peru
has more than 20 years of experience in the travel industry. Tours to Machu Picchu can be customized to include airfare, all meals, accommodations and travel insurance, and last from six to 14 days. Amazon cruises, horseback riding, river rafting, hiking and biking throughout Machu Picchu, Cuzco, Sacred Valley, Lake Titicaca..."
USA TODAY
"Move Over, Machu Picchu - How disabled travelers can tour Machu Picchu."
Christoper Reynolds
"Looking for an adventure of lifetime to kick-start married life? Consider these honeymoons with a difference… "
Perfect Wedding Magazine
"Experience"
Amazing Peru is the leading company in Latin America that combines exclusivity, luxury and authenticity for Peruvian holidays. It will tailor a 15- days tour for you that takes in Lake Titicaca, the Sacred Valley, Machu Picchu, Lima, Cuzco, Colca Canyon and the Amazon rainforest."
The Travel and Leisure Magazine UK
"A reputable firm with an impressive variety of unique excursions… "
At Home and Away with Alan Whicker CBE Magazine
Spend Christmas on a guided tour of breathtaking Machu Picchu and visit famous Lake Titicaca. Amazing Peru offers luxury Christmas vacations in Machu Picchu along the Inca Trail...
Trails Outdoor Travel Guide
"Amazing Peru takes families on both luxury and affordable tours throughout Peru. Children 12 and older are welcome to come along on the 12-day Peru Family Adventure Tour. Raft, backpack, kayak and bike through some of Peru's most unforgettable sights including Machu Picchu. The Family Tour to Peru is tailored for children younger than 12 years of age with an educational component. Relax on Peru's northern beaches, explore the high-altitude Lake Titicaca, trek through the Amazon, and visit Machu Picchu on this 16-day journey. Check out Amazing Peru's 12-day Family Tour."
Global Post USA
"
You can fly over Machu Picchu - or take a helicopter ride
Who needs hiking when you can fly? The company Amazing Peruoffers hour-long flight tours right over the Sacred Valley of the Incas. The plane fits a minimum of eight passengers, and it can also be chartered. Passengers fly over Tipon and Pikillaqta, both archaeological sites, Pisaq and the Urubamba Valley, Sacsayhuaman, and, of course, Machu Picchu itself. Flights can be longer or shorter as requested. "
"
You can Om your way through Machu Picchu
Machu Picchu is known as one of the most spiritual lands in the world, so why not go all out and Om your way through its ruins? Amazing Peru offers a seven-day yoga tour where visitors travel from Lima to Cuzco and finally to Machu Picchu, where they stay in the famed sanctuary Lodge hotel right outside of the ruins. They participate in multiple meditation and yoga sessions throughout the trip, but the highlight is a private session smack-dab in the middle of the ruins. Now that is an Om experience worth waiting for."
Yahoo Lifestyle
"A good bird watching site. Private, customized tour to Venezuela, Guyana, Suriname, French Guiana and Trinidad & Tobago"