Testimonials
If you would like to hear first-hand experience about our services from past customers, please let us know and we shall provide contact details for you to contact them directly.
Wonderful time! It is such a beautiful country and every person we dealt with, from Amazing Peru and businesses to locals, were unbelievably friendly and helpful. Eddy was a fantastic friend and guide, the best.
The only disappointments or changes that I would make would be to stay out of Lima. We are not city dwellers, our group all lives in the country. So we do not enjoy city life and Lima is crazy. I liked the place we stayed in Miraflores and we enjoyed our first night there but if I did it again I would leave the following day. Also I would catch a later flight out of Cusco and spend as little time in Lima as possible.
But I can not say enough good things about our experience. We will probably be looking at Amazing Peru for future travel.
Give our thanks to the whole group. We will tell all of our friends and anyone who will listen to us about the great experience and how good it was with Amazing Peru.

Jenny Wolfe - Onalaska,
WI -USA


Hi Andrew,
I wanted to drop you a line to let you know that Rebecca and I had an "amazing" time in Peru.
Everything went like clockwork, and the arrangements could not have been made any better.
We thoroughly enjoyed every aspect of our itinerary.
Thanks very much for arranging it all.
We found the guides and companies you chose to be efficient, polite, knowledgeable and very professional.
I hope that the payments all cleared in good time and you have a good rest of the year.
We shall be sure to recommend you to anyone who we know wants to go to amazing Peru!
Regards, Rob

Robert Mason and Rebecca Davenport
-United Kingdom


Dear Claire,
The trip was fantastic! Thanks so much for arranging it. Every single individual we encountered, from Karina who met us at the airport on the first day and saw us off on the last, to the guides on each tour and the staff of the hotels were terrific. The itinerary worked very well for us- I really appreciate you putting together something that would work with our schedules and still be a vacation that will long be remembered.
Thanks agin,

Jennifer Amyx - USA


Hi Andrea,

I used Amazing Peru to book my honeymoon in the Galapagos Islands. My husband and I travel a lot, but the Galapagos Islands were among the most memorable and well organised trips we have taken.

Claire Cos was fantastic, I booked the trip from Tokyo using the internet and as we were going back and forth on the email and dealing with time differences, she asked to call to make things quicker. She was really nice over the phone, I think she is American.

The company arranged for a complimentary room upgrade to a matrimonial suite, and complimentary champagne. We were greeted and escorted for every length of the journey by a agent. It was quite impressive. I was pleased that we used this particular travel agent as some other people on the same boat had used other companies and as a result had a lower standard of hotel in Quito. Most people agreed that we had a very good deal, and took down the name of our travel for future reference.

The Islands themselves were spectacular and the guides were extremely competent. I would class them as closer to scientists than tour guides as they have a wealth of information.

The boat was very nice, it was clean, smooth on the water, with courteous staff and delicious food. The cabins were spacious as far as yacht cabins go, and the boat itself was very roomy with large decks and open areas inside. Everyone aboard was very happy and thought it was a dream trip.

I hope you have a good trip, I would highly recommend this travel agent, and also the Galapagos Islands as a destination,

Best regards,
Christine Suzuki - Japan
Hi Claire

Just a quick note to tell you how much we loved our vacation to Peru. You designed a fabulous itinerary with excellent guides and we loved it. I have since told a number of people about it and several have already checked out your website, so you'll get some bookings, I'm sure.
I am sorry we didn't get to meet you but we loved Carla-she made every minute run smoothly and fixed whatever wasn't right as soon as it went wrong. She is a true professional.

Thanks again to all of you.

Polly McTaggart - USA


We returned home from our Peru trip to face "reality" and catch up on affairs, thus the delay in this email.

We thoroughly enjoyed our trip and would like to thank all of you at Amazing Peru who made it happen. The trip was very well organized and planned from start to finish; the tour leaders, Ursula and Flor were great; fun, knowledgeable and good companions. The guides and drivers were equally as good.

Peru (and the trip) was everything that we hoped it would be and we enjoyed every moment of it. You all did a great job.

Heidi and Lin Herndon
Austin, Texas, USA


Dear Amazing Peru staff
Just a note to thank you for planning our truly amazing trip to Peru!! The six of us are in total agreement that this was the very best vacation any of us have ever had. We loved every minute of it and were in awe of the beauty of Peru and it's people. All of our guides were great - Marlena, David, Juan, Febrezio, Pascual, Leo, Javier, William - we felt totally safe and looked after by all. These people were kind, knowledgeable, polite and humble - a joy to be around! Please thank them again for us if you get the opportunity.

We did indeed get enough hiking and the rafting was great great fun! The bike ride was a marathon - not easy and we had varying degrees of success with that. Only two of our party actually completed the entire 30 plus miles. Lake Titicaca kayaking was awesome with Taquille and Uros being the highlights. Machu Picchu was incredible. The Sacred Valley beautiful and so peaceful.

Our hotels were very comfortable and we were glad we stayed at each of them - including the Sanctuary. Our favorite was probably the Pueblo - or maybe the Monastario - or maybe the Libertador...as you can see, all were excellent. We delighted in sampling cuy, rabbit, octopus, alpaca, at the first class restaurants. One suggestion would be to have had a day or two of Papa Johns pizza or similar in Lima as the Peruvian food was good but we longed for our US fast food toward the end of the trip-ha!

We'd love to book a Mexico vacation through you or for that matter, we would travel again with Amazing Peru anywhere in a heartbeat! All services were above and beyond our expectations. Thanks to you and the Amazing Peru staff for a truly memorable trip.

Sincerely
Virginia, Steve, Matt, Regan, Adam and Jared Butcher


Dear Claire,
Thank you for organising a wonderful holiday for us. After the disaster of missing our flight, the way you organized our schedule and managed to get us onto the Galapagos cruise in a way that caused us to miss very little was outstanding. At every step of the way your operations staff were there to meet us and take us through our transfers. Daisy was really efficient and Carlos an excellent and knowledegable guide. The accommodation was every bit as luxurious as promised. Perhaps a little too much mileage between Mindo and Ibarra but overall a wonderfull and informative holiday. We would wholheartedly recommend Amazing Peru to anyone. Kind regards and many thanks.

Kevin gand Elaine Johnson - UK.
Claire,

I never had a chance to thank you for the wonderful trip. It ended up turning into a crusade as we were up and on the go early in the morning almost every day. My only regret is not having an extra overnight in the Pueblo Hotel at the base of the sanctuary. It was really an oasis.
The guides were outstanding. David and our transportation along with the advance ticket purchases were also outstanding. Sorry we didn't have a chance to meet but we will definitely consider using your services again for our next trip to South America.

Best of luck in the future.
Glenn Reid -USA


Claire,
We have just arrived home and, although we are delighted to be, once again, in the land of "king sized beds," we are equally delighted with our trip, and just about everything about it! Everything was wonderful and we are looking forward to running out to drop off film for developing prior to showering the dust from the past 24 hours away! Glenn returns to work tomorrow, Wednesday, so I am surmising we'll run a few errands and take it easy the remainder of today. Much easier to acclimate to the altitude of Columbus, Ohio!
Many thanks for a truly memorable trip and our experience in Peru! Hoping your day is going well and that your weekend in Chile was a good one!
Take care!
Stacie and Glenn - USA


1
2
3
4
5
6
7
8
9
10
11
12
13
14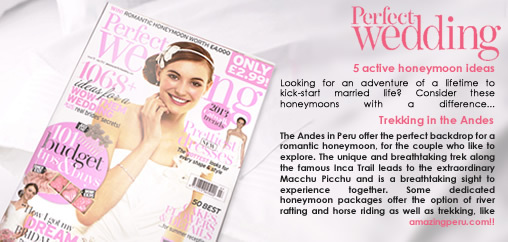 For current availability contact us at
info@amazingperu.com
and we will send you the relevant trip dossier along with a 90 day fixed quote, terms and conditions. Please bear in mind that significant price reductions are available for groups.
"Well-run multipurpose agency, with several offices in Peru with an extensive roster of trips, from family and honeymoon to luxury trips..."
Frommers Guides 2023
"Highly recommended, professional and well-organized, 'perfect tour', knowledgeable guides"
Footprint Handbook 2023
"Transportation services and accommodations are top-notch, and the guides are flexible and extremely helpful"
Fodor's Guides 2023
"
Amazing Peru
has more than 20 years of experience in the travel industry. Tours to Machu Picchu can be customized to include airfare, all meals, accommodations and travel insurance, and last from six to 14 days. Amazon cruises, horseback riding, river rafting, hiking and biking throughout Machu Picchu, Cuzco, Sacred Valley, Lake Titicaca..."
USA TODAY
"Move Over, Machu Picchu - How disabled travelers can tour Machu Picchu."
Christoper Reynolds
"Looking for an adventure of lifetime to kick-start married life? Consider these honeymoons with a difference… "
Perfect Wedding Magazine
"Experience"
Amazing Peru is the leading company in Latin America that combines exclusivity, luxury and authenticity for Peruvian holidays. It will tailor a 15- days tour for you that takes in Lake Titicaca, the Sacred Valley, Machu Picchu, Lima, Cuzco, Colca Canyon and the Amazon rainforest."
The Travel and Leisure Magazine UK
"A reputable firm with an impressive variety of unique excursions… "
At Home and Away with Alan Whicker CBE Magazine
Spend Christmas on a guided tour of breathtaking Machu Picchu and visit famous Lake Titicaca. Amazing Peru offers luxury Christmas vacations in Machu Picchu along the Inca Trail...
Trails Outdoor Travel Guide
"Amazing Peru takes families on both luxury and affordable tours throughout Peru. Children 12 and older are welcome to come along on the 12-day Peru Family Adventure Tour. Raft, backpack, kayak and bike through some of Peru's most unforgettable sights including Machu Picchu. The Family Tour to Peru is tailored for children younger than 12 years of age with an educational component. Relax on Peru's northern beaches, explore the high-altitude Lake Titicaca, trek through the Amazon, and visit Machu Picchu on this 16-day journey. Check out Amazing Peru's 12-day Family Tour."
Global Post USA
"
You can fly over Machu Picchu - or take a helicopter ride
Who needs hiking when you can fly? The company Amazing Peruoffers hour-long flight tours right over the Sacred Valley of the Incas. The plane fits a minimum of eight passengers, and it can also be chartered. Passengers fly over Tipon and Pikillaqta, both archaeological sites, Pisaq and the Urubamba Valley, Sacsayhuaman, and, of course, Machu Picchu itself. Flights can be longer or shorter as requested. "
"
You can Om your way through Machu Picchu
Machu Picchu is known as one of the most spiritual lands in the world, so why not go all out and Om your way through its ruins? Amazing Peru offers a seven-day yoga tour where visitors travel from Lima to Cuzco and finally to Machu Picchu, where they stay in the famed sanctuary Lodge hotel right outside of the ruins. They participate in multiple meditation and yoga sessions throughout the trip, but the highlight is a private session smack-dab in the middle of the ruins. Now that is an Om experience worth waiting for."
Yahoo Lifestyle
A Private, customized tour to Venezuela, Guyana, Suriname, French Guiana and Trinidad & Tobago. "Any traveler with a well-developed sense of adventure will be rewarded with an incredible experience on this journey to a birding paradise designed and operated by Amazing Peru."
"Savoring a taste of Uruguay's acclaimed wine region - An outstanding experience"