Testimonials
If you would like to hear first-hand experience about our services from past customers, please let us know and we shall provide contact details for you to contact them directly.
Dear Charlotte & Arturo,

My father and I wanted to thank you for an amazing trip to Peru! It was everything we could have hoped for and more. We were constantly amazed by the knowledge and expertise of our tour guides! Especially Edith and David in Cusco and Antoinette in Arequipa!! I am still amazed at how much knowledge they posess! Even though we were there only 2 weeks, we were able to experience so many wonderful things! Every aspect of our trip was well planned and we always recieved a warm welcome wherever we went! This was a trip that we will always remember and we are already talking about when we can plan another trip to South America...

Sincerely,

Alisa and Carl Rogers- USA
July 21th, 2008
Peru Tour


We have traveled in Peru and Bolivia with Lithuanian group April 11-30. We would like to thank your company and all staff that organized our trip. The organization of the trip was perfect - everything run very smoothly, without any delays. The staff of your company which accompanied us was very flexible - all our wishes were considered and realized.

Special thanks to Sylvana Rebaza who accompanied our trip all the way - she was very friendly, caring, helpful and she has done very good job in coordinating all details of our trip.

Also we are very thankful to our guide in Arequipa and Colca canyon - Carlos - he was the best guide during the whole trip.

Thank you for th fantastic time we spent in Peru.

Regards from Vilnius
Rima Gerdziunaite
June 10th, 2008.
Peru Tour


Just wanted to let you know how much fun I had while in Peru and Victor was a huge part of the fun we got to participate in. He was very well-prepared and informative and he always had other guides who were just as prepared as he. Please know that I think Victor is a wonderful asset to your business. I'm glad that he was our guide and I now consider him a friend. Sincerely, Sarah Wall

Best regards,

Sarah Wall
May 06th, 2008.
Peru Tour


Hello,
My wife and I have just returned from a wonderful 10 days in Peru and we want to thank Amazing Peru for making that trip possible.
We especially want to thank Ali-Jei Salazar for answering our many questions and in the pre-trip preparation,Maricel Valdiviezo (Lima) for her persistent phone calls to American Airlines which helped us secure our lost luggage two days after our arrival, and Jonathan Zambrano who provided us with constant attention to all important matters while in and around Cusco. All your guides, especially Coco, in Cusco and the Sacred Valley, were very professional in their knowledge and presentation.
Thank you again for making Peru come alive for us over those amazing 10 days.

Gary & Joan Runyan
May 06th, 2008.
Peru Tour


I am hoping that the following message makes its way to your head office wherever that may be.

Frank and I have just returned from Peru and our tour with your company. I want to tell you how delighted we were with absolutely everything. Your company is most aptly named: Peru really IS amazing! It is a spectacular country with a proud heritage and a rich culture that has left us full of awe and admiration. I don't need to comment on the beauty and mystery of Macchu Pichu and the Sacred Valley, nor the magnificent Lake Titicaca and Colca Canyon, since they have all been so well described by many others before me. What I would like to mention here is the extraordinary efforts of many of your personnel to make our visit memorable and worry-free. Not only were they incredibly well-informed and professional, they were also kind and caring and went out of their way to make sure our every need was met. In particular I want to mention Fernando Temoche who showed outstanding leadership and organizational skills and accompanied us from Cusco to Macchu Pichu and Lake Titicaca. His concern for the welfare of each person in our group was truly heart-warming. Neither will we ever forget the extraordinary Hamilton who combines personal charm and good humour with an amazing store of knowledge and information. He is an outstanding guide and teacher. I would also like to commend Ximena and Barbara in Arequipa who were so thoughtful and gracious during our stay in their beautiful city. Miguel did a superb job of leading our tour of the fascinating and beautiful city of Lima, and Vanessa Flores was our charming and highly knowledgeable guide when we visited the archaeological site of Pachacaman. Her excellent English was another "bonus"! Last, but certainly not least, I would like to mention Antonio Gutierrez (I hope I have managed to spell his name correctly) who really touched our hearts by ensuring that our last day in Lima, and in Peru, was so special and memorable. He went to extraordinary lengths on our behalf and left us with a strong impression of the kindness and sincerity of Peruvians People.

We feel truly blessed to have had the privilege of seeing Peru and we are very grateful to your staff for the spectacular job they did in organizing and leading our tour. We have already begun to recommend your company to family and friends, and we hope one day to return ourselves. My one suggestion is that you consider offering a Spanish course as an adjunct to the tours. I think that many travellers would welcome the opportunity to learn the language as part of their cultural experience. Even one week with four hours of instruction per day would be most beneficial, and Arequipa might be the perfect place to offer it.

Again, much appreciation and many thanks,

Deirdre and Frank Santesso
February 12th, 2008.
Peru Tour


We have been home for a month now and there hasn't been a day gone by that I haven't thought about our outstanding 2007 Peruvian Christmas vacation! I just had to write and commend your company on truly being absolutely "Amazing" in its level of professionalism, knowledge, and efficiency! We had a family of 7 traveling together (including one disabled and 2 gluten-free vegetarians) and we all agreed our vacation EXCEEDED of expectations!!

Our guide, Silvana Rebaza, was exceptional. She was extremely attentive to our needs, efficient in every aspect, and such a delight to be with, just a dear of a young lady. By the end of our tour we wanted to take her home with us! The tour guides that we had in Lima, Cusco, Machu Picchu, and the Tambopata Jungle were all so knowledgeable, proud and enthusiastic about their country it was a pleasure to share it with them. We would not hesitate to recommend others to travel with "Amazing Peru"--it was a trip of a lifetime! Thank you! And please tell Silvana she's the BEST!!!

Don, Sheryl, Libby and Chelsey Wood


Hello Mariela!

We met in the Travel Expo today (Saturday) in New York. I do not know if you have access to your email....but....
I would like to thank you a thousand times to everybody of Amazing Peru for a super super trip that I had in Peru! Victor is very hard working and I do not know how he does every day to do all he does with so many travellers!!! Our guides Coco, Selgio in Cusco, Maricel, Sylvana, Barbara from Arequipa .... Everybody! Every day there was always something incredible!!! I loved your beautiful country and my adventures with Amazing Peru.
Thank you very much!!!
If you have nothing to do tonight there are several places for salsa... but remember that here in New York Salsa is something totally different than in Peru, here people dance a very Caribbean New Yorker style! An experience that you will never forget!
Well, I hope you have a great time here in New York City.

Best regards,
Santo Rivera - USA


Dear Christian,

Having returned to the States, I just wanted to send you a note on behalf of our group, thanking you and the whole Amazing Peru team for our excellent trip. It was truly one of those "once in a lifetime" experiences. The ruins and the trail are of course incredible, but having seen some of the other, larger, more rigid tour groups, we know that the success of the trip was mostly a function of the people at Amazing Peru. Thank you (and Shaun!) for arranging this very special trip for us!

Best regards,

Dan McElvany - USA


Hi Charlotte, thanks for arranging our great vacation! My son and I had a wonderful time. Everything you put together was the best - I would not have change anything - guides, transportation, hotels, tours, activities were great, I could go on. You put together a 1st class trip. I highly recommend your you and company. Next time I go to Peru I will getting in touch with you - maybe next Oct-Dec I would like to hike the Inca Trail. Thanks again....

Don Winsor - USA


Good morning, Claire.

We have just returned from our trip after delays last night in Miami. We are still jet-lagged but my husband and I had a wonderful time and we owe it all to Amazing Peru. Everything was so smooth and easy. If you would like a testimonial I will be happy to provide one at any time (when the travel brain clears!). Amazing Peru is truly amazing!

Thank you, Chad, Ben, Alphonso, Jonathan, Odelia, Ruben, and all the people who helped this be one of the best vacations ever! You can count on us telling our friends about our great experience!

Thank you so much.

Linda Irwin


1
2
3
4
5
6
7
8
9
10
11
12
13
14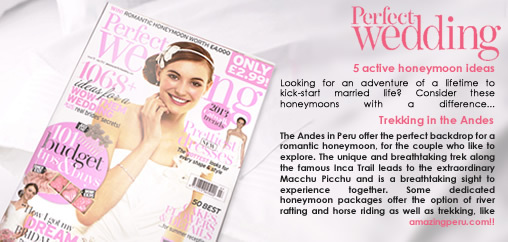 For current availability contact us at
info@amazingperu.com
and we will send you the relevant trip dossier along with a 90 day fixed quote, terms and conditions. Please bear in mind that significant price reductions are available for groups.
"Well-run multipurpose agency, with several offices in Peru with an extensive roster of trips, from family and honeymoon to luxury trips..."
Frommers Guides 2023
"Highly recommended, professional and well-organized, 'perfect tour', knowledgeable guides"
Footprint Handbook 2023
"Transportation services and accommodations are top-notch, and the guides are flexible and extremely helpful"
Fodor's Guides 2023
"
Amazing Peru
has more than 20 years of experience in the travel industry. Tours to Machu Picchu can be customized to include airfare, all meals, accommodations and travel insurance, and last from six to 14 days. Amazon cruises, horseback riding, river rafting, hiking and biking throughout Machu Picchu, Cuzco, Sacred Valley, Lake Titicaca..."
USA TODAY
"Move Over, Machu Picchu - How disabled travelers can tour Machu Picchu."
Christoper Reynolds
"Looking for an adventure of lifetime to kick-start married life? Consider these honeymoons with a difference… "
Perfect Wedding Magazine
"Experience"
Amazing Peru is the leading company in Latin America that combines exclusivity, luxury and authenticity for Peruvian holidays. It will tailor a 15- days tour for you that takes in Lake Titicaca, the Sacred Valley, Machu Picchu, Lima, Cuzco, Colca Canyon and the Amazon rainforest."
The Travel and Leisure Magazine UK
"A reputable firm with an impressive variety of unique excursions… "
At Home and Away with Alan Whicker CBE Magazine
Spend Christmas on a guided tour of breathtaking Machu Picchu and visit famous Lake Titicaca. Amazing Peru offers luxury Christmas vacations in Machu Picchu along the Inca Trail...
Trails Outdoor Travel Guide
"Amazing Peru takes families on both luxury and affordable tours throughout Peru. Children 12 and older are welcome to come along on the 12-day Peru Family Adventure Tour. Raft, backpack, kayak and bike through some of Peru's most unforgettable sights including Machu Picchu. The Family Tour to Peru is tailored for children younger than 12 years of age with an educational component. Relax on Peru's northern beaches, explore the high-altitude Lake Titicaca, trek through the Amazon, and visit Machu Picchu on this 16-day journey. Check out Amazing Peru's 12-day Family Tour."
Global Post USA
"
You can fly over Machu Picchu - or take a helicopter ride
Who needs hiking when you can fly? The company Amazing Peruoffers hour-long flight tours right over the Sacred Valley of the Incas. The plane fits a minimum of eight passengers, and it can also be chartered. Passengers fly over Tipon and Pikillaqta, both archaeological sites, Pisaq and the Urubamba Valley, Sacsayhuaman, and, of course, Machu Picchu itself. Flights can be longer or shorter as requested. "
"
You can Om your way through Machu Picchu
Machu Picchu is known as one of the most spiritual lands in the world, so why not go all out and Om your way through its ruins? Amazing Peru offers a seven-day yoga tour where visitors travel from Lima to Cuzco and finally to Machu Picchu, where they stay in the famed sanctuary Lodge hotel right outside of the ruins. They participate in multiple meditation and yoga sessions throughout the trip, but the highlight is a private session smack-dab in the middle of the ruins. Now that is an Om experience worth waiting for."
Yahoo Lifestyle
A Private, customized tour to Venezuela, Guyana, Suriname, French Guiana and Trinidad & Tobago. "Any traveler with a well-developed sense of adventure will be rewarded with an incredible experience on this journey to a birding paradise designed and operated by Amazing Peru."
"Savoring a taste of Uruguay's acclaimed wine region - An outstanding experience"