Testimonials
If you would like to hear first-hand experience about our services from past customers, please let us know and we shall provide contact details for you to contact them directly.
Dear Robert
This is just a quick email to say thank you very much for organising our trip to Ecuador. We had a wonderful time, with each activity getting better and better! The hotels (with the exception of the Unipark in Guayaquil - but that was just for one night) were beautiful, with extremely good food on the whole (although that in the Mansion Alcazar did not live up to the exceptionally beautiful surroundings).

The guides were also great - very knowledgeable and helpful, giving the impression that nothing was too much trouble. Our driver from Quito to Riobamba was particularly impressive, especially for the trip from the hacienda to Riobamba: having left Quito at midnight in order to pick us up at 3.30 am, he then carried on with our luggage to Alausi, but also arrived at the intervening stop with supplies of bread and water, and was again waiting at Alausi with a packed lunch for us! Milagros was also very helpful and attentive, phoning frequently to check on our progress when we were out of Quito.

The Galapagos trip was amazing - helped by having such a great boat and crew.
We plan to be back, both to Ecuador and also to Peru and in the meantime we will recommend Amazing Peru to anyone who expresses the remotest interest in visiting either country! Do you also organise wine tours in Chile?

Thank you again for all the trouble you took organising our trip and please pass on our very grateful and heartfelt thanks to all concerned.

Kind regards and best wishes
Julie Sewell - UK


Robert:

Our party of three arrived safely back in Houston yesterday after a very enjoyable and informative time in Peru. Amazing Peru's staff did an excellent job of ensuring we got the most out of our time in the country and the guides we had were personable and at all times helpful. We appreciated your choice of restaurants (although we were not always able to take full advantage of the range of offerings) and the hotels certainly met our expectations (except, perhaps, for the size of the bed-rooms in Puno). At all times we felt we were being well looked after and we would certainly recommend your firm's services to others wanting to undertake a similar program.

Thanks again for a great experience; Peru has a great deal to offer!
Julian - USA


Dear Robert,
A belated thank you for the absolutely brilliant holiday you organised for us in Peru in August. We will be more than happy to recommend Amazing Peru to other potential clients as an extremely professional and reliable tour company. Please extend our thanks to Carla for everything she did for us. We were most impressed with her professional approach to looking after us.
Kind Regards,

Tom & Jenny Klemperer - UK


I have been remiss in sending this to you sooner, but it's definitely been on my mind. My husband and I had a FANTASTIC time during our trip to Peru in June and July. Every arrangement you made for us was excellent and the people we met and worked with were outstanding (knowledgeable, patient, conscientious, willing to help with anything). I wanted to thank you for helping us to have such a positive and memorable experience ... I can't wait to go back!
Thanks again,

Becky Amaral - UK


A quick note to tell you that we were thrilled with the quality of our Amazing Peru tour! We were able to see so many things and yet never felt rushed. I would love to come back to Peru and would definitely contact Amazing Peru if I do get there again. Much of the reason that our tour was so good was Flor Gomez, our guide. She is very knowledgable, extremely helpful, and just an all around very nice person! Thank you so much for assigning her to us. She is definitely an asset to your company.
Peru has so much to offer and your company showcases it well!
Sincerely,

Valerie and Kelly Hooper - USA


I have arrived home after a very successful trip to Peru. Absolutlety over the moon about my summit success of Huascaran. I have attached two photographs of myself with Walter and with Juan. Please pass them on a copy of these photographs. Carla was also asking for a copy. Like I say everything went very well. Pity about becoming ill for the Inca Trail. Hopefully I will return to Equador to visit the Galapagos Islands. My next mountain challenge is probably a himilayan one, being an ascent of either Pumori or Baruntse. I will recommend Amazing Peru to anyone who is contemplating visiting South America.

Jonathan Faill - UK


Robert,
We could not have had a better time here in Peru. As you know we leave tomorrow for Lima and then back to the US. So I wanted to get this email to you now.

Thanks to Carla we were very well taken care of.
She stayed in contact with us each day and we really enjoyed her company.
She is very professional and a great representative of your company.

We will recommend your company to our friends and tell them that they should come to visit Peru.

Machu Picchu was our main reason for coming to Peru and it was amazing. No pictures can really express what it is really like.
You have to be there to know.

We are grateful also that we were able to spend time in Cuzco and the Sacred Valley because both helped perpare us for our visit to Maccu Picchu. So many people think that Maccu Picchu is the main sacred site of Peru, but we learned that all the sites are just as sacred.

Thanks again,
Judy Borsher and family


Hi Mariela,
I just want to tell you that we made a very good trip. Nothing went wrong, even the temperature was OK. My wife and me are very happy.
Regards,

Pierre Marcott - Canada


Dear Robert,
I'd like to thank Amazing Peru and specially you for the wonderful trip, that once again you've provided us. We enjoyed every day !
Peru is a great country to visit, and we can only suggest it strongly to other persons.
Kind regards,

Jorge & Sandra - Portugal


Dear Robert, Most people write about complaints, but I am writing to you to thank you for everything you did for my clients. Jonas told me that it was absolutely fantastic. Your friendly staff and guides, he had no word for how wonderful they were. So again I thank you soooooooo much for your service. Kindest regards.

Britta - Florida, USA


1
2
3
4
5
6
7
8
9
10
11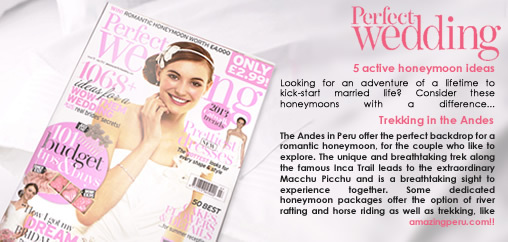 For current availability contact us at
info@amazingperu.com
and we will send you the relevant trip dossier along with a 90 day fixed quote, terms and conditions. Please bear in mind that significant price reductions are available for groups.
HIGHLY RECOMMENDED BY:
"Well-run multipurpose agency, with several offices in Peru with an extensive roster of trips, from family and honeymoon to luxury trips..."
Frommers Guides 2019
"Highly recommended, professional and well-organized, 'perfect tour', knowledgeable guides"
Footprint Handbook 2019
"Transportation services and accommodations are top-notch, and the guides are flexible and extremely helpful"
Fodor's Guides 2019
"
Amazing Peru
has more than 20 years of experience in the travel industry. Tours to Machu Picchu can be customized to include airfare, all meals, accommodations and travel insurance, and last from six to 14 days. Amazon cruises, horseback riding, river rafting, hiking and biking throughout Machu Picchu, Cuzco, Sacred Valley, Lake Titicaca..."
USA TODAY
"Move Over, Machu Picchu - How disabled travelers can tour Machu Picchu."
Christoper Reynolds
"Looking for an adventure of lifetime to kick-start married life? Consider these honeymoons with a difference… "
Perfect Wedding Magazine
"Experience"
Amazing Peru is the leading company in Latin America that combines exclusivity, luxury and authenticity for Peruvian holidays. It will tailor a 15- days tour for you that takes in Lake Titicaca, the Sacred Valley, Machu Picchu, Lima, Cuzco, Colca Canyon and the Amazon rainforest."
The Travel and Leisure Magazine UK
"A reputable firm with an impressive variety of unique excursions… "
At Home and Away with Alan Whicker CBE Magazine
Spend Christmas on a guided tour of breathtaking Machu Picchu and visit famous Lake Titicaca. Amazing Peru offers luxury Christmas vacations in Machu Picchu along the Inca Trail...
Trails Outdoor Travel Guide
"Amazing Peru takes families on both luxury and affordable tours throughout Peru. Children 12 and older are welcome to come along on the 12-day Peru Family Adventure Tour. Raft, backpack, kayak and bike through some of Peru's most unforgettable sights including Machu Picchu. The Family Tour to Peru is tailored for children younger than 12 years of age with an educational component. Relax on Peru's northern beaches, explore the high-altitude Lake Titicaca, trek through the Amazon, and visit Machu Picchu on this 16-day journey. Check out Amazing Peru's 12-day Family Tour."
Global Post USA
"
You can fly over Machu Picchu - or take a helicopter ride
Who needs hiking when you can fly? The company Amazing Peruoffers hour-long flight tours right over the Sacred Valley of the Incas. The plane fits a minimum of eight passengers, and it can also be chartered. Passengers fly over Tipon and Pikillaqta, both archaeological sites, Pisaq and the Urubamba Valley, Sacsayhuaman, and, of course, Machu Picchu itself. Flights can be longer or shorter as requested. "
"
You can Om your way through Machu Picchu
Machu Picchu is known as one of the most spiritual lands in the world, so why not go all out and Om your way through its ruins? Amazing Peru offers a seven-day yoga tour where visitors travel from Lima to Cuzco and finally to Machu Picchu, where they stay in the famed sanctuary Lodge hotel right outside of the ruins. They participate in multiple meditation and yoga sessions throughout the trip, but the highlight is a private session smack-dab in the middle of the ruins. Now that is an Om experience worth waiting for."
Yahoo Lifestyle
"A good bird watching site. Private, customized tour to Venezuela, Guyana, Suriname, French Guiana and Trinidad & Tobago"