Testimonials
If you would like to hear first-hand experience about our services from past customers, please let us know and we shall provide contact details for you to contact them directly.
Hello Shaun,

Just wanted to let you know what an absolutely incredible trip we had. From start to finish, it could not have been planned better. We were so well taken care of, it was definitely a Luxury vacation for us.

The Hotel in Lima, was definitely high class. They had the nicest sheets I have ever slept on. The service was second to none. We really appreciated the hotel on the way back, by the way, it was a good choice. We ended up spending the afternoon there, by the pool and a fabulous meal that evening before heading to the airport. You were definitely right on that point, we would not have enjoyed an entire day without a place to relax and freshen up.

Cuzco was beautiful, but unfortunately I was not feeling well there at all, for all three nights there. As a matter of a fact, we met some people who were essentially doing the same trip with different tour companies and I found it interesting that all the women were ill there and not so much for the men. Do you notice that with your feedback from everyone?

Machu Picchu's elevation did not bother me at all, and we had the most incredible time there. The weather was very warm and sunny the first day and we had the very best tour guide. Rueben is great. We were quite surprised when the other six people we were traveling with, had one guide for all of them, and Rueben showed up to tell us he was our own personal guide. What an incredible place it is. We hiked to the Sun Gate the next morning at 6 am to catch the sunshine, but unfortunately it was not to be, as it was raining just slightly. The benefit to that, was we had the trail to ourselves for almost the entire morning.

Anyway, I'm sure you've heard all this before, so I won't bore you anymore. Just wanted to let you know that the trip was incredible and well worth the money. The food was more than great, and the tour guides and the Amazing Peru people were great. Also the drivers are wonderful. I have to say, I appreciated the great vehicles we got to tour in and I really felt at ease with the professionalism of the drivers. It is truly a top notch tour and we will recommend it to our friends.

Thanks again

Bonnie and Ken Cardinal


G'Day Shaun,
I just wished to express my sincere gratitude for arranging the most outstanding journey for me down in Peru. The 4d/3n on the Inca Trail, as well as Match Picchu were beyond what words could describe. Never mind my personal physical exertion, I loved every second of it and would not trade this experience for anything (mind you, I am taking an elevator everywhere for the time being as I cannot stand a vision of a staircase after having climbed sooooo many of them on the Camino Inca :-).
The Casa San Blass was absolutely adorable. I loved its Mediterranean feel, coziness and an outstanding service. Thank you for suggesting it.
Also, I was absolutely in awe with friendliness and kindness of Peruvian people. You chose, albeit temporarily, to live in a country of great people with even greater history. However, it was heart wrenching for me to observe the level of poverty so many of them live in and the hardship they have to endure just to feed their families.
This journey was not only educational, and in more ways than one, for me. It was also very humbling. Though I do not come from wealth and had to struggle and work hard all my life, I did manage, despite personal efforts, to start taking certain things in life for granted. This journey was a wake up call for me. Listening to my heart, I would say this was by far the most valued experience of all.
Shaun, thank you for your outstanding service in suggesting and arranging this journey for me.
With kindest regards,
Iskra Mrakovic


Dear Shaun O'Boyle,
You are indeed amazing and are the exemplar of excellent service in the travel industry. We were so fortunate to find you. You created a perfect two-week tour based on our detailed requirements. From the first to the last, you answered every one of our hundred questions, as if each were the first. You personally scouted specific hotel rooms to insure us the views we wanted. You personalized our tour as we requested to include the diversity of:
* tours and time alone
* both small group tours and exceptional private guides
* $600 and $6 per night rooms (with breathtaking views)
* meals included and not
* places you knew and places we wanted that you had not known
We were personally greeted (with smiles) for every transfer (trains, boats, vans, cars) from location to location and each was on time. The evening phone calls to confirm the next day's activities were so thoughtful. Every precious day in Peru was exceptionally special, full of incredible experiences. Our grateful thanks do not express how much we feel you did to fulfill our lifetime dream vacation. If someone would like to speak with us about you and Amazing Peru, please put them in contact with us.

Bill and Marie-Christine Joslyn
Boulder, Colorado, USA


Dear Claire
Just a note to thank you and all who were associated with our trip to Peru for a truly 'Amazing' holiday.
The highlight was the Inca Trail Trek which, whilst being far harder than we could ever have imagined, was an experience that we will never forget. Your guide, Socrates, the porters and the cook were truly brilliant and a credit to your company - they looked after us to a standard that we could never have expected in our wildest dreams. Other people on the trail were wanting to know who had organised our trip as we were obviously being looked after far better than they were - one person even took photographs (with your logo on display) to send to their agents as an example of how a trek should be organised.

Thank you also for arranging the VIP lounge access at Lima.
Best wishes

Chris & Mike Dear


Hi Andrew
Despite reservations I must say our holiday was absolutely amazing - First class hotels, trains, restaurants, food, guides & drivers complimented by incredible venues & excellent organisation in a wonderful landscape with a most hospitable people
Would we recommend - absolutely!

A Sincere Thank You
Kind Regards

Jim & Jan - UK


Hi Robert, just wanted to thank you and Amazing Peru for a most satisfying and successful trip where just about all objectives were met and all expectations exceeded. Many physical challenges but I was well prepared for them. All participants had an exceptional time, even if only two of us escaped falling victim to illness (the Inca two-step); yet everyone bounced back and continued on without complaint, a hearty bunch for sure.
Never thought about work, completely delinked from news / current events.
Feels like having been absent for at least a month. I will be working on my photo website once I get everyone's pictures and will send you the link.

Many thanks again for making possible the kind of trip that dream vacations are made of.
PS: Edison was the best.

JP Torres -USA


Hi Claire,
The trip was awesome!! Peru is a beautiful country and the people are so kind. The accomodations and service that we recieved on our trip far exceeded our expectations.
Thank so much for all of your help:

Stacy Buchholz - USA


Just wanted to drop you a line and say we had the most wonderful time in the Galapagos. It was everything we could have wanted!. Thanks so much for all your help in organising it.

Lucinda Dodunski - USA


Claire,

Thanks for all your help arranging our recent trip to Peru. We all had a wonderful time, and everyone was most helpful, efficient and friendly. I wrote much in my exit survey, but wanted to make sure you knew what a great experience we had with Amazing Peru. Feel free to give my contact information to anyone who might request a reference.

Thanks,

Susan Montgomery


Hi Claire,

Before too much more time goes by, we just wanted to again thank you and everyone from Amazing Peru for an absolutely fabulous vacation. We couldn't have been happier with your company's services. All of the guides and tours were great, but we especially enjoyed Victor, who gave us a very informative and lively tour of Lima. We also wanted to give special compliments and thanks to our guide on the Inca Trail (Socrates). We really appreciated his patience and the way he set a steady, attainable pace for us. Our porters were wonderful, and the cook, Wenceslaus was truly incredible. We never dreamed we'd eat such delicious, creatively prepared food on the trail. We don't know how he did it!

All of the transfers, pick-ups, etc. were flawless and the transportation you provided was safe, clean and comfortable.

Thanks again, and if you ever need any "testimonials", feel free to ask. We'll highly recommend Amazing Peru.

Best regards,

Linda, Didier, Michael and Julie
Vanderperre - USA


1
2
3
4
5
6
7
8
9
10
11
12
13
14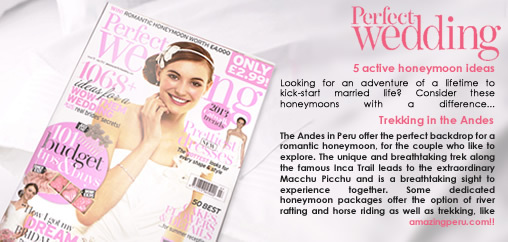 For current availability contact us at
info@amazingperu.com
and we will send you the relevant trip dossier along with a 90 day fixed quote, terms and conditions. Please bear in mind that significant price reductions are available for groups.
"Well-run multipurpose agency, with several offices in Peru with an extensive roster of trips, from family and honeymoon to luxury trips..."
Frommers Guides 2023
"Highly recommended, professional and well-organized, 'perfect tour', knowledgeable guides"
Footprint Handbook 2023
"Transportation services and accommodations are top-notch, and the guides are flexible and extremely helpful"
Fodor's Guides 2023
"
Amazing Peru
has more than 20 years of experience in the travel industry. Tours to Machu Picchu can be customized to include airfare, all meals, accommodations and travel insurance, and last from six to 14 days. Amazon cruises, horseback riding, river rafting, hiking and biking throughout Machu Picchu, Cuzco, Sacred Valley, Lake Titicaca..."
USA TODAY
"Move Over, Machu Picchu - How disabled travelers can tour Machu Picchu."
Christoper Reynolds
"Looking for an adventure of lifetime to kick-start married life? Consider these honeymoons with a difference… "
Perfect Wedding Magazine
"Experience"
Amazing Peru is the leading company in Latin America that combines exclusivity, luxury and authenticity for Peruvian holidays. It will tailor a 15- days tour for you that takes in Lake Titicaca, the Sacred Valley, Machu Picchu, Lima, Cuzco, Colca Canyon and the Amazon rainforest."
The Travel and Leisure Magazine UK
"A reputable firm with an impressive variety of unique excursions… "
At Home and Away with Alan Whicker CBE Magazine
Spend Christmas on a guided tour of breathtaking Machu Picchu and visit famous Lake Titicaca. Amazing Peru offers luxury Christmas vacations in Machu Picchu along the Inca Trail...
Trails Outdoor Travel Guide
"Amazing Peru takes families on both luxury and affordable tours throughout Peru. Children 12 and older are welcome to come along on the 12-day Peru Family Adventure Tour. Raft, backpack, kayak and bike through some of Peru's most unforgettable sights including Machu Picchu. The Family Tour to Peru is tailored for children younger than 12 years of age with an educational component. Relax on Peru's northern beaches, explore the high-altitude Lake Titicaca, trek through the Amazon, and visit Machu Picchu on this 16-day journey. Check out Amazing Peru's 12-day Family Tour."
Global Post USA
"
You can fly over Machu Picchu - or take a helicopter ride
Who needs hiking when you can fly? The company Amazing Peruoffers hour-long flight tours right over the Sacred Valley of the Incas. The plane fits a minimum of eight passengers, and it can also be chartered. Passengers fly over Tipon and Pikillaqta, both archaeological sites, Pisaq and the Urubamba Valley, Sacsayhuaman, and, of course, Machu Picchu itself. Flights can be longer or shorter as requested. "
"
You can Om your way through Machu Picchu
Machu Picchu is known as one of the most spiritual lands in the world, so why not go all out and Om your way through its ruins? Amazing Peru offers a seven-day yoga tour where visitors travel from Lima to Cuzco and finally to Machu Picchu, where they stay in the famed sanctuary Lodge hotel right outside of the ruins. They participate in multiple meditation and yoga sessions throughout the trip, but the highlight is a private session smack-dab in the middle of the ruins. Now that is an Om experience worth waiting for."
Yahoo Lifestyle
A Private, customized tour to Venezuela, Guyana, Suriname, French Guiana and Trinidad & Tobago. "Any traveler with a well-developed sense of adventure will be rewarded with an incredible experience on this journey to a birding paradise designed and operated by Amazing Peru."
"Savoring a taste of Uruguay's acclaimed wine region - An outstanding experience"