Testimonials
If you would like to hear first-hand experience about our services from past customers, please let us know and we shall provide contact details for you to contact them directly.
Dear Stephen

My husband and I would like to thank you very much for coordinating such a wonderful trip to Peru for us. We had a fantastic time and visited many amazing Inka Temples, the most mysterious Nasca lines, Cusco and the Sacred Valley. A vacation trip we will remember for the rest of our lives.
The hotels that you booked for us were very nice and the breakfast included was delicious, the hotel staff always very helpful and courteous. Katherine had to change our tour a little and she arranged for us to stay at the Hotel la Hacienda Bahia in Paracas. That was the most amazing place. Bernie and I would have loved to spend more time there. The Hotel Cantayo in Nasca was also very beautiful. Such lovely gardens! The drivers were punctual. The tour guides were very informative and we enjoyed all of the sights, museums, temples and boat tours.

We will definitely recommend you to all of our friends, we could not have had a better time.

Sincerely,

Jutta S.
Texas, USA.
September 6th, 2010.
Classic Peru Tour Escape
Lima-Cusco-Sacred Valley-Ollantaytambo-Machu Picchu-Cusco-Lima-Paracas-Nazca-Lima.


Dear Stephen,

Jeff and I returned from our trip to Peru over the weekend. Absolutely NOTHING could stop our constant chatter about just how aptly named your business is...AMAZING! Peru was, for us, at once a fantastical and unexpectedly life changing experience. Naturally, it was a delight to meet up with my friend whom I had not seen or spoken with in 35 years - and it went so smoothly, I felt as if we'd just had tea yesterday afternoon.
As for the rest of the trip - I cannot say enough good things:


1. First, and foremost - Catherine was so on top of her game that it was unimaginable to us. Not only did she cross every T and dot every I with regard to itinerary changes that were out of anyone's control (such as flight changes etc) but she also managed some special needs of our own. On day two of Machu Pichu we decided that we wanted to return to Cusco much sooner than originally anticipated - this, only because (another outstanding person, in the form of Jaime, our tour guide) was so damned thorough that we didn't need any more time. Catherine had the matter under control within less than half an hour - we were met along the way with new train tickets and all the appropriate paperwork necessary to get us from point A to point B...and it went without a hitch!

2. The Hotels: my god what can I say? Jeff and I have had the great fortune to stay at some of the finest hotels in the United States and Europe, as I was National Marketing Director for the St Regis Residences for many years. But our hotels in Peru - who'da thunk it? El Monasterio was my personal favorite (another driving force for wanting to get back to Cusco) - they were so welcoming and even helped out with a paperwork snafu which was well above and beyond their expected role. The Miraflores Park Hotel was surely Jeff's favorite - how grand! And the Sanctuary Lodge with its eco-friendly and sustainable philosophy had unparalleled service and food!

3. I would also like to point out specifically, Jaime, our guide at Machu Pichu whom I briefly mentioned. His knowledge of the site was so deep, so intense and so instinctual - that he allowed us to truly experience the energy and ancestry of the place. He even stayed with us beyond the appointed scheduled time. I would make it a priority to request Jaime especially for all your VIP guests.

Stephen - along the way we heard so much chatter from disgruntled travelers...many of whom had spent a veritable fortune on their 'trip of a lifetime' only to find themselves abandoned, unexpected, and their plans so unwieldy that they missed some of the marvels they had actually come to see. How sad! We mentioned your company with every opportunity that we had, evidently Amazing Peru is the exception to the rule, so we feel very fortunate that our very good friend, one of Jeff's colleagues at the hospital, had given us your contact info.

I think you guys do a BA tour too - and Argentina is next on our list. Our twin daughters went to Guatemala this summer as volunteers with Cross Cultural Solutions - and have now become Latin American lovers like their Mom has always been and like their Dad is now converted to being. They plan to continue their work with Indigenous peoples of Latin America and wish to return again to a new country next summer. Jeff has already signed up for a Medicines Sans Frontiers programme with whom he will do service in El Salvador and Nicaragua this spring - after having lived many years in Zambia after med school in Scotland, doing service to the Queen he knows how important service and cultural exchange are. I was an exchange student in Bolivia in 1978 and fell in love with Latin America - I get a little misty knowing now that my entire family joins me in that new found kinship with everything Latin - and I owe so much of that to the experience we had with Amazing Peru!

Thank you for giving us the opportunity to open our eyes, our hearts and now our lives to a whole new lifestyle and experience. You can count on us as repeat customers (I'm starting a slush fund now) and we will always hold your company in high regard to our travelling doctor friends.
Again, thank you for providing us with memories that will continue to thrill us for decades to come - and not a bad day in the lot!
With great admiration and respect,

Andy A.
California, USA
August 23, 2010.
Tour: Peru Luxury Tour
Lima-Cusco-Sacred Valley-Machu Picchu-Cusco-Lima


Everything went well, it was a wonderful trip - now I need a rest!

Cusco was lovely and our guide there was excellent. It was a nice surprise and added touch that our guide escorted us to Machu Piccu as well. We all loved that.

The Explorer's Inn was more rustic than we anticipated (and more so than any on-line blogs indicated either). In the end we had a good time.
We had an excellent guide in the jungle, very worthwhile. We enjoyed our excursions, saw interesting things (lots of birds and monkeys) and had a fun time. We were also lucky to experience a cold front which made for less mosquitoes and comfortable temperatures.

Trip was a success, and we all had a great time without any travel glitches. Thank you for all your arrangements

Andrea H. and Family
Florida, USA
August 13th, 2010.
Peru Tour: Family Peru Group Tour
Lima-Cusco-Sacred Valley-Machu Picchu-Amazon Jungle-Lima


Hi Stephen,

This is a late reply because our internet service 'died' just as we returned home.

Yes, it was a shame we didn't get to meet you. The trip was really great. A bit more strenuous than Barb expected (due to the high altitudes, especially on Lake Titicaca), but Katherine was on top of it almost always. But over all just great.

We also want to recommend our guide for Cusco, Sacred Valley and Machu Picchu. He was very informative and very diligent in ensuring everyone had the correct tickets and how to make our way around Machu Picchu. If it hadn't been for his help in taking Barb by the hand for the more steep stairways, Barb probably would have missed out on a lot of the site.

Best regards,

Nick and Barbara
Colorado, USA
August 12th, 2010.
Premium Peru Tour:
Lima-Cusco-Sacred Valley-Machu Picchu-Puno-Titicaca Lake.


Hi Stephen:

Thanks again for all your help!
Katherine was fantastic and modifying the trip 'on-the-go' as we needed to. We thank her for that.

There were 3 small points, and I mean small to have made the trip more perfect as it relates to you bearing in mind that we acclimated quickly, and we tend to be movers and shakers.

1.The hike was terrific for me. The valley view's spectacular.

2. Ollantaytambo, Moray, Maras and Chincheros! ... not to be missed.

3. Theo and Pepe as shaman / anthropologist guides!!! They bring a fantastic next level of understanding to the region not provided by the 'country' guides.

A. Casona de San Jeronimo was terrific; except for one point. They offer first rate accommodations, delicious food, a beautiful atmosphere, dry and wet sauna, massage, etc but with the urban sprawl down valley to Tipon and the 5 AM farmers honking their horns. AM noise was a bit irritating particularly if you are a late sleeper. We were not, got up early (but still not till 6:30 - 7 AM). This is to change with the new road.... Hopefully, next year or next inka king, whichever comes first.

Other points for the active traveler:
Don't worry about waking for sunrise at MP. Staying at Sanctuary is a luxury but not necessity! Lunch there was great!

Don't miss Huayna Picchu! If you book where we did, let them buy the bus ticket and they will make a reserved seat for you on the 5:35A bus (still have breakfast) so you don't have to wake up at 3:30A to stand in line in town for first bus.

Alpaca was good. They should try burgers!

Ceviche was the best! Cuy can wait.... Frog legs - another day; pork was overdone....

Katherine was the savings grace! Your 'mobile' associate made it all happen and most importantly was available. Please make a big point of it to your clients!!!! Big PLUS.


Thanks again!
Best,

Dean K. & Family
Baltimore, USA
Luxury Specialists Tour: Spiritual/Shamanic & Archaeology
August 6th, 2010.

Highlights: Cuzco-Sacred Valley-Machu Picchu- Cusco Lake Trek-Ollantaytambo-Tipon-Cusco


(Part I)
Hello Mr. President and CEO,
My name is Desiree Manuel and I am on the last leg of my Amazing Peru travel.
I booked a 10 day tour and it was my first trip to South America. I am a female traveling alone. I want you to know that you have a superior staff that is professional, courteous, knowledgable, and kind. The support tour operators are equally as professional.
I wanted to take a few minutes to give a glimpse of the exceptional service I received while traveling throughout Juliaca, Puno, Cusco, Machu Pichu, the Sacred Valley, and Lima. I want to start by applauding Renzo in the sales office. Several months ago I began calling random tour operators to inquire about a trip to Peru. I called about 10 agencies and received sorted information, some callbacks, and general information.
Renzo was one of the operators I contacted and I found him to be the most professional. He carefully listened and took down all the information and said he would put something together for me and call me back in a few days.
I agreed. He not only called me back in a timely manner, he also sent me a detailed tentative itinerary and left his contact information so we could discuss the tour. Now let me add that I was not the easiest sale. I actually took about a month to decide, I was not going to be traveling from the US, and I was going to be traveling with another person. Although I made several changes, he remained courteous and kind. He always got back with me and continued to add and subtract from the trip so it matched my every desire. In the end, because if his knowledge and patience I purchased a larger package than I had originally anticipated.
Througthout the time he always returned my calls and answered my emails in a timely manner. This gentleman has the patience of Jobe. Next was my arrival...
When I arrived in Juliaca, a gentleman by the name of Romulo greeted me at the gate. He was very professional, reviewed the IT, and began to share a lot of knowledge about the areas we would tour that day. I was impressed by his enthusiasm and interest in answering all my questions. He took time to explain details, and was happy to answer all 100 of my questions. When he dropped me off at the hotel, he reviewed my IT for the coming days, reviewed the map of Puno, and assisted me with restaurant and museum recommendations. The following day I toured Puno and had a wonderful experience on the tour there as well. My next stop was Cusco.As usual, he arrived on time the next morning and made sure I caught the correct bus and did not have any questions. I could go on and on as the story was the same for the next few days with my tour to the Sacred Valley. Upon leaving Cusco..Fredrico assisted me with my bags and helped put me at ease by going ahead to take care of my departure taxes.

Best regards,

Desiree Manuel
USA
August 04th, 2008.
Peru Tour


(Part II)
He waited on the side until I could no longer see him at the gate....now that is service. Lastly, I met a wonderful young lady today by the name of Paola. She was very professional and followed in the footsteps of all the wonderful folks I have met from Amazing Peru on this journey. She picked me up this am and arranged for my bags to be stored at Casa Adina. She not only was wonderful and friendly but she offered to help arrange tours or whatever I needed. I was hungry and I shared that I would really like to try Peruvian food but did not understand the menu. She assisted me for some time with explaining all the dishes at the restaurant accross from the hotel. She drew me a map so I would not get lost after walking around and she reviewed everything I would need to know about departure. How do you do it? I can not believe that you managed to hire such wonderful and professional folks at every step of the journey. I was so excited about this trip that I plan to write a travel article for single women that would like to travel to Peru. Amazing Peru is the only way to go. Please let me know if you received this information. I think it is important for the owner of the company to hear back from guest and know that their experience here in Peru was truly.....amazing!

Best regards,

Desiree Manuel
USA
August 04th, 2008.
Peru Tour


Dear Jole and Ali Jei

We have just returned from our Peru tour. We had a wonderful time everywhere and weather was great. All your arrangements were good, and the guides were punctual and generally knowledgable. We were also very pleased with David's coordination. We also enjoyed the vegetarian food and appreciated the care your guides took in coordinating it.
We are glad we visited Peru, particularly with Amazing Peru. We will recommend AP to our friends.
We are generally in good physical shape and enjoyed walking and hiking through the various facilities. However, I would think that those who are not in good physical condition or have knee problems may have trouble coming down the 500+ steps at Taquel Island in Lake T. You may want to caution your visitors, particularly older ones.

Thank you for your help.

Best regards,

Arun, Jaya, Kishen, and Manju
USA
July 30th, 2008.
Peru Tour


Dear Charlotte,

Thanks so very much to everyone at Amazing Peru for a fantstic vacation and a wonderful experience in Peru! You were recommended to us by friends and we will certainly pass the word along.
I wish we had known more about the appropriate tipping etiquette but there are no other suggestions we would make. The trip was everything we hoped it would be.
Again, thank you!

Best regards,

Michelle Fasel
USA
July 30th, 2008.
Peru Tour


Hi Ali Jei, Well,
We just got back from Peru and Bolivia, and we had an absolutely WONDERFUL time.
Amazing Peru was great.
I enclose 3 photos: My wife , Dena, and myself at Machu Picchu, our guide, Natalie, at Machu Piccu, and our guide in Cuzco and the Sacred Valley, Cesar. They were wonderful. Natalie was full of energy going up and down Machu Picchu, and always smiling, full of information.
We spent 2 full days with Cesar. He was FANTASTIC!! Lots of information, always smiling and explaining different aspects of Inca and Spanish cultures. He was great!! Lots of fun to be with. Both were excellent guides.
All of our hotels and connections were perfect. Your representative in Cuzco, David was terrific.
Everything was on time, and we had no real problems.
My daughter, Abigail, is doing research in Puno for her Doctoral Degree. I told her student colleagues about Amazing Peru for their friends and families who may visit.
Thanks again,

Best regards,

Dena and Stuart Levine
USA
July 22th, 2008.
Peru Tour

1
2
3
4
5
6
7
8
9
10
11
12
13
14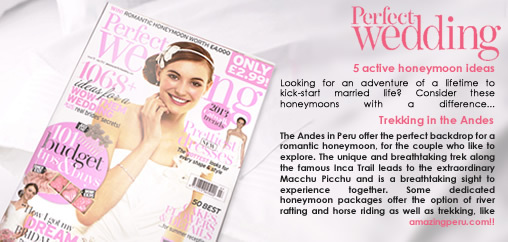 For current availability contact us at
info@amazingperu.com
and we will send you the relevant trip dossier along with a 90 day fixed quote, terms and conditions. Please bear in mind that significant price reductions are available for groups.
"Well-run multipurpose agency, with several offices in Peru with an extensive roster of trips, from family and honeymoon to luxury trips..."
Frommers Guides 2023
"Highly recommended, professional and well-organized, 'perfect tour', knowledgeable guides"
Footprint Handbook 2023
"Transportation services and accommodations are top-notch, and the guides are flexible and extremely helpful"
Fodor's Guides 2023
"
Amazing Peru
has more than 20 years of experience in the travel industry. Tours to Machu Picchu can be customized to include airfare, all meals, accommodations and travel insurance, and last from six to 14 days. Amazon cruises, horseback riding, river rafting, hiking and biking throughout Machu Picchu, Cuzco, Sacred Valley, Lake Titicaca..."
USA TODAY
"Move Over, Machu Picchu - How disabled travelers can tour Machu Picchu."
Christoper Reynolds
"Looking for an adventure of lifetime to kick-start married life? Consider these honeymoons with a difference… "
Perfect Wedding Magazine
"Experience"
Amazing Peru is the leading company in Latin America that combines exclusivity, luxury and authenticity for Peruvian holidays. It will tailor a 15- days tour for you that takes in Lake Titicaca, the Sacred Valley, Machu Picchu, Lima, Cuzco, Colca Canyon and the Amazon rainforest."
The Travel and Leisure Magazine UK
"A reputable firm with an impressive variety of unique excursions… "
At Home and Away with Alan Whicker CBE Magazine
Spend Christmas on a guided tour of breathtaking Machu Picchu and visit famous Lake Titicaca. Amazing Peru offers luxury Christmas vacations in Machu Picchu along the Inca Trail...
Trails Outdoor Travel Guide
"Amazing Peru takes families on both luxury and affordable tours throughout Peru. Children 12 and older are welcome to come along on the 12-day Peru Family Adventure Tour. Raft, backpack, kayak and bike through some of Peru's most unforgettable sights including Machu Picchu. The Family Tour to Peru is tailored for children younger than 12 years of age with an educational component. Relax on Peru's northern beaches, explore the high-altitude Lake Titicaca, trek through the Amazon, and visit Machu Picchu on this 16-day journey. Check out Amazing Peru's 12-day Family Tour."
Global Post USA
"
You can fly over Machu Picchu - or take a helicopter ride
Who needs hiking when you can fly? The company Amazing Peruoffers hour-long flight tours right over the Sacred Valley of the Incas. The plane fits a minimum of eight passengers, and it can also be chartered. Passengers fly over Tipon and Pikillaqta, both archaeological sites, Pisaq and the Urubamba Valley, Sacsayhuaman, and, of course, Machu Picchu itself. Flights can be longer or shorter as requested. "
"
You can Om your way through Machu Picchu
Machu Picchu is known as one of the most spiritual lands in the world, so why not go all out and Om your way through its ruins? Amazing Peru offers a seven-day yoga tour where visitors travel from Lima to Cuzco and finally to Machu Picchu, where they stay in the famed sanctuary Lodge hotel right outside of the ruins. They participate in multiple meditation and yoga sessions throughout the trip, but the highlight is a private session smack-dab in the middle of the ruins. Now that is an Om experience worth waiting for."
Yahoo Lifestyle
A Private, customized tour to Venezuela, Guyana, Suriname, French Guiana and Trinidad & Tobago. "Any traveler with a well-developed sense of adventure will be rewarded with an incredible experience on this journey to a birding paradise designed and operated by Amazing Peru."
"Savoring a taste of Uruguay's acclaimed wine region - An outstanding experience"