Testimonials
If you would like to hear first-hand experience about our services from past customers, please let us know and we shall provide contact details for you to contact them directly.
Hello,

Our trip to Peru is something to write home about. We were wise to add a few days before and after the tour. The trip was a success because of our various guides and our self guided adventures. The tour of Lima took us to places we had visited on our own. Nevertheless, we received necessary details. Our guia was female and I'm sorry to have forgotten her name.

Raul Castelo was outstanding. He has so much invested in the history of his people that he speaks with an earnestness that goes beyond delivering the facts. He also has a sense of humor.

A highlight of his tour was a visit to a weaving collective where the director of the collective offered a demonstration of the weaving process, from spinning, to dyeing, It turns out that Raul had helped the head of the collective get his business started. Raul had explained that helping each other is an aspect of his culture, a point that was made in a collection course I took at the Museum of Fine Arts called Art of the Americas.

Thanks for assigning us our own guide in Macchu Piccu. Natividad was extremely patient. I had shortness or breath despite the pills. I hope she wasn't bored traipsing around with us.

Three restaurants we loved: IndiaFeliz in Cusco and Mezzaluna and Cafe de la Paz in Lima. Except for no dairy, no ice, no ceviche, and no street food, we pretty much ate everything. There is also a really great grape colored juice called chicha.

I know it's your job to coordinate date, place and time, but I am amazed that every aspect of the trip fell in place perfectly.

Thank you for a terrific experience.

Judy and Jim

Massachusetts, USA.

20th November 2012


Dear Amazing Peru,
I just wanted to let you know that my sister Clare and I truly found Peru as amazing as you promised. The variety in terms of Inca remains, Baroque churches, and stunning scenery in the mountains and Machu Picchu and Lake Titicaca's islands was exciting. Our guides and drivers were exceptionally courteous and helpful. All of the hotels more than lived up to our expectations, and food everywhere was delicious and beautifully served. Thanks for all of your work in setting up our itinerary and connections.

Stephen

USA
6 April 2012

Inca Trail To Machu Picchu
Dear Amazing Peru,
I just wanted to let you know that my sister Clare and I truly found Peru as amazing as you promised. Our guides and drivers were exceptionally courteous and helpful. All of the hotels more than lived up to our expectations. Thanks for all of your work in setting up our itinerary and connections.

Stephen

USA
6 April 2012

Amazing Peru Tours
Stephen,
Thank you very much for following up. The trip was amazing, we wished to have more time as we got a little taste of everything.
All trips were great. We were very pleased with everything and are very much appreciate all your assistance to make this vacation an unforgettable experience.
Best regards,

Aneta S.
New York, USA
28th June 2011
Classic Peru & Galapagos Islands Tour
We are back from a wonderful trip in Peru. I wanted to thank you for coordinating such a pleasant vacation for me and my family. We really enjoyed ourselves and the hospitality of the Peruvian people. The accomodations were great, the transportation was very reliable and the tours were excellent.
We really had a great time. We hope to make our way back to Peru once again.
Aaron and family
California, USA
31st May 2011
Machu Picchu Tour
Affordable Machu Picchu
Dear Stephen,
I sent my clients an email and they replied that the trip was amazing.
We look forward to sending you more travellers with your amazing company. We are more than happy working with you and your excellent support. Kind regards.
Isabelle F.
Québec, Canada
28th Jan 2011
Private custom-made Peru Tour
4x4 adventure tour in Cusco-Sacred Valley
And private boat charter Titicaca Tour Adventure
Dear Amazing Peru,
We wanted to thank you for a great & well timed trip. We loved the private guides we had in Cusco, Machu Picchu, & in Lima. They were excellent & really enhanced the experience. When we had group excursion, the tour guides made sure that we understood what was going to happen & where our transportation was going to be. We were always picked up when we were told we would be & on time. I was so happy to to hear from Kathleen. It was very reassuring that we had an exclusive Customer Support Service in Peru if there were problems. We didn't have have problems.
We liked all the hotels & a few were extra special. Sumaq in Machu Picchu was probably the all round favorite because of the food & service went above & beyond expectations. Dinner was outstanding.
Thunderbird in Lima - had the best bed & breakfast
Picoaga in Cusco - had a beautiful building & great location
Jose Antonio in Puno - was very accommodating when we needed a late check out & great view
Casa Andina in Arequipa - beautiful room, building, great location
Refugio in Cola Canyon - location was stunning & great staff
All the hotel staffs were very helpful. We always felt comfortable & made welcome.
We would definitely recommend this tour & your company to other people. We were very satisfied with the service & the product. Peru is a really fascinating country with lots to see. The Peruvian government really should be commended for taking control of their historic sites.
Barbara G.
November 30th , 2010.
Peru Escorted Escapes 3
Dear Amazing Peru

The trip was fantastic. So was the boat and the guide. I have already recommended it to many people!

Thanks again. Take care.

John
Toronto, Canada
November 6th , 2010.
Galapagos Cruise Adventure
Quito & Galapagos Cruise

Dear Amazing Peru,

We enjoyed our trip thoroughly! We had an experience that will be difficult to top. Our compliments to the driver/guide. He was very friendly and remained professional under difficult circumstances, with the flights being delayed etc. His presence ensured a real good time.

Regards

Koos B.
South Africa
18TH October 2010.
Lima & Nazca Lines Tour Package

I just wanted to share with you the experience we had on a recent trip to Peru with Amazing Peru Tours. We felt that this trip was so good that it should be shared with others who share the sense for adventure but want to do in style. The twelve day tour consisted of a two day stay in Lima, four days in Cuzco, four days hiking the Inca trail and the last two days in Cuzco and Lima respectively.
The accommodations were excellent, all 5 star hotels, (we received upgrades in two of the hotels) with the Inkaterra hotel rating among the best hotels we have stayed in worldwide. The daily tours, with a driver and a guide, were both interesting and informative and carried out a leisurely pace which made it even better, giving us time to absorb everything from the history to the locations themselves. There was also sufficient time during the day for exploration on our own, to pursue our individual interests. All recommended restaurants were excellent and very reasonably priced.
The Inca trail itself, although not for the faint of heart, was an experience that will never be forgotten. The chef was incredible, how he made so many wonderful dishes with the limited amenities was truly amazing, He even baked me a birthday cake complete with icing using only the propane stove (eat your heart out French Laundry!)and the masseuse a much appreciated addition. The first class treatment we received from the porters, guides was exceptional. All the staff were very friendly and helpful and the guides very knowledgeable. And of course the sight of seeing Machu Pichu at sunrise from the Sun Gate is beyond words.
I think the one situation that summed up the level of service was on the last day when we were supposed to fly from Cuzco to Lima late in the day giving us more time in wonderful Cuzco; the airline changed our flights having us arrive in Lima early morning. Our tour service consultant, who had been in touch with us during the entire tour making sure everything was what we expected, called us immediately and informed us that they had arranged a private tour of a nearby historical site, complete with driver and guide, to compensate us for any inconvenience. This was above and beyond normal service and epitomizes the attitude of the entire organization.
I hope this information will be of some use to your readers. It is an experience not to be missed.
Regards,

Dave and Laura K.
Los Gatos, California
September 20th, 2010.
Premium Inca Trail Trek to Machu Picchu
Lima-Cusco-Inca Trail to Machu Picchu-Lima

1
2
3
4
5
6
7
8
9
10
11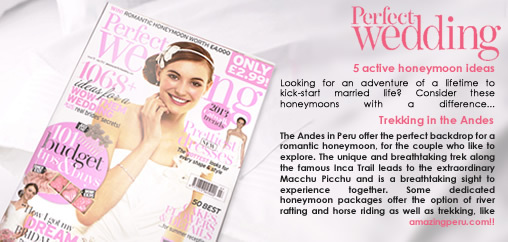 For current availability contact us at
info@amazingperu.com
and we will send you the relevant trip dossier along with a 90 day fixed quote, terms and conditions. Please bear in mind that significant price reductions are available for groups.
HIGHLY RECOMMENDED BY:
"Well-run multipurpose agency, with several offices in Peru with an extensive roster of trips, from family and honeymoon to luxury trips..."
Frommers Guides 2017
"Highly recommended, professional and well-organized, 'perfect tour', knowledgeable guides"
Footprint Handbook 2017
"Transportation services and accommodations are top-notch, and the guides are flexible and extremely helpful"
Fodor's Guides 2017
"
Amazing Peru
has more than 20 years of experience in the travel industry. Tours to Machu Picchu can be customized to include airfare, all meals, accommodations and travel insurance, and last from six to 14 days. Amazon cruises, horseback riding, river rafting, hiking and biking throughout Machu Picchu, Cuzco, Sacred Valley, Lake Titicaca..."
USA TODAY
"Move Over, Machu Picchu - How disabled travelers can tour Machu Picchu."
Los Angeles Times
"Looking for an adventure of lifetime to kick-start married life? Consider these honeymoons with a difference… "
Perfect Wedding Magazine
"Experience"
Amazing Peru is the leading company in Latin America that combines exclusivity, luxury and authenticity for Peruvian holidays. It will tailor a 15- days tour for you that takes in Lake Titicaca, the Sacred Valley, Machu Picchu, Lima, Cuzco, Colca Canyon and the Amazon rainforest."
The Travel and Leisure Magazine UK
"A reputable firm with an impressive variety of unique excursions… "
At Home and Away with Alan Whicker CBE Magazine
Spend Christmas on a guided tour of breathtaking Machu Picchu and visit famous Lake Titicaca. Amazing Peru offers luxury Christmas vacations in Machu Picchu along the Inca Trail...
Trails Outdoor Travel Guide
"Amazing Peru takes families on both luxury and affordable tours throughout Peru. Children 12 and older are welcome to come along on the 12-day Peru Family Adventure Tour. Raft, backpack, kayak and bike through some of Peru's most unforgettable sights including Machu Picchu. The Family Tour to Peru is tailored for children younger than 12 years of age with an educational component. Relax on Peru's northern beaches, explore the high-altitude Lake Titicaca, trek through the Amazon, and visit Machu Picchu on this 16-day journey. Check out Amazing Peru's 12-day Family Tour."
Global Post USA