Testimonials
If you would like to hear first-hand experience about our services from past customers, please let us know and we shall provide contact details for you to contact them directly.
Dear Jim,

Thank you for your interest :)

We had a marvelous trip. Everything went according to plan, and the various guides and transports were there according to the plan - always. A few comments on the various events, which may be useful for you in planning further trips:

The sightseeing and the hike were both very pleasant, with excellent guides, although the sightseeing was somewhat reduced since half of Rio was closed for traffic due to the carnival.

Two nights in a row at the Sambadrome was too much, at least for people at our age... After the first night we were very pleased, but exhausted. So we disposed of the tickets to the second night through the hotel reception.

The visit to Iguacu was very successful. The guide was pleasant and knowledgeable, and the falls and their surroundings were marvelous! Nice hotel and room.

We loved Ilha Grande and Sugu Mini Resort. Very comfortable, with a professional and friendly staff. A good little restaurant, with a somewhat limited menu.

We are very satisfied with the trip, all the planned assistance and of course with the very professional and close follow up from yourself. Thank you again!

All the best from
Berit and Eivind
Norway

Trip: 2014 Brazil Carnival Tour
18th of March, 2014.
We had a great time!

We did manage to get on The Lima Country Club course after the tournament players were done around 1pm. and did not use the second round you purchased at La Planicie. Both these courses were pretty nice. Golf in Arequipa was interesting as we had to chase the sheep off of the green before hitting! The caddies were great at all the courses even with a language barrier.

Our guide in Cusco, was excellent and very knowledgeable. She is definitely one you should use again. The Sacred Valley was beautiful and Machu Pichu was breath taking as I am sure you know.
The train ride to Puno was really fun and pretty, I would recommend it.
We had a very nice outdoor meal on Taquile island for only 20 soles, that the tour guide arranged.
All the transportation arrived on schedule and the hotels did a nice job of relaying info to us in all the towns.

The hotel in Arequipa was very nice with good food but was the only one that did not give complimentary water in the room. The manager heard about it from us! They have a harpist at breakfast that was really good.

The bus to the Colca Canyon was nice. The guide taught us all how to chew coca leaves!
He was quite an advocate of the habit. Numbing but fun.

The Colca Lodge was one of the best places we have ever been! We were definitely glad we stayed 2 nights and could have stayed many more. Very relaxing and quiet, the mineral baths warm and inviting with bar service.

All in all we had a great time and I would say you did an excellent job of arranging things, Thanks again.

Rich and Seija
USA
Trip:Peru Golf & Machu Picchu Tour
16th of March, 2014
Stephen,

Thank you for your follow-up, that alone endears me to your organization. As to the journey, disregarding the recurring flight delays, the Galapagos adventure was the most fascinating travel event we have experienced to date. The daily activities exceeded my expectations for a unique and somewhat demanding "educational" vacation. The daily ritual of climbing, walking, snorkeling, viewing, avoiding (various land and sea creatures), engaging(fellow travelers and various land and sea creatures), partaking of "wet" and "dry" landings, with the occasional brief respite became the most well-structured and professionally delivered journey creating great memories, unique photo opportunities and absolutely no redundancies of experience over the two itineraries. This was a demanding two weeks for my wife with her 10 month old new full knee replacement, but the crew was extremely helpful throughout the trip. She did wear down about mid-week of the second week, but we managed her activities within her abilities. We had many "firsts"-first time tossed out of bed during a rough seas moment, first 6:30 morning hike before breakfast, first Equator crossing, first hammerhead shark sighting, first really cold swim in the Cromwell current and the best of all for me,. First time I was never bored during a vacation . Thank you for a excellant time and all you assistance. I will explore your offerings for other future vacations.

Beth and Phil
7TH of March 2014
USA

Hi Jim

Thanks for your note… the ten days were amazing…
Yes, the last day delay was a drag, but it all worked out…

Thank you for doing such a stellar job arranging this very memorable trip.
I am now writing my blog on the trip.

Also, I will write more later and of course give Amazing Peru stellar reviews when I get settled in.

Best
Diana R
California, USA.
27th August 2013
Peru Luxury Yoga & Spiritul Tour

Hi Jim

Things are finally back to normal so I can now tell you about our trip. All in all it was fantastic! Our time in BA was great. Everything went according to the itinerary and we got our vouchers on arrival. Please recommend the Esquina Carlos Guardel dinner and tango show if you have clients who wish to see a show. The venue was beautiful and the dinner and show were as well. But the highlight was the horseback riding. Caballos Al a par was a great experience. We highly recommend them! Our hosts Miriam and Adrian were terrific and we really enjoyed the day. Even Sonja, a beginner rider enjoyed it and we both learned so much.

Iguazu was beautiful on both the Argentine and Brazilian sides. We really liked the Aventura ride. The Panoramic Hotel was a great choice also.

When we travelled to Santiago, we were not aware that there was a reciprocity fee for Canadians and Americans that was payable at the Santiago airport. Please pass this on to clients you may have from those countries who are going to Chile. The Orly hotel was in a great location and very accommodating. Each time we left to go elsewhere, they gladly kept our ever growing pile of souvenirs until we returned. The half day tour of Santiago turned into a full day...OK.
On the day we were to do a vineyard tour and visit Valparaiso, we also did the tour of Vina Del Mar, rather than do it the next day, so we didn't see perhaps as much as we might have if it were done on a separate day. The day was a little exhausting. We loved the Sutherland House Hotel. So on the Vina Del Mar day we had a free morning and arranged with our driver to pick us up in the early afternoon to return to Santiago. The driver Carlos Fuentes F. was fantastic. He was with us all through our stay in and around Santiago. We always knew we could count on him to be there through delays or whatever might happen. Please send our regards for him to the tour company that hires him.

The trip to Easter Island was uneventful, but it was nice to go to a warmer climate. Our tours were great, the local ballet show Kari Kari and the horseback riding. Everything was EXCELLENT. I have a feeling that if we hadn't been closely watching our itinerary, we would have missed them. As it turned out, Sonja wasn't feeling well so we didn't go riding. We just took it easy and wandered around town. The Altiplanico was a great hotel.

Then it was on to Calama and the Atacama desert. The Awasi was expensive but worth every cent. Our guide was amazing and set up an itinerary that allowed us to see everything we wanted to see. We can't recommend this place highly enough.

The only part of the trip that we found particularly tiring were the frequent flights. I know that these were necessary to fit in all the activities and places we wanted to do and see, but as we get older, I think our expectations have to be less ambitious. Getting old sucks!

Thank you once again for planning a fantastic trip for us. South America is truly an amazing place and we still have so much more to experience.

I don't know where next years adventure will take us but we will keep you in mind. We look forward to working with you again

Regards

Doug and Sonja
CANADA
8th August 2013
Argentina & Chile Tailor-made Tour

Dear Amazing Peru Tours,

Thank you for organizing our honeymoon in Peru. It was perfect! We had a great time. The mix of 5* and 3* hotels was a great idea, especially since we got 6* star service at the lovely Garden House hotel in Cusco. All the guides were professional, friendly and spoke English very well. We will surely recommend Amazing Peru to our friends, and come back to South America for another holiday in the future:-) Thank you again for making our trip so special.

Best regards,

Anna and Michal
Poland
Peru Honeymoon Tour Package

Dear Stephen,

Amazing Peru was really AMAZING. I want to thank you for organizing all of the logistics for the trip. Our trip went so smoothly it was just unbelievable. We always got notifications on all of our trips and excursions. People always meet us at the scheduled time. Service at the hotels was impeccable. On the Saturday, June 15th, when we did "planes, trains & automobiles" plus a hike to Wayna Picchu went perfectly, right on the minute. Porters were amazing so did the guides. I was hoping more on the history and more time at Machu Picchu but overall was good. Restaurants in Lima were great!! Our guide Guido was just awesome. He went all the ways to help everybody like carry their backpacks, charge their cell phones, etc., just helping everybody above and beyond. The country is the most beautiful place I have ever been. Hike was hard but we were upset when it was all over.

Thanks again

Susan B.
Missourie, USA
18th June 2013


Thanks for a perfect tour. All the transfers, the guides, the hotels, everything was perfect. This was the best run tour I have had, including tours with a set tour group or with tours set up for my family in the past. The guides had plenty of things for us to do and kept us on schedule. The activities planned were great and gave us an unbelievable experience.

Family Nybo

Utah USA

03rd April 2013


We have been meaning to write to you about our wonderful trip arranged by you to Peru in December 2012. Thank you for doing such a great job. We were so happy with all the hotels. When we arrived at each place there were always friendly people to meet us. The guides were wonderful- so knowledgable and fun.

At the Tradicion Colca hotel in Yanque, we felt so bad as the owners went out of their way to entertain us, but we had such bad altitude sickness there that we could not take part in all they had arranged. The guide, Richard wanted to take us on such a great hike, but we were so out of breath that we only made it for about an hour !! He understood and helped us enjoy what we could do!! We realized that by arranging our own flights, we did not leave enough time in between places to allow for altitude accomodation. You could not have prevented this.

Our hotel in Cusco- Los Andes de America began to feel like home as we returned there a few times. In the cities, the hotels were always quite close to the main square- so good for exploring even if we had just an afternoon or evening.

Of course, Machu Picchu was just breathtaking- more than we ever dreamed. We were glad to have two days there.

You were able to fit in everything we asked for . Thankyou so much. We will remember Amazing Peru for our next venture into South America.

J.K. Flexman

Ontario Canada

14 March 2013


Dear Katherine,

It is my pleasure to contact with you! I hope you are well and work is great!

Our guests had a nice holiday (as I have heard from their secretary) and they stay satisfied about our co-operation and work!
So I need to say you - thank you very much for taking care about them!
I hope we will have some more co-operation in future as well!

I wish you a nice day!

Olga
Luxury Private Cultural & Golfing Tour of South America
Latvia, Europe

17th Feb 2013


1
2
3
4
5
6
7
8
9
10
11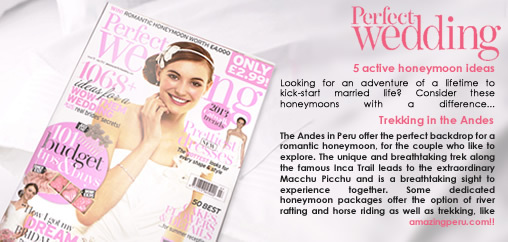 For current availability contact us at
info@amazingperu.com
and we will send you the relevant trip dossier along with a 90 day fixed quote, terms and conditions. Please bear in mind that significant price reductions are available for groups.
HIGHLY RECOMMENDED BY:
"Well-run multipurpose agency, with several offices in Peru with an extensive roster of trips, from family and honeymoon to luxury trips..."
Frommers Guides 2019
"Highly recommended, professional and well-organized, 'perfect tour', knowledgeable guides"
Footprint Handbook 2019
"Transportation services and accommodations are top-notch, and the guides are flexible and extremely helpful"
Fodor's Guides 2019
"
Amazing Peru
has more than 20 years of experience in the travel industry. Tours to Machu Picchu can be customized to include airfare, all meals, accommodations and travel insurance, and last from six to 14 days. Amazon cruises, horseback riding, river rafting, hiking and biking throughout Machu Picchu, Cuzco, Sacred Valley, Lake Titicaca..."
USA TODAY
"Move Over, Machu Picchu - How disabled travelers can tour Machu Picchu."
Christoper Reynolds
"Looking for an adventure of lifetime to kick-start married life? Consider these honeymoons with a difference… "
Perfect Wedding Magazine
"Experience"
Amazing Peru is the leading company in Latin America that combines exclusivity, luxury and authenticity for Peruvian holidays. It will tailor a 15- days tour for you that takes in Lake Titicaca, the Sacred Valley, Machu Picchu, Lima, Cuzco, Colca Canyon and the Amazon rainforest."
The Travel and Leisure Magazine UK
"A reputable firm with an impressive variety of unique excursions… "
At Home and Away with Alan Whicker CBE Magazine
Spend Christmas on a guided tour of breathtaking Machu Picchu and visit famous Lake Titicaca. Amazing Peru offers luxury Christmas vacations in Machu Picchu along the Inca Trail...
Trails Outdoor Travel Guide
"Amazing Peru takes families on both luxury and affordable tours throughout Peru. Children 12 and older are welcome to come along on the 12-day Peru Family Adventure Tour. Raft, backpack, kayak and bike through some of Peru's most unforgettable sights including Machu Picchu. The Family Tour to Peru is tailored for children younger than 12 years of age with an educational component. Relax on Peru's northern beaches, explore the high-altitude Lake Titicaca, trek through the Amazon, and visit Machu Picchu on this 16-day journey. Check out Amazing Peru's 12-day Family Tour."
Global Post USA
"
You can fly over Machu Picchu - or take a helicopter ride
Who needs hiking when you can fly? The company Amazing Peruoffers hour-long flight tours right over the Sacred Valley of the Incas. The plane fits a minimum of eight passengers, and it can also be chartered. Passengers fly over Tipon and Pikillaqta, both archaeological sites, Pisaq and the Urubamba Valley, Sacsayhuaman, and, of course, Machu Picchu itself. Flights can be longer or shorter as requested. "
"
You can Om your way through Machu Picchu
Machu Picchu is known as one of the most spiritual lands in the world, so why not go all out and Om your way through its ruins? Amazing Peru offers a seven-day yoga tour where visitors travel from Lima to Cuzco and finally to Machu Picchu, where they stay in the famed sanctuary Lodge hotel right outside of the ruins. They participate in multiple meditation and yoga sessions throughout the trip, but the highlight is a private session smack-dab in the middle of the ruins. Now that is an Om experience worth waiting for."
Yahoo Lifestyle
"A good bird watching site. Private, customized tour to Venezuela, Guyana, Suriname, French Guiana and Trinidad & Tobago"