Testimonials
If you would like to hear first-hand experience about our services from past customers, please let us know and we shall provide contact details for you to contact them directly.
Visiting wine regions is a hobby of ours, not only for the wine but because vineyards tend to occupy some of the world's most beautiful places. As Californians, we also appreciate the nexus between the grapes grown in our state and the same grapes grown in their country of origin.

Jennie & Denzil Verardo Read Testimonial
Good morning Jim,

The tour was wonderful. The Palacio Nazarenas was our favourite hotel.

All accommodations were wonderful and exceeded our expectations. If altitude sickness was not a concern, I think I would have enjoyed a bit more free time in Cusco because the Nazarenes was so nicely centrally located and there was a lot to do around the square, even if just for people watching.

Your staff that was available 24 hours was extremely helpful when we needed them. All itineraries and flights were promptly made available at the hotels exactly the way your itinerary described it.

Because of your thorough itinerary, inclusion of confirmation numbers and reliable service, I had no worries that we were well taken care of.

The Sanctuary Lodge actually did provide Laundry Service and very fast service - so that was a nice surprise as our hiking clothes were dirty from the one day hike.

We were so tired after the hike that I cannot imagine a better way to end the day than being at the Sanctuary Lodge.

Eloy - our guide- was amazing! He was a perfect fit for Ramona and I. As two women traveling together, sometimes men can try and be too charming or flirty, which can come off a bit uncomfortable.

Eloy was very nice and charming, he came across as protective of us and very patient. I felt like I was traveling with my brother. We loved him, he taught me some Quechua words and I practiced my Spanish with him. Eloy was exceptionally knowledgeable and honest about what is known and still unknown about the Inca civilization.

I hope that our tipping was adequate as your team was very good.

Jena A.
USA
3rd June 2015
Tour: Luxury Inca Trail to Machu Picchu
Thanks again, Jim, Our trip was AMAZING. The scenery, the people of Peru, the trek - all absolutely wonderful.
I had initially contacted 5 companies. I decided on Amazing Peru because of your quick and thorough responses to my emails. We also appreciated the two times that we contacted your company while on vacation - the first day of our trek and our first day at Aquas Calientes. It felt good to know that we could call/email and problem solve with you.

Cindy
Colorado, USA
April 2015

Hi Jim

Good morning. I wanted to thank you again for all your help in planning my recent trip to Peru. It was a wonderful experience and we truly enjoyed it. My wife and I arrived home Wednesday, exhausted, but thoroughly pleased with the trip you prepared. Both you and Amazing Peru provided an excellent service, highlighted by some amazing English speaking guides.

Ron C
North Carolina, USA
May 2015

We had a great trip! Everything went smoothly, drivers and guides were great and the hotels were superb! The Sacred Valley and Machu Picchu were well worth the effort!

Thanks for everything.

Judy
USA
3rd November 2014

Hi Maritza,

"Impressed" doesn't even begin to describe how thrilled we were with this holiday! What an adventure, and what lovely people we encountered every step of the way.

Firstly, let me say 'Thank you' to your company for helping us out when both Hannah and I inadvertently left items behind in one venue or another. We were so grateful that we didn't need to feel anxious about that for the duration of the trip. It was very sweet of Juliana to come out to the airport to meet us ~ please thank her again for me!

We enjoyed each tour immensely, and the hotel selections were fantastic. Every person we dealt with was gracious and accommodating, the food selections were great, and we always felt safe and secure. Each tour or transport picked up on time, and each guide was better than the next - all very knowledgeable and approachable.

The Aqua Expeditions Cruise - has completely ruined me for regular cruises. It was out of this world. Our cabin, the common areas and the food were that of a 5-star hotel, and the tours with the guides were so much fun, exciting and very informative. It was so cool to have guides who were all originally from the jungle and could tell us about their stories growing up, as well as track and spot the elusive wildlife. I also really enjoyed the intimate environment on board, and getting to know my fellow passengers as well as I did.

My only complaint? My 19-year old daughter now wants to move to Peru - she was so impressed and enchanted! The crew aboard the Aqua humored her and spoke Spanish to her, exclusively (she's fluent), which only deepened her feelings for the locale!

I certainly feel as if we got our money's worth. I actually wished in a few instances that our schedule wasn't quite so packed with tours. I would've enjoyed spending a little more time exploring (or resting!) at few locations (Cusco, in particular!).
Thank you again for helping me coordinate this trip. The memories are precious and will last us a lifetime.

Thank you!!

AMY
USA
Luxury Machu Picchu and Amazon Cruise Adventure
16th of July 2014

Hi Jim,

Just wanted to write and say a big thank you for our amazing trip to South America. We had a fantastic time ! The hotels were excellent and our travel arrangements seamless. The guides were delightful knowledgeable and with a good command of English- it was a pleasure to be with then. Please tell Monica our Lima guide know that not only did we see Paul Mcartney but we were on the terraces with one direction at Machu Picchu!! We were very pleased that you managed to alter the arrangements for the Hiram Bingham. We got extra time on the train and were the envy of other travellers! Thank you for doing this and we appreciate that it was done at no extra cost. All in all the services provided by your team and in particular yourself were the best I have ever experienced. If you have a manager then please forward this email as I would like them to know just how much I appreciated your organisation which led to such a great adventure for us.

With all best wishes,

Cathy and Family
London, UK
May 12th, 2014.
Dear Jim,

Juliana was waiting for us at the airport, and we left our luggage at the agency, no problem. We visited Lima taking taxis during the day, no problem. We enjoyed Lima and its white sky, quite a change after the amazing colors seen everywhere. As for the trip, we had a wonderful time. Everything was organized perfectly, we were lucky with the weather, and everything went smoothly. Thank you for that, you did a great job.

All the hotels were nice.

Our trip to Suasi was fantastic, I hope you are proposing that as well. The Casa-Andina chain is definitely really nice. Casa-Andina on Suasi is an amazing hotel, a really jewel on the lake, the hotel is beautiful, the spot incredible, the service extremely nice an personal, we had a blast. Close to heaven, I must say...

And the stops on the way to see the Uros on the island was also fantastic.
The jungle was an incredible experience as well.

Let me know if you have other questions, I am happy to leave you comments.

Thank you again for everything,

Marion & Family
Maryland, USA.
Tour: Peru Family Tour: Peru Highlights Tour
22nd of April 2014
Dear Jim,

Thank you for your interest :)

We had a marvelous trip. Everything went according to plan, and the various guides and transports were there according to the plan - always. A few comments on the various events, which may be useful for you in planning further trips:

The sightseeing and the hike were both very pleasant, with excellent guides, although the sightseeing was somewhat reduced since half of Rio was closed for traffic due to the carnival.

Two nights in a row at the Sambadrome was too much, at least for people at our age... After the first night we were very pleased, but exhausted. So we disposed of the tickets to the second night through the hotel reception.

The visit to Iguacu was very successful. The guide was pleasant and knowledgeable, and the falls and their surroundings were marvelous! Nice hotel and room.

We loved Ilha Grande and Sugu Mini Resort. Very comfortable, with a professional and friendly staff. A good little restaurant, with a somewhat limited menu.

We are very satisfied with the trip, all the planned assistance and of course with the very professional and close follow up from yourself. Thank you again!

All the best from
Berit and Eivind
Norway

Trip: 2014 Brazil Carnival Tour
18th of March, 2014.
We had a great time!

We did manage to get on The Lima Country Club course after the tournament players were done around 1pm. and did not use the second round you purchased at La Planicie. Both these courses were pretty nice. Golf in Arequipa was interesting as we had to chase the sheep off of the green before hitting! The caddies were great at all the courses even with a language barrier.

Our guide in Cusco, was excellent and very knowledgeable. She is definitely one you should use again. The Sacred Valley was beautiful and Machu Pichu was breath taking as I am sure you know.
The train ride to Puno was really fun and pretty, I would recommend it.
We had a very nice outdoor meal on Taquile island for only 20 soles, that the tour guide arranged.
All the transportation arrived on schedule and the hotels did a nice job of relaying info to us in all the towns.

The hotel in Arequipa was very nice with good food but was the only one that did not give complimentary water in the room. The manager heard about it from us! They have a harpist at breakfast that was really good.

The bus to the Colca Canyon was nice. The guide taught us all how to chew coca leaves!
He was quite an advocate of the habit. Numbing but fun.

The Colca Lodge was one of the best places we have ever been! We were definitely glad we stayed 2 nights and could have stayed many more. Very relaxing and quiet, the mineral baths warm and inviting with bar service.

All in all we had a great time and I would say you did an excellent job of arranging things, Thanks again.

Rich and Seija
USA
Trip:Peru Golf & Machu Picchu Tour
16th of March, 2014
1
2
3
4
5
6
7
8
9
10
11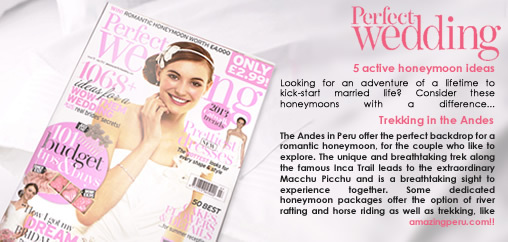 For current availability contact us at
info@amazingperu.com
and we will send you the relevant trip dossier along with a 90 day fixed quote, terms and conditions. Please bear in mind that significant price reductions are available for groups.
HIGHLY RECOMMENDED BY:
"Well-run multipurpose agency, with several offices in Peru with an extensive roster of trips, from family and honeymoon to luxury trips..."
Frommers Guides 2017
"Highly recommended, professional and well-organized, 'perfect tour', knowledgeable guides"
Footprint Handbook 2017
"Transportation services and accommodations are top-notch, and the guides are flexible and extremely helpful"
Fodor's Guides 2017
"
Amazing Peru
has more than 20 years of experience in the travel industry. Tours to Machu Picchu can be customized to include airfare, all meals, accommodations and travel insurance, and last from six to 14 days. Amazon cruises, horseback riding, river rafting, hiking and biking throughout Machu Picchu, Cuzco, Sacred Valley, Lake Titicaca..."
USA TODAY
"Move Over, Machu Picchu - How disabled travelers can tour Machu Picchu."
Los Angeles Times
"Looking for an adventure of lifetime to kick-start married life? Consider these honeymoons with a difference… "
Perfect Wedding Magazine
"Experience"
Amazing Peru is the leading company in Latin America that combines exclusivity, luxury and authenticity for Peruvian holidays. It will tailor a 15- days tour for you that takes in Lake Titicaca, the Sacred Valley, Machu Picchu, Lima, Cuzco, Colca Canyon and the Amazon rainforest."
The Travel and Leisure Magazine UK
"A reputable firm with an impressive variety of unique excursions… "
At Home and Away with Alan Whicker CBE Magazine
Spend Christmas on a guided tour of breathtaking Machu Picchu and visit famous Lake Titicaca. Amazing Peru offers luxury Christmas vacations in Machu Picchu along the Inca Trail...
Trails Outdoor Travel Guide
"Amazing Peru takes families on both luxury and affordable tours throughout Peru. Children 12 and older are welcome to come along on the 12-day Peru Family Adventure Tour. Raft, backpack, kayak and bike through some of Peru's most unforgettable sights including Machu Picchu. The Family Tour to Peru is tailored for children younger than 12 years of age with an educational component. Relax on Peru's northern beaches, explore the high-altitude Lake Titicaca, trek through the Amazon, and visit Machu Picchu on this 16-day journey. Check out Amazing Peru's 12-day Family Tour."
Global Post USA