Luxury Peru Tour: Land of the Incas
Our 7 day Luxury tour offers a Luxury vacation to Peru sampling the very highlights in private luxury travel in a relaxing itinerary. With the finest 5 star hotels such as Monasterio Hotel in Cusco and Sanctuary Lodge in Machu Picchu, private guides and exclusive services, travel with the foresmost luxury travel company and visit wonderful Peru and Machu Picchu.
Cuzco - Sacred Valley - Pisac - Ollantaytambo - Machu Picchu
7 days / 6 nights.
ITINERARY
Day 1. LIMA - CUZCO
Morning flight to Cuzco, reception and transfer to the exclusive deluxe 5* Monasterio Hotel. The room will be oxygenated to help you relax and sleep more comfortably in the high altitude setting of Cuzco (11,600ft above sea level). Day at leisure.
Day 2 . CUZCO (Breakfast)
After breakfast, a private guided tour of Cuzco including the Cathedral, the Qoricancha or Sun temple, the Inca fortress of Sacsayhuaman overlooking Cuzco, Qenko, Tambomachay and Puka Pukara. Return to your hotel. Afternoon free to visit the centre of Cuzco, only 3 blocks from your hotel.
Meals: B
Day 3 . CUZCO - SACRED VALLEY - PISAC - OLLANTAYTAMBO - CUZCO (Breakfast and lunch)
After breakfast, a private full-day excursion to Urubamba, the sacred valley of the Incas and to the ancient Inca market town of Pisac, founded during colonial times, and set at the foot of a hill crowned by the remains of an ancient Inca city. On Sundays, Tuesdays and Thursdays, Indians barter their products in the main square and artisans from around the area sell their woven alpaca wool blankets and ponchos, engraved gourds, antique reproductions, jewellery, etc. On Sundays, it is also the meeting place for Mayors from all the villages in the region, dressed in their traditional costumes to attend morning mass. Lunch in Urubamba. A visit will be made to Ollantaytambo, the only Inca town that was not defeated by the Spanish and a chance to explore the ruins before returning to Cuzco. This is optional as the climb to the top may be too difficult for some but you can appreciate the site from the ground. Return to your hotel to relax and unwind.
Meals: B, L
Day 4. CUZCO - MACHU PICCHU (Breakfast, lunch and dinner)
After an early breakfast, transfer to the station for the Vistadome train to Aguas Calientes. Arrival to Aguas Calientes, assistance with your luggage and boarding of the bus for the short ride up to Machu Picchu, the ancient Inca citadel. At the very entrance to Machu Picchu, your hotel is located, the Sanctuary Lodge hotel. Check in to your room, complete with king size bed.
Shortly after, a guided tour of Machu Picchu, the most spectacular ancient city in the world. Built by the Inca Pachacutec, and comprising stone blocks fitted with masterful precision, Machu Picchu harmoniously blends into the mountain landscape. There are many theories as to the origins behind Machu Picchu but three of the most popular ideas include a temple to the sun, a fortress against the jungle inhabitants or a sanctuary for the Incas. This fabulous city has houses, temples, warehouses, a large central square, all connected by narrow roads and steps, and is surrounded by terraces cut into the mountain side which were used for agriculture. Lunch at your hotel.
Return to the site afterwards for free time at leisure.
Once all the other visitors have gone (around 5pm) you will have and an opportunity to truly appreciate the grandiose setting of this Inca masterpiece; with no crowds but only an eerie silence that few people experience. Dinner and accommodation at the Machu Picchu Sanctuary Lodge.
Machu Picchu Sanctuary Lodge | Meals: B, L, D
Day 5. MACHU PICCHU - CUZCO (Breakfast)
Early opportunity to return to the site and enjoy a wonderful sunrise over Machu Picchu. Time for some private reflection before returning for breakfast. Today no guide is provided as we feel that Machu Picchu requires a certain amount of self discovery to be fully understood. Take any of the several paths around various parts of the site or walk down to the Inca's bridge. Let Machu Picchu unfold all its mysteries for you, take in the breathtaking cloud forests and jagged mountains, or marvel at the extraordinary Masonic precision of the ancient Incas. Either way, your day of self discovery will be a day never to be forgotten. Return to Aguas Calientes by bus before boarding the Vistadome train. Reception and transfer to the Monasterio hotel for your final night in Cuzco.
Monasterio Hotel | Meals: B
Day 6. CUZCO - LIMA (Breakfast)
Transfer to the airport for the flight back to Lima. Arrival and transfer to your hotel, the Miraflores Park. Free day.
Miraflores Park Plaza Hotel | Meals: B
Day 7 .LIMA (Breakfast)
After breakfast, transfer to the airport for your international flight home.
Meals: B
End of our services.
LUXURY PERU TOUR 1 - Option 1 Itinerary Overview:
PRICES:

Please Contact Us Here
Credit Cards Welcome:



WHAT IS INCLUDED / NOT INCLUDED
OUR LUXURY HOTELS SELECTION
TOUR REVIEW
Dear Stephen,
Jeff and I returned from our trip to Peru over the weekend. Absolutely NOTHING could stop our constant chatter about just how aptly named your business is...AMAZING! Peru was, for us, at once a fantastical and unexpectedly life changing experience. Naturally, it was a delight to meet up with my friend whom I had not seen or spoken with in 35 years - and it went so smoothly, I felt as if we'd just had tea yesterday afternoon. As for the rest of the trip - I cannot say enough good things:
1. First, and foremost - Catherine was so on top of her game that it was unimaginable to us. Not only did she cross every T and dot every I with regard to itinerary changes that were out of anyone's control (such as flight changes etc) but she also managed some special needs of our own. On day two of Machu Pichu we decided that we wanted to return to Cusco much sooner than originally anticipated - this, only because (another outstanding person, in the form of Jaime, our tour guide) was so damned thorough that we didn't need any more time. Catherine had the matter under control within less than half an hour - we were met along the way with new train tickets and all the appropriate paperwork necessary to get us from point A to point B...and it went without a hitch!
2. The Hotels: my god what can I say? Jeff and I have had the great fortune to stay at some of the finest hotels in the United States and Europe, as I was National Marketing Director for the St Regis Residences for many years. But our hotels in Peru - who'da thunk it? El Monasterio was my personal favorite (another driving force for wanting to get back to Cusco) - they were so welcoming and even helped out with a paperwork snafu which was well above and beyond their expected role. The Miraflores Park Hotel was surely Jeff's favorite - how grand! And the Sanctuary Lodge with its eco-friendly and sustainable philosophy had unparalleled service and food!
3. I would also like to point out specifically, Jaime, our guide at Machu Pichu whom I briefly mentioned. His knowledge of the site was so deep, so intense and so instinctual - that he allowed us to truly experience the energy and ancestry of the place. He even stayed with us beyond the appointed scheduled time. I would make it a priority to request Jaime especially for all your VIP guests.
Stephen - along the way we heard so much chatter from disgruntled travelers...many of whom had spent a veritable fortune on their 'trip of a lifetime' only to find themselves abandoned, unexpected, and their plans so unwieldy that they missed some of the marvels they had actually come to see. How sad! We mentioned your company with every opportunity that we had, evidently Amazing Peru is the exception to the rule, so we feel very fortunate that our very good friend, one of Jeff's colleagues at the hospital, had given us your contact info.
I think you guys do a BA tour too - and Argentina is next on our list. Our twin daughters went to Guatemala this summer as volunteers with Cross Cultural Solutions - and have now become Latin American lovers like their Mom has always been and like their Dad is now converted to being. They plan to continue their work with Indigenous peoples of Latin America and wish to return again to a new country next summer. Jeff has already signed up for a Medicines Sans Frontiers programme with whom he will do service in El Salvador and Nicaragua this spring - after having lived many years in Zambia after med school in Scotland, doing service to the Queen he knows how important service and cultural exchange are. I was an exchange student in Bolivia in 1978 and fell in love with Latin America - I get a little misty knowing now that my entire family joins me in that new found kinship with everything Latin - and I owe so much of that to the experience we had with Amazing Peru!
Thank you for giving us the opportunity to open our eyes, our hearts and now our lives to a whole new lifestyle and experience. You can count on us as repeat customers (I'm starting a slush fund now) and we will always hold your company in high regard to our travelling doctor friends. Again, thank you for providing us with memories that will continue to thrill us for decades to come - and not a bad day in the lot! With great admiration and respect,
Andy A.
California, USA
Tour: Peru Luxury Tour
Lima-Cusco-Sacred Valley-Machu Picchu-Cusco-Lima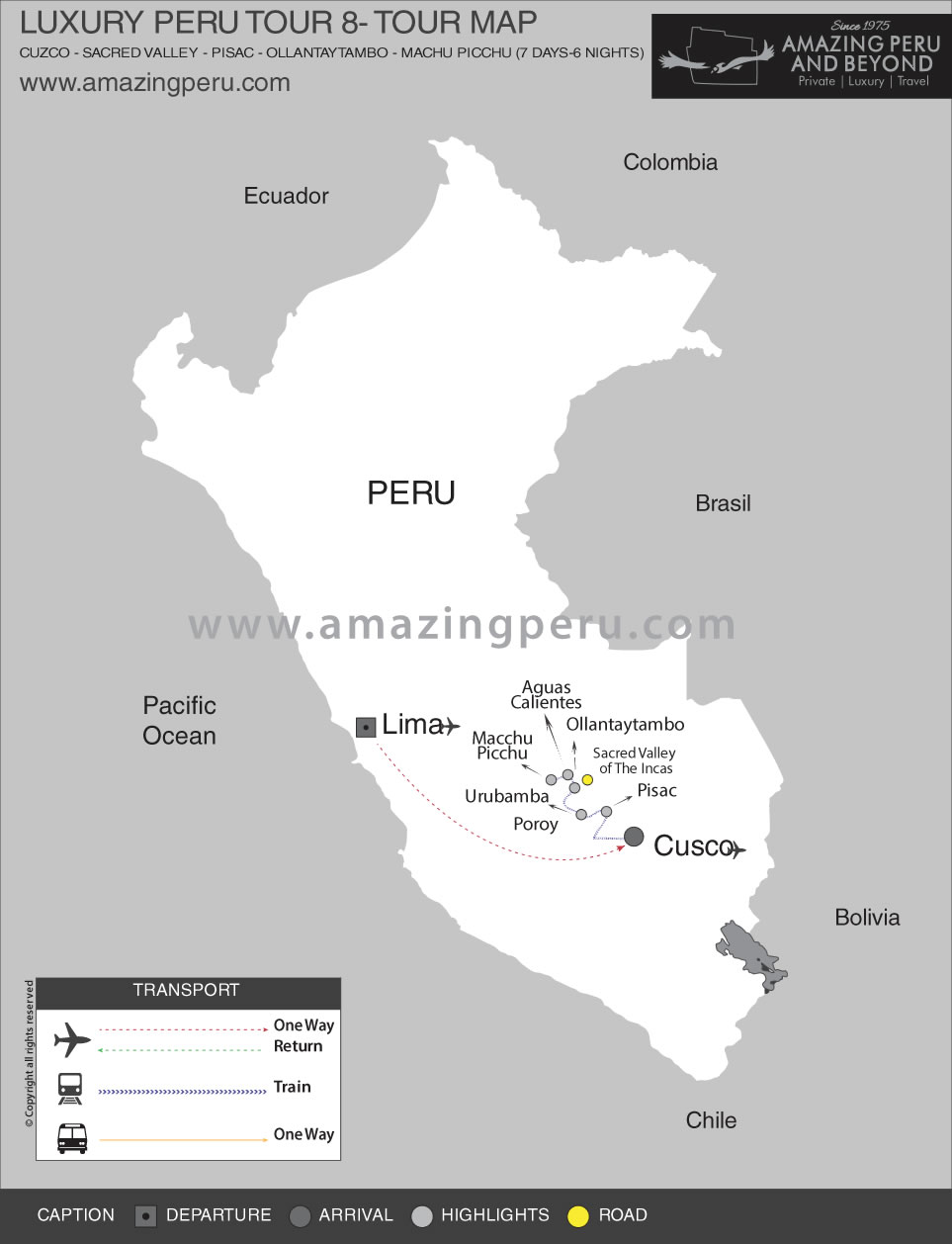 Luxury Peru Tour: Land of the Incas
Cuzco - Sacred Valley - Pisac - Ollantaytambo - Machu Picchu
7 days / 6 nights.
For current availability contact us at
info@amazingperu.com
and we will send you the relevant trip dossier along with a 90 day fixed quote, terms and conditions. Please bear in mind that significant price reductions are available for groups. All our Luxury Tours are fully private and depart daily. Contact us for more information regarding the above tour, or to begin customizing your own itinerary.
"Well-run multipurpose agency, with several offices in Peru with an extensive roster of trips, from family and honeymoon to luxury trips..."
Frommers Guides 2023
"Highly recommended, professional and well-organized, 'perfect tour', knowledgeable guides"
Footprint Handbook 2023
"Transportation services and accommodations are top-notch, and the guides are flexible and extremely helpful"
Fodor's Guides 2023
"
Amazing Peru
has more than 20 years of experience in the travel industry. Tours to Machu Picchu can be customized to include airfare, all meals, accommodations and travel insurance, and last from six to 14 days. Amazon cruises, horseback riding, river rafting, hiking and biking throughout Machu Picchu, Cuzco, Sacred Valley, Lake Titicaca..."
USA TODAY
"Move Over, Machu Picchu - How disabled travelers can tour Machu Picchu."
Christoper Reynolds
"Looking for an adventure of lifetime to kick-start married life? Consider these honeymoons with a difference… "
Perfect Wedding Magazine
"Experience"
Amazing Peru is the leading company in Latin America that combines exclusivity, luxury and authenticity for Peruvian holidays. It will tailor a 15- days tour for you that takes in Lake Titicaca, the Sacred Valley, Machu Picchu, Lima, Cuzco, Colca Canyon and the Amazon rainforest."
The Travel and Leisure Magazine UK
"A reputable firm with an impressive variety of unique excursions… "
At Home and Away with Alan Whicker CBE Magazine
Spend Christmas on a guided tour of breathtaking Machu Picchu and visit famous Lake Titicaca. Amazing Peru offers luxury Christmas vacations in Machu Picchu along the Inca Trail...
Trails Outdoor Travel Guide
"Amazing Peru takes families on both luxury and affordable tours throughout Peru. Children 12 and older are welcome to come along on the 12-day Peru Family Adventure Tour. Raft, backpack, kayak and bike through some of Peru's most unforgettable sights including Machu Picchu. The Family Tour to Peru is tailored for children younger than 12 years of age with an educational component. Relax on Peru's northern beaches, explore the high-altitude Lake Titicaca, trek through the Amazon, and visit Machu Picchu on this 16-day journey. Check out Amazing Peru's 12-day Family Tour."
Global Post USA
"
You can fly over Machu Picchu - or take a helicopter ride
Who needs hiking when you can fly? The company Amazing Peruoffers hour-long flight tours right over the Sacred Valley of the Incas. The plane fits a minimum of eight passengers, and it can also be chartered. Passengers fly over Tipon and Pikillaqta, both archaeological sites, Pisaq and the Urubamba Valley, Sacsayhuaman, and, of course, Machu Picchu itself. Flights can be longer or shorter as requested. "
"
You can Om your way through Machu Picchu
Machu Picchu is known as one of the most spiritual lands in the world, so why not go all out and Om your way through its ruins? Amazing Peru offers a seven-day yoga tour where visitors travel from Lima to Cuzco and finally to Machu Picchu, where they stay in the famed sanctuary Lodge hotel right outside of the ruins. They participate in multiple meditation and yoga sessions throughout the trip, but the highlight is a private session smack-dab in the middle of the ruins. Now that is an Om experience worth waiting for."
Yahoo Lifestyle
A Private, customized tour to Venezuela, Guyana, Suriname, French Guiana and Trinidad & Tobago. "Any traveler with a well-developed sense of adventure will be rewarded with an incredible experience on this journey to a birding paradise designed and operated by Amazing Peru."
"Savoring a taste of Uruguay's acclaimed wine region - An outstanding experience"