Full Adrenaline Adventure Peru
Lima - Cusco - Sky Lodge - Soraypampa - Huayracmachay - Arrayanniyoc - Challhuay - La Playa - Hydroelectric - Aguas Calientes - Chachapoyas
14 days / 13 nights.
ITINERARY
Day 1. LIMA
Arrival to Lima, reception at the airport and overnight at the airport hotel.
Day 2. LIMA - CUSCO (Breakfast)
After breakfast, transfer to the airport for the flight to Cuzco. Arrival and transfer to your hotel. Free afternoon to wander around the city and acclimatize for the upcoming adventure of a lifetime.
Day 3. CUSCO - SKY LODGE (Breakfast & dinner)
After breakfast, you will be picked up from your and driven to Pachar. On arrival you will be given a safety briefing and the equipment needed for your via ferrata and zipline adventure. A via ferrata is a path used to climb a mountain with a safety system permanently installed. It will give you the chance to experience climbing without any previous experience and the opportunity to move through spectacular mountain scenery using minimum equipment. You will be permanently tied to a steel cable that runs through the entire route. Usually this does not require any climbing rope. Metal ladders, bridges and similar facilities are used. This helps maintain the physical difficulty of climbing while providing access to very high and extreme vertical sections of the mountain, that would usually only be accessible to experienced rock climbers. The climb is 400 metres. Once you have arrived to your lodge, dinner will be served with fantastic views over the valley and the sky.
Overnight Sacred Valley - Skylodge
Day 4. SKY LODGE - CUSCO (Breakfast)
After an early breakfast, depart downhill to Pachar by zip line. The Sacred Valley zip-line gives you the opportunity to fly over this magnificent valley in a safe and fun way. The zip line has 7 lines or cables which are each between 150 to 700 metres long, for a total of 2800 metres. You will be transferred back to Cusco and overnight accommodation. Briefing on the upcoming Salkantay trek.

PLEASE NOTE:
Please bring your personal items in a small light bag. your luggage can be stored at the Skylodge office in Urubamba and will be sent with the car for your return transportation.
It is recommended that you wear comfortable clothing, pants (no shorts), hiking shoes or running shoes, a thermal jacket to wear under a down jacket and warm (thermal) clothes. The coldest months are from June until August.
Ensure that you bring any personal hygiene items such as toothbrush, toothpaste, etc, with you. We note that there are no showers in the Capsules.
Bring at least 1 litre of water with you. You may bring an empty bottle as there is purified water at the base so that you can refill it at the beginning and at the end of the activity.
Salkantay Trek
Day 5. CUZCO - SORAYPAMPA - HUAYRACMACHAY (All meals)
After early breakfast, we will collect you early from your hotel and take private transport to the to Soraypampa (4 hours), where we will start hiking. From here we climb gently for about 2-3 hours to Salkantaycocha/pampa. We have lunch very close to Salkantay mountain and glaciers. After lunch and a rest we continue to climb steeply for 2.5 to 3 hours to the Salkantay pass where we will make small offerings to the apus (mountain spirits). This is the highest point of the trip (4,600 metres/13451 feet). From here we descend for 2 to 3 hours to the campsite at Huayracmachay or Andenes. Total hours walking: 5 - 7 hours
Day 6. HUAYRACMACHAY- ARRAYANNIYOC- CHALLHUAY-LA PLAYA (All meals)
From our campsite, we will climb 1 hour quite steeply to Unuyoc on a narrow path, where we will have great view of the Santa Theresa river valley and then descend for another hour to the Unuyoc campsite. From Unuyoc to Wi&ntildeaypocco is another hour, and where we will have lunch. After lunch we walk through the high jungle (known in Spanish as the eyebrow of the jungle) enjoying the landscapes which offer us much natural beauty. The afternoon follows a gentle descent for 2-3 hours to the small high jungle village of La Playa where we will spend the night. You walk for about 8-9 hours during this day.
Day 7. LA PLAYA - HYDROELECTRIC - AGUAS CALIENTES (All meals)
You will take motorised transport to the campsite outside the village of Santa Theresa to the impressive Machu Picchu Hydroelectric System where we will have lunch and visit an Inca ruin. After this, we will walk for 2.5 hours more along the train tracks to arrive at the village of Aguas Calientes. Accommodation. A soak in the thermal baths in Aguas Calientes are often the perfect respite for aching muscles. Accommodation.
Day 8. MACHU PICCHU - CUZCO (Breakfast only)
After breakfast, take the bus up to Machu Picchu for a tour. Built by the Inca Pachacutec, and comprising stone blocks fitted with masterful precision, Machu Picchu harmoniously blends into the mountain landscape. There are many theories as to the origins behind Machu Picchu but three of the most popular ideas include a temple to the sun, a fortress against the jungle inhabitants and a sanctuary for the Incas. This fabulous city holds houses, temples, warehouses, a large central square and all connected by narrow roads and steps, which is surrounded by terraces cut into the mountain side which were used for agriculture. We shall visit the Main Plaza, the Royal Quarters, the Temple of Three Windows, the Circular Tower and the Sacred Sun Dial and Burial Grounds. After the tour, you can enjoy an afternoon of self-exploration and discovery. Board the train for Cuzco. Reception and transfer to your hotel.
Day 9. CUZCO (Breakfast only)
Free day at leisure to recover from your long and high altitude trek.
Day 10. RAINBOW MOUNTAIN TREK (Breakfast & lunch)
Today is a full day and quite challenging. We will pick you up early from your hotel and set out on a drive through the South Valley. The drive to the trailhead at Quesiuno (4,326 m / 14,189 ft) is 3 hours long. Once we reach the Inkintuyoc bridge, we will have breakfast.
We then start off on our hike, following a lovely stream with horses as backup transport. You will be immediately surprised by literally herds of alpacas and llamas. We will have consistent views of the Ausangate Mountain. We will hike through villages and interact with the local residents. We will stop for a box lunch along the trail. Back on the trail, we encounter more of the traditional elements of this trek. This includes potato fields and unique fauna. We have the prospect of seeing chinchillas and vicunas. Vicunas are the only non-domesticated animal of the llama family in Peru. Many red mountains are also a highlight of this portion of the hike. After a total hike of approximately 5 hours, we finally reach our destination, what we came to see the Rainbow Mountains (5,020 m / 16,466 ft). After getting over its beauty, you will have time to explore the area. You will have time to take pictures and enjoy the setting. We will spend approximately 30 minutes at the top.
We then hike downhill the way we came. The hike will take 4 to 5 hours. A private van will be waiting for you when we return. We will embark on the 3 hour drive back to Cusco and drop you off at your hotel. Approximate arrival time is between 8 and 9 PM.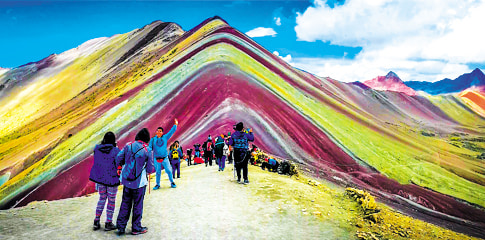 Day 11. CUZCO - LIMA - CHACHAPOYAS (Breakfast, lunch and dinner)
After early breakfast, we bid farewell to Cuzco and take a short drive in a private car to the airport for the flight to Lima and connect with your flight to Chachapoyas. Arrival and transfer to the town of Cuispes and to the hotel "La Posada de Cuispes". Set up and lunch.
In the afternoon, enjoy a canyoning tour to the Pabellon waterfall. Return in the evening.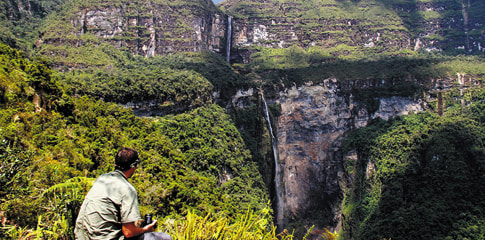 Day 12. CHACHAPOYAS - GOCTA WATERFALLS (Breakfast, lunch and dinner)
After breakfast, enjoy some canyoning in the forest of giant waterfalls for 5 hours with 80 metre rappel descent. Enjoy a hike through the forest before lunch.
In the afternoon, transport to the town of Nuevo Tingo while stopping enroute to see the "Gocta Falls", with a drop of over 770 metres. Arrival to the hotel "Tambo Candela".
Dinner and rest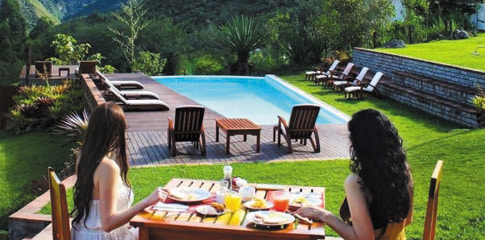 Day 13. KUELAP (Breakfast and lunch)
After breakfast, visit the fortress of Kuelap. The area is known as the Machu Picchu of the north, although it's much older than the Inca citadel. It was the political center of the Chachapoyas civilization from about 900 to 1400 AD.
Kuelap, consisted of buildings of civil, religious, and military purposes as well as 420 circular stone dwellings, which contained geometric friezes, mural iconography, and high relief carvings. The citadel was surrounded by walls reaching 60 feet tall in some places and constructed out of large limestone blocks. Kuelap was the political center of the Chachapoya civilization, a pre-Columbian culture that flourished from about 500 to 1570 AD.
After lunch, return to Chachapoyas.
Day 14. CHACHAPOYAS - LIMA (Breakfast)
After breakfast, transfer to the airport for the return flight to Lima in time for your connecting flight home.
End of our services.
Full Adrenaline Adventure Peru - Itinerary Overview:
PRICES:

Please Contact Us Here
Credit Cards Welcome:



WHAT IS INCLUDED / NOT INCLUDED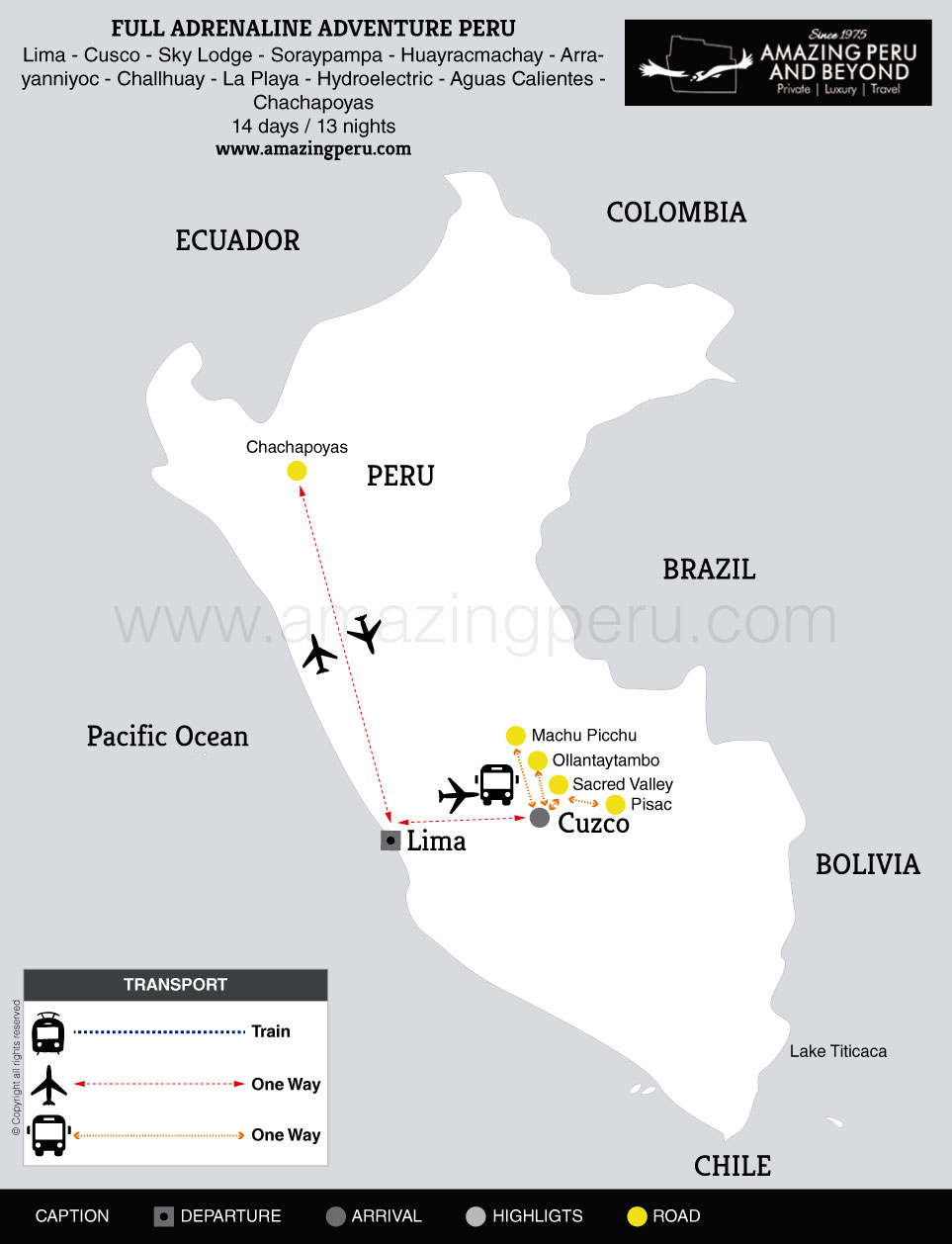 Full Adrenaline Adventure Peru
Lima - Cusco - Sky Lodge - Soraypampa - Huayracmachay - Arrayanniyoc - Challhuay - La Playa - Hydroelectric - Aguas Calientes - Chachapoyas
14 days / 13 nights.
For current availability contact us at
info@amazingperu.com
and we will send you the relevant trip dossier along with a 90 day fixed quote, terms and conditions. Please bear in mind that significant price reductions are available for groups. All our Luxury Tours are fully private and depart daily. Contact us for more information regarding the above tour, or to begin customizing your own itinerary.
"Well-run multipurpose agency, with several offices in Peru with an extensive roster of trips, from family and honeymoon to luxury trips..."
Frommers Guides 2023
"Highly recommended, professional and well-organized, 'perfect tour', knowledgeable guides"
Footprint Handbook 2023
"Transportation services and accommodations are top-notch, and the guides are flexible and extremely helpful"
Fodor's Guides 2023
"
Amazing Peru
has more than 20 years of experience in the travel industry. Tours to Machu Picchu can be customized to include airfare, all meals, accommodations and travel insurance, and last from six to 14 days. Amazon cruises, horseback riding, river rafting, hiking and biking throughout Machu Picchu, Cuzco, Sacred Valley, Lake Titicaca..."
USA TODAY
"Move Over, Machu Picchu - How disabled travelers can tour Machu Picchu."
Christoper Reynolds
"Looking for an adventure of lifetime to kick-start married life? Consider these honeymoons with a difference… "
Perfect Wedding Magazine
"Experience"
Amazing Peru is the leading company in Latin America that combines exclusivity, luxury and authenticity for Peruvian holidays. It will tailor a 15- days tour for you that takes in Lake Titicaca, the Sacred Valley, Machu Picchu, Lima, Cuzco, Colca Canyon and the Amazon rainforest."
The Travel and Leisure Magazine UK
"A reputable firm with an impressive variety of unique excursions… "
At Home and Away with Alan Whicker CBE Magazine
Spend Christmas on a guided tour of breathtaking Machu Picchu and visit famous Lake Titicaca. Amazing Peru offers luxury Christmas vacations in Machu Picchu along the Inca Trail...
Trails Outdoor Travel Guide
"Amazing Peru takes families on both luxury and affordable tours throughout Peru. Children 12 and older are welcome to come along on the 12-day Peru Family Adventure Tour. Raft, backpack, kayak and bike through some of Peru's most unforgettable sights including Machu Picchu. The Family Tour to Peru is tailored for children younger than 12 years of age with an educational component. Relax on Peru's northern beaches, explore the high-altitude Lake Titicaca, trek through the Amazon, and visit Machu Picchu on this 16-day journey. Check out Amazing Peru's 12-day Family Tour."
Global Post USA
"
You can fly over Machu Picchu - or take a helicopter ride
Who needs hiking when you can fly? The company Amazing Peruoffers hour-long flight tours right over the Sacred Valley of the Incas. The plane fits a minimum of eight passengers, and it can also be chartered. Passengers fly over Tipon and Pikillaqta, both archaeological sites, Pisaq and the Urubamba Valley, Sacsayhuaman, and, of course, Machu Picchu itself. Flights can be longer or shorter as requested. "
"
You can Om your way through Machu Picchu
Machu Picchu is known as one of the most spiritual lands in the world, so why not go all out and Om your way through its ruins? Amazing Peru offers a seven-day yoga tour where visitors travel from Lima to Cuzco and finally to Machu Picchu, where they stay in the famed sanctuary Lodge hotel right outside of the ruins. They participate in multiple meditation and yoga sessions throughout the trip, but the highlight is a private session smack-dab in the middle of the ruins. Now that is an Om experience worth waiting for."
Yahoo Lifestyle
A Private, customized tour to Venezuela, Guyana, Suriname, French Guiana and Trinidad & Tobago. "Any traveler with a well-developed sense of adventure will be rewarded with an incredible experience on this journey to a birding paradise designed and operated by Amazing Peru."
"Savoring a taste of Uruguay's acclaimed wine region - An outstanding experience"