2023 Authentic Peru & Bolivia Tour with Lares Lodge to Lodge trek
Lima - Cuzco - Lares Lodge to Lodge Trek - Machu Picchu - Lake Titicaca - La Paz - Uyuni Salt Flats
17 days / 16 nights.
ITINERARY
Day 1: Lima
Arrival in Lima. Reception and transfer to your hotel, Casa Andina Select.
Day 2: Lima (Breakfast)
After breakfast, city tour of modern and colonial Lima, declared a UNESCO world heritage site in 1991. Tour in an air conditioned bus with a bilingual guide. The tour includes a visit to the Cathedral, Main Square, San Francisco Convent and its Catacombs, and the residential areas of San Isidro and Miraflores. Free afternoon.
Meals: B
Day 3: Lima - Cuzco (Breakfast)
After breakfast, flight to Cuzco, reception and transfer to your hotel, Picoaga. Free afternoon to help acclimatize to the altitude.
Picoaga Hotel | Meals: B
Day 4: Cuzco (Breakfast)
Today you will enjoy a guided visit of the four ruins nearby; the Sacsayhuaman Fortress overlooking the city of Cuzco, a pre Inca architectural masterpiece; Kenko, a rock sanctuary whose main attraction is the monolithic altar representing a puma, the red Fortress of Puca-Pucara and Tambomachay, a beautiful fountain fed by a spring forming a series of basins continue to the city of Cuzco; the Main Square, the Cathedral and the Koricancha or Temple of the Sun.
LODGE TO LODGE LARES TREK
Meals: B
Day 5: Sacred Valley - Explore the Pisac Valley & Ruins (All meals)
After an early breakfast, we depart Cusco for the Urubamba Valley, the "Sacred Valley of the Incas". We drive past Pisac and turn off the main road at Qoya (9,514'/2,900m), with its charming colonial church. After about a 1 hour drive (the last section on a dirt road), we reach the AyarCancha community where we start hiking at an elevation of 12,830 feet (3,850m). The trail winds uphill for two hours to Challwaccasa Pass (13,943'/4,250m), which grants us great views of the peaks of the Vilcanota and Vilcabamba mountain ranges and, in the distance, the giant snow-capped peaks of Ausangate and Salcantay. We then head downhill to the community of Viacha (12,950'/3,950m), where we enjoy a gourmet lunch. After a well-earned rest, we join a restored Inca trail that leads to the stunning archaeological site of Pisac (10,826'/ 3200m), which dominates the valley below. The lower slopes of the surrounding mountains feature impressive agricultural terraces and irrigation systems dating from Inca times. After exploring the ruins we continue downhill for an hour to the picturesque village of Pisac (9,750'/2,972m), well known for its colorful handicraft market held on Tuesdays, Thursdays, and Sundays. Our vehicle will be waiting to take us to the town of Lamay (9,649'/2,941m), where we overnight at a comfortable lodge. Dinner and overnight at Lamay Lodge.

Total hiking time including lunch: 6 hours
In the event that a guest does not feel like hiking or prefers an easier hike for their first day of trekking, we suggest the following alternative:

OPTIONAL ACTIVITY:
If guests would like to take it easy on their first day, they can enjoy a leisurely breakfast and relaxing morning at the Lamay Lodge. In the early afternoon a private van takes us to join the group of trekkers for lunch at Viacha community, this exquisite meal should not be missed! If after lunch guests are feeling active they may join the other trekkers for the hike downhill towards Pisaq archeological site.
Meals: B, L & D
Day 6: Quiswarani to Huacawasi, High Mountain Lakes & Villages (All meals)
A great day awaits us as we hike one of the most beautiful trails in the Cusco region! We depart Lamay early in the morning and take a scenic two-hour drive toward Lares, the region north of the Sacred Valley. Leaving the main road, we soon arrive at the quaint village of Quiswarani (12,562'/3,829m), where we begin our hike. Our trail heads westward up a small valley dotted with lakes and herds of grazing alpacas, then narrows into a series of switchbacks to Abra Huchuyccasa pass (14,481'/4,414m), which we reach after three hours. From the pass we have the most amazing views of distant mountain ranges and stunning turquoise lakes, whose brilliant hues are the result of bronze metal elements in their icy waters. Descending slightly, we continue hiking another hour toward our second pass of the day at Phoñoccasa (14,393'/4,387m). From here we descend to Qeywaqocha Lake for a leisurely lunch, then we end our hike at the village of Qelqena (11,965'/3,647m). Along the way enjoy spotting native bird species, including Andean geese, ducks, and plovers. Our vehicle meets us at the trailhead for the drive to the famous weavers'village of Huacawasi (12,579'/3,835m). Dinner and overnight at Huacawasi Lodge.

Total hiking time including lunch: 8 hours
In the event that a guest prefers a softer hike, we suggest the following alternative:
OPTIONAL HIKE ON DAY 2: Lares: Trek from Cuncani to Huacawasi, Meet the Communities

A short drive brings us to Ancasmarca (13,267'/4,044m), where we explore an old Inca site that features a variety of ancient food warehouses, dwellings, and farming areas. Its location was strategic since it connected the higher part of the Sacred Valley with the cloud forest communities of Lares. Heading over the Lares Pass (14,501'/4,420m), we arrive at Cuncani (12,742'/3,884m), the starting point of our hike. Walking uphill for about two hours, we pass farmhouses and fields. The local inhabitants, descendants of the Incas, have maintained their traditional way of life, growing an amazing variety of potatoes nearly year-round and using their llamas as transportation and alpacas as food and clothing. Reaching Cruzccasa Pass (13,740'/4,188m), we enjoy an impressive view of Veronica peak, then have an hour's descent to our picnic lunch spot. Another hour's hike brings us to Huacawasi Lodge (12,579'/3,835m). In the late afternoon, we have an opportunity to experience a unique cultural encounter with the local community. Dinner and overnight at Huacawasi Lodge.
Total hiking time including lunch: 5 hours
Meals: B, L & D
Day 7: Lares: Trek from Huacahuasi to Patacancha, the Weavers'Trail (All meals)
Huacawasi is a famous weavers' village, where the men still wear traditional colorful ponchos and women's attire includes wide handmade skirts and decorated hats. Our hike starts right from Huacawasi Lodge, and as we walk through the village we are immersed in scenes of community life, including women working on looms and children heading to school. The wide and easy trail takes us uphill for 2.5 hours to the top of Ipsaycocha Pass (14,757'/4,499m) where we enjoy stunning views of the surrounding mountains. As we hike, we often meet locals traveling from village to village with their goods and herds of animals. We descend gently for about 40 minutes to Lake Ipsaycocha (14,081'/4,292m) where we may have the chance to see condors circling effortlessly in the sky while enjoying our lunch. We continue our descent for 2.5 hours to the village of Patacancha (12,624'/3,848m) where high quality weavings are also produced. Our vehicle will meet us here to take us to the Inca town of Ollantaytambo (9,160'/2,792m) in the Sacred Valley. Dinner and overnight at a hotel.
Total hiking time including lunch: 6.5 hours
Meals: B, L & D
Day 8: Explore Ollantaytambo Inca Sites and Transfer to Machu Picchu Town (All meals)
After a leisurely breakfast, we walk through the village of Ollantaytambo which boasts an impressive archaeological site and a well-preserved Inca town structure. This was the estate of Emperor Pachacutec who conquered the region, building the town and the ceremonial center. Ollantaytambo dates from the late 15th century and has some of the oldest continuously occupied dwellings in South America. Late morning we board our train for the 1.5-hour ride to Aguas Calientes, also known as Machu Picchu Town. We will provide a box lunch on board. Free afternoon to explore the colorful town and the magnificent orchid gardens of the hotel. Dinner and overnight at Inkaterra Pueblo Hotel.
Inkaterra Pueblo Hotel | Meals: B, L & D
Day 9: Visit Machu Picchu Sanctuary and Return to Cusco (Breakfast and lunch)
After a very early breakfast at the hotel, we walk to the bus station for the 30-minute ride up to Machu Picchu Sanctuary. Our trip leader will give an introductory two-hour guided tour of the evocative ruins, after which we have the option of climbing the sheer Inca staircase of Huayna Picchu, a steep and vertically quite challenging hike that affords encompassing views of Machu Picchu and the surrounding mountain ranges (about a two-hour hike). Afterwards, we meet up with our guide again and return by bus to Aguas Calientes for a late lunch. The afternoon train ride from Aguas Calientes to Ollantaytambo takes about 1.5 hours, and then a private vehicle drives us back to Cusco (an additional 1.5 hours). Upon arrival in Cusco (approximately 7 or 8 p.m.), you are dropped off at your hotel, Picoaga.
Picoaga Hotel | Meals: B & L
Day 10: Cuzco - Puno (Breakfast and lunch)
After an early breakfast, tourist bus to Puno. You will visit several archaeological sites along the way. Arrival to Puno lying on the shores of Lake Titicaca, the highest navigable lake in the world. Puno is also the folkloric capital of Peru. Accommodation at your hotel, Jose Antonio.
Jose Antonio Hotel | Meals: B & L
Day 11: Islands of Lake Titicaca (Breakfast and lunch)
After breakfast, pick-up to start your full day's excursion to the islands of Uros and Taquile. Your first stop will be to the communal islands of Uros, otherwise known as the reed islands, whose islands are made entirely of tortora reeds and home to a small community dating back to a pre-Inca culture. You will appreciate how these people toil out an existence on such a remote setting complete with its own school. After the visit, boarding of the yacht as you continue your trip to the Island of Taquile whose inhabitants are more closely related to the Aymara people of Bolivia than the Quechua Incas of Peru. You will enjoy a walk on the islands before returning to Puno on-board your yacht and return to your hotel.
Meals: B & L
Day 12: Puno - Copacabana - La Paz (Breakfast)
After breakfast, transfer to the bus station for the tourist bus to La Paz. Cross the border, after the formalities, continue onto La Paz and transfer to your hotel, Presidente.
Presidente Hotel | Meals: B
Day 13: La Paz (Breakfast)
Morning city tour of La Paz, with a unique topography containing few flat areas and protected by its eternal guardian, the snow peak of Ilimani (6402m). Housing the seat of government, La Paz is a city of contrast, between both ancient and modern. A visit will also be made to the Valley of the Moon. The city centre sites include the Plaza Murillo (with its presidential palace, national congress and metropolitan cathedral), museums, and many interesting markets. Free afternoon.
Meals: B
Day 14: La Paz - Uyuni (All meals)
Very early transfer to the airport for the 6.30am flight to Uyuni. Arrival at 07.15 and pick up for the private tour to Colchani. Colchani is a village that lives off the Salt production on the Salar. We will see how they mine and process the salt with their rustic instruments and tools. From Colchani we will drive west into the great Salar de Uyuni. Stopping at the Salt Mounts where the locals dry the salt before they process it. Next we will drive into the blinding whiteness of the Salar and head towards the Isla Incahuasi. This is the official visitor's island on the Salar. Here we hike around one of Bolivia's most amazing sites. The surreal island surrounded by a sea of salt is home to huge cacti, some over 1000 years old. As well as a stranded colony of Vischachas (hopping rabbits akin to the chinchilla family). After hiking on the 'Island', a packed lunch before continuing towards Ojo de Perdíz, visiting en route 'la Gruta de las Galaxias' (famous for its geological formations). We will arrive to the Hotel Tayka Del Desierto for dinner and accommodation.
Tayka del Desierto Hotel | Meals: B, L & D
Day 15: Laguna Colarado - Laguna Verde - Villmar (All meals)
After breakfast, we traverse the incredible desert and apprecaite the interesting formations such as the rock trees along with witnessing llamas, vicuñas and the small rabbit like rodent, the vizcacha.
We enter the National Reserve of Andina Eduardo Avaroa and visit the magical Laguna (lake)Colorada, with its beautiful red coloration due to the accumulation of sediments and specific algae present in the water. Box lunch is included. The lake is of vital importance for the survival of 3 different species of flamingos in the area We continue the trip and visit the Sol de Mañana, famous for its geysers and volcanic activity. We finally arrive to Laguna Verde (greeen), an incredivle mirror like lake of emeral brilliance, most noticable in the morning and afternoons. The colour is due to the presence of magnesium in the algae.
Close to the lake you will be able to see the Volcano (5,868 m.)
Continue the journey onto Villamar and your lodge where you will have dinner.
Meals: B, L & D
Day 16: Villmar - Uyuni - La Paz (Breakfast)
After breakfast, we shall depart Villamar towards Uyuni visiting enroute the valley of the La Paz. Transfer to your hotel.
Meals: B
Day 17: La Paz (Breakfast)
After breakfast, transfer to the airport for your connecting flight home.
Meals: B
End of our services
Please note this tour starts in Lima and ends in La Paz
2023 Authentic Peru & Bolivia Tour with Lares Lodge to Lodge trek Itinerary Overview:
PRICES:

Please Contact Us Here
Credit Cards Welcome:



WHAT IS INCLUDED / NOT INCLUDED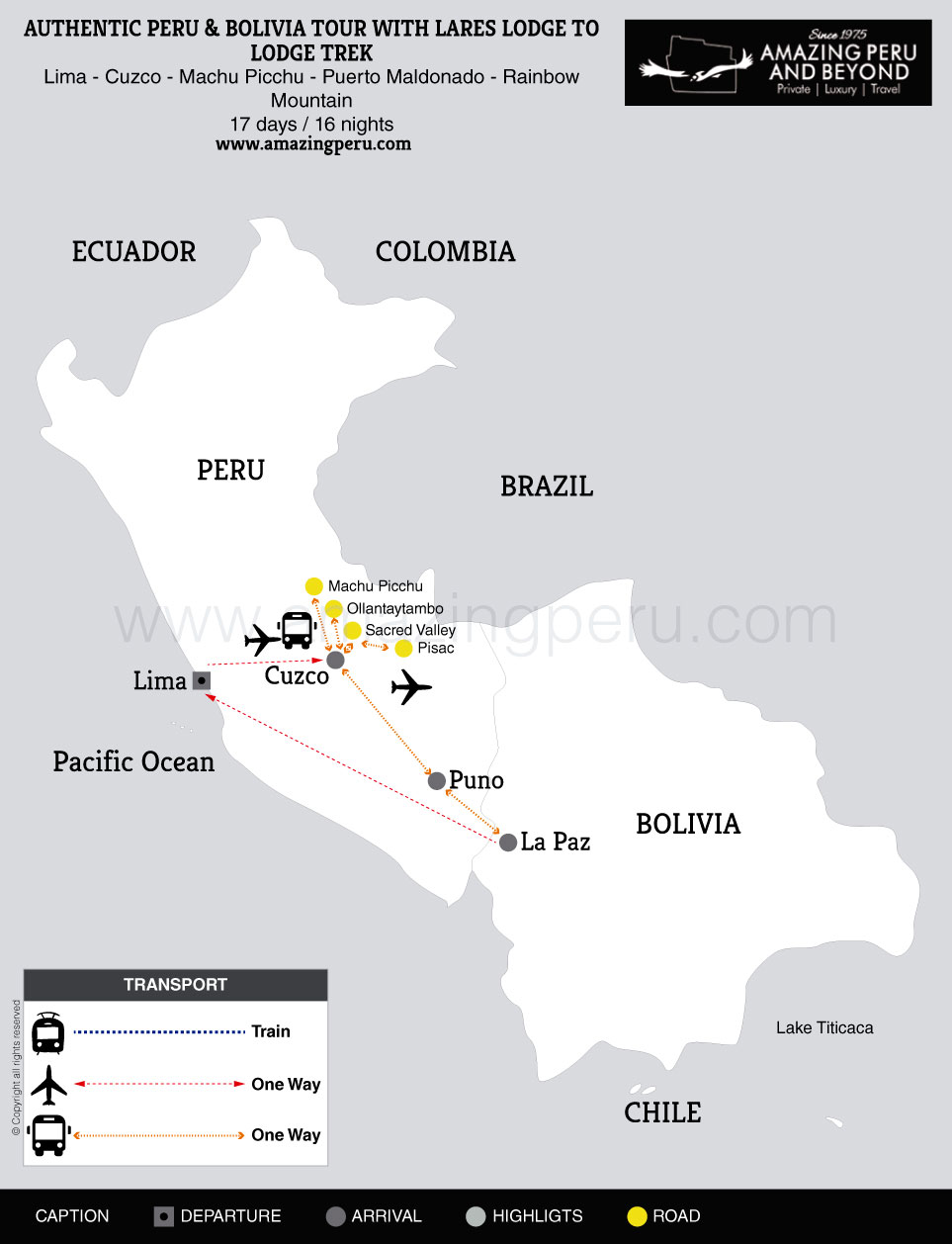 2023 Authentic Peru & Bolivia Tour with Lares Lodge to Lodge trek
Lima - Cuzco - Lares Lodge to Lodge Trek - Machu Picchu - Lake Titicaca - La Paz - Uyuni Salt Flats
17 days / 16 nights.
For current availability contact us at
info@amazingperu.com
and we will send you the relevant trip dossier along with a 90 day fixed quote, terms and conditions. Please bear in mind that significant price reductions are available for groups. All our Luxury Tours are fully private and depart daily. Contact us for more information regarding the above tour, or to begin customizing your own itinerary.
"Well-run multipurpose agency, with several offices in Peru with an extensive roster of trips, from family and honeymoon to luxury trips..."
Frommers Guides 2023
"Highly recommended, professional and well-organized, 'perfect tour', knowledgeable guides"
Footprint Handbook 2023
"Transportation services and accommodations are top-notch, and the guides are flexible and extremely helpful"
Fodor's Guides 2023
"
Amazing Peru
has more than 20 years of experience in the travel industry. Tours to Machu Picchu can be customized to include airfare, all meals, accommodations and travel insurance, and last from six to 14 days. Amazon cruises, horseback riding, river rafting, hiking and biking throughout Machu Picchu, Cuzco, Sacred Valley, Lake Titicaca..."
USA TODAY
"Move Over, Machu Picchu - How disabled travelers can tour Machu Picchu."
Christoper Reynolds
"Looking for an adventure of lifetime to kick-start married life? Consider these honeymoons with a difference… "
Perfect Wedding Magazine
"Experience"
Amazing Peru is the leading company in Latin America that combines exclusivity, luxury and authenticity for Peruvian holidays. It will tailor a 15- days tour for you that takes in Lake Titicaca, the Sacred Valley, Machu Picchu, Lima, Cuzco, Colca Canyon and the Amazon rainforest."
The Travel and Leisure Magazine UK
"A reputable firm with an impressive variety of unique excursions… "
At Home and Away with Alan Whicker CBE Magazine
Spend Christmas on a guided tour of breathtaking Machu Picchu and visit famous Lake Titicaca. Amazing Peru offers luxury Christmas vacations in Machu Picchu along the Inca Trail...
Trails Outdoor Travel Guide
"Amazing Peru takes families on both luxury and affordable tours throughout Peru. Children 12 and older are welcome to come along on the 12-day Peru Family Adventure Tour. Raft, backpack, kayak and bike through some of Peru's most unforgettable sights including Machu Picchu. The Family Tour to Peru is tailored for children younger than 12 years of age with an educational component. Relax on Peru's northern beaches, explore the high-altitude Lake Titicaca, trek through the Amazon, and visit Machu Picchu on this 16-day journey. Check out Amazing Peru's 12-day Family Tour."
Global Post USA
"
You can fly over Machu Picchu - or take a helicopter ride
Who needs hiking when you can fly? The company Amazing Peruoffers hour-long flight tours right over the Sacred Valley of the Incas. The plane fits a minimum of eight passengers, and it can also be chartered. Passengers fly over Tipon and Pikillaqta, both archaeological sites, Pisaq and the Urubamba Valley, Sacsayhuaman, and, of course, Machu Picchu itself. Flights can be longer or shorter as requested. "
"
You can Om your way through Machu Picchu
Machu Picchu is known as one of the most spiritual lands in the world, so why not go all out and Om your way through its ruins? Amazing Peru offers a seven-day yoga tour where visitors travel from Lima to Cuzco and finally to Machu Picchu, where they stay in the famed sanctuary Lodge hotel right outside of the ruins. They participate in multiple meditation and yoga sessions throughout the trip, but the highlight is a private session smack-dab in the middle of the ruins. Now that is an Om experience worth waiting for."
Yahoo Lifestyle
A Private, customized tour to Venezuela, Guyana, Suriname, French Guiana and Trinidad & Tobago. "Any traveler with a well-developed sense of adventure will be rewarded with an incredible experience on this journey to a birding paradise designed and operated by Amazing Peru."
"Savoring a taste of Uruguay's acclaimed wine region - An outstanding experience"