Caribbean Escapes Tobago Tour
Tobago is located in the extreme south eastern corner of the Caribbean, about 70 miles from Venezuela. Separated from its popular cosmopolitan neighbour island Trinidad, by only 20 miles, as a tourists/dive destination Tobago has remained relatively undiscovered. Tobago is 116 sq. miles mountainous, lush and unspoiled with a population of 47,000. This small population is scattered across Tobago mainly in small villages form Scarborough (the Center) to Charlotteville (the northernmost tip). Speyside is one such village on the northern coast. The southernmost island of the Caribbean, Trinidad & Tobago (blessed islands of La Trinite) were discovered by Christopher Columbus on his quest for new lands. If Tobago is famous for any one thing in its own right it is the Scuba Diving. The Diving is unquestionably spectacular, especially in Speyside, rivaling some the the best in the world. Manta Ray (Manta Birostris) are found with unprecedented regularity in Speyside due to the richness of the waters. The waters are very rich in nutrients which attracts hundreds of species of fish in a rainbow of colours from small butterfly fish to groups of Queen Angels, French Angels, Parrot fish, Tarpons, Grunts and the large majestic Manta Rays, which are famous for their interaction with divers. One of the dive sites has a Black Coral tree 8ft tall and Tobago also boasts one of the largest Brain Coral Heads, measuring over 12ft high and 16ft across. Many of the dive sites are affected by strong surge and surf, and some areas have heavy drifts. This however does not mean it is only suitable for experienced divers and there are many sites that offer gentle drift dives for beginners. Tobago has many other attractions - from palm fringed beaches to clear tropical waters, displaying an abundance of marine life, wildlife and culture. For the naturalist, Tobago has some of the best bird watching, butterfly seeking and hiking the Caribbean has to offer.
ITINERARY
Day 1: TOBAGO
Arrival to Tobago (some flights connect through neighbouring Trinidad). Reception and transfer to your selected hotel.
Day 2 - 6: TOBAGO
Free days at leisure.
Day 7 : SANTA FE - SOUTH PLAZAS ISLAND (Breakfast, lunch & dinner)
Transfer to the airport for your return flight home.
Caribbean Escapes Tobago Tour Itinerary Overview:
WHAT IS INCLUDED / NOT INCLUDED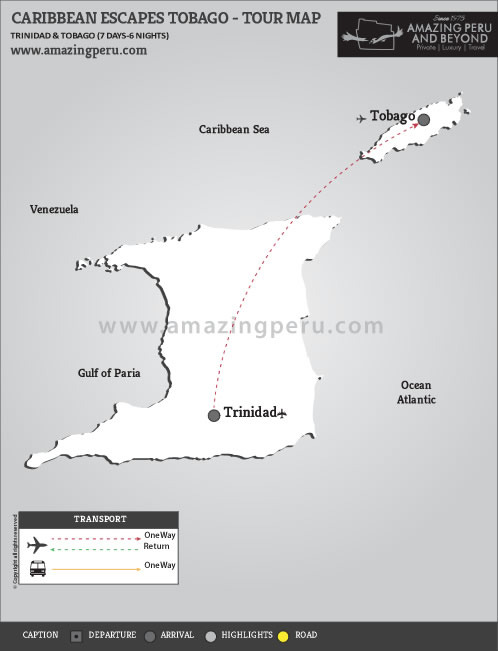 Caribbean Escapes Tobago Tour

7 days / 6 nights.
For current availability contact us at
info@amazingperu.com
and we will send you the relevant trip dossier along with a 90 day fixed quote, terms and conditions. Please bear in mind that significant price reductions are available for groups.
Recommendations:
"Amazing Peru is a well-run multipurpose agency, with several offices in Peru and an extensive roster of trips, offering everything from family and honeymoon tours to luxury trips and adventure and jungle tours, for virtually any budget" Frommers Guides 2012
"Highly recommended, professional and well-organized, 'perfect tour', knowledgeable guides" Footprint Handbook 2012
"Transportation services and accommodations are top-notch, and the guides are flexible and extremely helpful" Fodor's Guides 2012
Amazing Destinations is a reputable firm with an impressive variety of unique excursions…" - At Home and Away with Alan Whicker CBE, Magazine At Home and Away with Alan Whicker CBE
Recommended in Bonnie's South America Travel Blog at About.com .