Blue Haven Hotel





«TOBAGO»
Bacolet Bay, Scarborough, Tobago, Caribbean.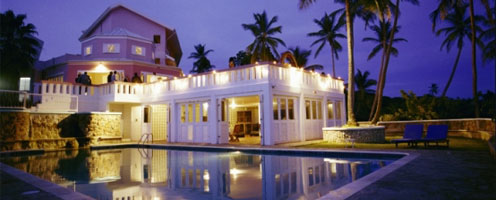 DESCRIPTION
Blue Haven Hotel is located in a lovely neighbourhood just outside Tobago's capital, Scarborough, on a 15 acre / 6 ha oceanfront property at Bacolet Bay along the southern shore of Tobago. Blue Haven is bounded on three sides by the ocean and offers the convenience of close proximity to many of Tobago's attractions: the town centre, the market and cultural sites.
Blue Haven is the most stylish small hotel in Tobago. It sits on the south coast of the island, in Bacolet outside Scarborough, above one of Tobago's prettiest beaches. It looks a bit unexpected, two quite large blocks facing the cove and the sea, but they come to a point like a prow of a ship on the headland, complete with "sails" on one side. The nautical theme continues on the balconies, with their canvas "balustrades" and inside, in the split-level, polished wooden floors. The furniture is dark in classic style, with light walls and a palette of colour on the cushions and bedspreads. A path leads down to the beach, which sits under a very pretty tangle of palms.