Wild Venezuela
Los Llanos - The Amazon - Orinoco Delta
14 days / 13 nights.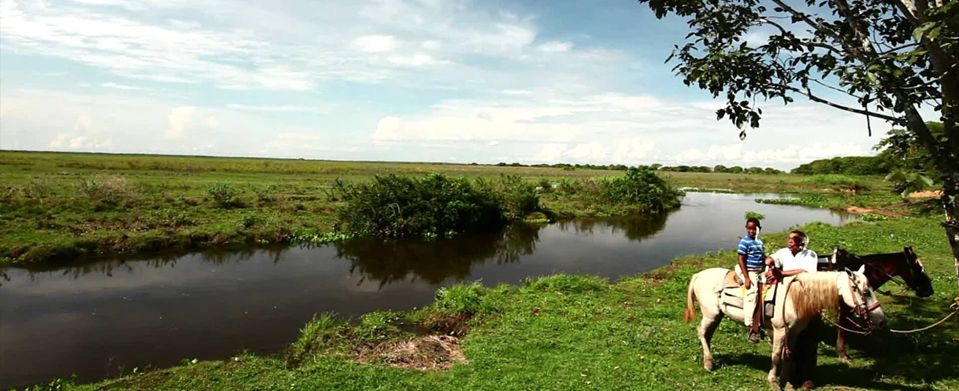 ITINERARY
Day 1:
Arrival in Caracas. Reception and transfer to your hotel.
Day 2:
After breakfast, transfer to the airport for the flight to Barinas. Transfer to your lodge in Merida. Day 3: Departure at 07:00 hours for the trip down Paramo road known as "Transandina". Passing through Mucuchies, San Rafael, Apartaderos, Laguna Mucubaji, and the St. Domingo valley.

Opportunity to see butterflies and birds. Lunch at a typical restaurant. Later a 3 to 4 hours boat trip including 2 hours night tour by boat to look for sakes and caimans- Supper and overnight in a small fishing village, in our private house, next to the Apure river. Maybe with some typical Llanos music with harps, quatro and maracas.
Meals: B & L
Day 3:
Very early morning breakfast in order to travel further south for further wildlife and bird observation Return for Lunch and a siesta in our private camp. After a four hour boat ride for wildlife observation. We shall certainly see pink river dolphins, iguanas, turtles, capybara, howler monkeys, caiman, snakes ( incl. anacondas from December to May ), different fish and more birds than any other part of the Llanos. Possible animals we shall see will be: giant anteater, deer, jaguar, ocelot, jaguarundi, tamandua, peccary, capuchin monkeys, giant Amazon river otters and others. Opportunity for some piranha fishing. Supper and overnight in Hammocks) at a small fishing shelter in the jungle (only in the dry season!)
Meals: B & L
Day 4:
After breakfast, more wildlife and bird observation from the boat. (for around 2 hours). Lunch followed by van transport back to Barinas. Sightseeing through the upper llanos and the foothills. Swimming and relaxing in the refreshing and crystal clear Acequia before supper and overnight at "Campamento de Aventura".
Meals: B & L
Day 5:
After breakfast a 1 - 2 hour hike through tropical rainforest with the majestic Sierra Nevada and the highest peaks of Venezuela in the background. Opportunity for some bird-watching. After 1 - 2 hours tubing down the Acequias River, one of the cleanest and most scenic in all Venezuela. arrival at the adventure camp for lunch. Return by van to Barinas, arriving at around 3:00 pm and onward for your flight to Caracas. Transfer to your hotel.
Meals: B & L
Day 6:
After breakfast, flight to Puerto Ayacucho. Transfer to your hotel. City tour of this hot jungle town including the Museo Etnologico de Amazonas to learn about the different regional Indian groups including the Piaroa, Guajibo and Yekuana people. A visit to El Mirador, that overlooks the spectacular rapids of the Orinoco River called Raudales Atures.
Meals: B
Day 7:
After breakfast, transfer to the airstrip for the one-hour-flight to San Juan de Manapiare mission station. This destination will already give us a foretaste of what it's waiting for us. After landing, we'll be taken to the cast off place by our Indian guide. The ride to our camp at Yutaje waterfall takes approx. 6 hours with a stop at an Indian settlement. Overnight stay in hammocks.
Meals: B
Day 8:
Today we will go with the local guide through the jungle to get to know the flora and fauna. After lunch, opportunity for fishing and swimming.
Meals: L
Day 9:
Return to San Juan de Manapiare. Overnight stay at a guest house.
Day 10:
10
Returning flight to Puerto Ayacucho. One more day in this pleasant jungle town.
Day 11:
Return flight to Caracas and transfer to Tucupita by long distance bus. Arrival and transfer to your hotel.

Tucupita is a hot river town, and the centre of the Orinoco Delta, the second largest Delta in South America after the Amazon. It is a perfect home for all kinds of animals as well as Moriche palms and other tropical plants. It is common to see Monkeys, Herons, Terns, Caiman and a great variety of insects and spiders, and with some luck one of the rare Manatees or Jaguars. The people who live here are the Warao Indians, who have built their huts on stilts above the water known as Palafitos.
Day 12:
Very early in the morning you'll be awakened by a concert of the many birds from the jungle around us. Breakfast is served and off we go to an exciting trip discovering the remote corners of the Delta. On our way we pass many communities of the Warao tribe as well as multiple small channels and islands. It is here where you'll appreciate the rare fauna and meet observe animals like monkeys, snakes, and a great variety of birds such as Macaws and Parrots. For hiking into the jungle we furnish boots to all participants. As we arrive at a very simple but typical Warao-Camp, we'll be served lunch. Around 4:00 pm we return to our Camp where dinner awaits us at 8:00 pm.
Meals: L & D
Day 13:
Breakfast at 08:00 am. Return by boat back to Tucupita. Transfer to the bus terminal for the trip back to Caracas.
Meals: B
Day 14:
Return in the early morning. Free day before your return flight home.
End of our services.
PRICES:

Please Contact Us Here
Credit Cards Welcome:



WHAT IS INCLUDED / NOT INCLUDED
For current availability contact us at
info@amazingperu.com
and we will send you the relevant trip dossier along with a 90 day fixed quote, terms and conditions. Please bear in mind that significant price reductions are available for groups. All our Luxury Tours are fully private and depart daily. Contact us for more information regarding the above tour, or to begin customizing your own itinerary.