Adventure Venezuela
Mountain Biking - River rafting on Rio Doradas - Pico Bolivar Mountain Ascent
11 days / 10 nights.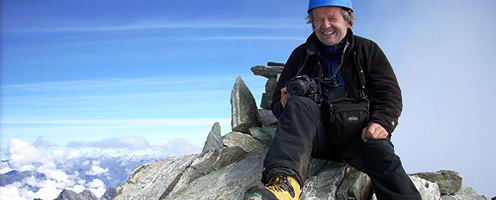 ITINERARY
Day 1:
Arrival in Caracas. Reception and transfer to your hotel
Day 2:
After breakfast, transfer to the airport for the flight to Barinas. Transfer to your lodge in Merida.
Meals: B
Day 3:
After breakfast, departure by 4 wheel drive vehicles down to Ejido where we visit a typical "Trapiche" (sugar cane production). From here we continue our ride down the dry and xerofite Chama valley. We enter El Museo de Cafe in Estanquez and as we drive on we will leave the rain shadow effect again and find the lush and green valley of the Mocoties river. This area is famous for producing Venezuela's finest coffee. We leave the main valley for the small road across the mountain hills to the tiny village of Guaraque where we prepare our new mountain-bikes. In the afternoon we will enjoy a 10 km asphalt and 25 km dirt road by mountain bike along the Rio Guaraque and later on the Rio Negro. The altitude and climate are perfect and the views of the mountains and canyons are fabulous. This place looks more like the Gran Sabana than the Andes. Just after the cycling we have a refreshing bath in natural pools and tropical rainforest vegetation. We also visit a cave located close to the waterfalls. In the late afternoon we reach the dam of "Represa la Honda", an artificial lake that has created a fjord - like landscape.

Cabañas at 1200 meters above sea level guarantees the absence of mosquitoes and you will sleep in cabins and a nice and fresh mountain climate.
Meals: B
Day 4:
After breakfast, a short drive to the San Agaton Hydroelectric station where we get our compulsory rafting instructions and an intensive safety briefing. There will be fun class 3 to 3.5 rapids awaiting us. As we enter the Doradas valley we will stop in the middle of the wilderness and tie up our boat. An hour hike through the lush and tropical rainforest, we will encounter the ruins of a developed society that lived and built a "lost city" in the Doradas valley almost 2000 years ago. This site is practically unknown to science and very few people have even heard of it. A brief explorations of the site before returning to our boats where we will continue with another hour of rafting in soft class 1 waters except for the last rapid which again is a class 3 rapid.

Picnic lunch by the shore of the river. Just 5 minutes walking distance and we will come to the "blue lagoon" (pozo azul), with crystal clear waters and a small waterfall in the middle of a beautiful jungle landscape. Time to enjoy this pristine spot, swim, refresh and disconnect from the world for a little while. Return to Campamento "la Trampa".
Meals: B & L
Day 5:
Breakfast at the clubhouse. A motorized boat-ride will take us out on to the lake to see and photograph the beautiful natural waterfalls and rivers that feed the artificial lake and the sunken village of Potosi. Here you will see just a church peak (cross) protruding out of the water. After lunch in Pregonero (a small andean village) we return to Merida via the National Park "Paramo Batallon la Negra". Preparation and briefing for the Pico Boliva Moun tain ascent.
Meals: B
Day 6:
Mucuy- Laguna la Coromoto (2130 m - 3200 m / 9 Km / 3.30 - 5.30 hours walking)
A one hour jeep drive takes us to the entrance of The Sierra Nevada National Park in la Mucuy. Through tropical forest we hike uphill for several hours passing over to cloud forest, bamboo forest and finally reaching the green transparent clear Laguna Coromoto at the exit of the woods. Camping.
Day 7: Laguna Coromoto - Laguna Verde (3200 m - 4000 m/ 6 Km / 3.00 - 5.00 hours walking).
The path turns out to be quite rocky and steep today. We will pass "el puente quemado" and are forced to make little climbs over the huge rocks from the glacial period. We camp somewhere close to Laguna Verde with the snow-white Humboldt thrones visible.
Day 8: Laguna Verde - Laguna Timoncito (4000 m - 4600 m/7,5 km/ 4 - 7 hours walking)
From beautiful Laguna Verde we hike west towards Laguna El Suero and face a steep uphill on loose rocks called "Chomahoma". Once on top we can enjoy excellent views and we have reached the traverse altitude. We cross over through a rock and/or snow landscape to Laguna Timoncito.
Day 9: Pico Espejo - Pico Bolivar o Timoncito - Pico Bolivar (4765 m - 5007 m / 2 - 3 Km return / 4 - 10 hours walking, climbing and rappelling)
A fantastic day you won't forget. Catwalks, steep climbs, abysses, oxygen-lack and cold sweat is the program for the non-climbers. You are assured with harness, rope, and helmet and a professional guide. In the rainy season ice axes and crampons will have to be used too. Weather conditions and physical resistance determine if you need 4 hours or the whole day for the climb. Our groups have a maximum of 5 climbers on this adventurous trip. If possible we try to return to Loma Redonda on the same day - an extra 2-4 hours hike.
Day 10: Pico Espejo - Loma Redonda - Teleférico - Mérida (4765 m - 4045 m, 2 -4 hours walking and then down by cable car to Mérida 1650 m in 1 hour approx)
If the cable car is not working then we shall require an extra 5 to 8 hours making the last day the longest of all.
Day 11:
Return to Barinas for the flight to Caracas and onward for your flight home.
PRICES:

Please Contact Us Here
Credit Cards Welcome:



WHAT IS INCLUDED / NOT INCLUDED
For current availability contact us at
info@amazingperu.com
and we will send you the relevant trip dossier along with a 90 day fixed quote, terms and conditions. Please bear in mind that significant price reductions are available for groups. All our Luxury Tours are fully private and depart daily. Contact us for more information regarding the above tour, or to begin customizing your own itinerary.