Venezuela Discovery and Adventure
Barinas - Merida - Doradas Valley
16 days / 15 nights.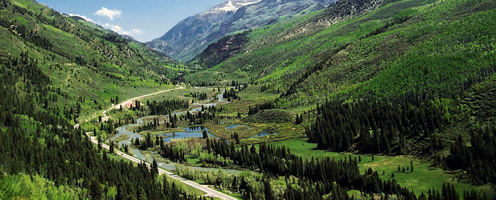 ITINERARY
Day 1:
Arrival in Caracas. Reception and transfer to your hotel
Day 2:
After breakfast, transfer to the airport for the flight to Barinas. Transfer to your lodge.
Meals: B
Day 3:
After breakfast, one and a half hour drive on the transandina highway to the Andes town of St. Domingo, located at 2200m. Lunch and ride out at to the 17 000 hectare ranch and to the Hacienda "El Baho".
Meals: B
Day 4:
This morning we will experience an exciting canyoning adventure with six waterfalls from 6m to 48 m high in beautiful tropical cloud forest setting. Lunch before continuing our trip to Merida. Transfer to your lodge.
Melas: L
Day 5:
Today a trip up the worlds longest and highest Cable car, "El Teleferico de Merida" that will takes us in less than 2 hours from 1600m up to almost 4800m close to the glaciers of Pico Humboldt and Pico Bolivar (Venezuela's two highest summits) The National Park is home to frailejon, which has a beautiful yellow bloom that attracts hummingbirds and a vast array of insects. Afternoon at leisure or optional tandem paragliding flight.
Day 6:
After breakfast, drive through a cactus landscape down to the hot, evergreen basin of Lake Maracaibo - the largest lake in South America. On the way we will visit small sugar cane, chewing tobacco and coffee production sites. From Puerto Concha, we will head out by motorboat through a gallery of forests out on to the open lake. Exploration of the south side of the lake, known as the Catatumbo Delta and National Park. Red howler monkeys, iguanas, caiman, butterflies, snakes and thousands of birds. are found in this pristine location. Accommodation in a house on stilts built in the middle of the lake where our bed will be in hammocks. This will allow us to enjoy the natural phenomena of the Catatumbo lightning (also known as the Maracaibo lighthouse). These electrical storms of uninterrupted lightning have no sound whatsoever, which adds to a very eerie sensation. Conditions here are very basic.
Meals: B
Day 7:
Departure around 7.30 AM for exploring the jungle river and Mangrove swamps in search of the big blue morphos. Two new sub-species of this butterfly family have been recently discovered by one of your very wildlife and nature guides. We will also look out for the Maracaibo lake sweet water dolphins and endemic birds like the northern screamer. Lunch and Siesta on the house on stilts. Return to the fishing village on the mainland and back to the Andes. Overnight in a small village surrounded by coffee plantations.
Meals: L
Day 8:
After breakfast, we drive up to a pass in the National park "Batallon la Negra" over to Guaraque, a small hamlet in the part of Merida known as the "Pueblos del Sur" (villages of the south). At the entrance of the valley of Rio Negro we begin our 19 kilometre mountain bike ride through a truly spectacular scenery.... all dirt road and even some short single tracks for the experts. At the end of the biking track we reach a 170 metre deep cave where many species of bats live. A nice and refreshing bath in a natural waterfall and pool after the ride. In the late afternoon we will reach "Campamento La Trampa" at the dam lake "la Honda" located in a fresh mountain climate at 1200m.
Meals: B
Day 9:
After breakfast, a short drive to the San Agaton Hydroelectric station. A brief tour before our compulsory rafting instructions and an intensive safety briefing. There will be fun class 3 to 3.5 rapids awaiting us. As we enter the Doradas valley we will stop in the middle of the wilderness and tie up our boat. An hour hike through the lush and tropical rainforest, we will encounter the ruins of a developed society that lived and built a "lost city" in the Doradas valley almost 2000 years ago. This site is practically unknown to science and very few people have even heard of it. A brief explorations of the site before returning to our boats where we will continue with another hour of rafting in soft class 1 waters except for the last rapid which again is a class 3 rapid. Picnic lunch by the shore of the river. Just 5 minutes walking distance and we will come to the "blue lagoon" (pozo azul), with crystal clear waters and a small waterfall in the middle of a beautiful jungle landscape. Time to enjoy this pristine spot, swim, refresh and disconnect from the world for a little while. Return to Campamento "la Trampa".
Meals: B
Day 10:
Breakfast at the clubhouse. A motorized boat-ride will take us out on to the lake to see and photograph the beautiful natural waterfalls and rivers that feed the artificial lake and the sunken village of Potosi. Here you will see just a church peak (cross) protruding out of the water. After lunch a drive through mountains and foothills to the Adventure Camp in la Acequia. (4 hours). Rest of the afternoon time to relax, sunbathe or enjoy some bird watching.
Meals: B
Day 11:
Morning hike through a tropical rain forest to a viewpoint close to the camp from where you can see the highest peaks of Venezuela on one side and on the other side the endless plains known as "Los llanos". Afterwards, depending on the weather, rafting or inner tubing on the Acequias river. Lunch, followed by a downhill biking trail.
Meals: L
Day 12:
Departure for our llanos tour. Around noon we will reach a small fishing village. In the afternoon we will go on a spectacular boat safari to observe pink river dolphins, howler monkeys, perhaps some capuchins, iguanas, caiman, and many birds. According to the season, we will also look for the largest snake on earth, the anaconda.(From December to May the chances to find them are very high).The llanos is well known for being the Serengeti of South America and is considered one of the best wildlife sanctuaries on the whole continent. Overnight in a small, fishing village, sleeping in hammocks.
Day 13:
Safari by car to observe more wildlife (capybaras, iguanas, caiman, and thousands of birds: perhaps even a giant anteater, ocelot or jaguar). Fishing for the piranhas. Overnight in Hotel.
Day 14:
Return to Barinas. Transfer to the airport for the flight to Maiquetia (Caracas) and from there on to Los Roques, paradise islands of the Caribbean.
Day 15:
Relax, sunbathe or snorkel in some of the most amazing beaches and coral reefs that you can find in the Caribbean. Optional diving, sea kayaking or Bone fishing.
Day 16:
Transfer to the airport and return to Caracas for your return flight home.
Equipement:

All equipment is imported and adheres to international safety standards. For example all the Rafting boats are self bailing, imported from New Zealand ( Brand: Incept). The mountain-bikes are brands such as Merida, Specialised or Trek, neoprene suits are from Artistic or Camaro, and with Petztl Canyoning Harnesses, and swiss Mammut static ropes. All Guides for Outdoor activities are very experienced and have received special training and update courses for the past 5 years by specialists from both New Zealand and France. The guides for the nature components are well known Naturalists and Biologists.

Lodging: All equipment is imported and adheres to international safety standards. For example all the Rafting boats.
End of our services.
PRICES:

Please Contact Us Here
Credit Cards Welcome:



WHAT IS INCLUDED / NOT INCLUDED
For current availability contact us at
info@amazingperu.com
and we will send you the relevant trip dossier along with a 90 day fixed quote, terms and conditions. Please bear in mind that significant price reductions are available for groups. All our Luxury Tours are fully private and depart daily. Contact us for more information regarding the above tour, or to begin customizing your own itinerary.