Canaima National Park
Gran Sabana - Roraima Trek - Angel Falls
13 days / 12 nights.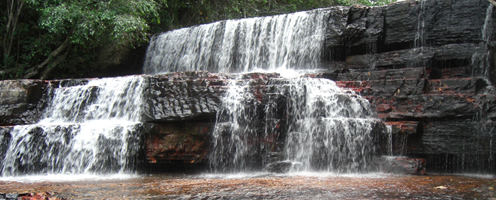 ITINERARY
Day 1:
Arrival in Caracas. Reception and transfer to your hotel. Optional city tour
Day 2:
After breakfast, flight to Ciudad Bolivar. Before heading south to the Gran Sabana we'll stop at Cachamay Park located on the Caroni River. A place with lush vegetation and water falls. From here we'll continue to the Gran Sabana through the towns of Upata, Guasipati, El Callao, Tumeremo and El Dorado, all with a gold mining history. In El Callao we'll see miners digging for gold in the Los Molinos underground mine. Later we'll stop in Tumeremo for lunch á la carte. After passing El Dorado and going through the mining village of KM 88 we'll stop briefly at the Natural Monument "Piedra de La Virgen". From here we make the final leg and reach the northern sector of the Gran Sabana at 1.400 meters above sea level. Our first night will be at a modest lodge in Rapidos de Kamoiran in double occupancy rooms with private bath and showers. Dinner will be at the lodge restaurant.
Meals: B, L & D
Day 3:
After breakfast we'll go to the indigenous village of Liworibo where a 30-minute trip by motorized curiara (a native canoe) will take us to Chinak-meru, a water fall popularly known as Aponwao. With a height of 106 meters it is the highest waterfall in the Gran Sabana. After enjoying the site, we'll walk back to the village, and on the way we'll stop at Pozo Escondido and Pozo de Los Enamorados, two water holes where we'll eat our picnic lunch and take a refreshing bath in the cool water. In the afternoon it's back to Rapidos de Kamoiran. Dinner will be at the lodge restaurant.
Meals: B, L & D
Day 4:
After breakfast our trip continues to Santa Elena de Uairen stopping occasionally to visit interesting places like Salto Kawi, Salto Kama-Meru, Mirador El Oso (a lookout point from where you can take pictures of the tepuis), Quebrada Arapan and Quebrada Soroape where we will stop for picnic lunch. Later we'll stop at Rio Yuruani and Quebrada El Jaspe, to see a stream and water fall with a beautiful red jasper floor. To end the day we'll take a quick jump to the border with Brasil where we can browse and shop for souvenirs. The night will be at pleasant Camp Yakoo where we'll enjoy dinner and the silence of the sabana. Accommodations will be in double rooms with hot running water. Dinner will be at the lodge restaurant.
Meals: B, L & D
Day 5:
Return to Santa Elena where we will leave by jeep and drive for about 2 to 3 hours to reach Pareitepuy which is our starting point for the hike. After registration at the Indian chiefs house and Inparques (National Park office) we will hike for about 4 to 5 hours to get to the Kukenan river. There are two refreshing river crossings and some 30 minutes of stronger uphill walking to come. The river crossing at Kukenan River depends on the water level and can be dangerous! The rocks are extremely slippery. If the weather and visibility is favourable, we will enjoy the views of Mount Roraima, Kukenan and many other Tepuys that form the Guyana shield along the way. The terrain here is mainly open savannah. Dinner at the campsite.
Meals: D
Day 6:
Just after breakfast, we continue with a long uphill walk. According to the season we might hike across complete fields with thousands of orchids. There is 2 hours of good uphill and another 2 to 4 hours of hiking today before we reach the base camp with running water coming from the top of "the ever fruitful mother of the streams - Roraima". The Indian name is adequate as the mother's water feeds the Amazon, Orinoco and the Essequibo ...the 3 largest rivers in South America.
Meals: B
Day 7:
After a good night's sleep just outside a thick and lush belt of humid cloud forest surrounding the Tepuy, we breakfast before continuing our journey. It will take us about 2 hours to cross this thick and beautiful jungle with many neotropical plants such as bromeliads, tree ferns and helicons. We walk for another 2 hours, ascending along the ramp on big rocks to reach the top of the plateau before stopping for lunch at the campsite. The afternoon is free for an exploration on this "island stuck in time".
Day 8:
The plateau of Roraima is around 70 square kilometers wide so you could actually spend weeks exploring this incredible place. Strange rock formations, flesh eating endemic plants (droseras) and bizarre black frogs add to the "lost world" belief. After breakfast we will find our way through this labyrinth of black lichen tainted rocks and hike for the whole day. We will reach the valley of the crystals, the obelisk monument of the triple point (border of Venezuela-Brazil-Guyana). We will hike on to "el Pozo", a natural water pit with a small cave system below that we will begint o explore. Camp for the night.
Day 9:
Last day for final photographs of this incredible world before we start hiking down. We will hike to Rio Tek (around 6 to 8 hours), which is mostly downhill. A refreshing swim in the cool river will be a supreme reward after the days long trek. Lunch on the way and dinner at the final camp.
Meals: D
Day 10:
After breakfast, a final 3 to 4 hours walk back to Pareitepuy where and refreshments will be waiting for us. Please note that the people of Inparques will check everybody for crystals and other items you are not supposed to pick up or collect on the mountain. Return to Santa Elena in our jeeps.
Meals: B
Day 11:
Transfer to the airport for the return flight to Canaima. Transfer from the airport to the Camp in a local Indian boat called a "curiara". We travel on the Canaima Lagoon to the Anatoly Island. After Lunch we will take the "curiaras" to visit the rapids and the Sapo Waterfall. We will camp for one night in hammocks.
Meals: L
Day 12:
After breakfast we will take the "curiaras" to begin our little adventure on the Carrao and Churun Rivers to the Angel Falls. During the trip we will see the Orchid Island, Devils canyon, Wey Tepuy and many others. At the Raton Island we will have lunch. Then we begin a one hour walk to the foot of the Angel Fall. At noon we walk back to the camp on the Raton Island. We will camp for one night in hammocks.
Meals: B
Day 13:
After breakfast, we will travel on the "curiaras" back to Canaima where we will take the flight to Ciudad de Bolivar and onward onto Caracas for your return flight home.
Meals: B
End of our services.
PRICES:

Please Contact Us Here
Credit Cards Welcome:



WHAT IS INCLUDED / NOT INCLUDED
For current availability contact us at
info@amazingperu.com
and we will send you the relevant trip dossier along with a 90 day fixed quote, terms and conditions. Please bear in mind that significant price reductions are available for groups. All our Luxury Tours are fully private and depart daily. Contact us for more information regarding the above tour, or to begin customizing your own itinerary.