Peru Rail - Vistadome




ROAD: Cuzco - Ollantay Tambo - Machu Picchu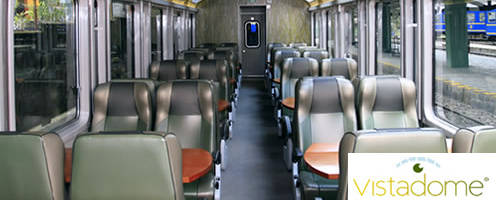 "A journey for your senses"

The Vistadome is the ideal train for those who want to be in contact with the environment and appreciate the wonderful journey to Machu Picchu.

Surrounded entirely by glass and wagons with large panoramic windows offering incomparable scenic views and innumerous opportunities to capture amazing pictures, Vistadome travelers feel connected and part of the impressive landscape of Peru. Perurail provide travelers on board personalized and first level service to give them an unforgettable life experience.

The Vistadome has three stations of departure to Machu Picchu: Cusco (Poroy), Sacred Valley (Ollantaytambo) and Sacred Valley (Urubamba)
The Vistadome also has air conditioning and heating, leather seats that adjust the body to provide comfort and relaxation during the entire trip.
From Poroy station located about 20 minutes from downtown Cusco, the journey to Machu Picchu lasts just over three hours. This is a unique journey experience in which PeruRail is concerned about every detail.
From the Sacred Valley (Ollantaytambo) this is a journey of one hour and 30 minutes, with practical and fast travel experience, offering more than ten schedules to choose and three different rates.
From Urubamba station, located 3 hours from Tambo del Inka Hotel.

The Vistadome has a different service, which allows the visitor to be immersed and feel the Andean culture through its landscapes, music, dance and even food carefully prepared with local ingredients.

Connect your senses through a sophisticated and sensory travel experience.
On-board experience with the best comfort and quality service.

Peru Rail - Vistadome
ROAD: Cuzco - Ollantay Tambo - Machu Picchu