Peru Rail - Expedition



ROAD: Cuzco - Ollantay Tambo - Machu Picchu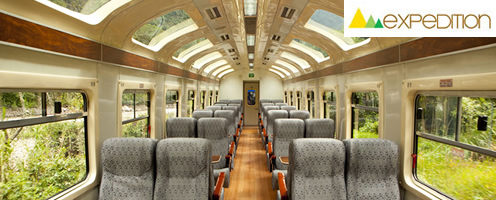 The Adventure Starts in the Journey
For all the adventurous travelers who seek to discover all the journey details and arrange the trip itinerary according to their needs. The Expedition is the best alternative to go to Machu Picchu.
The Expedition is a service designed for the traveler´s comfort, with four passenger seats located in front of each other, so you can share your experience, and for the faithful backpack that is always with you we offer racks placed above the seats. Also, this train has panoramic windows, air conditioning and heating, and Andean music that creates a cheerful atmosphere.
Expedition service departs from two stations: Cusco (Poroy) and the Sacred Valley (Ollantaytambo)
The route Cusco - Machu Picchu is a three hours journey for those who want to departure directly from Cusco, being the only alternative in the market, and the Sacred Valley - Machu Picchu route offer multiple schedules and rates choices.
Relax and start your adventure to the next station is Machu Picchu.
Because the expedition begins when you depart to your destination.
This is a travel experience with all the quality and benefits of Perurail at a lower cost.

Peru Rail - Expedition
ROAD: Cuzco - Ollantay Tambo - Machu Picchu