Peru Rail - Andean Explorer





ROAD: Cuzco - Puno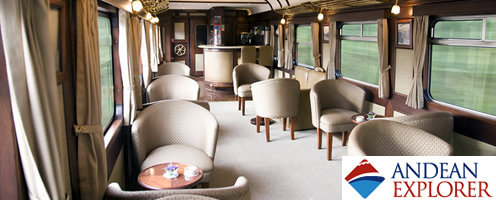 "Between The Pleasure & The Legend"
Enjoy the mysticism offered by the beautiful Peruvian Andean landscape aboard on our luxury train.
Riding the Andean Explorer is a unique experience, a journey between mountains and clouds, and between mountains and highlands. Ten hour train journey, which ends at the majestic Lake Titicaca and in whose path, the traveler will see the changing landscapes among mountains, rolling plains, and the various weather of the area.
The Andean Explorer involves you in an exquisitely area decorated with subtle, delicate style of the great Pullman trains of the twenties. It includes dining cars and a car-bar outdoor observatory. The Andean Explorer is one the most of luxurious and different way of travel between Cuzco and Lake Titicaca.
Mentioned among The Best Journeys by Train of the World and one of the best two in South America (Society of International Railway Travelers)
Readers of The Guardian, The Observer and the Guardian Unlimited, selected The Andean Explorer as The Best Second Long Distance Tourism Destination.
Winner of South America´s Leading Luxury train by World Travel Awards 2012-201.

Peru Rail - Andean Explorer
ROAD: Cuzco - Puno