The Peru & Bolivia Unique Adventure Escape Tour
Lima - Cuzco - Machu Picchu - Lake Titicaca - La Paz - Uyuni
10 days / 9 nights.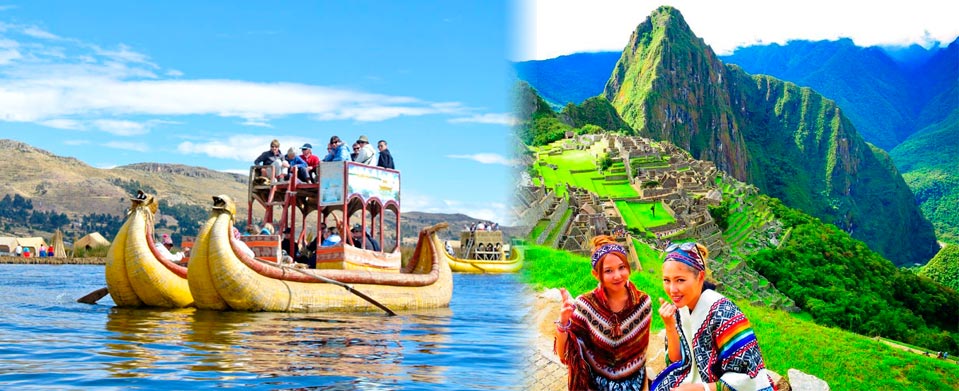 ITINERARY
Day 1. LIMA - CUZCO
Flight to Cuzco, the ancient Inca capital of the Incas. In Cuzco, you will be warmly welcomed before your short private drive to your hotel. In the early afternoon, you will be met by your guide for a guided tour of Cuzco including the Qoricancha temple or temple of the Sun, the Inca fortress of Sacsayhuaman overlooking Cuzco city, Qenko, Tambomachay and Puka Pukara. Return to the hotel in the evening.
Day 2. CUZCO - MACHU PICCHU - CUZCO (Breakfast)
Today you will have an early start and enjoy breakfast before your Expedition train to Aguas Calientes. The train will depart at 06.30am for the 3 ½ hour journey Arrive to Aguas Calientes train station, gateway to the lost city of the Incas.
The short ride up to Machu Picchu will meander through breathtaking mountain scenery up to the ancient Inca citadel.
Shortly after, a guided tour of Machu Picchu, the most spectacular ancient city in the world. Built by the Inca Pachacutec, and comprising stone blocks fitted with masterful precision, Machu Picchu harmoniously blends into the mountain landscape. There are many theories as to the origins behind Machu Picchu but three of the most popular ideas include a temple to the sun, a fortress against the jungle inhabitants or a sanctuary for the Incas. This fabulous city has houses, temples, warehouses, a large central square, all connected by narrow roads and steps, and is surrounded by terraces cut into the mountain side which were used for agriculture. Return to Cuzco and transfer to your hotel.
Day 3. SACRED VALLEY (Breakfast & lunch)
Today is a full day and quite challenging. We will pick you up early from your hotel and set out on a drive through the South Valley. The drive to the trailhead at Quesiuno (4,326 m / 14,189 ft) is 3 hours long. Once we reach the Inkintuyoc bridge, we will have breakfast. We then start off on our hike, following a lovely stream with horses as backup transport. You will be immediately surprised by literally herds of alpacas and llamas. We will have consistent views of the Ausangate Mountain. We will provide horses for you to ride on but you will also have to hike in various steep segments. Pass through villages and interact with the local residents. We will stop for a box lunch along the trail. Back on the trail, we encounter more of the traditional elements of this trek. This includes potato fields and unique fauna. We have the prospect of seeing chinchillas and vicunas. Vicunas are the only non-domesticated animal of the llama family in Peru. Many red mountains are also a highlight of this portion of the hike. After a total hike of approximately 5 hours, we finally reach our destination, what we came to see the Rainbow Mountains (5,020 m / 16,466 ft). After getting over its beauty, you will have time to explore the area. You will have time to take pictures and enjoy the setting. We will spend approximately 30 minutes at the top. We then hike downhill the way we came. The hike will take 4 to 5 hours. A private van will be waiting for you when we return. We will embark on the 3 hour drive back to the Sacred Valley and drop you off at your hotel. Approximate arrival time is between 8 and 9 PM.
Day 4. CUZCO - PUNO SUN ROUTE (Breakfast)
After early breakfast, transfer to the bus terminal for the tourist bus to Puno. This trip will begin by ascending gradually out of the Cuzco Valley until arriving at the town of Andahuaylillas where you will visit the "Sistine Chapel of the Andes". This colonial era Chapel features mainly interesting canvasses which illustrate the use of Andean Symbology being incorporated into traditional Catholic images. From here you will travel further to Raqchi which is the tallest set of Incan Ruins.
The road from here climbs slightly to La Raya which is the highest point at 4200 m. There will be a brief stop here and there are views across to the snow-capped mountain peak. From here the road gradually descends to Pukara where you will visit the museum and ruins of this pre-incan civilisation. This civilisation was said to be at its peak around the same time as Mesopotamia and Egypt and the leader was known as the "Great Beheader".
From this visit you will continue to Puno situated on the edge of Lake Titicaca. Lunch will be buffet at a restaurant during the trip. Lying on the shores of Lake Titicaca, the highest navigable lake. Transfer to your hotel.
Day 5. ISLANDS OF LAKE TITICACA (Breakfast)
After breakfast, pick-up to start your full day's excursion to the islands of Uros and Taquile. Your first stop will be to the communal islands of Uros, otherwise known as the reed islands, whose islands are made entirely of tortora reeds and home to a small community dating back to a pre-Inca culture. You will appreciate how these people toil out an existence on such a remote setting complete with its own school.
After the visit, boarding of the yacht as you continue your trip to the Island of Taquile whose inhabitants are more closely related to the Aymara people of Bolivia than the Quechua Incas of Peru. You will enjoy a walk on the islands. Visit the main town square before returning to Puno on-board your yacht and return to your hotel.
Day 6. PUNO - COPACABANA - LA PAZ (Breakfast)
After breakfast, transfer to the bus station for the bus to La Paz. Cross the border, after the formalities, you will visit the charming Bolivian border town of Copacabana which is famous for its February Festival of St Mary before continuing onto La Paz and to your hotel.
Day 7. LA PAZ - UYUNI (All meals)
After breakfast, very early transfer to the airport for the 6.30am flight to Uyuni. Arrival at 07.15 and pick up for the private tour to Colchani. Colchani is a village that lives off the Salt production on the Salar. We will see how they mine and process the salt with their rustic instruments and tools. From Colchani we will drive west into the great Salar de Uyuni. Stopping at the Salt Mounts where the locals dry the salt before they process it. Next we will drive into the blinding whiteness of the Salar and head towards the Isla Incahuasi. This is the official visitor's island on the Salar. Here we hike around one of Bolivia's most amazing sites. The surreal island surrounded by a sea of salt is home to huge cacti, some over 1000 years old. As well as a stranded colony of Vischachas (rabbits akin to the chinchilla family). After hiking on the 'Island', a packed lunch before continuing towards Ojo de Perdíz, visiting en route 'la Gruta de las Galaxias' (famous for its geological formations). We will arrive to the Hotel Tayka Del Desierto for dinner and accommodation. Please note accommodations are rustic in this part of the world with limited electricity and water.
Day 8. LAGUNA COLORADO - LAGUNA VERDE - VILLMAR (All meals)
After breakfast, we traverse the incredible desert and appreciate the interesting formations such as the rock trees along with witnessing llamas, vicuñas and the small rabbit like rodent, the vizcacha. We enter the National Reserve of Andina Eduardo Avaroa and visit the magical Laguna (lake) Colorada, with its beautiful red coloration due to the accumulation of sediments and specific algae present in the water. Box lunch is included.
The lake is of vital importance for the survival of 3 different species of flamingos in the area We continue the trip and visit the Sol de Mañana, famous for its geysers and volcanic activity. We finally arrive to Laguna Verde (greeen), an incredible mirror like lake of emerald brilliance, most noticeable in the morning and afternoons. The colour is due to the presence of magnesium in the algae.
Close to the lake you will be able to see the Volcano (5,868 m.) After a stop you will travel into the valley "Valle de las Damas del Desierto" or also know as the "Salvador Dali desert" so called because of the rocks formed by wind erosion and weather, unique in their shape and place scattered in this vast desert. Continue the journey onto Villamar and your lodge where you will have dinner.
Day 9. VILLMAR - UYUNI - LA PAZ (Breakfast)
After breakfast, we shall depart Villamar towards Uyuni visiting enroute the valley of the La Paz. Continue onto the airport for the return flight to La Paz and transfer to your hotel.
Day 10. LA PAZ (Breakfast)
After breakfast, transfer to the airport for your returning flight home.
End of our services
Please note this tour starts in Lima and ends in La Paz
The Peru & Bolivia Unique Adventure Escape Tour - Itinerary Overview:
PRICES:

Please Contact Us Here
Credit Cards Welcome:



WHAT IS INCLUDED / NOT INCLUDED
For current availability contact us at
info@amazingperu.com
and we will send you the relevant trip dossier along with a 90 day fixed quote, terms and conditions. Please bear in mind that significant price reductions are available for groups. All our Luxury Tours are fully private and depart daily. Contact us for more information regarding the above tour, or to begin customizing your own itinerary.
"Well-run multipurpose agency, with several offices in Peru with an extensive roster of trips, from family and honeymoon to luxury trips..."
Frommers Guides 2023
"Highly recommended, professional and well-organized, 'perfect tour', knowledgeable guides"
Footprint Handbook 2023
"Transportation services and accommodations are top-notch, and the guides are flexible and extremely helpful"
Fodor's Guides 2023
"
Amazing Peru
has more than 20 years of experience in the travel industry. Tours to Machu Picchu can be customized to include airfare, all meals, accommodations and travel insurance, and last from six to 14 days. Amazon cruises, horseback riding, river rafting, hiking and biking throughout Machu Picchu, Cuzco, Sacred Valley, Lake Titicaca..."
USA TODAY
"Move Over, Machu Picchu - How disabled travelers can tour Machu Picchu."
Christoper Reynolds
"Looking for an adventure of lifetime to kick-start married life? Consider these honeymoons with a difference… "
Perfect Wedding Magazine
"Experience"
Amazing Peru is the leading company in Latin America that combines exclusivity, luxury and authenticity for Peruvian holidays. It will tailor a 15- days tour for you that takes in Lake Titicaca, the Sacred Valley, Machu Picchu, Lima, Cuzco, Colca Canyon and the Amazon rainforest."
The Travel and Leisure Magazine UK
"A reputable firm with an impressive variety of unique excursions… "
At Home and Away with Alan Whicker CBE Magazine
Spend Christmas on a guided tour of breathtaking Machu Picchu and visit famous Lake Titicaca. Amazing Peru offers luxury Christmas vacations in Machu Picchu along the Inca Trail...
Trails Outdoor Travel Guide
"Amazing Peru takes families on both luxury and affordable tours throughout Peru. Children 12 and older are welcome to come along on the 12-day Peru Family Adventure Tour. Raft, backpack, kayak and bike through some of Peru's most unforgettable sights including Machu Picchu. The Family Tour to Peru is tailored for children younger than 12 years of age with an educational component. Relax on Peru's northern beaches, explore the high-altitude Lake Titicaca, trek through the Amazon, and visit Machu Picchu on this 16-day journey. Check out Amazing Peru's 12-day Family Tour."
Global Post USA
"
You can fly over Machu Picchu - or take a helicopter ride
Who needs hiking when you can fly? The company Amazing Peruoffers hour-long flight tours right over the Sacred Valley of the Incas. The plane fits a minimum of eight passengers, and it can also be chartered. Passengers fly over Tipon and Pikillaqta, both archaeological sites, Pisaq and the Urubamba Valley, Sacsayhuaman, and, of course, Machu Picchu itself. Flights can be longer or shorter as requested. "
"
You can Om your way through Machu Picchu
Machu Picchu is known as one of the most spiritual lands in the world, so why not go all out and Om your way through its ruins? Amazing Peru offers a seven-day yoga tour where visitors travel from Lima to Cuzco and finally to Machu Picchu, where they stay in the famed sanctuary Lodge hotel right outside of the ruins. They participate in multiple meditation and yoga sessions throughout the trip, but the highlight is a private session smack-dab in the middle of the ruins. Now that is an Om experience worth waiting for."
Yahoo Lifestyle
A Private, customized tour to Venezuela, Guyana, Suriname, French Guiana and Trinidad & Tobago. "Any traveler with a well-developed sense of adventure will be rewarded with an incredible experience on this journey to a birding paradise designed and operated by Amazing Peru."
"Savoring a taste of Uruguay's acclaimed wine region - An outstanding experience"