Peru - Mexico - Guatemala - Cancun
32 days / 31 nights.
ITINERARY
Day 1. LIMA
As you arrive into Lima airport and exit customs and baggage, you will be warmly welcomed by our driver. You will be assisted with your luggage before escorted to your hotel in a private vehicle. Free evening.
Day 2. LIMA (Breakfast and dinner)
After breakfast pick up for your as group visit of colonial and modern Lima, starting in the centre of this vibrant, metropolis. The tour will include a visit of the cathedral, dating from 1654 which still houses the remains of the conquistador Pizarro in the foyer; the Main Square, with the original bronze fountain built in 1650, the Government Palace where the President has his official residence and the San Francisco Convent, with its famous catacombs. Lima, known as the city of the kings, was founded in 1535 by Pizarro and after several devastating earthquakes was rebuilt in 1991; the same year that UNESCO declared Lima a world heritage site. Return to your hotel. Dinner at a recommended restaurant.
Meals: B & D
Day 3. LIMA - PARACAS (Breakfast and lunch)
After breakfast, private transfer to Ica, some 4 hours south of Lima, passing through the desert coast. Lunch enroute before arriving to Paracas Bay. Overnight accommodation.
Meals: B & L
Day 4. PARACAS - NAZCA - LIMA (Breakfast)
After breakfast, drive to the airport to board the aircraft for the flight over the Nazca Lines. These enormous, ancient drawings of geometrical figures were carved into the desert sands of Nazca thousands of years ago and can now only be seen from the air in special touring aircraft. The markings were thought to be an ancient astronomical calendar but are now accepted as ancient offerings to the gods. Enjoy the tour over the desert before returning to Paracas. Please note the Air ticket for the Nazca fly-over tour lasts over 1 hour and 15 minutes (please note this is the full flight over the Palpa and Nazca lines and not the 25 minute flight some companies offer). Fly-over tour includes commentary from the pilot/guide. Return to Lima and transfer to your hotel.
Meals: B
Day 5. LIMA - CUZCO (Breakfast)
After breakfast, with boarding passes in hand, you will be driven to the airport for your quick-check-in and brief one hour flight to Cuzco, the ancient Inca capital of the Incas. In Cuzco, you will be warmly welcomed and assisted with your luggage before your short private drive to your hotel. Free day for acclimatization.
Meals: B
Day 6. CUZCO (Breakfast)
Today you will enjoy a guided visit of the four ruins nearby; the Sacsayhuaman Fortress overlooking the city of Cuzco, a pre Inca architectural masterpiece; Kenko, a rock sanctuary whose main attraction is the monolithic altar representing a puma, the red Fortress of Puca-Pucara and Tambomachay, a beautiful fountain fed by a spring forming a series of basins continue to the city of Cuzco; the Main Square and the Koricancha or Temple of the Sun.
Meals: B
Day 7. SACRED VALLEY - PISAC - OLLANTAYTAMBO (Breakfast and lunch)
After breakfast at your hotel, start of a full-day's excursion to the beautiful Urubamba, the Sacred Valley of the Incas, situated between Pisac and Ollantaytambo. It is an exceptionally fertile valley that was and remains the larder of Cuzco. You will visit the village of Pisac, founded during colonial times, and set at the foot of a hill crowned by the remains of an ancient Inca city. On Sundays, Tuesdays and Thursdays, you will witness Indians bartering their products in the main square and artisans from around the area sell their woven alpaca wool blankets and ponchos, engraved gourds, antique reproductions, jewellery, etc. Visit to Ollantaytambo, the only Inca town that was not defeated by the Spanish with an opportunity to explore the ruins which tower above. You will then return to Cuzco after this full day.
Meals: B & L
Day 8. CUZCO - MACHU PICCHU (Breakfast)
Today you will have an early start and enjoy breakfast before your train to Aguas Calientes. The Expedition train will depart at 08.30am for the 3 ½ hour journey. Arrive to Aguas Calientes train station, gateway to the lost city of the Incas.
Check-in to your hotel. The short ride up to Machu Picchu will meander through breathtaking mountain scenery up to the ancient Inca citadel.
Shortly after, a guided tour of Machu Picchu, the most spectacular ancient city in the world. Built by the Inca Pachacutec, and comprising stone blocks fitted with masterful precision, Machu Picchu harmoniously blends into the mountain landscape. There are many theories as to the origins behind Machu Picchu but three of the most popular ideas include a temple to the sun, a fortress against the jungle inhabitants or a sanctuary for the Incas. This fabulous city has houses, temples, warehouses, a large central square, all connected by narrow roads and steps, and is surrounded by terraces cut into the mountain side which were used for agriculture.
Meals: B
Day 9. MACHU PICCHU - CUZCO (Breakfast only)
Today you will enjoy a free day in Machu Picchu with an opportunity to see the site at sunrise. Today no guide is provided as we feel that Machu Picchu requires a certain amount of self discovery to be fully understood. Return train back to Cuzco and your hotel.
Meals: B
Day 10. CUZCO - TIPON - PIKILLACTA - ANDAHUAYLILAS (Breakfast)
After breakfast, private visit to the southeast of Cuzco and the archaeological center of Tipon, there you will come to know more about the extensive carved stone channels, which represent one of the hydraulic engineering advances achieved by the Incas. Then, you will continue to Pikillacta, one of the most important administrative centers of the pre Inca times. The tour continues to the village of Andahuaylillas, which houses a beautiful seventeenth century church, which represents a dramatic expression of so-called Andean Baroque. Return to Cuzco.
Meals: B
Day 11. CUZCO - PUNO (Breakfast & lunch only)
After early breakfast, transfer to the bus terminal for the tourist bus to Puno. This trip will begin by ascending gradually out of the Cuzco Valley until arriving at the town of Andahuaylillas where you will visit the "Sistine Chapel of the Andes". This colonial era Chapel features mainly interesting canvasses which illustrate the use of Andean Symbology being incorporated into traditional Catholic images. From here you will travel further to Raqchi which is the tallest set of Incan Ruins. The road from here climbs slightly to La Raya which is the highest point at 4200 m. There will be a brief stop here and there are views across to the snow-capped mountain peak. From here the road gradually descends to Pukara where you will visit the museum and ruins of this pre-incan civilisation. From this visit you will continue to Puno situated on the edge of Lake Titicaca. Lunch will be buffet at a restaurant during the trip. Lying on the shores of Lake Titicaca, the highest navigable lake. Transfer o your hotel.
Meals: B & L
Day 12. ISLANDS OF LAKE TITICACA (Breakfast only)
After breakfast, pick-up to start your full day's excursion to the islands of Uros and Taquile. Your first stop will be to the communal islands of Uros, otherwise known as the reed islands, whose islands are made entirely of tortora reeds and home to a small community dating back to a pre-Inca culture. You will appreciate how these people toil out an existence on such a remote setting complete with its own school. After the visit, boarding of the yacht as you continue your trip to the Island of Taquile whose inhabitants are more closely related to the Aymara people of Bolivia than the Quechua Incas of Peru. You will enjoy a walk on the islands before returning to Puno on-board your yacht and return to your hotel.
Meals: B
Day 13. PUNO - JULIACA - LIMA - MEXICO (Breakfast)
After breakfast, you will be transferred to Juliaca airport with boarding passes in hand for your return flight back to Lima in time for your flight to Mexico.
Once you arrive to the Mexico City International Airport you will be transferred to the hotel located downtown near to the Zocalo Square. In the afternoon since there aren't any activities scheduled you can enjoy of a walk in the area.
Meals: B
Day 14. MEXICO CITY (Breakfast)
After having breakfast at the hotel you will enjoy of a City Tour visiting National Palace, Zocalo Square and Metropolitan Cathedral, also a guided tour visiting the Anthropology Museum. In the afternoon we will back to the hotel where you can spend of free time by enjoying of a walk or shopping in the downtown.
Meals: B
Day 15. TEOTIHUACAN (Breakfast)
After breakfast, depart to the archeological site of Teotihuacan for a visit and from where you can enjoy a spectacular view of the area from the top of the pyramids; Return to your hotel.
Meals: B
Day 16. MEXICO - CANCUN
After breakfast, transfer to the airport for the flight to Cancun, meet and greet and transfer to a hotel in Playa del Carmen. Free afternoon.
Day 17. CANCUN - CHICHEN ITZA (Breakfast)
After early breakfast, depart to the Chichen Itza site with your guide and arrive before the crowds. Enjoy a fully private tour of this magnificent archaeological site built by the Maya civilization between the 9th and 12th centuries.
Its name means "at the mouth of the well of Itza" and is home to the Kukulkan Pyramid, also known as "El Castillo" (the castle), now one of the new seven wonders of the world. Chichen Itza was the principal ceremonial centre of the Yucatán. The tour will include the Great Ball court, the Temple of the Warriors and the sacred Cenote. After the tour, some private time to explore the site before returning to your hotel in Cancun.
Meals: B
Day 18. TULUM - BACALAR (Breakfast)
After breakfast at your hotel you will depart to Tulum to visit the archaeological site, located just in front of the turquoise Caribbean Sea. After you'll continue on to Bacalar, where you will have accommodation for the night. Free time at leisure.
Meals: B
Day 19. BACALAR - KOHUNLICH & BECAN - CHICANNA (Breakfast)
After breakfast you'll get on board for the boat tour of Laguna Bacalar, considered the second largest lake in Mexico and named "the lagoon of 7 colours", for the different tonalities of blue and green depending on the depths. Afterwards we will continue on the road boardering Mexico and Belize, to the ruins of Kohunlich, one of the less touristic Yucatan sites and where you can admire Mayan masks 2 meters high. In the afternoon visit to the site of Becan, the capital of the ancient area of Rio Bec, one of the sacred sacrificial altars to the God Kukulkan, represented by a coiled feathered serpent. Transfer to the hotel in Chicanna, and accommodation.
Meals: B
Day 20. CHICANNA - CALAKMUL - CHICANNA (Breakfast)
Early breakfast and start the most adventurous day of the entire circuit visiting the Calakmul Biosphere Reserve and the amazing archaeological site, fully immersed in the rainforest region of Peten, which extends up into Guatemala. The reserve is home of about 100 species of mammals, including pumas and jaguars and howler monkeys and various bird species. Overnight in Chicanna.
Meals: B
Day 21. YAXHA & TOPOXTE (Breakfast and lunch)
Breakfast in the hotel and enjoy a tour of the ruins of Topoxté. Tepoxte is a mayan archaeological site located in The Petén, in northern Guatemala. The site has a long history of occupation that dates back to the pre-classic period which was the political capital of the maya Ko woj. Topoxté located on an island in the Yaxhá Lagoon, is very close to the important archaeological site of Yaxhá. Lunch. Return land transfer to Belize City and take a flight to Flores Guatemala. Arrival and transfer to your hotel.
Meals: B & L
Day 22. FLORES - TIKAL (Breakfast and lunch)
Breakfast in the hotel and visit Tikal. Tikal was the capital of a belligerent state, which became one of the most powerful countries of the ancient maya. The monumental architecture of the site dates back to the fourth century. Lunch in Tikal, and overnight in the hotel.
Meals: B & L
Day 23. TIKAL - CHICHICASTENANGO (Breakfast and lunch)
Breakfast. Departure to Chichicastenango to visit what is considered by some as the major town of the department due to its cultural, historic and touristic importance. This is where the Popol vuh was found, a cultural narrative that recounts the mythology and history of the K'iche' people who inhabited this area. Lunch and overnight in the hotel.
Meals: B & L
Day 24. ATITLAN - SAN PALOPE (Breakfast)
Breakfast. Departure to the Lake Atitlan to visit San Antonio Palopo. Overnight in the hotel
Meals: B
Day 25. ATITLAN - ANTIGUA (Breakfast)
Breakfast. Departure to Antigua.
The city was designated a world Heritage site by UNESCO in 1979.
It is a major tourist destination of Guatemala for its well preserved Spanish baroque architecture with baroque facades of the New World, as well as a large number of catholic church ruins, even after their structures were severely damaged by the neglect in which they were between 1776 and 1940earthquakes. Overnight in Antigua.
Meals: B
Day 26. ANTIGUA - CANCUN (All meals)
After breakfast, transfer to the airport for the flight to Cancun and transfer to your all-inclusive resort, the BlueBay Grand Esmeralda-All Inclusive or similar.
Meals: All meals
Day 27. CANCUN (All meals)
Free day at leisure.
Meals: All meals
Day 28. CANCUN (All meals)
Free day at leisure.
Meals: All meals
Day 29. CANCUN (All meals)
Free day at leisure.
Meals: All meals
Day 30. CANCUN (All meals)
Free day at leisure.
Meals: All meals
Day 31. CANCUN (All meals)
Free day at leisure.
Meals: All meals
Day 32. CANCUN (Breakfast)
Transfer to the airport for your return flight home.
Meals: B
End of our services.
The Definitive Cultural tour of the Americas - Itinerary Overview:
PRICING BASED ON 2 TRAVELLERS:

Please Contact Us Here
Tour Price based on 3 & 4 star hotels in a selection of group & private tours: US$11,230.00 per person

Please note American Express credit card payments incur an additional 3% merchant fee
Please note Visa/MasterCard credit card payments incur an additional 5% merchant fee
Credit Cards Welcome:



WHAT IS INCLUDED / NOT INCLUDED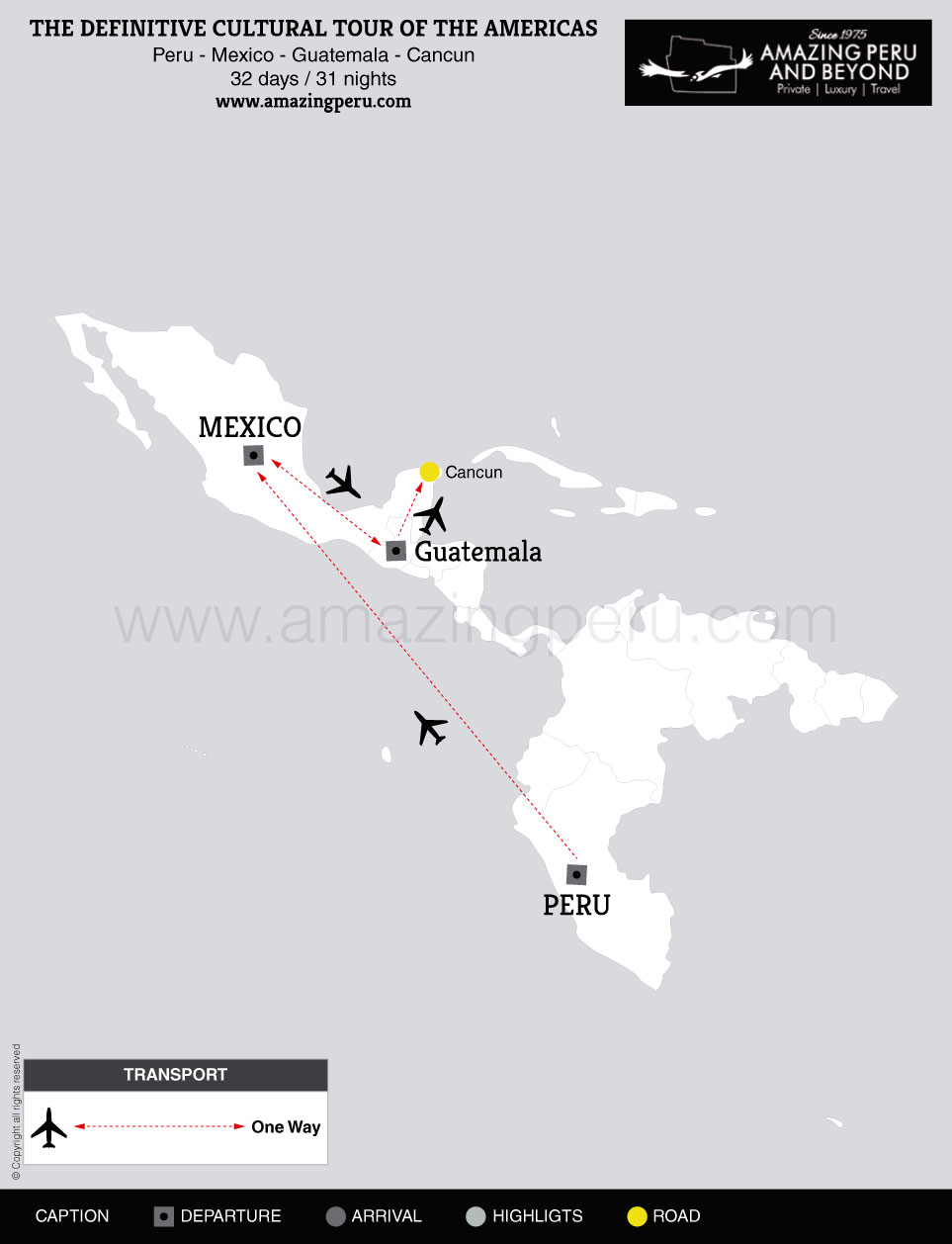 The Definitive Cultural tour of the Americas
Peru - Mexico - Guatemala - Cancun
32 days / 31 nights.
For current availability contact us at
info@amazingperu.com
and we will send you the relevant trip dossier along with a 90 day fixed quote, terms and conditions. Please bear in mind that significant price reductions are available for groups. All our Luxury Tours are fully private and depart daily. Contact us for more information regarding the above tour, or to begin customizing your own itinerary.
"Well-run multipurpose agency, with several offices in Peru with an extensive roster of trips, from family and honeymoon to luxury trips..."
Frommers Guides 2023
"Highly recommended, professional and well-organized, 'perfect tour', knowledgeable guides"
Footprint Handbook 2023
"Transportation services and accommodations are top-notch, and the guides are flexible and extremely helpful"
Fodor's Guides 2023
"
Amazing Peru
has more than 20 years of experience in the travel industry. Tours to Machu Picchu can be customized to include airfare, all meals, accommodations and travel insurance, and last from six to 14 days. Amazon cruises, horseback riding, river rafting, hiking and biking throughout Machu Picchu, Cuzco, Sacred Valley, Lake Titicaca..."
USA TODAY
"Move Over, Machu Picchu - How disabled travelers can tour Machu Picchu."
Christoper Reynolds
"Looking for an adventure of lifetime to kick-start married life? Consider these honeymoons with a difference… "
Perfect Wedding Magazine
"Experience"
Amazing Peru is the leading company in Latin America that combines exclusivity, luxury and authenticity for Peruvian holidays. It will tailor a 15- days tour for you that takes in Lake Titicaca, the Sacred Valley, Machu Picchu, Lima, Cuzco, Colca Canyon and the Amazon rainforest."
The Travel and Leisure Magazine UK
"A reputable firm with an impressive variety of unique excursions… "
At Home and Away with Alan Whicker CBE Magazine
Spend Christmas on a guided tour of breathtaking Machu Picchu and visit famous Lake Titicaca. Amazing Peru offers luxury Christmas vacations in Machu Picchu along the Inca Trail...
Trails Outdoor Travel Guide
"Amazing Peru takes families on both luxury and affordable tours throughout Peru. Children 12 and older are welcome to come along on the 12-day Peru Family Adventure Tour. Raft, backpack, kayak and bike through some of Peru's most unforgettable sights including Machu Picchu. The Family Tour to Peru is tailored for children younger than 12 years of age with an educational component. Relax on Peru's northern beaches, explore the high-altitude Lake Titicaca, trek through the Amazon, and visit Machu Picchu on this 16-day journey. Check out Amazing Peru's 12-day Family Tour."
Global Post USA
"
You can fly over Machu Picchu - or take a helicopter ride
Who needs hiking when you can fly? The company Amazing Peruoffers hour-long flight tours right over the Sacred Valley of the Incas. The plane fits a minimum of eight passengers, and it can also be chartered. Passengers fly over Tipon and Pikillaqta, both archaeological sites, Pisaq and the Urubamba Valley, Sacsayhuaman, and, of course, Machu Picchu itself. Flights can be longer or shorter as requested. "
"
You can Om your way through Machu Picchu
Machu Picchu is known as one of the most spiritual lands in the world, so why not go all out and Om your way through its ruins? Amazing Peru offers a seven-day yoga tour where visitors travel from Lima to Cuzco and finally to Machu Picchu, where they stay in the famed sanctuary Lodge hotel right outside of the ruins. They participate in multiple meditation and yoga sessions throughout the trip, but the highlight is a private session smack-dab in the middle of the ruins. Now that is an Om experience worth waiting for."
Yahoo Lifestyle
A Private, customized tour to Venezuela, Guyana, Suriname, French Guiana and Trinidad & Tobago. "Any traveler with a well-developed sense of adventure will be rewarded with an incredible experience on this journey to a birding paradise designed and operated by Amazing Peru."
"Savoring a taste of Uruguay's acclaimed wine region - An outstanding experience"