Kasikasima Awarradam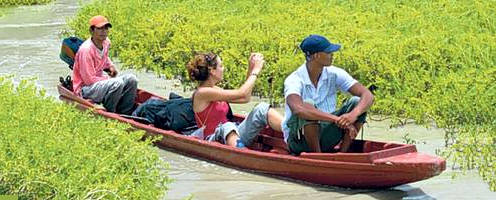 ITINERARY
The Kasikasima Expedition Tour is ideal for adventurous nature lovers who love a challenge. The tour starts from Paramaribo to Palumeu, a jungle resort along the Upper Tapanahony river, near an Amerindian village ofthe same name. The following day, a boat trip will take you on a jungle track of 5 days on the river and into the Amazon rainforest. The beauty of this trip is that you will enter a pristine part of the rainforest, via the Palumeu River, at which you will cross over various rapids and sleep in camps, in hammocks. Starting out from the base camp, idyllically situated at the foot of the Sawaniboto rapids, you will climb to one of the peaks of the granite Mount Kasikasima. This walk and climb through the jungle takes approximately 7 hours, to and from, at which you will spend one hour at the top. The magnificent view over the "roof" of the Amazon rainforest is incredible. After the track, you will return to the Awarradam jungle resort for 3 days. This small idyllic island, hidden in the Amazon rainforest, at the foot of the Awarradam rapids, lies at a distance of a half hour by boat from the last village in the living area of the Saramaccans, the largest Maroon community in Suriname. The Maroons are descendents from slaves who, after a heroic fight with the former slave-owners, managed to establish living communities in the Amazon rainforest. These historic facts make Awarradam an ideal place to visit, not only for nature lovers but also for those who wish to learn more about the West African culture as it has remained in Suriname. An unforgettable experience during this tour is a boat trip by night, under the endless starry sky, which will take you to the nearby village of Kosindo for an authentic cultural evening of singing and dancing.
PRICES:

Please Contact Us Here
Credit Cards Welcome:



WHAT IS INCLUDED / NOT INCLUDED
For current availability contact us at
info@amazingperu.com
and we will send you the relevant trip dossier along with a 90 day fixed quote, terms and conditions. Please bear in mind that significant price reductions are available for groups. All our Luxury Tours are fully private and depart daily. Contact us for more information regarding the above tour, or to begin customizing your own itinerary.