Restaurant guide, Peru
The gastronomy of Peru is an object well worth exploring. It possess an immense amount of fusions attributed to the culinary impacts from Spain, Africa and Asia which are fused in interesting creative and unique ways using exotic and local ingredients and methods. The local cuisine and ingredients vary according to the region that you are in which is why Peru is divided into 3 culinary regions, the coast known for its ceviche and seafood, the Andean region, notorious for the guinea pig and its potatoes of which there are over 3000 different varieties and the jungle region for its river fish and delicious exotic fruits.
Go explore the culinary scene of Peru and let your taste buds surprise and overwhelm with new taste impressions as you try dishes inspired from different traditional and ancient cultures fused together through centuries. The culinary offers in Peru have no end and they cover a wide range of categories as well as satisfy almost any culinary craving. Listed below are some suggestions which might create and satisfy such cravings.
View more restaurant Guide
City
ASTRID Y GASTON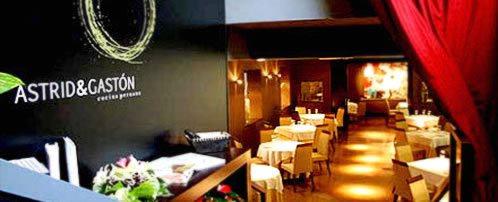 Gaston Acurio, a renowned and respected Peruvian chef, is the owner of many restaurants and projects throughout Latin America, but Astrid y Gaston in Miraflores is his flagship restaurant. This year the restaurant ranked number 37 on the renowned and prestige filled San Pellegrino list of the 50 best restaurants in the world.
Gaston's vision for his restaurant is to raise awareness about the rich Peruvian culinary culture and turn it into a brand of quality. His Miraflores based restaurant focuses on Peruvian traditional cuisine with indigenous ingredients and cooking methods fused with international cuisine and flavors.
CHEZ WONG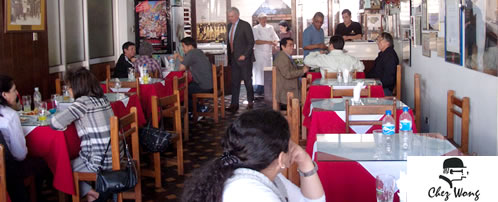 This little intimate restaurant is based in the chef Javier Wong's own house. The restaurant focuses on fish and because of that it is only open during lunch hours in order to keep the fish fresh. The chef himself calls the little restaurant his workshop because there is no menu since the food served depends on the catch of the day and the mood of the chef. Javier Wong is a master of seafood preparation and his ceviche has been called "the best in the world" and is mostly created of sole or octopus with lemon juice and onions. Since the restaurant is very small booking is recommended.
EL RINCON QUE NO CONOCES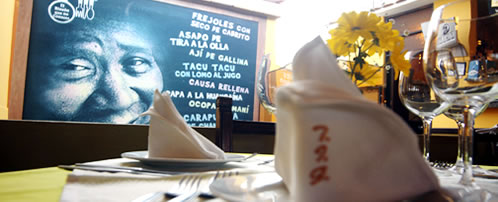 Located in the center of Lima and owned by Teresa Izquierdo, who has been cooking for over 30 years, this restaurant is dedicated to classic Creole cooking. There is a great big menu with fusion dishes steaming from traditional Peruvian, Spanish and African inspiration such as Causa Rellena (layered cold potato cake stuffed with chicken or tuna) or palta rellena (stuffed avocado) or tacu tacu (fried rice with beans). The food is authentic and the portions are big so this restaurant is definitely worth the visit.
FIESTA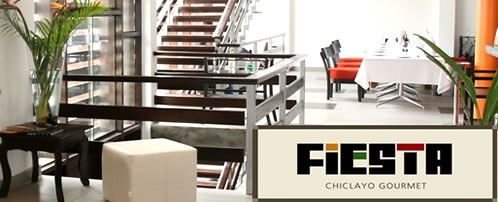 Fiesta is a gourmet restaurant based in a relaxed environment in the heart of Miraflores. The food served steams from Chiclayo a city in Northern Peru which has contributed uniquely to Peruvian cuisine and counts dishes such as pato con arroz (duck with rice), which is said to be the best as well as aji de gallina (chicken in a chili cheese sauce) and the treasured lomo saltado (sautéed beef with tomato and onions served with french-fries and rice.). All of these dishes can be enjoyed with a pisco sour which is prepared at your table with the pisco of your choosing. Fiesta has taken the hearty food from the streets of Peru and refined and converted it into fine dining but still keeping the original large portions and rich flavors.
LA MAR
This is Acurio Gaston's second restaurant in Lima and this one is dedicated to seafood which is why it is only open at lunch time to guarantee fresh quality fish. The Cevicheria does not accept reservations so in order to get a table it is recommendable to go early. La Mar by Acurio offers traditional local Limeño cooking with a twist of modernity and it offers numerous different types of fish prepared as ceviche, whole fish dishes and seafood with rice. In fact the food has become so popular that La Mar restaurants have opened up in San Francisco and Mexico City as well as New York soon.
LA ROSA NAUTICA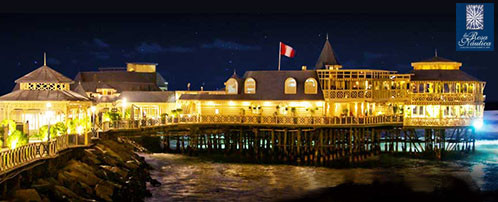 This well-known restaurant is located in a Victorian styled building on the beach at the end of a long pier which offers a tremendous view of the water while eating. Delicacies offered at La Rosa Nautica are grilled octopus, octopus ceviche, mixed fish, sea bass prepared in several different ways and numerous meat dishes including chateaubriand.
ALFRESCO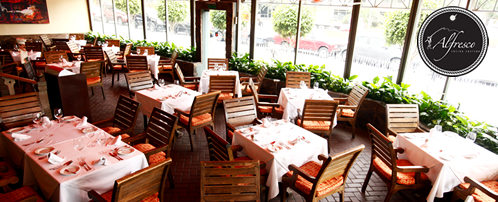 Based a couple of blocks from the coast in Miraflores, Alfresco has an ideal location for a seafood restaurant. The main chef is Alfredo Aramburu Picasso which as his name suggests creates art inspired dishes especially the fish dishes are amazing including the charcoal fillet of sea bream, pulpo a la brasa (grilled octopus) and fettuccini negro con camerones (black fettuccini with shrimp). The atmosphere in Alfresco is casual and friendly.
LAS BRUJAS DE CACHICHE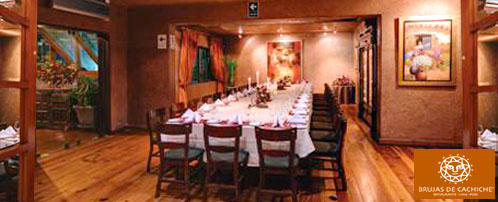 One of the most popular restaurants in Lima is Las Brujas de Cachiche (The Witches of Cachiche). The eatery offers local ancient cuisine steaming from pre-Columbian times which is cooked from ancient recipes and ingredients. The menu offers a great variety of fresh fish dishes and shell fish as well as amazing meat dishes such as steak with Pisco-butter saucebut it is also possible to fine classic Peruvian dishes such as Aji de Gallina on the menu. The restaurant is based in an old charming country house with an upstairs bar called Huaringas whose specialty is pisco drinks.
SAQRA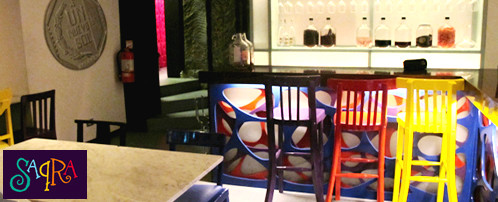 Saqra is a relatively new chic modern restaurant with old restored chairs, artworks on the wall and burlesque inspired bathrooms thereby perfectly mixing the old with the modern. The name Saqra steams from the old Quechua language and means something along the lines of "little devil" which is embodied in their dishes which all have a fresh and edgy twist to them. The most popular dishes are ravioli huancaina, aji de gallina and rice pudding bon bons covered in white chocolate but also the pepper steak with its creamy sauce comes highly recommended or the picarones con Piña which are fried donuts with caramelized pineapple. Recycling is an important theme and therefore the drinking glasses are made from old white and green wine bottles.
MALABAR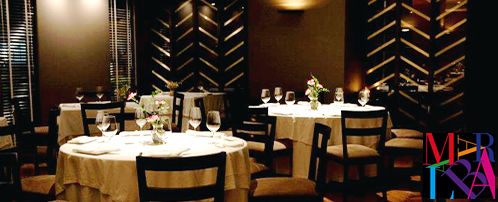 The owner of this Amazonian haute cuisine restaurant is Miguel Schiaffino who studied at several Michelin-starred restaurants in Italy before opening up his own in Lima. The menu changes 4 times a year and the dishes are usually based on ingredients from the Amazon as well as other regions. Most dishes have an experimental modern touch such as the soufflé of heart of palms, yucca pure and the dish with cones filled with conch and tuna cubes or the dish with crunchy milk fed pork with lucuma and garlic foam. By creating these fusions and creative mixtures Miguel Schiaffino intends to depict the significance of the name "Malabar" which in Spanish means juggling.
LA COSTA VERDE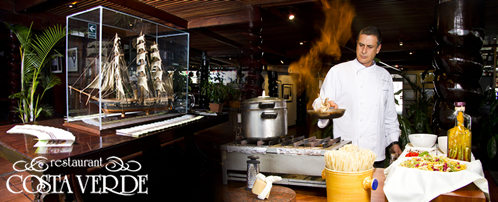 Specializing in seafood La Costa Verde has one of the biggest gourmet seafood buffets in town which won the Guinness book record in 1997 for the biggest and most varied buffet with 468 high quality dishes in total. The a la carte menu also offers great cuisine choices such as sea bass with wild mushrooms garniture a morel sauce and a scallop mouse or gnocchi filled with basil and ricotta covered in a shrimp saffron sauce. If you sit in the enclosed atrium you can enjoy the sound of the sea and its calming waves while appreciating the excellent cuisine offered by La Costa Verde.
MAP CAFÉ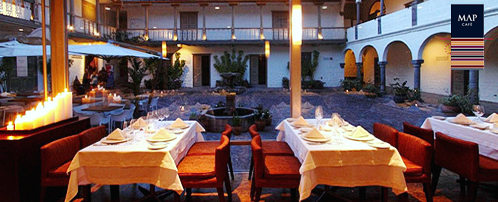 Located in a glass constructed house in the courtyard of Museo de Arte Precolombino this little cafe is one of the best eateries in Cusco. The food served in the stylish restaurant is traditional Peruvian cuisine with a twist, which is prepared and presented with artistic flair. Amongst the dishes are the chicken estofado (chicken stew) with goat cheese, raisins or the pork adobo (another kind of stew) with ravioli and the traditional highland dish of grilled guinea pig. The museum is open until 10 pm making it possible to visit it before or after a terrific meal.
JACK'S CAFÉ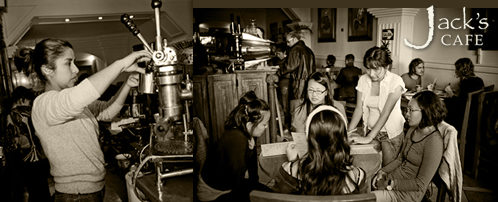 A very popular choice for tourists in Cusco is Jacks Café which is owned by the same person who owns the Irish pub in Cusco. The food is all fresh high quality, big portions and offers a great variety. Jacks Café serves breakfast where the favorite dish is pancakes, lunch where you can have big fresh salads or creative sandwiches and dinner where you amongst other dishes can enjoy green chicken curry with a spicy twist. It's a great hangout place ideal for meeting other travelers.
GREENS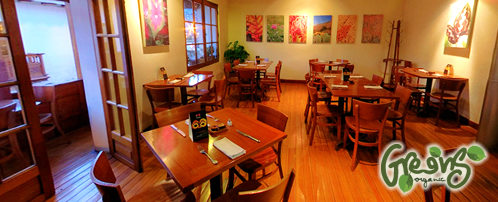 The restaurant Greens is as its name suggests green and 100% organic. The menu offers a lot of healthy vegetarian dishes such as salads, quinoa-breaded tofu with seven-herb tomato sauce and wraps but also non vegetarian dishes such as steaks, a rack of lamb and chicken curry seasoned with their own pesticides free ingredients. This organic eatery is based just off the Plaza de Armas on the second floor in a warmly lid romantic room.
CICCIOLINA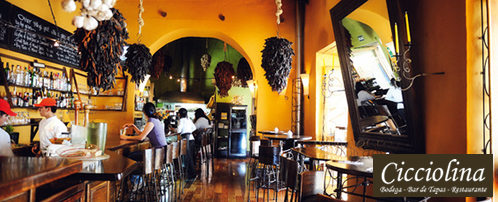 The upstairs floor houses the elegant Cicciolina bar and restaurant decorated with cut flowers and peppers giving it a modern country like vibe. The bar offers a selected variety of tapas and excellent cocktails and the intimate dining room in the back offers adventurous fine dining with dishes such as mushroom soup garnished with pisco froth, a nice grilled alpaca steak, barbecued calamari, prawns and scallops served with a side of rice noodle salad seasoned with fresh mint. Downstairs from the bar and restaurant the Cicciolina bakery is located offering freshly baked bread especially delicious baguettes every day for breakfast, lunch and dinner.
A MI MANERA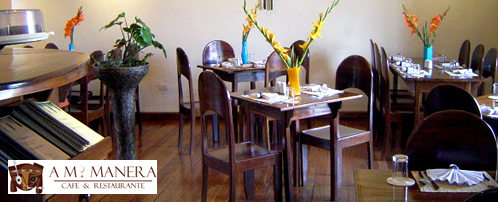 This restaurant is located in the colonial courtyard offering a great view of the Plaza de Armas to its dining guests. The menu has a great variety of dishes based on creative Novo Andino cooking (traditional Andean food fused with modern international cuisine) such as rocoto relleno (stuffed peppers with meat, peanuts and raisins), oven baked cuy (guinea pig) but also homemade sandwiches, soups, pastas with a twist such as quinoa gnocchi and delicious vegetarian dishes.
CHI CHA POR GASTON ACURIO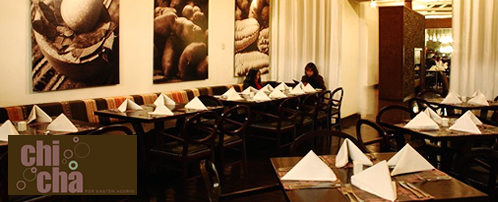 The famous chef Gaston Acurio expanded his ventures outside of Lima and opened up his only restaurant in Cusco called Chi Cha. With this eatery Gaston Acurio focuses on the Cusqueña highland cuisine using local ingredients such as quinoa in his tabouleh as well as offering his own version of the traditional countryside dish Panchamanca which consists of meat and potatoes. He also offers traditional dishes such as aji de gallina (chicken in a chili cheese sauce), anticuchos (skewered barbequed cow hearts), causas (cold layered potato dish stuffed with chicken or fish) and of course lomo saltado (fried strips of meat, tomato onion and french fries with rice). The restaurant is named after the traditional drink called Chicha made from purple corn which is served in the restaurant.
EL TRUCO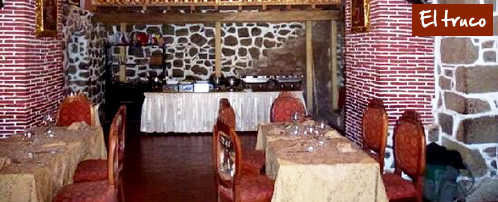 El Truco offers both excellent dining as well as entertainment in the form of a nightly show from 8.30 to10.30 pm with Criolla music also called peña. The restaurant is housed in an 18th century building which was earlier used by the Spanish Viceroy after which it was turned into a gambling house. The food is a combination of Peruvian traditional cuisine including pork tamales, roasted lamb as well as stuffed peppers and continental popular dishes such as fillet mignon and spaghetti Napolitano. For lunch El Truco offers a buffet of Peruvian traditional specialties and for dinner they offer a la carte.
DON ANTONIO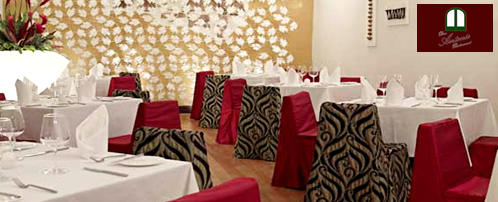 Another great choice for enjoying a great dinner while watching a colorful show is, Restaurant Don Antonio which offers the biggest lunch and dinner buffet counting several Peruvian dishes.
INKA GRILL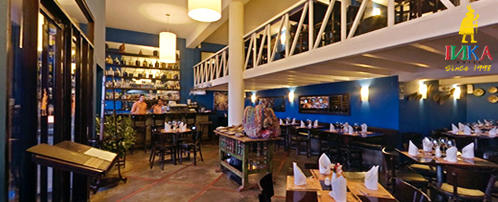 One of the best most rustic charming dining places to eat Novo Andino cuisine or a wide variety of international dishes such as pizza and pastas, is the Inka Grill located right on the Plaza de Armas. The men choices of Novo Andino specialities includes Alpaca tenderloin served with a side of quinoa, aji de gallina, stuffed rocotto peppers and deserts like coca leaf crème brùle. Due to its popularity reservations are recommended.
FALLEN ANGEL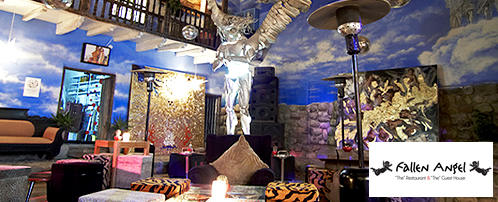 This kitschy adventurous place with a baroque décor style is an expert in steaks making this eatery a heaven for meat lovers with a menu dominated by steak dishes such as tenderloin with 15 different sauces some of which with an Asian exotic flavor. Besides an emphasis on meat the eatery focuses on local products and ingredients from the Sacred Valley to use in salads, pastas and ceviche which simultaneously are some of the vegetarian choices. The Fallen Angel restaurant is housed in Francisco Pizarro's old house with a courtyard whose walls are painted as sky full of clouds and the finishing touch is a great angel sculpture in the courtyard. The Fallen Angel's Restaurant is definitely a visit worth both for a taste of the meat filled menu and for the modern brave decorations.
EL HUACATAY, SACRED VALLEY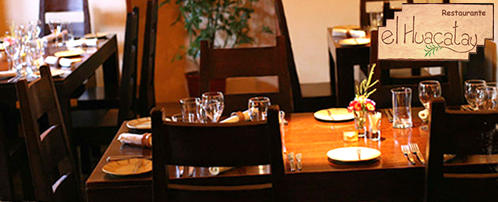 Housed in a rustic colorful house with a lovely garden terrace is one of the best restaurants in Urubamba. The menu is a long list of great and varied Andean cuisine choices counting alpaca tenderloin, alpaca Carpaccio, pumpkin tortellini and a desert of passion fruit cheesecake as well as an array of vegetarian choices. Besides the Andean fusion dishes such as lomo saltado with alpaca instead of beef, the menu also offers a touch of other cuisines including Thai curries and pasta or gnocchi made of coca flour with pieces of teriyaki beef and cashew cream sauce. The food is heavy and portions are big.
TRES KEROS, SACRED VALLEY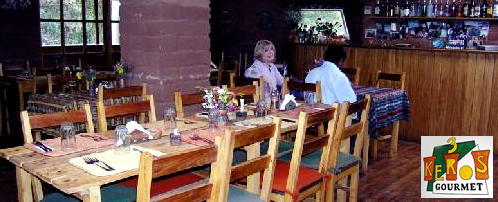 Another one of Urubamba's best restaurants is the Tres Keros run by Chef Ricardo Behar who directs a rich, flavorful Novo Andina style of cuisine. The chef is keen on quality and therefore he smokes his own trout and imports steaks from Argentina The menu specialty dishes are the lomo saltado and the grilled lamb. The Restaurant Tres Keros is located a bit out of town just past the Tambo del Inka hotel.
TUNUPA, SACRED VALLEY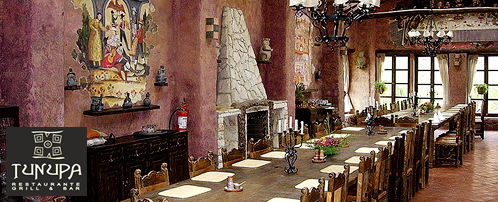 Located in the Sacred Valley, in an old architectural charming farm house with an amazing view of the Urubamba River, is Restaurant Tunapa. Enjoy an outstanding buffet combining traditional Andean specialties with Asian cuisine a long side free pisco sours which all together provides a culinary experience to the guests. Try specialties such as alpaca Carpaccio and cherimoya meringue. The Tunupa Valle also offers a great nightly show.
>PIZZA WASI, SACRED VALLEY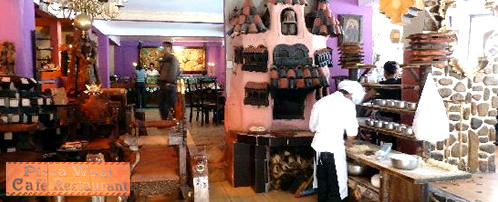 If you find yourself in the mood for pizza, then restaurant Pizza Wasi is the best place to go in Urubamba. They make the pizzas in wood-fired ovens and you can chose your own toppings from a great selection or try the delicious pastas, soups and traditional Peruvian specialties.
BLUE LLAMA CAFÉ & RESTAURANT, PISAC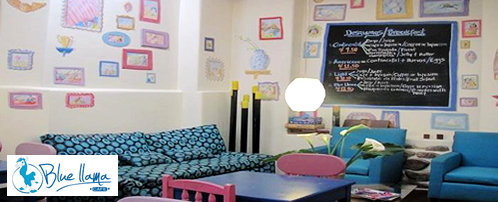 Located in the main square of Pisac is the friendly and colorfully charming Blue Llama café & restaurant. The eatery is creatively decorated with the history of the blue llama painted on the inside walls. The selection from the menu includes lomo saltado and other traditional Peruvian plates, trout teriyaki, alpaca beef, salads and soups. Additionally they serve excellent coffees, teas and deserts.
HEARTS CAFÉ, OLLATAYTAMBO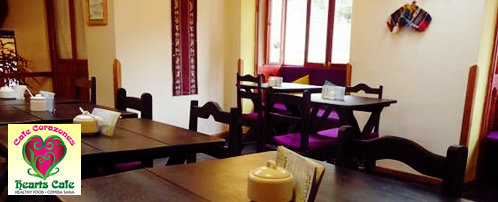 Hearts Café is a cafe with a purpose. It is owned by Sonia Newhouse a 76 year old woman of British origin who moved to the Sacred Valley to open up Heart Café which profit is donated to projects within education and conservation supporting poor children in the district. The Café is located on Ollantaytambo's main square and serves healthy homemade food such as great breakfasts consisting of oatmeal, pancakes and freshly squeezed juice or fresh salads, hamburgers and trout with mashed potatoes. Hearts Café has a nice outside patio with tables and a stove to warm guests during the cold evenings in Sacred Valley.
ZIGZAG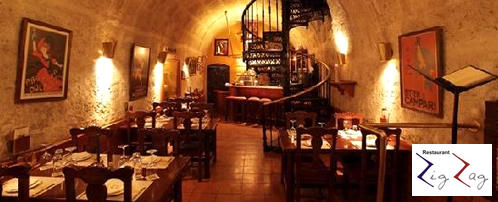 Restaurant Zig Zag's culinary inspirations steams from the mountains and bases itself on a natural, exclusive and healthy style with ancient ingredients and preparation methods originating from the Alps and the Andes. An example of this is the meat and fish cooked in volcanic stone. Zig Zag is located in the city's historic center and is a place to experience a different kind of gastronomy.
LA NUEVA PALOMINO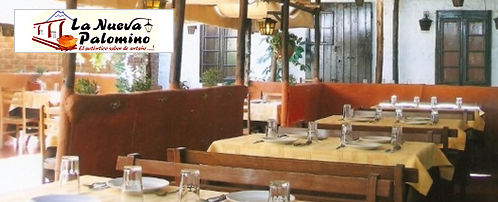 One of the oldest restaurants in Arequipa is La Nueva Palomino which has more than 100 years of experience in Arequipa flavored tasteful dishes. It has been passed on through three generations of women and is now owned by Doña Monica. The restaurant offers an opportunity to sample some of the best local food in Arequipa such as lechon Arequipa prepared out of pork, filled rocoto peppers prepared over open fire and queso helado (a kind of melted frozen cheese with a taste of vanilla). La Nueva Palomino is an ideal place to go to taste the secret recipes of the past.
SOL DE MAYO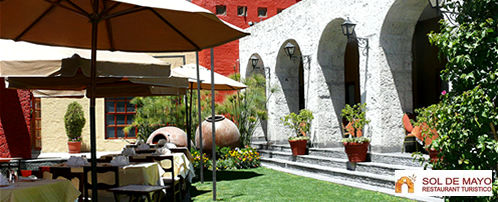 In one of Arequipa's nice residential areas called Yanahuara is located restaurant Sol de Mayo. It is recommended to eat outside in the beautiful courtyard by the colonial styled tables and the pool with its flowing waterfall. The restaurant has existed for more than a century and dedicates itself to authentic Arequipa cuisine offering a menu of traditional dishes such as chicharron de chanco (fired pork), fresh seafood and a great variety of ceviche. In the afternoon live folkloric music is playing from13.00 pm to 16.00 pm to accompany the diners' experience of the local cuisine.
MAMACOCHA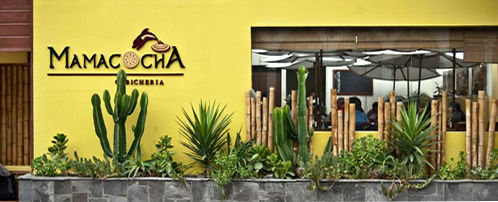 Mamachocha is a restaurant that focuses on typical Peruvian cuisine and seafood. The menu offers original local Peruvian dishes combined with international cuisine.
CHI CHA POR GASTON ACURIO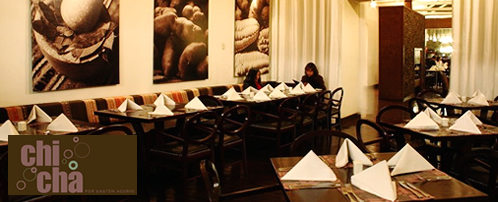 Another Chi Cha restaurant by Gaston Acurio this time located in Arequipa and specializing in the rich cuisine of the region. On the menu are local specialties such as escribano (a potato salad), cuy laqueda (guinea pig appetizers) and rocoto relleno (peppers stuffed with meat) but also available are Acurio's signature dishes from his Lima restaurants such as ceviche. Using the freshest and most high quality local ingredients Chi Cha converts the local cuisine into high class fusion dishes. The restaurant also offers an extensive cocktail menu with excellent pisco cocktails made from local juices.
MARENGO PIZZERIA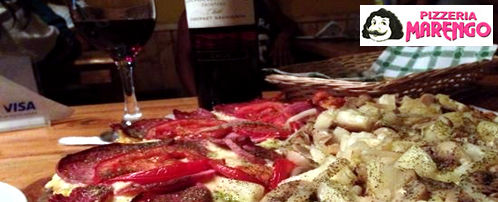 If the mood strikes for something besides local specialties Marengo Pizzeria offers just that. The pizzeria cooks up thin crusted delicious brick oven cooked pizzas with self-chosen toppings of which there is a great variety. Marengo is located a block and a half from the Plaza de Armas and offers a cozy dining atmosphere.
EL GAUCHO PARILLADAS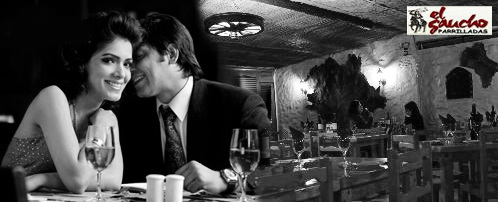 El Gaucho is an expert in steaks which is reflected by their menu which is dominated by different varieties of juicy high class steaks. Portions are big and filled with high quality barbecued steaks with varying garnish. The restaurant is located close to Plaza de Armas and has a cozy inviting atmosphere. It is a very popular place amongst travelers as well as locals and a must for meat lovers to visit.
LAS TRADICION AREQUIPEÑA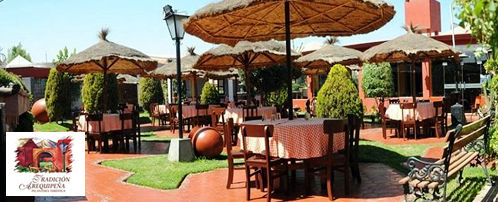 This restaurant is as its name predicts dedicated to serving traditional Arequipeña food and the menu houses specialties such as rocoto relleno (stuffed peppers), Chicharron, cuy and adobo (local stew) which is said to be a good cure against hangover. They also serve more traditional popular dishes including lomo saltado and ceviche. At nights La Tradriciòn Arequipeña has a live salsa and cumbia band playing converting the eatery into a great place for dancing.
LA TRATTORIA DEL MONASTERIO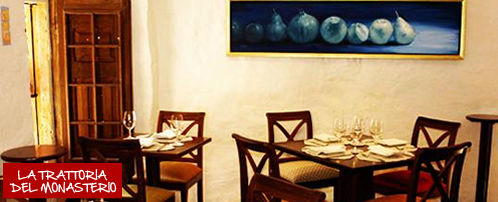 Located on the outer wall of the Santa Catalina monastery is this amazing restaurant which specializes in Italian cuisine fused with Arequipeña kitchen. The eatery is quite small and intimate giving it a romantic vibe and the romantic Italian specialties counts risottos, lasagnas, ravioli and Oso buco. The menu was created by the popular chef Gaston Acurio owner of several successful restaurants in Peru and abroad.
INCABAR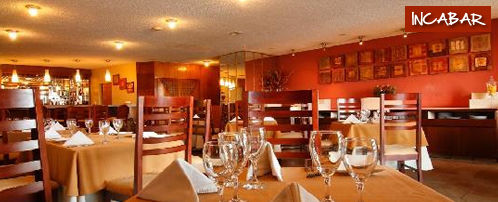 This colorful chic lounge bar and restaurant is great for hanging out as well as enjoying a delicious meal. Its creative menu is inspired by international food with a local twist and experiments with flavorful and interesting sauces for alpaca steaks, curries, stir fries and lake fish dishes as well as interesting salads and pastas. Plates are big and satisfying.
LA CASONA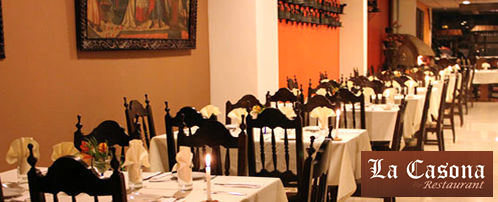 Restaurant La Casona is in itself a little museum with several works of art on the walls and antiques iron items such as sewing machines and irons on display in the dining room. There is an old Spanish style over the décor with lace tablecloths, burning candles and hardwood floors. La Casona specializes in fish particularly in Titicaca lake fish such as trout and kingfish called Pejerrey in Spanish. These fish are served with rice, avocado, ham, cheese, hotdog, apple salad, french fries and mushrooms which is called La Casona style. It is possible to change the fish for grilled meat or tasty chicken. The menu also offers local specialties including alpaca steak, cream quinoa soup, fish with mashed potatoes or go for the menu of the day which is a great deal both for your stomach and your wallet.
UKUKU'S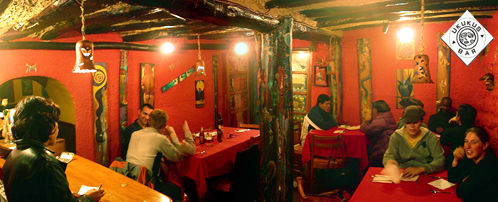 Ukukus main focus is pizzas made in a wood-burning oven give them a delicious crunchiness but they also offer a menu of Peruvian local dishes including alpaca steak prepared in a red wine sauce, ceviche and chaufa (Peruvian - Chinese fusion cooking). The pizzeria is located on the second floor with a view of Jirón Lima in a big space with wooden floors, tables and chairs which gives the place a relaxed atmosphere.
APU SALKANTAY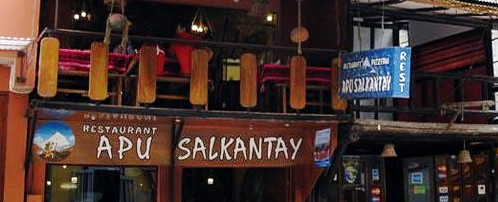 Apu Salkantay which means mountain god/spirit in Quechua is a great place for drinks or a nice traditional Peruvian meal such as guinea pig, alpaca steak, alpaca snack with onions, tomatoes and peppers or soups and lake fish such as kingfish and trout. The cozy fireplace stove creates a warm and cozy environment and occasionally there are folkloric music performances.
PIZZERIA EL BUHO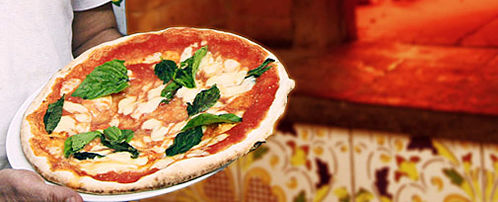 El Buho is a great place for wood-burning oven Pizza, one of the best in Puno in fact. The restaurant cooks up amazing pizzas of which you can chose from 23 different ones, pastas such as fettuccini, cannelloni and lasagna. El Buho is located in a 2 story space decorated with tasteful artwork.
RICOS PAN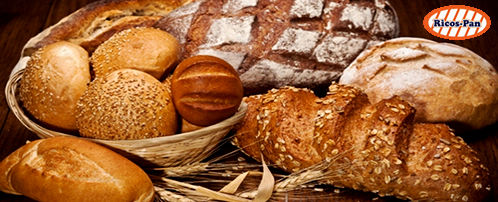 The best bakery in Puno is called Ricos Pan and serves up delicious bread, sandwiches, pastries and cakes for breakfast or snacks. Additionally Ricos Pan serves some excellent coffees including cappuccino and espresso. There are several branches spread out over town.
MOJSA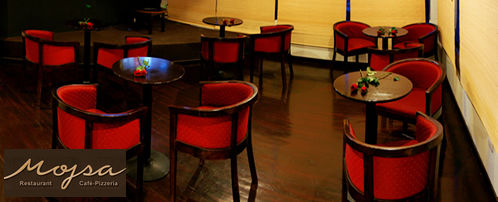 Mojsa which in the ancient local language of Aymara means "delicious" lives up to its name and dishes up with some great Novo Andina cuisine fused with traditional local flavors. Not only is the menu full of delicious options like grilled juicy alpaca beef, tasty pastas, brick-oven pizza and create your own salad option but it is also filled with random and interesting facts to keep you entertained while choosing your meal.
CECOVASA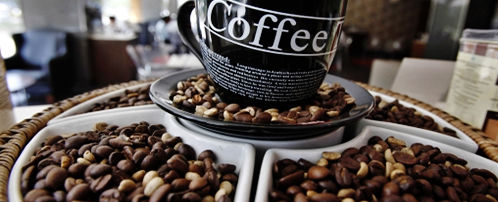 The café Cecovasa is housed in La Casa del Corregidor which has a pleasant sun filled patio perfect for relaxation. The café is owned by eight organic fair trade cooperatives and coffee producers whom sell local coffee from the eastern regions of Puno, regions that have been named some of the best coffee regions in the world. The café offers 8 Java coffee varieties as well as a great selection of teas, smoothies and cocktails. Café food is also available including delicious salads, soups and sandwiches.
RESTAURANT DON PIERO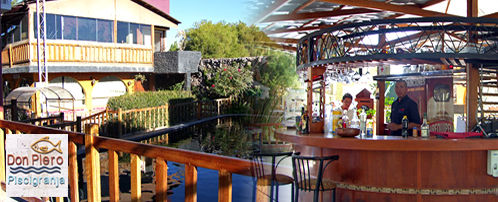 This restaurant has a charming dé cor with colorful paintings of Quechua people performing traditional rituals which you can enjoy while you relish on the typical dishes of the region including barbecued chicken, palta rellena (stuffed avocado), lomo saltado and fresh lake fish with roasted chili and potatoes. Additionally local musicians play every night.