Viagem da nossa Coleçao de Luxo VIP - As atrações mais importantes
Seja mimado com estilo enquanto visita os lugares mais importantes do Peru: Lima, Cusco e Machu Picchu. Todos os traslados e passeios em serviços privativos, upgrades nas suítes presidenciais nos hotéis 5*, acesso ao VIP lounge nos aeroportos. Todos os voos internacionais na classe Executiva, e só os melhores vinhos em todos os restaurantes. Além disso, inclui os serviços de mordomia e zeladoria. Os serviços adicionais incluem traslados de helicóptero e jato privativo.
Lima - Cusco - Urubamba - Machu Picchu
9 días / 8 noites.
ITINERARIO
Dia 1. LIMA
Chegada em Lima, recepção no aeroporto e traslado em veículo de luxo ao Deluxe 5* Miraflores Park Hotel ou o 5* Marriot Hotel.
Miraflores Park Hotel | Marriot Hotel
Dia 2. LIMA
Após dum tranquilo café da manha, uma breve visita com guia e mini ônibus privativo à Lima colonial que inclui a Catedral, que data de 1654; a praça principal que ainda abriga a fonte de bronze original, construída em 1650; e o Convento de San Francisco onde se encontram suas catacumbas . Conhecida como "A cidade dos Reis", Lima foi fundada em 1535 por Pizarro e reconstruída em 1991, mesmo ano que foi declarada patrimônio mundial, pela UNESCO. Uma das poucas cidades latino-americanas que ainda preserva seu passado colonial, Lima foi lar dos vice-reis espanhóis durante o tempo da colônia. Após do almoço, visita ao Museu Larco. O Museu inclui apresentações permanentes como a galeria de Ouro e Prata, a exibição da maior coleção de joias dos mais antigos governantes do peru pré-colonial. Retorno ao Hotel. O jantar na sua exclusiva residência.
Refeições: C, A & J
Dia 3. LIMA - CUSCO - URUBAMBA
Após do café da manha, traslado ao aeroporto para seu voo à Cusco, antiga capital do Império Inca. Após do voo, traslado em seu veiculo privativo e começar a viagem de uma hora e trinta minutos ao vale sagrado dos incas. Descanse e curta a localização calma do Vale Sagrado dos Incas. O transporte privativo e o guia estarão a sua disposição, mas nós recomendamos ter um dia de descanso para se climatizar à altura.
Refeições: C
Dia 4. URUBAMBA
Depois dum bom descanso, um gostoso café da manha preparará você para um exclusivo passeio nos lugares mais importantes de Urubamba. A primeira visita será na ferinha de artesanato de Pisac. Aqui você poderá observar as técnicas locais do lugar e poderá também adquirir esses mesmos artesanatos, tecidos e decorações. Seguidamente levaremos você numa das ruinas menos visitadas e maiores do Vale inteiro, as Ruinas de Pisac. Após do almoço numa bela fazenda, a seguinte visita serão as ruinas de Ollantaytambo, único povoado que não foi derrotado pelos espanhóis. Terá opção de descobrir as ruinas antes de voltar para Urubamba. O jantar e acomodação no Hotel.
Refeições: A & J
Dia 5. MACHU PICCHU
Após o café da manhã, traslado privativo para a ferroviária de Poroy. Embarcará no luxuoso trem Hiram Bingham com destino à Aguas Calientes. Este trem Orient Express é a forma mais exclusiva para visitar Machu Picchu e inclui grande variedade de comida a bordo. Logo, chegada a Aguas Calientes e traslado Ao seu hotel no meio da floresta. Após de ter feito o check-in, embarcará no ônibus com o seu guia até Machu Picchu, a antiga cidadela Inca. Começa a visita com guia a Machu Picchu, a cidade antiga mais espetacular do mundo. Voltando para seu Hotel um delicioso jantar será servido.
Refeições: C & J
Dia 6. MACHU PICCHU - CUSCO
Há a oportunidade de regressar ao local e desfrutar de um nascer do sol maravilhoso sobre Machu Picchu, ou se preferir, desfrutar de um bom descanso e retornar no meio da manhã. Tempo para uma reflexão. Machu Picchu exige certa dose de autodescoberta para ser plenamente compreendido. No entanto, o seu guia estará sempre disponível se você deseja visitar vários locais do santuário, como o templo da lua ou a ponte do Inca. O almoço será no restaurante Sanctuary Lodge, antes de voltar para Águas Calientes de ônibus. Há tempo libre para fazer alguma atividade, antes de embarcar no trem Hiram Bingham ao anoitecer, com o seu guia. Chegada a Poroy após as 21:00hs, recepção e traslado para Cusco, antiga capital do Império Inca. Translado ao hotel.
Refeições: C, A & J
Dia 7. CUSCO
Após o café da manha, fará uma visita privativa com guia que o levará aos arredores de Cuzco, nos lugares Incas. Inclui: a fortaleza Inca com vista para o Cuzco, Qenko, Tambomachay e Puka Pukara. Retorno ao Cusco para o Almoço. O passeio terminará na visita do museu Inca. Traslado ao Hotel para se-relaxar e finalmente o jantar.
Refeições: C, A & J
Dia 8. CUSCO CHOQUEQUIRAO.
Dia opcional para visitar "O outo Machu Picchu", Choquequirao. Favor de perguntar os detalhes dessa opção ultra especial.
Refeições: C, A &J
Dia 9. CUZCO
Após do café da manha, traslado ao aeroporto, Check in, e retorno à Lima.
Refeições: C
Final dos nossos serviços
Viagem da nossa Coleçao de luxo VIP - Resumo Itinerário:
PRICES:

Entre em contato conosco aquí
Credit Cards Welcome:



O QUE INCLUÍ / NÃO INCLUI
NOSSA SELEÇÃO HOTÉIS DE LUXO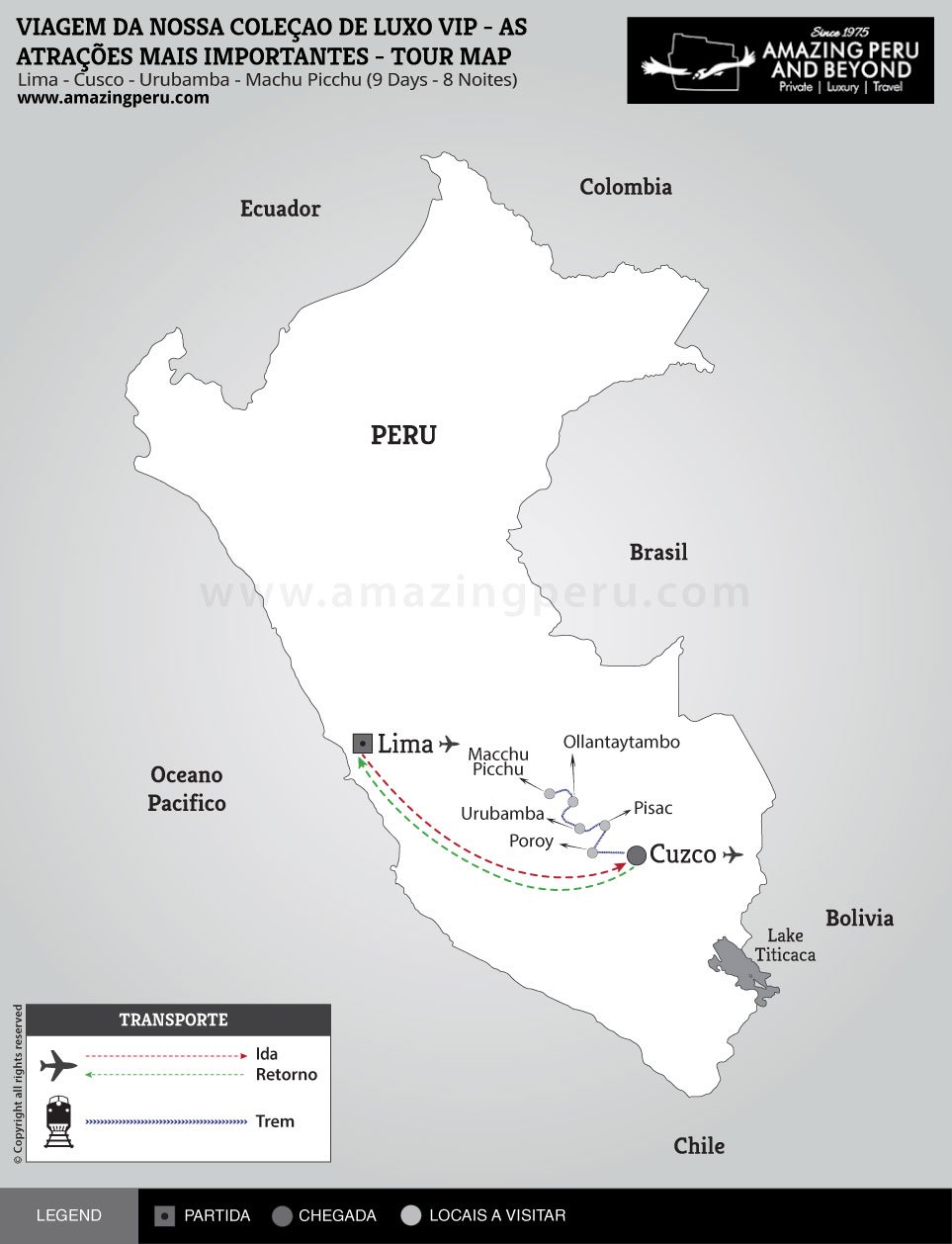 Viagem da nossa Coleçao de Luxo VIP - As atrações mais importantes
Lima - Cusco - Urubamba - Machu Picchu
9 days / 8 nights.
Para a disponibilidade em contato conosco pelo
info@amazingperu.com
e nós lhe enviaremos o dossiê viagem relevante, juntamente com uma citação fixa 90 dias, termos e condições. Por favor, tenha em mente que as reduções de preços significativas estão disponíveis para grupos. Todos os nossos Tours de luxo são totalmente privado e partem diariamente. Contacte-nos para mais informações sobre a turnê anterior, ou para começar a personalizar o seu próprio itinerário.
HIGHLY RECOMMENDED BY:
"Well-run multipurpose agency, with several offices in Peru with an extensive roster of trips, from family and honeymoon to luxury trips..."
Frommers Guides 2021
"Highly recommended, professional and well-organized, 'perfect tour', knowledgeable guides"
Footprint Handbook 2021
"Transportation services and accommodations are top-notch, and the guides are flexible and extremely helpful"
Fodor's Guides 2021
"
Amazing Peru
has more than 20 years of experience in the travel industry. Tours to Machu Picchu can be customized to include airfare, all meals, accommodations and travel insurance, and last from six to 14 days. Amazon cruises, horseback riding, river rafting, hiking and biking throughout Machu Picchu, Cuzco, Sacred Valley, Lake Titicaca..."
USA TODAY
"Move Over, Machu Picchu - How disabled travelers can tour Machu Picchu."
Christoper Reynolds
"Looking for an adventure of lifetime to kick-start married life? Consider these honeymoons with a difference… "
Perfect Wedding Magazine
"Experience"
Amazing Peru is the leading company in Latin America that combines exclusivity, luxury and authenticity for Peruvian holidays. It will tailor a 15- days tour for you that takes in Lake Titicaca, the Sacred Valley, Machu Picchu, Lima, Cuzco, Colca Canyon and the Amazon rainforest."
The Travel and Leisure Magazine UK
"A reputable firm with an impressive variety of unique excursions… "
At Home and Away with Alan Whicker CBE Magazine
Spend Christmas on a guided tour of breathtaking Machu Picchu and visit famous Lake Titicaca. Amazing Peru offers luxury Christmas vacations in Machu Picchu along the Inca Trail...
Trails Outdoor Travel Guide
"Amazing Peru takes families on both luxury and affordable tours throughout Peru. Children 12 and older are welcome to come along on the 12-day Peru Family Adventure Tour. Raft, backpack, kayak and bike through some of Peru's most unforgettable sights including Machu Picchu. The Family Tour to Peru is tailored for children younger than 12 years of age with an educational component. Relax on Peru's northern beaches, explore the high-altitude Lake Titicaca, trek through the Amazon, and visit Machu Picchu on this 16-day journey. Check out Amazing Peru's 12-day Family Tour."
Global Post USA
"
You can fly over Machu Picchu - or take a helicopter ride
Who needs hiking when you can fly? The company Amazing Peruoffers hour-long flight tours right over the Sacred Valley of the Incas. The plane fits a minimum of eight passengers, and it can also be chartered. Passengers fly over Tipon and Pikillaqta, both archaeological sites, Pisaq and the Urubamba Valley, Sacsayhuaman, and, of course, Machu Picchu itself. Flights can be longer or shorter as requested. "
"
You can Om your way through Machu Picchu
Machu Picchu is known as one of the most spiritual lands in the world, so why not go all out and Om your way through its ruins? Amazing Peru offers a seven-day yoga tour where visitors travel from Lima to Cuzco and finally to Machu Picchu, where they stay in the famed sanctuary Lodge hotel right outside of the ruins. They participate in multiple meditation and yoga sessions throughout the trip, but the highlight is a private session smack-dab in the middle of the ruins. Now that is an Om experience worth waiting for."
Yahoo Lifestyle
"A good bird watching site. Private, customized tour to Venezuela, Guyana, Suriname, French Guiana and Trinidad & Tobago"