Tour VIP Machu Picchu e Vale Sagrado de Luxo
Lima - Vale Sagrado - Cusco - Machu Picchu
9 días / 8 noites.
ITINERARIO
Dia 1. LIMA (nenhuma refeição hoje)
Chegada em Lima, na saída para pegar sua bagagem, você será bem-vindo pela nossa guia Monica. Será ajudado com sua bagagem antes do transporte ao seu hotel de veiculo privativo. Seu hotel em Lima será o 5 estrelas Marriot. Upgrate para a habitação Deluxe com vista para o oceano. Noite livre.
Dia 2. LIMA (Todas as refeições)
Após do café da manhã, encontrará novamente com a sua guia Monica, comece sua visita guiada privativa à Lima colonial e Lima moderna, começando pelo centro dessa vibrante metrópole. O Tour inclui a Catedral, que data de 1654; a praça principal que ainda abriga a fonte de bronze original, construída em 1650; e o Convento de San Francisco onde se encontram suas catacumbas. Conhecida como "A cidade dos Reis", Lima foi fundada em 1535 por Pizarro e reconstruída em 1991, mesmo ano que foi declarada patrimônio mundial, pela UNESCO. Uma das poucas cidades latino-americanas que ainda preserva seu passado colonial, Lima foi lar dos vice-reis espanhóis durante o tempo da colônia. Nosso tour continua nos bairros residenciais de San Isidro e Miraflores, antes de parar no restaurante La Rosa Náutica para o Almoço. Esse restaurante de comida marina é muito popular entre o pessoal nacional e internacional, mas se quiser nos pomos substituir esse restaurante por outro. Após do almoço, visita ao Museu Larco. O Museu inclui apresentações permanentes como a galeria de Ouro e Prata, a exibição da maior coleção de joias dos mais antigos governantes do peru pré-colonial. O museu foi fundado no ano 1926 em Trujillo, mas foi transferido no ano 1950 à Lima. Possuiu salões com múmias e tecidos antigos (cultura Paracas, mais de 2000 anos de antigo). Também possui peças de ouro e prata. Retorno ao Hotel. Sessão de massagem para duas pessoas. À noite, um gostoso Jantar no Astrid e Gaston, o restaurante de um dos melhores chefs da América Latina. Como opção adicional, podemos fazer reserva no espetacular restaurante Huaca Pucllana, localizado do lado duma construção Pre- Inca.
Refeições : C, A & J
Dia 3. LIMA (café da manhã)
Dia livre. Opção de visitar as ferinhas e os shoppings. Terá para você, um veiculo privativo por 4 horas para visitar Lima.
Refeições : C
Dia 4. LIMA - CUSCO - VALE SAGRADO (todas as refeições)
Após do café da manha, tenho feito o check-in, traslado ao aeroporto para seu voo à Cusco, antiga capital do Império Inca. Em Cusco você será bem-vindo pelo nosso staff no salão VIP, quem pegará sua bagagem enquanto você se acondiciona no Lounge oxigenado. Transporte ao vale sagrado dos Incas. Acomodação no Hotel Tambo del Inca. Upgradre para habitação Deluxe sujeito a disponibilidade. Tarde livre.
Hotel Tambo del Inca | Refeições : C, A & J
Dia 5. VALE SAGRADO - PISAC - OLLANTAYTAMBO (todas as refeições)
Após do café da manhã no hotel, Jaime seu guia encontrará você novamente para o dia inteiro de escurão no formoso Urubamba, no Vale Sagrado dos Incas, localizado entre Pisac e Ollantaytambo. Esse é um excepcional vale fértil que foi a despensa do Cusco. Seguidamente, visitará a pequena cidade de Pisac, fundada em tempos da colônia, e localizada aos pés das Ruinas de Pisac. Os dias Domingo, terças e quartas os nativos vendem produtos produzidos na mesma cidade Aqui você poderá observar as técnicas locais do lugar e poderá também adquirir esses mesmos artesanatos, tecidos e decorações. O almoço será na esplêndida Fazenda Hayoccari, sobre o Vale Sagrado, que data do século dezessete. A fazenda pertence a um dos mais importantes latifundiários do Vale Sagrado, e é o lar de formosos jardins onde também são cultivados produtos da culinária local. Que incluem a quinua, o milho e ervas aromáticas. Curta o almoço nessa maravilhosa residência de campo antes de continuar sua visita ás ruinas de Ollantaytambo, único povoado que não foi derrotado pelos espanhóis.
Refeições : C, A & J
Dia 6. VALE SAGRADO - CUSCO (Todas as refeições)
Após o café da manhã, tour pela cidade, os tours incluem o templo do Qoricancha, a fortaleza Inca de Sacsayhuaman, para uma visão geral do Cusco, Qenko e Puca Pucara. Seu condutor privativo estará com você durante toda sua visita nesses lugares fascinantes e a antiga cidade. Retorno ao seu hotel à noite. Jantar no hotel.
Refeições : C, A & J
Dia 7. CUZCO - MACHU PICCHU
Começamos o dia cedo de manhã, traslado privativo para a ferroviária de Poroy, aproximadamente trinta minutos do hotel. Embarcará no Trem Vistadome, com maravilhosas vistas da paisagem que leva a altitude da Floresta de nuvens, montanhas e neve no caminho. Destino Machu Picchu, chegada em Águas Calientes. Pai e filho começarão a caminhada do caminho Inca, enquanto mãe e a filha continuarão em Aguas calientes. Pai e filho atravessarão a ponte sobe o rio Urubamba, perto do centro arqueológico Inca de Cachabamba. Após duma breve visita ao sito, começaremos a subida as ruinas de Wiñay Wayna, 2700m/8829pes um importante centro espiritual uma das ruinas mais importantes. Aqui vocês continuarão no caminho Inca principal, Continuará nesse caminho por 45 minutos até a cidadela de Machu Picchu, a 2400m. Chegada em Machu Picchu e o encontro com sua família. Mãe e filha curtirão um tour privativo por Machu Picchu com seu próprio guia. Jantar e acomodação no Hotel Sanctuary Lodge. Upgrade para Habitação Deluxe sujeito a disponibilidade.
Hotel Sanctuary Lodge | Refeições :C & J
Dia 8. MACHU PICCHU - CUSCO (todas as refeições)
Hoje você curtirá de um dia mais de tour pelo Machu Picchu. A cidade antiga mais espetacular do mundo. Construída pelo Inca Pachacutec, e compreendendo blocos de pedra colocados com precisão magistral, Machu Picchu combina harmoniosamente com a paisagem da montanha. Há muitas teorias sobre as origens de Machu Picchu, mas três das ideias mais populares incluem um templo para o sol, uma fortaleza contra os habitantes da selva ou um santuário para os Incas. Essa fabulosa cidade tem casas, templos, armazéns, uma grande praça central, todos ligados por estradas estreitas, e cercada por varandas abertas para o lado da montanha, que foram usados para a agricultura. Retorno ao seu hotel para o Almoço. O te será servido à tarde antes de descer de ônibus a Aguas Calientes e a abordagem no trem de Luxo Hiram Bingham com destino a Cusco. Desfrute o jantar e coquetéis no trem antes do retorno na cidade. Recepção e transporte privativo ao seu hotel, o exclusivo Deluxe Monastério hotel. Sua habitação oxigenada, para ajudá-lo relaxar e dormir melhor na altitude de Cusco. Upgrade a habitação Deluxe sujeito a disponibilidade.
Monastério Hotel | Refeições :C, A & J
Dia 9. CUSCO - LIMA (Café da manhã)
Após do café da manhã, chegou a hora da despedida a Cusco. Um veiculo privativo levará você ao aeroporto a tempo para seu voo de volta para Lima e sua conexão de voo internacional às 13:50pm.
Refeições :C
Final dos nossos serviços
Tour VIP Machu Picchu e Vale Sagrado de Luxo - Resumo Itinerário:
PRICES:

Entre em contato conosco aquí
Credit Cards Welcome:



O QUE INCLUÍ / NÃO INCLUI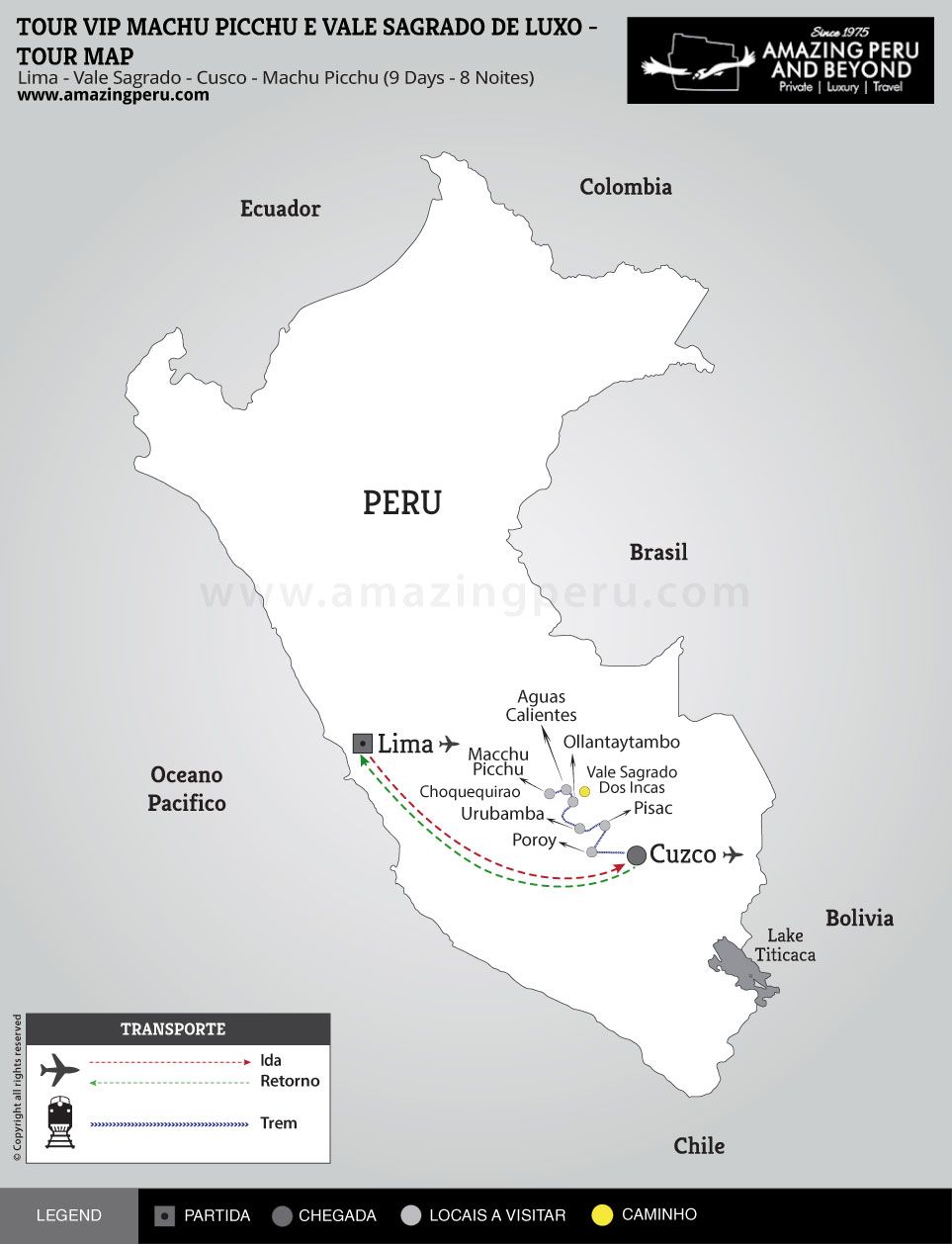 Tour VIP Machu Picchu e Vale Sagrado de Luxo
Lima - Vale Sagrado - Cusco - Machu Picchu
9 days / 8 nights.
Para a disponibilidade em contato conosco pelo
info@amazingperu.com
e nós lhe enviaremos o dossiê viagem relevante, juntamente com uma citação fixa 90 dias, termos e condições. Por favor, tenha em mente que as reduções de preços significativas estão disponíveis para grupos. Todos os nossos Tours de luxo são totalmente privado e partem diariamente. Contacte-nos para mais informações sobre a turnê anterior, ou para começar a personalizar o seu próprio itinerário.
HIGHLY RECOMMENDED BY:
"Well-run multipurpose agency, with several offices in Peru with an extensive roster of trips, from family and honeymoon to luxury trips..."
Frommers Guides 2021
"Highly recommended, professional and well-organized, 'perfect tour', knowledgeable guides"
Footprint Handbook 2021
"Transportation services and accommodations are top-notch, and the guides are flexible and extremely helpful"
Fodor's Guides 2021
"
Amazing Peru
has more than 20 years of experience in the travel industry. Tours to Machu Picchu can be customized to include airfare, all meals, accommodations and travel insurance, and last from six to 14 days. Amazon cruises, horseback riding, river rafting, hiking and biking throughout Machu Picchu, Cuzco, Sacred Valley, Lake Titicaca..."
USA TODAY
"Move Over, Machu Picchu - How disabled travelers can tour Machu Picchu."
Christoper Reynolds
"Looking for an adventure of lifetime to kick-start married life? Consider these honeymoons with a difference… "
Perfect Wedding Magazine
"Experience"
Amazing Peru is the leading company in Latin America that combines exclusivity, luxury and authenticity for Peruvian holidays. It will tailor a 15- days tour for you that takes in Lake Titicaca, the Sacred Valley, Machu Picchu, Lima, Cuzco, Colca Canyon and the Amazon rainforest."
The Travel and Leisure Magazine UK
"A reputable firm with an impressive variety of unique excursions… "
At Home and Away with Alan Whicker CBE Magazine
Spend Christmas on a guided tour of breathtaking Machu Picchu and visit famous Lake Titicaca. Amazing Peru offers luxury Christmas vacations in Machu Picchu along the Inca Trail...
Trails Outdoor Travel Guide
"Amazing Peru takes families on both luxury and affordable tours throughout Peru. Children 12 and older are welcome to come along on the 12-day Peru Family Adventure Tour. Raft, backpack, kayak and bike through some of Peru's most unforgettable sights including Machu Picchu. The Family Tour to Peru is tailored for children younger than 12 years of age with an educational component. Relax on Peru's northern beaches, explore the high-altitude Lake Titicaca, trek through the Amazon, and visit Machu Picchu on this 16-day journey. Check out Amazing Peru's 12-day Family Tour."
Global Post USA
"
You can fly over Machu Picchu - or take a helicopter ride
Who needs hiking when you can fly? The company Amazing Peruoffers hour-long flight tours right over the Sacred Valley of the Incas. The plane fits a minimum of eight passengers, and it can also be chartered. Passengers fly over Tipon and Pikillaqta, both archaeological sites, Pisaq and the Urubamba Valley, Sacsayhuaman, and, of course, Machu Picchu itself. Flights can be longer or shorter as requested. "
"
You can Om your way through Machu Picchu
Machu Picchu is known as one of the most spiritual lands in the world, so why not go all out and Om your way through its ruins? Amazing Peru offers a seven-day yoga tour where visitors travel from Lima to Cuzco and finally to Machu Picchu, where they stay in the famed sanctuary Lodge hotel right outside of the ruins. They participate in multiple meditation and yoga sessions throughout the trip, but the highlight is a private session smack-dab in the middle of the ruins. Now that is an Om experience worth waiting for."
Yahoo Lifestyle
"A good bird watching site. Private, customized tour to Venezuela, Guyana, Suriname, French Guiana and Trinidad & Tobago"