Tour VIP de Ultra Luxo de Jato Privativo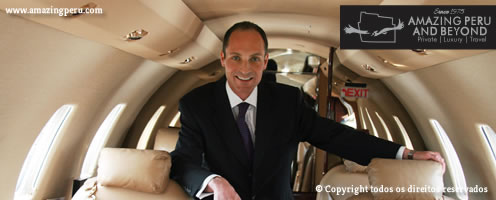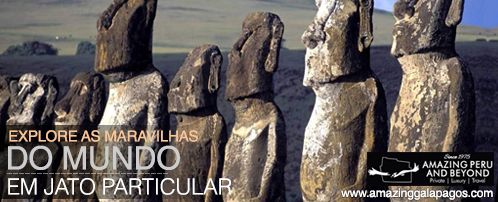 Viajar de jato privativo é a mais exclusiva opção para uma viagem VIP que só poderão curtir poucas pessoas. Num grande continente como é a América do Sul, com muitos destinos remotos, é muitas vezes a melhor e única maneira de viajar, especialmente se você não possui muito tempo. Com tantos destinos que as aerolinhas não conseguem cobrir com seus horários de voo, viajar de avião privativo é às vezes a única opção. Explorar o Peru e a América do sul de jato privativo é uma das maneiras mais emocionantes e luxuosas de viajar. Também permitem você visitar mais destinos, que incluem locações menos conhecidas, num tempo mais curto. As saídas cêdo de manhã ficarão no passado, já não terá que aguardar horas para seus voos de conexão, o se preocupar por atrasos o cancelamentos. Com um jato privativo, será levado comodamente dum lugar maravilhoso a outro, acederá a afastadas locações, explorando esses lugares dum modo fácil com seu guia privativo sem a menor perturbação. Você poderá curtir também as entradas e saídas aos países sem dificuldade, assim também a intimidade e exclusividade de viajar em família e com amigos do jeito mais confortável.

Essa viagem só esta disponível para uns poucos distinguidos clientes e permite o acesso a lugares únicos da maneira mais rápida possível, com todo o privilégio VIP.

Curta uma viagem à remota Amazônia do Peru, aceda a floresta tropical aonde nenhum voo comercial pode, voe a Canaima, para ver uma das cachoeiras mais incríveis do mundo, as Cachoeiras do Anjo. Chegue no ilha habitada mais afastada, a ilha de pascoa, com suas estatuas famosas, os Moaj, tudo isso possível só em uns poucos dias. E porque não finalizar sua viagem visitando Machu Picchu, uma das sete maravilhas do mundo moderno para uma completa imersão na América do Sul.

Como um cliente do nosso Tour de jato privativo, você terá a melhor atenção ao cliente e assistência direta com seu agente de viagem, 24/7, 365 dias do ano, como o serviço de zeladoria completo.

Nós forneceremos os melhoreis hotéis e propriedades para sua acomodação, com o melhor serviço, nas melhores habitações disponíveis, experimentados guias reconhecidos nas suas áreas de especialidade, seja cultura, história, natureza, a fotografia. Acesso às locações mais privilegiadas.

Nosso teme de expertos farão dessa uma viagem perfeita, seja esta viagem um curto escape para só um país ou um tour mais longo, com combinações de vários países, nossos Tours de Jato privativos, fazem de esse Tour VIP uma opção com distinção inimaginável para nossos clientes de elite.

Se você chegasse ao ponto inicial do roteiro com seu próprio Jato, nós podemos também encarrega-nos dos seus documentos de imigração, taxas de aterrissagem, permissões, planos de voo, além da acomodação para seu equipe inteiro, combustível, segurança e refeições.

VIAJE DE JATO PRIVATIVO
Se desejar uma viagem de casal, família, grupo de amigos ou um grupo maior de pessoas, nós pomos fretar um jato privativo de acordo com suas necessidades. Assim seja uma viajem de negócios ou férias, o uma mistura dos dois, nosso incomparável acesso a uma grande variedade de jatos, turbo propulsores e helicópteros estarão prontos para os requerimentos que você precise. Entre em contato conosco, hoje para suas necessidades de viagens de Jato privativo.
Para a disponibilidade em contato conosco pelo
info@amazingperu.com
e nós lhe enviaremos o dossiê viagem relevante, juntamente com uma citação fixa 90 dias, termos e condições. Por favor, tenha em mente que as reduções de preços significativas estão disponíveis para grupos. Todos os nossos Tours de luxo são totalmente privado e partem diariamente. Contacte-nos para mais informações sobre a turnê anterior, ou para começar a personalizar o seu próprio itinerário.
HIGHLY RECOMMENDED BY:
"Well-run multipurpose agency, with several offices in Peru with an extensive roster of trips, from family and honeymoon to luxury trips..."
Frommers Guides 2018
"Highly recommended, professional and well-organized, 'perfect tour', knowledgeable guides"
Footprint Handbook 2018
"Transportation services and accommodations are top-notch, and the guides are flexible and extremely helpful"
Fodor's Guides 2018
"
Amazing Peru
has more than 20 years of experience in the travel industry. Tours to Machu Picchu can be customized to include airfare, all meals, accommodations and travel insurance, and last from six to 14 days. Amazon cruises, horseback riding, river rafting, hiking and biking throughout Machu Picchu, Cuzco, Sacred Valley, Lake Titicaca..."
USA TODAY
"Move Over, Machu Picchu - How disabled travelers can tour Machu Picchu."
Los Angeles Times
"Looking for an adventure of lifetime to kick-start married life? Consider these honeymoons with a difference… "
Perfect Wedding Magazine
"Experience"
Amazing Peru is the leading company in Latin America that combines exclusivity, luxury and authenticity for Peruvian holidays. It will tailor a 15- days tour for you that takes in Lake Titicaca, the Sacred Valley, Machu Picchu, Lima, Cuzco, Colca Canyon and the Amazon rainforest."
The Travel and Leisure Magazine UK
"A reputable firm with an impressive variety of unique excursions… "
At Home and Away with Alan Whicker CBE Magazine
Spend Christmas on a guided tour of breathtaking Machu Picchu and visit famous Lake Titicaca. Amazing Peru offers luxury Christmas vacations in Machu Picchu along the Inca Trail...
Trails Outdoor Travel Guide
"Amazing Peru takes families on both luxury and affordable tours throughout Peru. Children 12 and older are welcome to come along on the 12-day Peru Family Adventure Tour. Raft, backpack, kayak and bike through some of Peru's most unforgettable sights including Machu Picchu. The Family Tour to Peru is tailored for children younger than 12 years of age with an educational component. Relax on Peru's northern beaches, explore the high-altitude Lake Titicaca, trek through the Amazon, and visit Machu Picchu on this 16-day journey. Check out Amazing Peru's 12-day Family Tour."
Global Post USA