Peru Luxury Yoga & Spiritual Escape Tour
A personalized & private tour of Peru; visiting the Sacred Valley, the navel of the Inca empire and experience several Shamanic ceremonies, escape to a Yoga retreat for several days, travel on-board the Hiram Bingham train to the ancient lost city of the Incas, Machu Picchu; explore the ancient Inca capital city of Cuzco whilst staying at one of the city's deluxe Orient Express Hotels and learn traditional Inca weaving techniques with a hands-on approach.
Lima - Cusco - Sacred Valley - Machu Picchu - Chinchero
11 days / 10 nights.
ITINERARY
Day 1 LIMA - no meals today
As you arrive into Lima airport and exit customs and baggage, you will be warmly welcomed, assisted with your luggage before escorted to your hotel, the Airport Ramada. The hotel is the best option based on your flights.
Day 2 LIMA - CUZCO - SACRED VALLEY (Breakfast)
After breakfast, with boarding passes in hand, you will be driven to the airport for your quick-check-in and brief one hour flight to Cuzco, the ancient Inca capital of the Incas. In Cuzco, you will be warmly welcomed by the VIP lounge staff of the airport and escorted to the oxygenated lounge where you may try some of the local coca tea whilst your luggage is collected for you. You will be met by our leading tour guides of Cuzco, one of whom will be Jaime Vasquez who with over 25 years of experience and will accompany you for the private transfer to your hotel in the Sacred valley. Free day at leisure. Rio Sagrado Hotel
The Sacred Valley | Meals: B
Day 3 SACRED VALLEY (Breakfast & lunch)
After breakfast, your guides will be waiting for you and transfer you in your private mini-bus to the Inca site of Moray. This is a fascinating, unique ruin; a fabulous amphitheater of terracing that was used as an agricultural experimental site by the Incas by taking advantage of the microclimates produced by the varying altitude to breed new varieties of their crops. From here we start our trek downhill to the village of Maras and the salt pans of Maras. The salt pans are an unforgettable site where the people from Maras have diverted a salt-laden spring coming out of the hillside, evaporating the water to collect salt, as their ancestors have done for centuries. We will walk among the salt pans, witnessing a scene largely unchanged from Inca times. From the salt pans we continue our trek to the bottom of the valley before rejoining our car for the private transfer to the splendid Huayoccari Hacienda, overlooking the Sacred Valley and which dates back to the seventeenth century. The hacienda is owned by one of the most prominent landowners in the Sacred Valley and is home to beautiful gardens producing native ingredients that are used in the restaurant's kitchen. These include corn, quinoa, fruit and aromatic herbs. Enjoy a set meal in this marvellous country residence before returning to your hotel.
Meals: B& L
Day 4 SACRED VALLEY (Breakfast & lunch box)
After breakfast, a visit to Pisaq with your guides and a Master Shaman. The village of Pisac was founded during Colonial times. On Sundays, Tuesdays and Thursdays the Indians barter their products, and artisans from all over the area sell their woven alpaca wool blankets and ponchos, engraved gourds, antique reproductions and jewellery. On Sundays, it is also the meeting place for the local Mayors of the region, who come dressed in their traditional costumes, to attend morning mass. After the market, a visit to the ruins above Pisaq where our Shaman will perform a plant ceremony for all participants. Medicine, personalised attention during the ceremony, cleansing and explanation of the site will be offered. Lunch box provided. Return to your hotel.
Meals: B& L-b
Day 5 SACRED VALLEY (Breakfast & dinner)
After breakfast, short drive to the Willka T'ika, a luxury garden retreat located in the heart of the Sacred Valley.
Created by Carol Cumes in 1994, it is fully respectful of Mother Earth, Pachamama, and consciously built in harmony with its natural environment by the owner & local native talent, who to this day continue as staff to nurture and care for its continued flourishing. All gourmet vegetarian meals are included. Almost everything served in the kitchen is grown organically onsite. Fresh herbs are picked throughout the day and left in the tearoom for guests to mix their own healing combinations at will. Willka T'ika is able to accommodate all dietary specifications. Willka T'ika's magnificent healing gardens provide guests with the opportunity to relax, restore and receive the powerful energy from the Andes. The one-of-a-kind seven-chakra gardens cover the grounds. Each garden is designed to correspond to one of the seven chakras, or energy centers, of the human body. Willka T'ika's sustainable luxury guestrooms are made from natural earth materials and adorned with local artwork and materials. The bathrooms are modern and feature pure organic products. Willka T'ika has two beautiful hard wood studios for yoga and meditation. The studios are filled with natural sunlight and can accommodate 55 people. Outdoor areas throughout the gardens offer a variety of spaces for group and individual yoga and meditation sessions. Today, one private Yoga class will be provided in the afternoon.
Meals: B & D
Day 6 SACRED VALLEY (Breakfast & dinner)
Free day at the Retreat. Today, one Yoga class will be provided in the afternoon.
Meals: B & D
Day 7 OLLANTAYTAMBO - MACHU PICCHU (All meals)
After breakfast, we bid farewell to the retreat before your short drive to Ollantaytambo station in time for the boarding of the Luxury Hiram Bingham train to Aguas Calientes. Your luggage will be taken to Cuzco for you due to the minimal luggage policy onboard the train.
The train will depart at 10.30am for the 1 ½ hour journey and you will enjoy the company of fellow travellers and guides onboard this luxury train complete with 1920s styled Pullman carriages. Each carriage has been furnished in polished wood and brass with large comfortable armchairs.
The bar car is the perfect place to enjoy a cocktail accompanied by live Peruvian music. On the way to Machu Picchu, the bartender will show you how to make a traditional Pisco Sour. The observation car is furnished with large cushioned seats, making it the perfect place to sit, relax and watch the Peruvian landscape unfold as you gently ride towards Machu Picchu. A hearty brunch will be served on-board before you arrive to Aguas Calientes train station, gateway to the lost city of the Incas.
As you disembark, you will be assisted with your luggage and welcomed to take the short walk to the bus terminal where a private bus will be waiting for all Hiram Bingham passengers. The short ride up to Machu Picchu will meander through breathtaking mountain scenery up to the ancient Inca citadel. At the very entrance to Machu Picchu, your hotel, the Sanctuary Lodge hotel is located. Welcome and check in to your room.
Shortly after, your guides will again lead you on a private guided tour of Machu Picchu, the most spectacular ancient city in the world. Built by the Inca Pachacutec, and comprising stone blocks fitted with masterful precision, Machu Picchu harmoniously blends into the mountain landscape. There are many theories as to the origins behind Machu Picchu but three of the most popular ideas include a temple to the sun, a fortress against the jungle inhabitants or a sanctuary for the Incas. This fabulous city has houses, temples, warehouses, a large central square, all connected by narrow roads and steps, and is surrounded by terraces cut into the mountain side which were used for agriculture. Dinner and accommodation at the Machu Picchu Sanctuary Lodge.
Meals: B, L & D
Day 8 MACHU PICCHU - CUZCO (All meals)
Today you will meet with your Master Shaman who will conduct a very different tour of the site and will explain the mystical aspects of Machu Picchu. The Shaman will make an offering to the Mother Earth with coca leaves and other local products.
After, free time to take any of the several paths with your guides and wander around various parts of the site, perhaps walk down to the Inca's bridge. Let Machu Picchu unfold all its mysteries for you, take in the breathtaking cloud forests and jagged mountains, or marvel at the extraordinary Masonic precision of the ancient Incas. Return to your hotel for lunch. Afternoon tea will be served before taking the private Hiram Bingham bus down to Aguas Calientes in time for the return Luxury Hiram Bingham train to Cuzco. You will enjoy dinner and cocktails onboard before arriving back to Cuzco. Welcome and private drive back to your hotel, the 5 star Palacio Nazarenas at the top of Cuzco centre or Monasterio.
Your room which will be oxygenated to help you relax and sleep more comfortably in the high altitude setting of Cuzco (11,600ft above sea level).
Meals: B, L & D
Day 9 CUZCO (Breakfast)
After breakfast, embark on a private guided yoga hike through the major archaeological sites on the outskirts of the city. We will take the Capac Nan, Ancient Inca Road to the jungle, up towards our first stop the Temple of the Monkeys. This is a natural rock formation modified by the Inca with carvings of monkeys and snakes and a blocked entrance to ancient underground tunnels. Sometimes one can still find coca or flower offerings left there, indicating its use as a ceremonial site. Here we will have a yoga asana class next to this temple. Afterwards we will go to our next stop, The Temple of the Moon, for pranayama and meditation. The Temple of the Moon is a rock hill with many cave entrances and carvings. One of the main entrances depicts a puma, condor and a snake, symbolizing the Inca trilogy. Inside this cave there is an altar (that is still used today) and above the altar there is an opening from which certain nights the moon shines through. Next we will go to little Qenqo. This is a carved hill supported by some of the highest quality Inca walls in the city. Next to it there is a beautiful flat grassy area surrounded by a eucalyptus grove where we will have either an acro-flying yoga class, slacklining or mantra chanting session. The whole experience lasts between 3 and 4 hours and we encourage you to bring your own yoga mat. Return to your hotel. In the afternoon, a tour of the city of Cuzco with your guides including the Qoricancha temple or temple of the Sun, the Cathedral and the Main Square. Your private driver will be with you at all times as you visit each part of this fascinating and ancient city. Return to the hotel.
Meals: B
Day 10 CUZCO - CHINCHERO (Breakfast)
After breakfast, private drive to the town of Chinchero where we shall visit the authentic market before visiting the weaving workshop run by the Centro de Textiles under the leading influence of Nilda Callanaupa, a Quechua weaver and scholar. Nilda was born in Chinchero and as many of the ancient weaving techniques Nilda learned from her elders were in danger of disappearing, Nilda founded the Center for Traditional Textiles of Cusco (CTTC). The CTTC has supported weavers from several highland villages, who have revived these skills and traditions.
Nilda's mission to explore and preserve traditional weaving techniques is a calling of great importance. In Peru, weaving is much more than an art form or a practical necessity. Andean textiles honour Pacha Mama, Mother Earth.
You will have ample opportunity of watching the weavers and participating yourself. Shortly after, a visit to a ceramist family and his workshop with an opportunity to experiment and learn about the ancient Inca ceramic techniques still thriving today. Return to your hotel in Cuzco in the early evening.
Meals: B
Day 11 CUZCO - LIMA (Breakfast)
After early breakfast, we bid farewell to Cuzco and take a short drive in a private car to the airport in time for your return flight to Lima and transfer to your hotel.
Meals: B
End of our services.
PRICES:

Please Contact Us Here
Credit Cards Welcome:



WHAT IS INCLUDED / NOT INCLUDED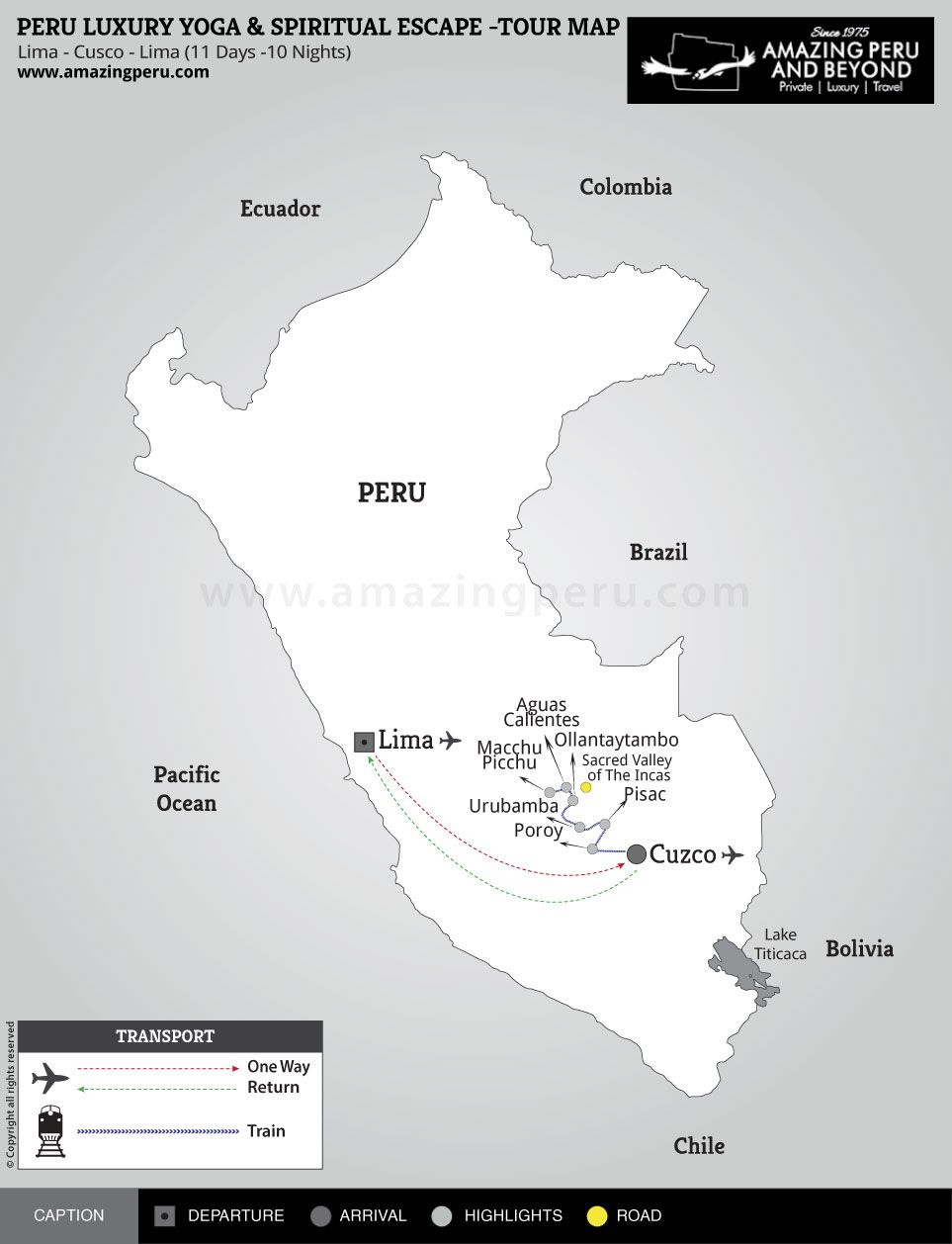 Peru Luxury Yoga & Spiritual Escape Tour
Lima - Cusco - Sacred Valley - Machu Picchu - Chinchero
11 days / 10 nights.
Tour Review:





Hi Jim

Thanks for your note… the ten days were amazing…
Yes, the last day delay was a drag, but it all worked out…

Thank you for doing such a stellar job arranging this very memorable trip.
I am now writing my blog on the trip.

Also, I will write more later and of course give Amazing Peru stellar reviews when I get settled in.

Diana R.
California, USA

Visiting Peru (Part I)

Diana Raab
I just returned from a magical ten days in Peru, a place that has been on my bucket list for years. With my eldest daughter turning 30 on August 19th, it was an ideal opportunity to share in a spiritual celebration. We hired two guides and visited Lima, Cusco, The Sacred Valley, and Machu Picchu. Every aspect of the trip-from the people to the food to the markets to the Inca sites, to the cities and their energies-was unforgettable. The last time I wrote about an impactful trip was after a family trip to Africa in 2009 which inspired my poetry book, Listening to Africa.

Visiting Peru affected me both personally and spiritually. Although I aspired to journal each day, some days were so packed that I collapsed in bed at night. Whether my experience develops into a book is difficult to predict at this point, however, I definitely feel some deep transformative events stirring inside of me. I believe these are connected to not only visiting the sacred Inca sites, but also from two meetings with 53-year old Master Shaman, Pedro, who admitted that he had been destined to be a shaman since he was a little boy.
In preparation for the trip I read a few books, including, "The Lonely Planet" and "Angean Awakening; An Inca Guide to Mystical Peru" by Jorge Luis Delgado and Mary Ann Male.

These books gave me a sense of both the culture and the sites we would visit, but in reality, the photos and descriptions did not come close in preparing us for the poignancy of the actual experience. When first arriving in Lima and throughout the journey, we were given coco leaves to chew on to help minimize attitude sickness and digestive issues. Also available were hard candies which also contained coco. For most of the trip, we were at about 12,000 feet above sea level, except when at Machu Picchu which was, surprisingly, at the lowest point, at 7,972 feet above sea level. I found it fascinating that the shaman always held in his hand a large plastic bag of the leaves and offered them to the hikers he passed along the way. He also offered a handful to the park rangers thanking them for the use of the beautiful area.

From The Sacred Valley, we took a 1.5-hour train ride to Machu Picchu, a 15th centruy Inca site, sometimes referred to as The Lost City of the Incas. It was built by the Inca emperor Pachacuti. For a long time, the site was abandoned and was rediscovered in 1911 by Hiram Bingham (train named after him), and since then has become an important tourist attraction. Although we only spent two days and one night at the Sanctuary Lodge, being there was definitely the highlight of our trip.

Machu Picchu is surely a place to be revisited. I would love to have spent more time meditating on the edge of some of the Inca sites imprinting the majesty of this transformative place. The shaman hiked with us and made an alter in what he thought to be a sacred and quiet area (August is busy tourist season) and conducted a very special ceremony. To take home, he gave both Rachel and I a little ceramic pot and placed a chakana pendant around our necks suspended from a black string. The chakana depicts the Southern Cross constellation which the ancient Andeans believed to be the center of the universe. They saw this very clearly on the ancient Andean skies. Each of the four stars depicts a compass point. The Incas also called the chakana, The Tree of Life. It has 12 points and signifies the three worlds- the underworld (symbolized by the snake; affirmation to live and behavior is not to lie), the current world (symbolized by the puma; affirmation to work and behavior not to steal), and the upper world (symbolized by the condor; affirmation to love and behavior not to be lazy). All these add up to 12 points on the chakana. The hole in the center signifies the city of Cusco, and how the Incas saw that place as the center of the universe. For Pachamama (mother nature) he unwrapped some candies and tossed them in the forested area. "Pachamama loves sweets," he told us. Pachapapa, on the other hand, refers to earth potato, probably a testament to the fact that there are more than 3,000 varieties of potato in Peru.

All five of us hiked part of the Inca trail to Intipuncu. Inti is the sun or Sun Temple. The Incas worshiped mother nature (Pachamama), especially the sun and the mountains. They saw the mountains as their protectors and always lived on the mountaintops because they felt safer there.

I will share more about my journey next week. Meanwhile, please enjoy these photos of my magical journey to Peru!

www.dianaraab.com/blog/


For current availability contact us at
info@amazingperu.com
and we will send you the relevant trip dossier along with a 90 day fixed quote, terms and conditions. Please bear in mind that significant price reductions are available for groups. All our Luxury Tours are fully private and depart daily. Contact us for more information regarding the above tour, or to begin customizing your own itinerary.
"Well-run multipurpose agency, with several offices in Peru with an extensive roster of trips, from family and honeymoon to luxury trips..."
Frommers Guides 2023
"Highly recommended, professional and well-organized, 'perfect tour', knowledgeable guides"
Footprint Handbook 2023
"Transportation services and accommodations are top-notch, and the guides are flexible and extremely helpful"
Fodor's Guides 2023
"
Amazing Peru
has more than 20 years of experience in the travel industry. Tours to Machu Picchu can be customized to include airfare, all meals, accommodations and travel insurance, and last from six to 14 days. Amazon cruises, horseback riding, river rafting, hiking and biking throughout Machu Picchu, Cuzco, Sacred Valley, Lake Titicaca..."
USA TODAY
"Move Over, Machu Picchu - How disabled travelers can tour Machu Picchu."
Christoper Reynolds
"Looking for an adventure of lifetime to kick-start married life? Consider these honeymoons with a difference… "
Perfect Wedding Magazine
"Experience"
Amazing Peru is the leading company in Latin America that combines exclusivity, luxury and authenticity for Peruvian holidays. It will tailor a 15- days tour for you that takes in Lake Titicaca, the Sacred Valley, Machu Picchu, Lima, Cuzco, Colca Canyon and the Amazon rainforest."
The Travel and Leisure Magazine UK
"A reputable firm with an impressive variety of unique excursions… "
At Home and Away with Alan Whicker CBE Magazine
Spend Christmas on a guided tour of breathtaking Machu Picchu and visit famous Lake Titicaca. Amazing Peru offers luxury Christmas vacations in Machu Picchu along the Inca Trail...
Trails Outdoor Travel Guide
"Amazing Peru takes families on both luxury and affordable tours throughout Peru. Children 12 and older are welcome to come along on the 12-day Peru Family Adventure Tour. Raft, backpack, kayak and bike through some of Peru's most unforgettable sights including Machu Picchu. The Family Tour to Peru is tailored for children younger than 12 years of age with an educational component. Relax on Peru's northern beaches, explore the high-altitude Lake Titicaca, trek through the Amazon, and visit Machu Picchu on this 16-day journey. Check out Amazing Peru's 12-day Family Tour."
Global Post USA
"
You can fly over Machu Picchu - or take a helicopter ride
Who needs hiking when you can fly? The company Amazing Peruoffers hour-long flight tours right over the Sacred Valley of the Incas. The plane fits a minimum of eight passengers, and it can also be chartered. Passengers fly over Tipon and Pikillaqta, both archaeological sites, Pisaq and the Urubamba Valley, Sacsayhuaman, and, of course, Machu Picchu itself. Flights can be longer or shorter as requested. "
"
You can Om your way through Machu Picchu
Machu Picchu is known as one of the most spiritual lands in the world, so why not go all out and Om your way through its ruins? Amazing Peru offers a seven-day yoga tour where visitors travel from Lima to Cuzco and finally to Machu Picchu, where they stay in the famed sanctuary Lodge hotel right outside of the ruins. They participate in multiple meditation and yoga sessions throughout the trip, but the highlight is a private session smack-dab in the middle of the ruins. Now that is an Om experience worth waiting for."
Yahoo Lifestyle
A Private, customized tour to Venezuela, Guyana, Suriname, French Guiana and Trinidad & Tobago. "Any traveler with a well-developed sense of adventure will be rewarded with an incredible experience on this journey to a birding paradise designed and operated by Amazing Peru."
"Savoring a taste of Uruguay's acclaimed wine region - An outstanding experience"
For more information about this spectacular trip please read "A visit to Peru by American Author Diana Raab" organized by Amazing Peru Tour Company