Lima - Cuzco - Salkantay Trek to Machu Picchu
11 days / 10 nights.
ITINERARY
Day 1. LIMA
Arrival to Lima, meet and greet at the airport with a French speaking guide and transfer by private deluxe, bus complete with bottle of water & fresh towel, to the five star hotel, Hilton Hotel. Check in to your hotel. Transfer to the restaurant for dinner
Day 2. LIMA - CUZCO (Breakfast, lunch and dinner)
After breakfast, a guided visit of colonial and modern Lima, including the cathedral, dating from 1654, the main square, which still houses the original bronze fountain built in 1650, and the San Francisco Convent and its catacombs. Lunch before transfer to the airport for the flight to Cuzco. After the hour long flight, arrival to Cuzco, reception, meet and greet at the airport with a French speaking guide and transfer by private deluxe, bus complete with bottle of water & fresh towel, to the five star hotel, the Five star Palacio del Inka Hotel. Dinner at hotel with soft drinks.
Day 3. CUZCO (Breakfast and dinner)
After breakfast, enjoy a private tour of Cuzco that includes the Cathedral, Qoricancha temple, and the Main Plaza.
Cuzco's history extends back to before 1000 BC when the Marcavalle Culture was the dominant power; indeed organized life in the City began practically with them. In the second phase of its history, around 800BC, Cuzco was home to the Chanapata culture and later developed several regional states. What is traditionally known as the Inka civilisation began around 1200 AD in its initial phase, with the first Inka, Manko Capaq and Mama Ocllo. It is also suggested that Pachakuteq, the ninth king, elaborated another foundation in 1438 which is also known as the expansive phase. Inca builders hereafter laid out the city in the form of a puma, with the fortress of Sacsayhuaman as the head.
After the arrival of the Spanish to the city on November 15th 1533, Francisco Pizarro re-founded it for the Spanish King on March 23rd 1534. In 1536 Manko Inka began a long and bloody war against the Spanish invaders with a siege lasting over 8 months over the city. Finally in 1572, after a war that lasted 36 years, Tupaq Amaru I, the last emperor of the Inka dynasty was defeated, captured and executed in the city's main square. The Spanish subsequently destroyed many of the structures in the city or used them as foundations for many of their own churches and buildings. Briefing on the Salkantay Trail before dinner at your hotel.

*Private Luxury Salkantay Trek to Machu Picchu
Day 4. CUZCO - MOLLEPATA - SORAYPAMPA (L & D)
Early pick-up from your hotel as you head towards the Inca ruins of Tarawasi near the town of Limatambo (approx. 1.5 hrs from Cuzco).
These ruins were formally an Inca Temple and were an important resting place for Inca travellers heading from the coast to Cusco. After leaving Limatambo, we pass through the mountain village of Mollepata where there will be a short coffee break, before ascending a winding mountain road and continue onto Soraypampa.
Soraypampa is located in between two sacred Inca Mountains, as you hike along you pass from a river valley into a glacier valley and you will be able to look across the valley and see the ancient Inca irrigation channels cut into the side of the mountain. You will also see an ancient forest of polylepis trees (queunas) native to this region. Your lodge tonight is designed to resemble an Inca Palace with all the luxury and elegance that this period of history evokes. After a warm welcome by our friendly staff, guests will be shown to their rooms and have time to freshen-up. The first afternoon is spent at leisure to adjust to the altitude, taking advantage of the outdoor jacuzzi or just walking in the beautiful surroundings. An evening briefing by the fireplace is followed by aperitifs and dinner.
Overnight: Salkantay Lodge (3,869 m/12,690 ft)
Trekking Time: Approximately 6 hours (including picnic lunch en route)
Hiking Level: Moderate
Distance covered: 13km
Day 5. SORAYPAMPA (B, L & D)
Today you trek is for three hours in the surrounding area of Soraypampa to visit the Humantay Lake which is fed by the glacier far above on the slopes of Humantay Mountain. The Inca's considered these glacial lakes to be the 'eyes' of the mountain and to show respect to the mountain Gods they would build apachetas (stone piles) and today walkers carry on with this tradition. A short walk of about thirty minutes is necessary in order to reach the lake, but the view is well worth it and those brave enough can even go for a swim. We return to the lodge for lunch, after which there is the option to ride out again for around two hours in the surrounding area, or guests may choose to trade the glacial swim for a relaxing soak in the outdoor jacuzzi. We spend the night at the Salkantay Lodge with gourmet food and warm, comfortable beds. In the evening, the guide will brief the party on gear and the itinerary for the next four days.
Overnight: Salkantay Lodge (3,869 m/12,690 ft)
Trekking Time: Approximately 4 hours
Hiking Level: Moderate to Challenging
Distance covered: 6km
Day 6. SORAYPAMPA - WAYRA (B, L & D)
Today we continue our trek (about five hours) towards Machu Picchu, riding up the Salkantay River and passing between Salkantay and Humantay Mountains. The mountain pass is 4800 metres (14,800 ft) above sea level and this is the highest you will be during the trip. Today you will have the opportunity to make your own offering to the mountain. Your cultural guide will instruct you in the manner that you should make your offering (of coca leaves) and as you let your leaves fly into the wind you can ask the mountain for a wish. Throughout the ride keep your eyes open for Andean condors, common to this area. From the pass you can see our destination of the second lodge but before we reach the lodge lunch will be served in a spectacular glacial valley with an amazing view of Vilcabamba Snow Mountain Range. The Lodge has been built to resemble an Inca religious shelter. The decoration inside the lodge is representative of the Inca's religious beliefs. You will find pictures and artifacts relating to ancient pilgrimages and Chaman rituals. Dinner and overnight at the Lodge.
Overnight: Wayra Lodge (3,906 m/12,812 ft)
Trekking Time: 6-8 hours (including lunch)
Hiking Level: Challenging, crossing a 4,640m/15,200 ft mountain pass
Distance covered: 14km
Day 7. WAYRA - COLLPA (B, L & D)
Today we leave the high pampas and head for the river valley that is known as the cloud forest. The scenery changes dramatically as the temperature rises becoming hot and humid. Bamboo trees, orchids and hummingbirds appear in the increasingly verdant scenery. You will pass through small family communities who eek out their living by farming and fishing. Inquisitive children come to see you and are happy to wave you on your way. The walk today is three hours long, you may need to get off and walk in some areas as the trail can be quite narrow. Upon arrival at our next lodge we are greeted with a Pachamanca (traditional underground stone cooking).This traditional meal is famous for its cooking method which consists of layering meat with hot stones and then covering the whole thing up with earth to bake. After observing the uncovering of the Pachamanca, which consists of a variety of meats (chicken, lamb, beef, pork) and vegetables (potatoes,sweet potatoes and yuca) we enjoy our meal. The Lodge is built at the conjunction of three rivers, one of which flows to Machu Picchu. As with all the lodges it is built in a unique style, this time to commemorate the art and music of both the Inca and the colonial times. Brightly coloured masks and traditional hand woven ponchos adorn the walls. The outdoor jacuzzi has panoramic views of the lush green mountains. We spend the afternoon relaxing or walking in the surrounding area. Dinner and overnight at the lodge.
Overnight: Colpa Lodge (2,870 m/9,414 ft)
Trekking Time: 3-4 hours
Hiking Level: Easy to Moderate
Distance covered: 9km
Day 8. COLLPA - LLACTAPATA (B, L & D)
Today we head down the Santa Teresa river valley, through banana and passion fruit orchards and coffee plantations. This area is rich in minerals and hot springs bubble up from deep underground. Flocks of paraqueets squawk noisily in the tree canopy that rises up from the mountain side. The coffee grown here is said to be one of the best organic coffees in the world. You will also notice a change in the appearance of the local people as you ride closer to the jungle. Along the way we stop for lunch, the chef from the lodges will appear as if by magic to prepare food to the usual excellent standard. Afterwards, we continue our trek (a total of around five hours) to the beginning of the Llactapata Inca Trail, the second most famous Inca Trail. A short thirty-minute walk through an avocado orchard brings us to our Lodge. The Lodge celebrates the nature of the area, inside there are many plants and beautiful pictures of butterflies and orchids which you will have seen at first hand along the route today.
Overnight: Lucma Lodge (2,135 m/7,003 ft)
Trekking Time: 5-6 hours (including lunch)
Hiking Level: Moderate to Challenging (because of distance, not terrain)
Distance covered: 15km
Day 9. LLACTAPATA - AGUAS CALIENTES (B, L & D)
Today our destination is the bustling town of Aguas Calientes, also known as Machu Picchu town. Those who wish to can hike this distance but others may catch a bus instead. The hikers will leave the lodge after breakfast and head uphill for around two hours towards Llactapata pass (2600 metres/8500 feet). After heading downhill for about ten minutes you will come upon the recently restored Llactapata Ruins from where you will catch your first glimpse of Machu Picchu across the river valley. This perspective is one that few tourists get to enjoy. We walk another ten minutes or so to our lunch spot where we enjoy a picnic lunch with the same view of Machu Picchu. After lunch we will then descend to the Vilcanota River through bamboo forests, orchards and coffee plantations, a descent of between two and three hours. Aguas Calientes, the town of Machu Picchu, is a short train ride away and here we check into the Sumaq Hotel for dinner and a well-earned rest. The whole group spends the night together in Aguas Calientes.
Overnight: Aguas Calientes (1,900 m/6,232 ft)
Trekking Time: 4-6 hours
Hiking Level: Moderate to Challenging
Distance covered: 13km
Day 10. AGUAS CALIENTES - MACHU PICCHU - CUZCO (B)
Today there will be an early start in order to make the thirty-minute bus ride up to Machu Picchu to arrive before sunrise. You will then enjoy a private guided tour of the city, followed by several hours in which you are free to explore the ruins by yourselves.
We will arrange a Yoga session but the location is yet to be confirmed.
Afterwards you will return to Aguas Calientes by bus for lunch (not included) and then take the afternoon Vistadome train to Ollantaytambo (about an hour and a half), where you are transferred by car to Cusco (about one hour) and your hotel (not included).
Day 11. CUZCO - LIMA (Breakfast only)
After breakfast, transfer to the airport for the flight back to Lima in time for your connecting flight home.
End of our services.
Peru Luxury Salkantay Trek - Itinerary Overview:
PRICES:

Please Contact Us Here
Credit Cards Welcome:



WHAT IS INCLUDED / NOT INCLUDED
SELECTED HOTELS: Standard 5 star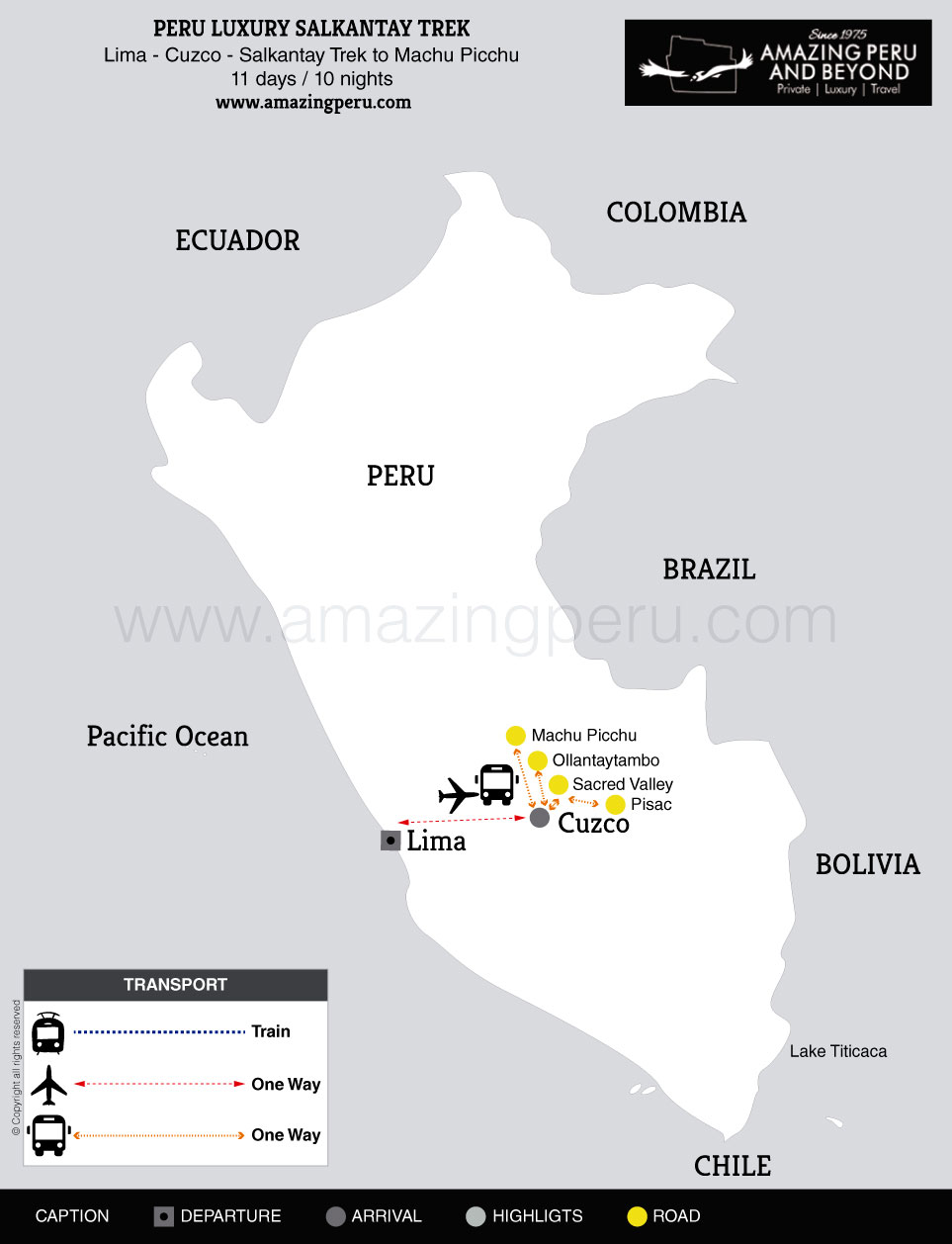 Peru Luxury Salkantay Trek
Lima - Cuzco - Salkantay Trek to Machu Picchu
11 days / 10 nights.
For current availability contact us at
info@amazingperu.com
and we will send you the relevant trip dossier along with a 90 day fixed quote, terms and conditions. Please bear in mind that significant price reductions are available for groups. All our Luxury Tours are fully private and depart daily. Contact us for more information regarding the above tour, or to begin customizing your own itinerary.
HIGHLY RECOMMENDED BY:
"Well-run multipurpose agency, with several offices in Peru with an extensive roster of trips, from family and honeymoon to luxury trips..."
Frommers Guides 2023
"Highly recommended, professional and well-organized, 'perfect tour', knowledgeable guides"
Footprint Handbook 2023
"Transportation services and accommodations are top-notch, and the guides are flexible and extremely helpful"
Fodor's Guides 2023
"
Amazing Peru
has more than 20 years of experience in the travel industry. Tours to Machu Picchu can be customized to include airfare, all meals, accommodations and travel insurance, and last from six to 14 days. Amazon cruises, horseback riding, river rafting, hiking and biking throughout Machu Picchu, Cuzco, Sacred Valley, Lake Titicaca..."
USA TODAY
"Move Over, Machu Picchu - How disabled travelers can tour Machu Picchu."
Christoper Reynolds
"Looking for an adventure of lifetime to kick-start married life? Consider these honeymoons with a difference… "
Perfect Wedding Magazine
"Experience"
Amazing Peru is the leading company in Latin America that combines exclusivity, luxury and authenticity for Peruvian holidays. It will tailor a 15- days tour for you that takes in Lake Titicaca, the Sacred Valley, Machu Picchu, Lima, Cuzco, Colca Canyon and the Amazon rainforest."
The Travel and Leisure Magazine UK
"A reputable firm with an impressive variety of unique excursions… "
At Home and Away with Alan Whicker CBE Magazine
Spend Christmas on a guided tour of breathtaking Machu Picchu and visit famous Lake Titicaca. Amazing Peru offers luxury Christmas vacations in Machu Picchu along the Inca Trail...
Trails Outdoor Travel Guide
"Amazing Peru takes families on both luxury and affordable tours throughout Peru. Children 12 and older are welcome to come along on the 12-day Peru Family Adventure Tour. Raft, backpack, kayak and bike through some of Peru's most unforgettable sights including Machu Picchu. The Family Tour to Peru is tailored for children younger than 12 years of age with an educational component. Relax on Peru's northern beaches, explore the high-altitude Lake Titicaca, trek through the Amazon, and visit Machu Picchu on this 16-day journey. Check out Amazing Peru's 12-day Family Tour."
Global Post USA
"
You can fly over Machu Picchu - or take a helicopter ride
Who needs hiking when you can fly? The company Amazing Peruoffers hour-long flight tours right over the Sacred Valley of the Incas. The plane fits a minimum of eight passengers, and it can also be chartered. Passengers fly over Tipon and Pikillaqta, both archaeological sites, Pisaq and the Urubamba Valley, Sacsayhuaman, and, of course, Machu Picchu itself. Flights can be longer or shorter as requested. "
"
You can Om your way through Machu Picchu
Machu Picchu is known as one of the most spiritual lands in the world, so why not go all out and Om your way through its ruins? Amazing Peru offers a seven-day yoga tour where visitors travel from Lima to Cuzco and finally to Machu Picchu, where they stay in the famed sanctuary Lodge hotel right outside of the ruins. They participate in multiple meditation and yoga sessions throughout the trip, but the highlight is a private session smack-dab in the middle of the ruins. Now that is an Om experience worth waiting for."
Yahoo Lifestyle
"A good bird watching site. Private, customized tour to Venezuela, Guyana, Suriname, French Guiana and Trinidad & Tobago"