2023 New Peru Gourmet Tour
Lima - Cuzco - Machu Picchu - Nazca - Ica
11 days / 10 nights.
ITINERARY
Day 1: LIMA
Arrival to Lima, reception at the airport and transfer to your hotel.
Day 2: LIMA (B, L & D)
After breakfast, we shall visit a market to see the huge variety of fish, shellfish and other coastal produce which has lent Lima the name of gastronomic capital of South America. We shall also have an opportunity of seeing the vast range of vegetables, fruits, cereals and other food products from all the regions of Peru. We shall then visit the kitchens of one of the best local seafood restaurants in Lima to witness firsthand the preparation of the famous national dish of Peru, Ceviche. This raw fish dish is marinated in the ubiquitous Peruvian lime and is served with sliced chill peppers. You will also learn how to make the signature drink of Peru, the Pisco Sour. After this mouthwatering presentation, we shall enjoy a delicious lunch. After lunch a guided visit of colonial and modern Lima, including the cathedral, dating from 1654, the main square, which still houses the original bronze fountain built in 1650, and the San Francisco Convent and its catacombs. Known as the city of the kings, Lima was founded in 1535 by Pizarro and rebuilt in 1991, the same year that UNESCO declared it a world heritage site. One of the very few South American cities that preserve the colonial past, Lima was home to the Spanish viceroy during the time of the Spanish colonialists. Return to your hotel before dinner at a recommended restaurant.
Meals: B, L & D
Day 3: LIMA - PARACAS (B)
After breakfast, private transfer to Paracas, some 3 hours south from Lima driving through the coastal desert strip. Arrival and transfer to your hotel. You shall visit a local vineyard to experience firsthand the production of Pisco, Peru's signature drink (a type of grape brandy). You shall also discover the wines of Peru before returning to your hotel.
Meals: B
Day 4: PARACAS - NAZCA - PARACAS (B)
After breakfast, transfer to the airport for the flight over the Nazca Lines; gigantic drawings and geometrical figures, representing animals, such as a spider, a monkey and several birds which are engraved in the desert sands of Nazca. Visible only from the air, these huge markings were once believed to be an enormous astronomical calendar. After the tour, a visit to the museum of Ica and the natural desert oasis at Huacachina. Return to your hotel.
Meals: B
Day 5: PARACAS - BALLESTAS ISLANDS - LIMA (B)
After breakfast, transfer to the port for a short boat tour of the Ballestas islands. Commonly referred to as the "little Galapagos", here you will find an amazing concentration of sea birds and sea lions. Return to the mainland before your return journey to Lima.
Meals: B
Day 6. LIMA - CUZCO (B)
After breakfast, transfer to the airport for your flight to Cuzco, the ancient Inca capital of the Incas. After the one hour flight, reception and transfer to your hotel. Today, a guided tour of Cuzco including the Cathedral, Qoricancha temple, the Inca fortress of Sacsayhuaman overlooking Cuzco, Qenko and Puka Pukara. Cuzco's history extends back to before 1000 BC when the Marcavalle Culture was the dominant power; indeed organized life in the City began practically with them. In the second phase of its history, around 800BC, Cuzco was home to the Chanapata culture and later developed several regional states. What is traditionally known as the Inka civilisation began around 1200 AD in its initial phase, with the first Inka, Manko Capaq and Mama Ocllo. It is also suggested that Pachakuteq, the ninth king, elaborated another foundation in 1438 which is also known as the expansive phase. Inca builders hereafter laid out the city in the form of a puma, with the fortress of Sacsayhuaman as the head. After the arrival of the Spanish to the city on November 15th 1533, Francisco Pizarro re-founded it for the Spanish King on March 23rd 1534. In 1536 Manko Inka began a long and bloody war against the Spanish invaders with a siege lasting over 8 months over the city. Finally in 1572, after a war that lasted 36 years, Tupaq Amaru I, the last emperor of the Inka dynasty was defeated, captured and executed in the city's main square. The Spanish subsequently destroyed many of the structures in the city or used them as foundations for many of their own churches and buildings.
Meals: B
Day 7. SACRED VALLEY - PISAC - OLLANTAYTAMBO (B & L)
Full-day excursion to the beautiful Urubamba, the Sacred Valley of the Incas, situated between Pisac and Ollantaytambo. It is an exceptionally fertile valley that was and remains the larder of Cuzco. Visit the village of Pisac, founded during colonial times, and set at the foot of a hill crowned by the remains of an ancient Inca city. On Sundays, Tuesdays and Thursdays, Indians barter their products in the main square and artisans from around the area sell their woven alpaca wool blankets and ponchos, engraved gourds, antique reproductions, jewellery, etc. On Sundays, it is also the meeting place for Mayors from all the villages in the region, dressed in their traditional costumes to attend morning mass. After lunch, a visit to Ollantaytambo, the only Inca town that was not defeated by the Spanish with an opportunity to explore the ruins which tower above. Late afternoon return to Cuzco whilst visiting en-route the traditional market of Chinchero.
Meals: B & L
Day 8. CUZCO - MACHU PICCHU (B)
Enjoy a good night's sleep before boarding the train to Aguas Calientes. Arrival to Aguas Calientes, assistance with your luggage and check-in to your hotel.

Boarding of the bus for the short ride up to Machu Picchu, the ancient Inca citadel. Shortly after, a guided tour of Machu Picchu, the most spectacular ancient city in the world. Built by the Inca Pachacutec, and comprising stone blocks fitted with masterful precision, Machu Picchu harmoniously blends into the mountain landscape. There are many theories as to the origins behind Machu Picchu but three of the most popular ideas include a temple to the sun, a fortress against the jungle inhabitants or a sanctuary for the Incas. This fabulous city has houses, temples, warehouses, a large central square, all connected by narrow roads and steps, and is surrounded by terraces cut into the mountain side which were used for agriculture.
Meals: B
Day 9. MACHU PICCHU - CUZCO (B)
Free day in Machu Picchu. Time for some private reflection. Today no guide is provided as we feel that Machu Picchu requires a certain amount of self discovery to be fully understood. Take any of the several paths around various parts of the site (we will provide a map to help you), trek up to Wayna Picchu or walk down to the Inca's bridge. Let Machu Picchu unfold all its mysteries for you, take in the breathtaking cloud forests and jagged mountains, or marvel at the extraordinary Masonic precision of the ancient Incas. Either way, your day of self discovery will be a day never to be forgotten. Return to Cuzco and to your hotel.
Meals: B
Day 10: CUZCO (B)
After breakfast, free morning at leisure to visit the local shops and art galleries. In the afternoon, you will head over to the Yanapay Restaurant for your cooking class. Each item on the menu is extremely authentic.

You will learn various cooking styles and traditional foods with a cooking professor. The professor will also help you translate the recipes home to remake these items whenever you want to remember Peru! The Menu you will make will be as follows:

2 Appetizers:

Papa a la Huancaina (Peruvian potatoes with a cheesy sauce)
Causa Limeña (Mashed Peruvian yellow potatoes with veggie/chicken fillings)
4 Entrees:
Ceviche (Famous Peruvian raw fish dish!)
Aji de Gallina (Chicken in a yellow hot pepper sauce)
Lomo Saltado (Beef, tomatoes, and onions in a stir-fry sauce with Peruvian hot peppers)
Rocoto Relleno (Stuffed Peruvian Red Peppers from Arequipa)
2 Desserts:
Arroz con Leche (Rice in sweet cream)
Picarones (Fried Donuts with Honey).
Dinner in the evening on your own (not included).
Meals: B
Day 11: CUZCO - LIMA (B)
After breakfast, transfer to the airport for your return flight to Lima and your connecting flight home.
Meals: B
End of our services.
2023 New Peru Gourmet Tour - Itinerary Overview:
PRICES:

Please Contact Us Here
Credit Cards Welcome:



WHAT IS INCLUDED / NOT INCLUDED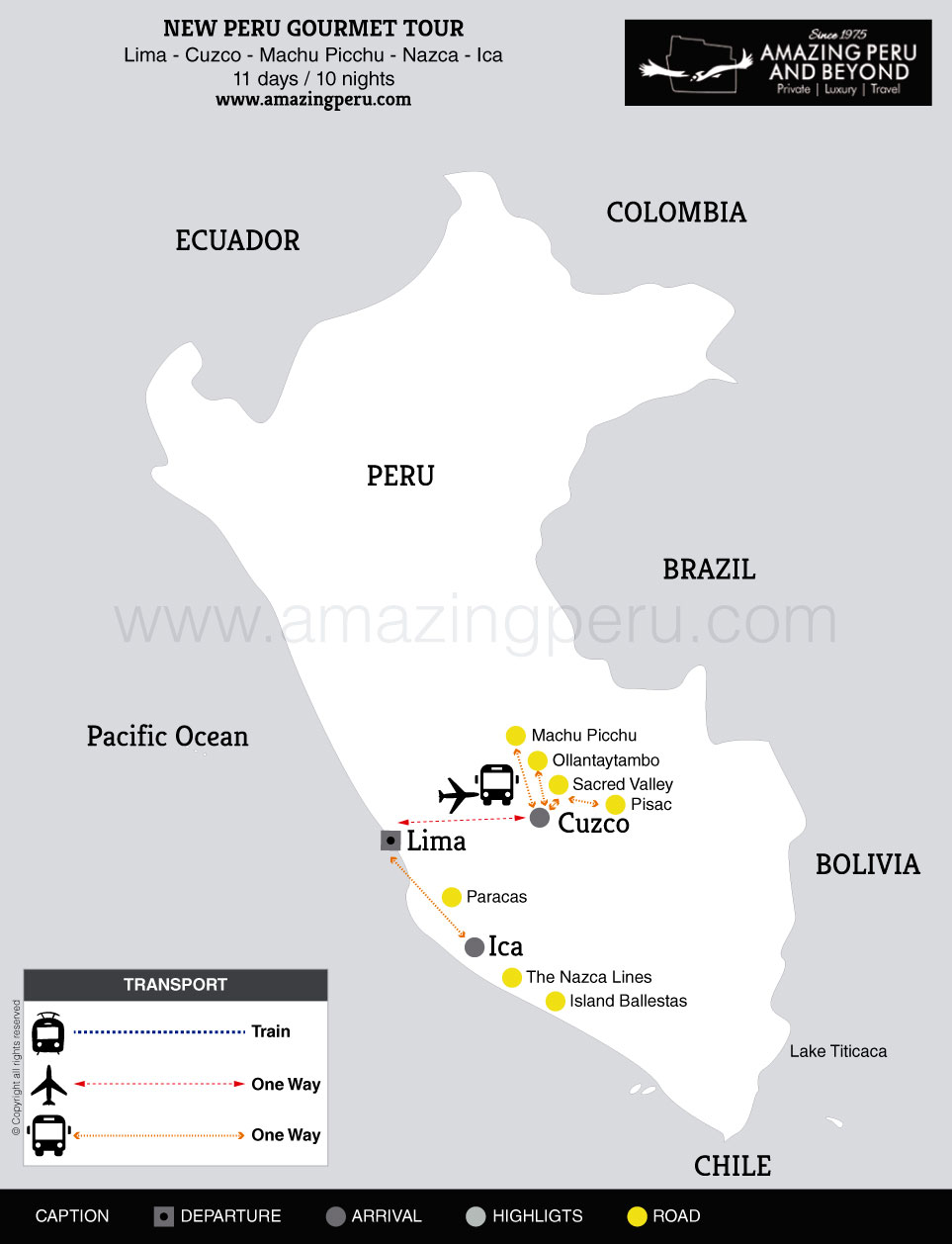 2023 New Peru Gourmet Tour
Lima - Cuzco - Machu Picchu - Nazca - Ica
11 days / 10 nights.
For current availability contact us at
info@amazingperu.com
and we will send you the relevant trip dossier along with a 90 day fixed quote, terms and conditions. Please bear in mind that significant price reductions are available for groups.
"Well-run multipurpose agency, with several offices in Peru with an extensive roster of trips, from family and honeymoon to luxury trips..."
Frommers Guides 2023
"Highly recommended, professional and well-organized, 'perfect tour', knowledgeable guides"
Footprint Handbook 2023
"Transportation services and accommodations are top-notch, and the guides are flexible and extremely helpful"
Fodor's Guides 2023
"
Amazing Peru
has more than 20 years of experience in the travel industry. Tours to Machu Picchu can be customized to include airfare, all meals, accommodations and travel insurance, and last from six to 14 days. Amazon cruises, horseback riding, river rafting, hiking and biking throughout Machu Picchu, Cuzco, Sacred Valley, Lake Titicaca..."
USA TODAY
"Move Over, Machu Picchu - How disabled travelers can tour Machu Picchu."
Christoper Reynolds
"Looking for an adventure of lifetime to kick-start married life? Consider these honeymoons with a difference… "
Perfect Wedding Magazine
"Experience"
Amazing Peru is the leading company in Latin America that combines exclusivity, luxury and authenticity for Peruvian holidays. It will tailor a 15- days tour for you that takes in Lake Titicaca, the Sacred Valley, Machu Picchu, Lima, Cuzco, Colca Canyon and the Amazon rainforest."
The Travel and Leisure Magazine UK
"A reputable firm with an impressive variety of unique excursions… "
At Home and Away with Alan Whicker CBE Magazine
Spend Christmas on a guided tour of breathtaking Machu Picchu and visit famous Lake Titicaca. Amazing Peru offers luxury Christmas vacations in Machu Picchu along the Inca Trail...
Trails Outdoor Travel Guide
"Amazing Peru takes families on both luxury and affordable tours throughout Peru. Children 12 and older are welcome to come along on the 12-day Peru Family Adventure Tour. Raft, backpack, kayak and bike through some of Peru's most unforgettable sights including Machu Picchu. The Family Tour to Peru is tailored for children younger than 12 years of age with an educational component. Relax on Peru's northern beaches, explore the high-altitude Lake Titicaca, trek through the Amazon, and visit Machu Picchu on this 16-day journey. Check out Amazing Peru's 12-day Family Tour."
Global Post USA
"
You can fly over Machu Picchu - or take a helicopter ride
Who needs hiking when you can fly? The company Amazing Peruoffers hour-long flight tours right over the Sacred Valley of the Incas. The plane fits a minimum of eight passengers, and it can also be chartered. Passengers fly over Tipon and Pikillaqta, both archaeological sites, Pisaq and the Urubamba Valley, Sacsayhuaman, and, of course, Machu Picchu itself. Flights can be longer or shorter as requested. "
"
You can Om your way through Machu Picchu
Machu Picchu is known as one of the most spiritual lands in the world, so why not go all out and Om your way through its ruins? Amazing Peru offers a seven-day yoga tour where visitors travel from Lima to Cuzco and finally to Machu Picchu, where they stay in the famed sanctuary Lodge hotel right outside of the ruins. They participate in multiple meditation and yoga sessions throughout the trip, but the highlight is a private session smack-dab in the middle of the ruins. Now that is an Om experience worth waiting for."
Yahoo Lifestyle
A Private, customized tour to Venezuela, Guyana, Suriname, French Guiana and Trinidad & Tobago. "Any traveler with a well-developed sense of adventure will be rewarded with an incredible experience on this journey to a birding paradise designed and operated by Amazing Peru."
"Savoring a taste of Uruguay's acclaimed wine region - An outstanding experience"