Peru Adventurers Tour
Lima - Amazon Rainforest - Cuzco - Inca Trail To Machu Picchu
14 days / 13 nights.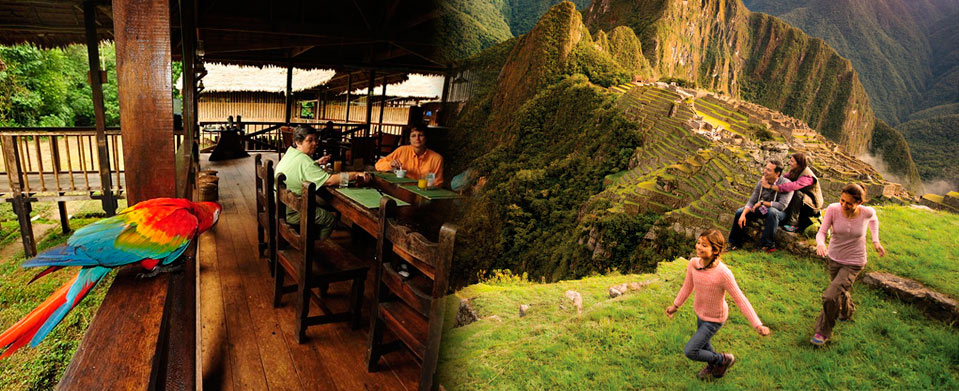 ITINERARY
Day 1. LIMA - CUZCO - PUERTO MALDONADO - REFUGIO AMAZONAS (lunch and dinner)
Arrival to Lima in the morning and take the connecting flight to Puerto via Cuzco. Arrival to Puerto Maldonado. Reception at the airport and transfer to the river port. Your guides are biologists or community members. The two and a half hour boat ride from the Tambopata Port to Refugio Amazonas will take you past the Community of Infierno and the Tambopata National Reserve's checkpoint and into the buffer zone of this 1.3 million hectare- conservation unit. Boxed Lunch
Orientation Upon arrival, the lodge manager will welcome you and brief you with important navigation and security tips. Dinner
Caiman Search We will be out at the river's edge at night, scanning the shores with headlamps and flashlights to catch the red gleams of reflection from caiman eyes. Overnight at Refugio Amazonas
Day 2. REFUGIO AMAZONAS (All meals)
Breakfast
Oxbow Lake Visit
We will paddle around the lake on a canoe or a catamaran, looking for lakeside wildlife such as hoatzin, caiman and horned screamers, hoping to see the otters which are infrequently seen here. You will also be rewarded with overhead sightings of macaws.
Canopy Tower
A thirty minute walk from Refugio Amazonas leads to the 25 meter scaffolding canopy tower. A bannistered staircase running through the middle provides safe access to the platforms above. The tower has been built upon high ground, therefore increasing your horizon of the continuous primary forest extending out towards the Tambopata National Reserve. From here views of mixed species canopy flocks as well as toucans, macaws and raptors are likely.
Lunch
Mammal Clay Lick
Twenty minutes walking from Refugio Amazonas is a peccary clay lick. These wild rain forest pigs show up in herds of five to twenty individuals to eat clay in the late morning. Chances of spotting them are around 15%, but well worth the short hike. Other wildlife also shows up including deer, guan and parakeets.
Dinner
Overnight at Refugio Amazonas
Day 3. REFUGIO AMAZONAS TO TAMBOPATA RESEARCH CENTRE (All meals)
Breakfast
Transfer Boat - Refugio Amazonas to TRC
Four and half hours by boat from Refugio Amazonas, in the pristine heart of the reserve, lies the Tambopata Research Center. One and half hours into our boat journey, as we cross the confluence with the Malinowski River, we will leave the final traces of human habitation behind. Within the 700,000 hectare uninhabited nucleus of the reserve, sightings of capybara, caiman, geese, macaws and other large species will become more frequent.
Boxed Lunch
Orientation
Upon arrival, the lodge manager will welcome you and brief you with important navigation and security tips.
Overlook Trail
A three to five kilometer hike will lead us to overlooks commanding magnificent views of the Tambopata winding its way into the lowlands. The forest on this trail, regenerating on old bamboo forest, is good for Howler Monkey and Dusky Titi Monkey.
Dinner
Macaw Project Lectures
After dinner scientists will provide an in depth look at the biology of macaws, their feeding habits, the theories for clay lick use, their breeding and feeding ecology, population fluctuations and the threats to their conservation.
Overnight at Tambopata Research Center
Day 4. TAMBOPATA RESEARCH CENTRE (All meals)
Macaw Clay Lick
On most clear mornings of the year dozens of large macaws and hundreds of parrots congregate on this large river bank in a raucous and colorful spectacle which inspired a National Geographic cover story. Discretely located fifty meters from the cliff, we will observe Green-winged, Scarlet and Blue-and-gold Macaws and several species of smaller parrots descend to ingest clay. Outings are at dawn when the lick is most active.
Breakfast
Floodplain Trail
This five kilometer trail covers the prototypical rain forest with immense trees criss-crossed by creeks and ponds. Amongst the figs, ceibas and shihuahuacos we will look for Squirrel, Brown Capuchin, and Spider Monkeys as well as peccaries. TRC is located within this habitat.
Lunch
Pond Platform
Ten minutes upriver from the lodge is a tiny pond with a platform in the middle. It is a great place to spot waterfowl such as Muscovy duck, sun-bittern and hoatzin along with the woodpeckers, oropendolas, flycatchers and parakeets that call this pond their home.
Dinner
Night walk
You will have the option of hiking out at night, when most of the mammals are active but rarely seen. Much easier to find are frogs with shapes and sounds as bizarre as their natural histories.
Overnight at Tambopata Research Center
Day 5. RAINFOREST TO TAMBOPATA RESEARCH CENTRE (All meals)
Breakfast
Terra Firme Trail
An entirely different habitat characterized by smaller, thinner trees atop hills and slopes is covered by this five kilometer trail. Saddleback tamarins are frequently found here. As we walk near the limits of the swamp we will also keep our eyes open for rare tapir tracks.
Lunch
Palm Swamp Tower
A thirty minute hike from TRC brings us to the palm swamp. Dead aguaje palms serve as nests to Red-bellied and Blue-and-gold macaws. An elevated boardwalk and scaffolding tower allow for eye level observation of the macaws as they fly in and out of their nests.
Dinner
Overnight at Tambopata Research Center
Day 6. TAMBOPATA RESEARCH CENTRE - REFUGIO AMAZONAS (All meals)
Breakfast
Transfer Boat - TRC to Refugio Amazonas
A three and a half hour boat ride brings us to Refugio Amazonas.
Boxed Lunch
Brazil Nut Trail and Camp
A few minutes hike from the lodge is a beautiful old growth patch of Brazil Nut forest that has been harvested for decades (if not centuries) where the precarious remains of a camp used two months a year by Brazil Nut gatherers can still be experienced. We will be demonstrating the whole process of the rain forest's only sustainably harvested product from collection through transportation to drying.
Dinner
Tambopata National Reserve Lectures
Nightly lectures prepared by the staff of Refugio Amazonas cover conservation threats, opportunities and projects in the Tambopata National Reserve.
Overnight at Refugio Amazonas
Day 7. REFUGIO AMAZONAS - CUZCO (Breakfast)
Breakfast
Transfer by boat back to Puerto Maldonado Headquarters and the airport. Depending on airline schedules, this may require dawn departures.
Assistance with your luggage, prior to boarding your flight to Cuzco.
Transfer to your hotel. Afternoon at leisure.
Day 8. CUZCO (Breakfast)
Free day to acclimate for the trek. We can arrange a tour of the Sacred valley for an additional US$125 per person.
Day 9. CUZCO (Breakfast)
After breakfast, enjoy a tour of Cuzco that includes the Cathedral, Qoricancha temple, and the Main Plaza.
Cuzco's history extends back to before 1000 BC when the Marcavalle Culture was the dominant power; indeed organized life in the City began practically with them. In the second phase of its history, around 800BC, Cuzco was home to the Chanapata culture and later developed several regional states. What is traditionally known as the Inka civilisation began around 1200 AD in its initial phase, with the first Inka, Manko Capaq and Mama Ocllo. It is also suggested that Pachakuteq, the ninth king, elaborated another foundation in 1438 which is also known as the expansive phase. Inca builders hereafter laid out the city in the form of a puma, with the fortress of Sacsayhuaman as the head.
After the arrival of the Spanish to the city on November 15th 1533, Francisco Pizarro re-founded it for the Spanish King on March 23rd 1534. In 1536 Manko Inka began a long and bloody war against the Spanish invaders with a siege lasting over 8 months over the city. Finally in 1572, after a war that lasted 36 years, Tupaq Amaru I, the last emperor of the Inka dynasty was defeated, captured and executed in the city's main square. The Spanish subsequently destroyed many of the structures in the city or used them as foundations for many of their own churches and buildings. Briefing on the Inca Trail. Inca Trail to Machu Picchu
Day 10. OLLANTAYTAMBO - WAYLLABAMBA (All meals)
After an early morning breakfast, you will be transferred to Chilca where you will meet with your Quechua porters and prepare for the Inca Trail. You will cross over the turbulent Vilcanota River, with magnificent views of Nevado Veronica (5,900m/19,000ft) and continue along the trek admiring the Llactapata archaeological site, and stopping at the Huayllabamba River for lunch. After lunch, we will visit the archaeological sites of Patallacta, Qente, and the valley of Cusichaca along with the magical Polylepsis forest before continuing the hike. Upon arriving to our campsite, enjoy dinner. Overnight camping on the trail.
Day 11. WAYLLABAMBA - PACAYMAYU (All meals)
An early start today as this is the most demanding day of the entire trek and we shall gain considerable altitude. We will see outstanding views to the east of the Huayanay peaks and to the west of the rugged Vilcabamba Range. After breakfast, we shall begin the climb up through the first pass at 4200 m/13,750 feet at Warmiwanusqa. Passing 3 ecological zones such as the Yunga, Quechua and Puna, we shall ascend 1000 metres in 5 hours. Lunch will be taken before the final two sections of ascent. Upon reaching the summit of Dead Woman's Pass, we shall descend into camp. Dinner and overnight camping on the trail.
Day 12. PACAYMAYU - WINAYHUAYNA (All meals)
After breakfast, we shall begin the ascent of the second pass, although still demanding, this is easier than the previous day's ascent. A visit to the famous archaeological site of Runquraqay. We will continue on to the restored town site of Sayaqmarka ("Town in a Steep Place") and explore the Sayaqmarka Ruins, admiring at the same time the fabulous cloud forest which is now all around us. The third pass of the Inca Trail in this section is a long white granite roadway, with some ascents and descents traversing a thickly forested mountainside. We will finally descend to the magnificent archaeological site of Phuyupatamarka ("Cloud Level Town") where a fine lunch will await us. After lunch, we will then begin the decent to Winaywayna, an outstanding Inca complex built into the mountainside. A visit of the ruins before relaxing and enjoying dinner carefully prepared by our chef. We shall also meet with our porters for the very last time and exchange thanks. Overnight camping on the trail.
Day 13. WINAYHUAYNA - MACHU PICCHU - CUZCO (Breakfast)
Early morning wake up at 4:30 AM for breakfast and to begin the final trek to Intipunku, and the first site of the archaeological complex of Machu Picchu. We will descend rapidly from cloud forest into high jungle habitat. Orchids and hummingbirds are commonly seen along this spectacular section of the trail high above the river. We will arrive at Intipunko "Gate of the Sun" to observe the sunrise over Machu Picchu from an elevated vantage point. We will then continue down to the royal road and at last the "Lost City of the Incas". We then immediately begin our tour of Machu Picchu. Built by the Inca Pachacutec, and comprising stone blocks fitted with masterful precision, Machu Picchu harmoniously blends into the mountain landscape. There are many theories as to the origins behind Machu Picchu but three of the most popular ideas include a temple to the sun, a fortress against the jungle inhabitants and a sanctuary for the Incas. This fabulous city holds houses, temples, warehouses, a large central square and all connected by narrow roads and steps, which is surrounded by terraces cut into the mountain side which were used for agriculture. We shall visit the Main Plaza, the Royal Quarters, the Temple of Three Windows, the Circular Tower and the Sacred Sun Dial and Burial Grounds. After the guided tour, you can enjoy an afternoon of self-exploration and discovery. In the afternoon, board the Vistadome train back to Cuzco and transfer to your hotel.
Day 14. CUZCO - LIMA (Breakfast only)
After breakfast, transfer to the airport for the flight back to Lima in time for your connecting flight home.
End of our services.
Peru Adventurers Tour - Itinerary Overview:
PRICES:

Please Contact Us Here
Credit Cards Welcome:



WHAT IS INCLUDED / NOT INCLUDED
OUR LUXURY HOTELS SELECTION
For current availability contact us at
info@amazingperu.com
and we will send you the relevant trip dossier along with a 90 day fixed quote, terms and conditions. Please bear in mind that significant price reductions are available for groups. All our Luxury Tours are fully private and depart daily. Contact us for more information regarding the above tour, or to begin customizing your own itinerary.
"Well-run multipurpose agency, with several offices in Peru with an extensive roster of trips, from family and honeymoon to luxury trips..."
Frommers Guides 2023
"Highly recommended, professional and well-organized, 'perfect tour', knowledgeable guides"
Footprint Handbook 2023
"Transportation services and accommodations are top-notch, and the guides are flexible and extremely helpful"
Fodor's Guides 2023
"
Amazing Peru
has more than 20 years of experience in the travel industry. Tours to Machu Picchu can be customized to include airfare, all meals, accommodations and travel insurance, and last from six to 14 days. Amazon cruises, horseback riding, river rafting, hiking and biking throughout Machu Picchu, Cuzco, Sacred Valley, Lake Titicaca..."
USA TODAY
"Move Over, Machu Picchu - How disabled travelers can tour Machu Picchu."
Christoper Reynolds
"Looking for an adventure of lifetime to kick-start married life? Consider these honeymoons with a difference… "
Perfect Wedding Magazine
"Experience"
Amazing Peru is the leading company in Latin America that combines exclusivity, luxury and authenticity for Peruvian holidays. It will tailor a 15- days tour for you that takes in Lake Titicaca, the Sacred Valley, Machu Picchu, Lima, Cuzco, Colca Canyon and the Amazon rainforest."
The Travel and Leisure Magazine UK
"A reputable firm with an impressive variety of unique excursions… "
At Home and Away with Alan Whicker CBE Magazine
Spend Christmas on a guided tour of breathtaking Machu Picchu and visit famous Lake Titicaca. Amazing Peru offers luxury Christmas vacations in Machu Picchu along the Inca Trail...
Trails Outdoor Travel Guide
"Amazing Peru takes families on both luxury and affordable tours throughout Peru. Children 12 and older are welcome to come along on the 12-day Peru Family Adventure Tour. Raft, backpack, kayak and bike through some of Peru's most unforgettable sights including Machu Picchu. The Family Tour to Peru is tailored for children younger than 12 years of age with an educational component. Relax on Peru's northern beaches, explore the high-altitude Lake Titicaca, trek through the Amazon, and visit Machu Picchu on this 16-day journey. Check out Amazing Peru's 12-day Family Tour."
Global Post USA
"
You can fly over Machu Picchu - or take a helicopter ride
Who needs hiking when you can fly? The company Amazing Peruoffers hour-long flight tours right over the Sacred Valley of the Incas. The plane fits a minimum of eight passengers, and it can also be chartered. Passengers fly over Tipon and Pikillaqta, both archaeological sites, Pisaq and the Urubamba Valley, Sacsayhuaman, and, of course, Machu Picchu itself. Flights can be longer or shorter as requested. "
"
You can Om your way through Machu Picchu
Machu Picchu is known as one of the most spiritual lands in the world, so why not go all out and Om your way through its ruins? Amazing Peru offers a seven-day yoga tour where visitors travel from Lima to Cuzco and finally to Machu Picchu, where they stay in the famed sanctuary Lodge hotel right outside of the ruins. They participate in multiple meditation and yoga sessions throughout the trip, but the highlight is a private session smack-dab in the middle of the ruins. Now that is an Om experience worth waiting for."
Yahoo Lifestyle
A Private, customized tour to Venezuela, Guyana, Suriname, French Guiana and Trinidad & Tobago. "Any traveler with a well-developed sense of adventure will be rewarded with an incredible experience on this journey to a birding paradise designed and operated by Amazing Peru."
"Savoring a taste of Uruguay's acclaimed wine region - An outstanding experience"